Austria
Music and Nature in the Heart of Europe
Published in the March, 2004 Issue of Canadian World Traveller
Photos Courtesy of Austria Tourist Office www.austria-tourism.at/
Located in the heart of Europe, Austria has welcomed guests for centuries. Austria's enviable geographic location makes this country a fascinating combination of many European cultures, as well as one of Europe's most popular travel destinations. Austria offers its visitors breathtaking scenery (more than half of the country is covered by the Alps, the Danube region, and Austria's lake districts); over a thousand years of colorful history and tradition; and above all, music, music and more music.
This relatively small country presents the riches of Europe in the proverbial nutshell: spectacular vistas, Alpine natural splendor, pulsating nightlife, sophisticated shopping, classical culture and culinary delights. And not to forget: Austria is the cradle of Alpine skiing — and skiing is a way of life in the country that every skier dreams of visiting. For the non-skier, Austria's imperial cities, charming towns and pristine countryside offer an endless variety of year-round activities and attractions.
The Sound of Music
In Austria, it seems that music mirrors the almost melodious natural beauty of the land. For centuries, music has been both an integral part of everyday life and the crowning glory of special occasions. There is hardly a country that is similarly bountiful in both folk and classical music as Austria. And there is no other country that has made such enormous musical contributions to the world or had such an enduring influence on the international musical scene as has Austria over the course of its long and distinctive history.
Location
Austria is located in Central Europe, with Germany and the Czech Republic and to the north; Italy and Slovenia to the south; Switzerland and tiny Liechtenstein to the east; and Hungary and Slovakia to the west. Landlocked Austria is 83,858 sq km including 1,120 sq km of water (its sparkling rivers and lakes). The country is slightly smaller than Maine but shares its 2,562 km of borders with eight other countries!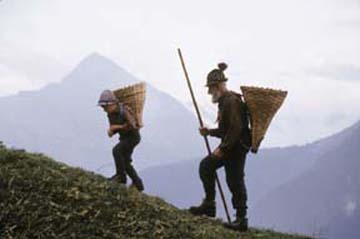 Topography, Climate & Population
Most of the country is Alpine or sub-Alpine. Heavily wooded mountains and hills are cut by valleys of fast-flowing rivers. Plains around Vienna and the Danube Valley in the northeast are Austria's only lowland areas and contain most of its population. The Danube, flowing east through the northern provinces and Vienna, is the principal river. Of Austria's total area, 20 percent is arable land, 29 percent is pasture land, 44 percent is forest, and 7 percent is barren. Austria's highest point is Grossglockner, standing at its lofty 3,798 meters.
Continental weather systems predominate in Austria, where temperatures and rainfall vary with altitude. There are temperate, cloudy, cold winters with frequent rain in the lowlands and ample snow in the mountains, and pleasant cool summers with occasional showers. Humidity is highest in the wetter western regions, diminishing toward the east.
98% of Austrians are of German decent. There are only a small number of ethnic minorities in Austria, who have Croatian, Slovene, Hungarian, Czech, Slovak, and Roma origins. As of July 2001, Austria's estimated population was 8,150,835.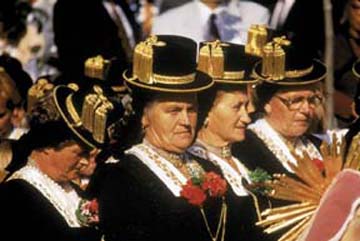 Government, Language & Religion
Austria is federal republic with nine states (bundeslander): Burgenland, Kaernten, Niederoesterreich, Oberoesterreich, Salzburg, Steiermark, Tirol, Vorarlberg, and Wien. It is a parliamentary democracy. The President is elected directly by the populace to serve for a six-year term. The Parliament is made up of a lower and upper house, seated in the capital city of Vienna (Wien).
Austria's official language is German, which is spoken with a variety of regional dialects (Austrian German) throughout the county. Over 92% of Austrians are German-speaking. English is by far the most prevalent second language. Most Austrians have at least a rudimentary understanding of English and a majority, in fact, speak it quite well, especially people working in hotels or restaurants.
The predominant religion of Austrians is Roman Catholic (78%), with Protestants being 5%, and Muslim and other minority religions making up the remaining 17% of the population.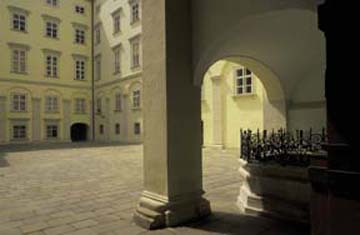 A Brief History
Austria's history goes back a long way. But the Austro-Hungarian Empire (1895-1919) was its most notable recent era. The empire was spread over a large part of Central Europe, comprising of the present-day countries of Austria, Hungary, Czech Republic, Slowakia, Slovenia, Bosnia and Croatia, as well as parts of Poland, Romania, Italy, Ukraine, Moldova and Yugoslavia. It played a decisive role in central European history, occupying strategic southeastern routes to Western Europe and the north-south routes between Germany and Italy. Although present-day Austria is only a tiny remnant of the old empire, it retains this unique crossroads position.
Soon after the Republic of Austria was created at the end of World War I, it faced the strains of catastrophic inflation and of redesigning a government meant to rule a great empire into one that would govern only 6 million citizens. Following annexation by Nazi Germany in 1938 and the subsequent occupation by the victorious Allies, Austria's 1955 State Treaty declared the country "permanently neutral" as a condition of Soviet military withdrawal.
Neutrality, once ingrained as part of the Austrian cultural identity, has been called into question since the Soviet collapse and Austria's increasingly prominent role in European affairs. Today, The Republic of Austria is a modern, prosperous country, with a keen sense of its Old-World traditions. Austria joined the European Union in 1995 and the euro monetary system in 1999.
Art & Architecture
At the crossroads of Central Europe, Austria has always been a melting-pot of creative ideas, artistic and architectural styles as witnessed by its many historic churches, palaces and castles. Drawing both from the rich cultural legacy and a thriving art scene, Austria in recent years, has recaptured its role as a leading art center. Museums, galleries and spectacular exhibitions make Austria a favorite destination for every art lover.
Vienna's Museumsquarter is the world's 9th largest arts complex, housing several art institutions, among them the Leopold Museum, home of the most complete collection of works by Egon Schiele and Gustav Klimt, and the Museum of Modern and Contemporary Art. Not to be missed, is the recently re-opened Albertina Museum in the Habsburg Palace. Is one of the most important museums in the world. However, Salzburg and Graz both offer a full range of year-round art exhibitions and cultural events.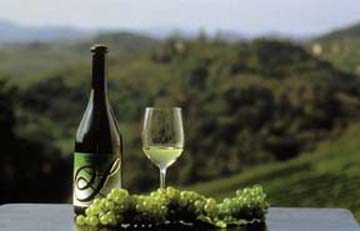 Dining in Austria
What is indigenous about Austrian cuisine? The answer is simple — Applestrudel. Austrians have a huge sweet tooth, and this predilection is reflected by the preoccupation with sweet Mehlspeisen (literally, "flour dishes") and confections.
Many of the famous Austrian recipes, whether Sachertorte or Salzburger Nockerl, Kaiserschmarrn or Marillenknödel, fall into this category, and are the shining highlights of every Austrian kitchen — cookies, desserts, pastries and cakes of every description. Apart from Mehlspeisen, a variety of meat and fowl dishes can be found throughout Austria.
Every city has its share of fancy gourmet restaurants, but at the other end of the spectrum is a typically Austrian tradition: the wuerstl (sausage) stands, which dot the streets and squares, where you can select from several local variations that put the Canadian-style hot dog to shame.
If you prefer not to eat on the run, but still want a tasty inexpensive meal, check out the beisl, simple restaurants which feature hearty fare. Or visit a heuriger (wine tavern) for a sampling of new wines and food specialties to complement them. International fast food franchise restaurants can be found in Austria's cities, but why bother? They are more expensive than a memorable meal in a local tavern which serves up a hundred years of history at no extra charge.
Whatever type of restaurant or inn you select, be sure to check out the daily specials (Tagesmenu) which typically means a three-course meal (appetizer, entree and dessert) for one low price. And when ordering beer, wine or mineral water, ask for local brands which are less expensive and offer you another way to experience Austria.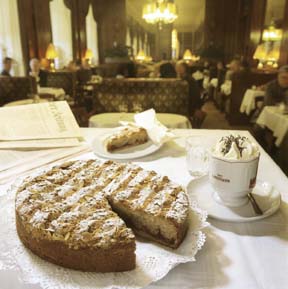 The Viennese Coffeehouse
Why Vienna is famous for its coffee houses? How did the exotic coffee-bean find its way into Vienna? Numerous legends abound, but the Austrian coffeehouse is more than just a cafe. It is a venerable cultural institution and social gathering spot. For the price of a cup of coffee (elegantly presented to be sure), you can linger over your postcard-writing, read a newspaper from the wooden rack, and watch the world go by. Now that's value for your money!
Getting There
Austria has six international airports, including Vienna, Graz, Innsbruck, Klagenfurt, Linz and Salzburg. Austria's national carrier, Austrian Airlines, offers non-stop service to Vienna from Toronto's Pearson and Montreal's Pierre Elliot Trudeau International airports with connections available from many other Canadian cities. Austrian Airlines is a member of the Star Alliance Group, with Air Canada, Lufthansa, United Airlines, Lauda Air and Tyrolean Airways among its members.
When to Go & What to Wear
Austria is a year-round travel destination, with an emphasis on skiing and cultural events in the winter, and touring and hiking in the spring, summer and fall. Required clothing is similar to seasonal wear in Canada. Casual dress is the norm, but more formal attire is advisable for the opera, theatre, musical recitals and fancy dining establishments. Comfortable footwear is a must for sightseeing and hiking.
Visas & Vaccination
Canadians only need a valid passport and no visa to visit Austria as tourists for up to 90 days. If you plan to drive in Austria, you need to obtain an International Driver's License. Canadian visitors need no inoculations. If traveling with a pet (two dogs or cats per person), a valid certificate of vaccination against rabies with an authorized German translation must be produced.
Where to Stay
There a wide selection of hotels and pensions that are typically "Austrian," reflecting the charm and ambience of the country. The official Austrian tourism website www.austria-tourism.at/ provides a comprehensive, downloadable country-wide hotel guide. Each and every hotel on the list pays special attention to the needs of the North American visitor.
Historical Points of Interest
Vienna's Museum of Fine Arts, Austria's largest fine arts museum, exhibits works by Peter Bruegel the Elder, as well as famous paintings by Duerer, Titian, Tintoretto, Rubens, Raffael and Rembrandt. And the collection of Vienna's historic Hofburg Palace is one of the most important treasuries in the world. Top exhibits include the crown of the Holy Roman Empire, as well as the Vestments of the Order of the Golden Fleece. Another Vienna highlight is Schoenbrunn Palace, Austria's most visited site and former summer residence of the Habsburgs. This magnificent baroque palace with its lavish gardens is a must-see stop. Austria's other cities and regions offer equally fascinating museums and historic sites of great interest.
Nightlife
Vienna is by far the biggest city in Austria and this storied capital city boasts lots of imperial charm and cosmopolitan flair. But beside its Old-World splendor, Vienna recently renewed its position as a present-day party and event city. Austrian balls are legendary, especially during Fasching (carnival). Check out highlights of the 2003/2004 Viennese Ball Season and Vienna's nighttime hot-spots at www.austria-tourism.at/. Other Austrian cities with a lively nightlife include Graz, Linz, Salzburg and Innsbruck. Even smaller cities in Austria have lots of fun to offer night owls.
Hiking & Cycling
Hiking is a very popular pastime throughout Austria. There is a vast network of hiking paths, which are marked, mapped and maintained by various Alpine associations and local tourism authorities. The extensive "hut system" in the Austrian Alps, makes it possible to go on long cross-country hikes. Another popular variation, are "hikes without luggage" (guided tours with the bags left behind in the morning and waiting for the participants in the evening in their rooms).
Just a few years ago, cyclists were a relatively rare sight on Austria's country roads and the sport took a back seat to legions of hikers and joggers. Lately, however, it often seems like a whole country has switched from the Autobahn to bike trails, and cycling has become one of the most popular ways to experience the unique Austrian countryside, its small towns and its cities.
Bikes may be rented at most locations in Austria or may be supplied by your hotel. Bicycles can also be transported on the baggage cars of most trains. For mountain-bikers, permanent circuits and mountain-bike centers have been established and package arrangements are available.
Getting Around
Wether you drive by car or ride the train, getting around Austria is very easy, save and convenient. Rail travel in Austria is pleasant and practical. Save by sitting in second class, which provides more than enough comfort. If you plan to tour by train, an Austrian Railpass or Eurailpass may be the best value. The Austrian Railpass offers four days of unlimited travel in a 10-day period for only $111 US in second class or $165 US in first, and includes discounts on Danube river steamers and bicycle rentals.
If you are including Austria on a multi-nation itinerary, Eurailpasses are honored in 17 countries and come in a great variety of combinations for trips from five days to three months. For detailed rail information as well as purchases of rail tickets, telephone DER Rail at (708) 692-6300 or Rail Europe at 1-800-848-7245.
Driving in Austria is uncomplicated and offers the greatest flexibility and freedom, allowing you to explore the country at your own pace. Roads are well-maintained, whether you choose a super highway or a meandering byway. An international drivers license is required and can easily be obtained from your local auto club.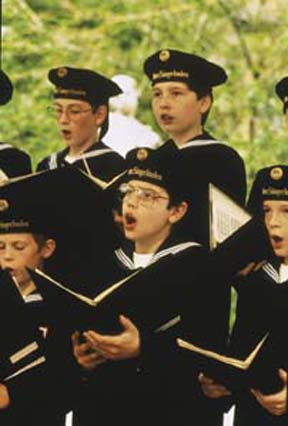 Festivals and Events
Austria's contribution to the classical music canon is staggering and unparalleled. World-famous composers like Mozart, Beethoven and Strauss left many traces in the musical capitals of Vienna and Salzburg. Today, many world-class concerts and festivals celebrate the musical heritage of Austria year-round.
The Vienna State Opera, one of the most famous opera houses in the world, offers a program that runs from September through June each year. The Graz Opera has performances of opera, operettas and musicals from September through June. And the Salzburg Marionette Theater runs from May to September as well as during the Christmas, Easter and Mozart weeks (late January). A comprehensive year-round schedule of cultural festivals and events is posted on the web at www.austria-tourism.at/.
Shopping
Austria's highly developed economy emphasizes quality goods at competitive prices. Each city has its equivalent of Fifth Avenue, with boutiques and specialty stores. You will get your money's worth, of course, but in pursuit of savings you might want to seek out the nearby neighborhoods, where the locals often shop. Among the popular tourist purchases are linens, spice bouquets and potpourri, woolens, leather goods and crystal giftware.
Local markets, held outdoors, are worth a visit, even when you are not in a buying mood. Flea markets are a good bet to visit on Saturdays to find some unusual and one-of-a-kind gifts. Advent/Christmas Markets have a long tradition in Austria, and can be found in most major cities. There is no entrance fee for the Christmas markets, however, you may just find yourself buying a few ornaments to take home as souvenirs and gifts.
Currency & Exchange
Austria and several other European countries have adopted the EURO as their official currency. Cash and travelers checks can be exchanged at the going market rate at any bank. We do not advise to exchange money at hotels or other stores, which usually give you a lower rate. The best rate, in fact, may be obtained by withdrawing money from your bank account via an ATM linked to one of the international networks. Major credit cards are widely accepted in Austria.
For More Info:
Austrian National Tourist Office (Canada)
2, Bloor Street East, Suite 400
Toronto, ON M4W 3E2
Attn: Waltraud (Wally) Haupt
Tel.: 416-967-4867
Fax: 416-967-4101
Email: anto-tor@sympatico.ca
www.austria-tourism.at/
Austrian Tourist Office Inc. (US)
500 Fifth Avenue, Suite 800
New York, NY 10110
Tel.: 1-800-965-3342
Email: Travel@Austria.info
Website: http://austria.info/us/
www.austria.info
Embassy of Austria
445 Wilbrod Street
Ottawa. ON, K1N, 6M7
Tel.: 613-789 1444
Fax: 613-789 3431
Email: embassy@austro.org
www.austro.org
Austrian Airlines (Montréal)
2085, rue Union,
Montréal, QC H3A 2C3
Tel.: (514) 842-2500
Toll-Free: 1-888-817-4444
E-mail: See Web-Site
www.aua.com/ca/eng