Best Cruises for Multigenerational Travel
By Tully Luxury Travel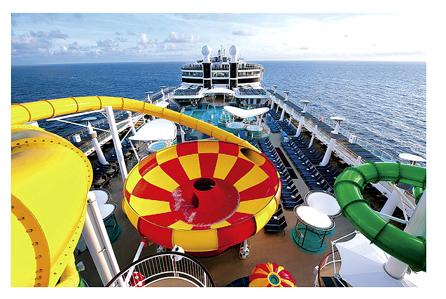 For families who love to travel together, a multigenerational cruise offers something for everyone. "Cruise lines are noticing that a lot of multigenerational families are starting to travel together," says Tully cruise specialist Natalie Thomson. "Quiet kid-free zones have now been created for mom, dad, grandma and grandpa, allowing them to escape and enjoy a relaxing massage or even a romantic date night. And shore excursions are becoming more hands-on for kids, contributing to a wonderful family vacation where everyone is left asking, 'When can we do that again?'" Ready to plan your next getaway? Here are our favourite cruises for multigenerational family travel.
Norwegian
From interconnecting staterooms to family dining, entertainment and activities, there's plenty of bonding time to be had on a Norwegian holiday. With its private club-like atmosphere, Norwegian's Haven area is particularly suited to families who like the jet-set lifestyle. Located at the top of the ship, Haven's exclusive Courtyard boasts a private pool, hot tub, fitness area, dining areas and dedicated service from the Courtyard Valet, so there's no need to race out in the morning to save your deck chairs. Multi-room suites come with their own private concierge and butler to cater to your every whim, and prime seats for shows and restaurants are secured for no-fuss attendance.
Royal Caribbean
Kids will love the chance to sail with Madagascar, Puss In Boots and other DreamWorks characters, while activities for tots to teens are sure to keep young cruisers busy. Parents can leave the young ones to play at Adventure Ocean® while they take part in comedy shows, nightclubs, cool lounges and more. With My Family Time Dining℠, kids age 3 to 11 are served their meals and then picked up by Royal Caribbean's Adventure Ocean® staff so you can enjoy the rest of your meal. Accommodation options meet the needs of families of all sizes, with spacious suites and interconnecting staterooms. For added privacy, many of the ship's family staterooms provide separate bedrooms.
Disney
Disney may seem like the obvious choice, but still, this cruise line doesn't rest on its laurels. Whether it's relaxing me-time for adults, fun activities for kids or thrilling entertainment for the whole family, Disney makes sure each member of the family gets the vacation they deserve. Broadway-style shows, deck parties, Port Adventures and Disney-themed entertainment offer boatloads of fun for the whole family. Adults also have the chance to escape to adults-only locales and experiences—from adult-themed port adventures that'll have you tee-ing off in Cabo to Disney Castaway Cay, an adults-only haven of sand and surf.
Celebrity
A host of family activities—from sports tournaments to pool volleyball, trivia contests and lawn games at the lawn club—offer an abundance of chances to make great memories together that last a lifetime. Kids also have their pick of youth-specific programs, including toddler time for kids under 3, Fun Factory for kids age 3 to 11 and an X Club for teens. Celebrity Cruises® has even achieved Autism Friendly Cruise Line status, and offers autism friendly interactive initiatives for families living with autism. Parents and grandparents have their share of onboard activities too—learn to organize your vacation photos in the Celebrity iLounge℠ and pick up a few new culinary techniques in one of the ship's cooking demos. Babysitting services are available, in both the Fun Factory and in individual staterooms, to allow for a relaxing kid-free night out.
Uniworld
A cruise roundup wouldn't be complete without a river cruise option, and Uniworld's Generations program serves up a great time the whole family can enjoy. Explore the rivers of Europe together on a multigenerational journey that also provides unforgettable experiences onboard. Programming and kid-friendly activities keep young travelers engaged with plenty of free time for adults to relax and recharge, while shore excursions appeal to the younger set too, with treasure hunts, ghost walks and visits to a toy museum. 
Established in 1987, Tully Luxury Travel has long-standing relationships with the finest travel and tourism suppliers, and we offer world-class customer service through our three divisions: Cruise Professionals, African Dreams and Private Travel Designers.
Why Contact a Cruise Professional?
· Exclusive Amenities offered on ALL sailings
· VIP access to sites often closed to the general public
· Condé Nast Traveler "World's Top Travel Specialist" since 1999
Find out which is the best itinerary for you and receive exclusive amenities when you book with a Cruise Professional by Tully Luxury Travel. 
Call today at 1-844-308-5114.
www.tullyluxurytravel.com
Expedition Cruising Offers Inside Access to Europe
By Bob Ramsay – Tully Luxury Travel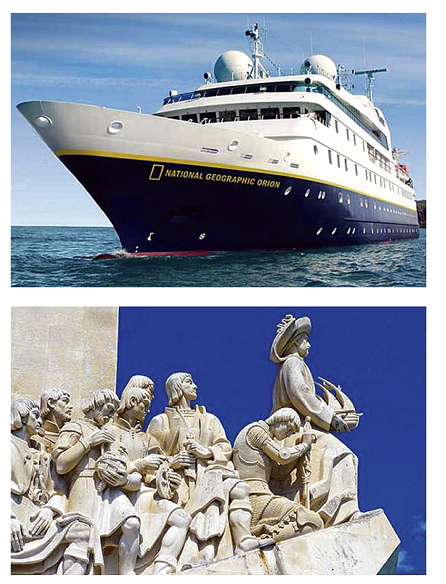 When you hear the phrase "National Geographic Expedition", you don't think of a luxury cruise, especially one from Barcelona to Lisbon.
But that's what I just returned from, via the seagoing expedition line, Lindblad National Geographic.
Lindblad pioneered the whole idea of expedition seagoing travel "to the wild places". Indeed, this summer they celebrated the 50th anniversary of founder Lars-Eric Lindblad taking the first visitors ever to Antarctica. Since then the company, now headed by his son, Sven, has become a world leader in sustainable tourism, pioneering cruising to the Galápagos and the Seychelles and growing to be a US$200 million a year operation.
A Subtle Distinction
So what is Lindblad doing in the Mediterranean, plying a sea lane that's been carved out over thousands of years and that serves literally millions of visitors via dozens of cruise lines?
As Sven Lindblad has often said: "The world's been pretty much mapped out. But there are lots of opportunities for nuances."
And what better way to share those nuances than by exploring ancient ports of call and heading inland for more.
In fact, Lindblad this summer is offering 15 new expeditions, all anchored in Europe and all on their National Geographic Orion. They range in duration from 8 to 15 days, from Sardinia to High Arctic Svalbard and circumnavigating Ireland and even Iceland.
My trip, "Portugal and Spain: From the Algarve to Catalonia", was an 8-day journey that had us eager to repeat the Lindblad difference next summer.
The first difference is the ship. As Sven Lindblad told the New York Times: "Cruise ships focus inward. It's the ships and amenities on board, the entertainment that is largely self-produced. What's happening outside is much less relevant. In expedition cruising, it's the reverse. It's focused on what's out there, and the ship is a means to get there."
While the National Geographic Orion isn't a luxury ship, we found it very very comfortable, and the meals, curated by renowned Australian chef Serge Dansereau of Sydney's famous Bathers' Pavilion, were fabulous.
Other differences
Cruise lines have expert speakers. Lindblad has experts so far out there that you gasp at the brilliance of their selection. Instead of a paella chef doing a demonstration onboard (which you could get onshore in Valencia), Lindblad invited Caleb Harper, a National Geographic Explorer and food systems expert to talk about the future of how food is grown. Why? Because the greenhouses north of Grenada in Spain are so vast they can be seen from space.
Their on-board cultural specialist, Miguel Angel Rodriguez Arias, not only spoke about the Muslim and Christian invasions of Spain, but the accidental dropping of a US nuclear bomb into the Mediterranean (at the very point we were passing) near Palomares in 1966.
Cruise lines offer photo instruction. Lindblad offers National Geographic photographers, like Kike Calvo who lavish you with attention no matter how basic your skills.
We even had an ethnomusicologist, Jacob Edgar who not only unveiled a world of Spanish music for us every night, but in our land-tours during the day, he would bring his Castillan ukulele and play for us as we walked through the streets of Valencia, Malaga and Cadiz.
And what were those land- tours like? As good if not better than the top land-based operators could offer. To visit the Alhambra in Granada and the Picasso Museum in Malaga with a private guide is one thing: to tour them with Lindblad guides is quite another. They were all articulate, funny, engaged and passionate about their subjects. The result? They made you feel like an insider to some of the most extravagant history and architecture anywhere.
And what better way to learn about Flamenco than a private performance at the Museo del Baile Flamenco in Seville?
By the time we disembarked in Lisbon, we felt we'd not just cruised the coast of Spain and Portugal, but truly explored it.
Lindblad's promise was delivered.
Why Contact a Cruise Professional?
· Exclusive Amenities offered on ALL sailings
· VIP access to sites often closed to the general public
· Condé Nast Traveler "World's Top Travel Specialist" since 1999
Find out which is the best itinerary for you and receive exclusive amenities when you book with a Cruise Professional by Tully Luxury Travel. 
Call today at 1-844-308-5114.
www.tullyluxurytravel.com
Click on cover to view published article