Cuba
Varadero: The Most Beautiful Beach in the World
Published in the January 2003 Issue of Canadian World Traveller
Photos: Courtesy of Cuba Tourism Board www.gocuba.ca/en/index.asp
Varadero Beach has long been the pride of Cuba, and a magnet for the rich and famous. Today, there's a broad range of hotels and resorts on this wide, sandy beach offering affordable vacations to suit any Canadian traveller's budget.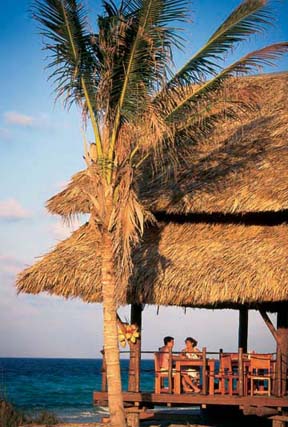 Considered by many as the world's most beautiful beach, Varadero is part of a peninsula that stretches far out into the calm waters of the Atlantic on Cuba's northern coast. Its 21-kilometre strip of fine white sand is an ideal vacation spot for sun-lovers, water babies and golfers. Its location on a narrow peninsula ensures that it is constantly cooled by tropical breezes.
But this white beach set against a backdrop of astonishing turquoise water and azure sky is not the only attraction in Matanzas province. The nearby cities of Cardenas and Matanzas (the provincial capital) are known for their art, history and culture. Southwest of Varadero, on the province's Caribbean coast, is the Zapata Peninsula, famous for its ecotourism and history.
Places to Visit
Besides Varadero Beach which boasts fine, white sand and an average year-round water temperature of 24C – 26C there are other interesting nearby attractions such as the Cayo Piedra Underwater Park; the 18-hole Varadero Golf Club; the International Convention Centre Plaza America; the gardens, groves, lagoons and old mansions of Josone's Oasis; the archeological site of Ambrosio Cave; and Punta Frances with its famous 600-year-old-cactus which grows as tall as a tree at the end of the Hicacos peninsula.
Varadero Restaurants
Restaurants specializing in Asian, Cuban, Italian, Spanish and international cuisine as well as barbecued meat and shellfish promise satisfaction for every taste. Cafeterias offer lighter meals and fast food as well. Coppelia Ice Cream Parlour has countless flavours of creamy Cuban ice cream. Cuban cuisine is influenced by Spanish, African, indigenous and other cultures.
The national dish is ajiaco, a stew of assorted root vegetables cooked with pork, poultry or beef. Other typical dishes are lechon (roast pork), fried green plantains (tachinos, chatinos or tostones), black beans, congri (rice with red beans), moros y cristianos (rice with black beans), picadillo a la habanera (ground beef in tomato sauce), roast chicken and tamales among others. The Cuban sweet tooth ensures that each meal includes dessert.
Cuban Cocktails
The quality of Cuban rum is recognized internationally and comes in four distillations: refined, white, gold and aged. Gold and aged rums are better for drinking straight, while white rum (carta blanca or carta plata) is best for cocktails. Several of the world's most famous rum cocktails are Cuban, and are served in most bars around the globe. Drinks include the Cuba libre, the mojito, the daiquiri, the Cubanito and the saoco.
Entertainment
Varadero's plentiful cabarets feature Cuban and international drinks and rhythms. Theatres and the Amphitheatre host variety shows, while others, such as the International Festival of Music and the Electronic Music Festival feature many genres of popular music. Movie theatres show Cuban and foreign films (in the original language with Spanish subtitles).
Specialty Travel
Going to Cuba is like taking a trip around the world in perfect weather. You can clamber over the ruins of French coffee plantations. Tour Spanish colonial cities dating back to the 16th century. Luxuriate in European-style spas. Swing to Afro-Cuban and Latin rhythms. Hike through spectacular mountains and forests. Dive on one of the world's great reefs. And fish where Hemingway fished.
General Info
Cuba is more than just the largest island in the Antilles. It is an intricate archipelago comprising the main island (about two-thirds the size of Florida), the Isle of Youth and about 4,195 keys (cayos) and islets. The combined surface area of these Caribbean land masses is some 110,992 square kilometres. The country sits at the mouth of the Gulf of Mexico, 140 kilometres from the Bahamas, 146 kilometres from Jamaica, 180 kilometres from Florida and 210 kilometres from Cancun.
Population, Language and Climate
Cuba has more than 11 million people. Its official language is Spanish, although most Cubans working in the tourism industry can communicate in English. The climate is moderately subtropical and predominantly warm. The island's average temperature is 25.5C and average relative humidity is 78 per cent. It also sees an average of 330 days of sunshine a year. Cuba's two clearly defined seasons are the rainy season (May to October) and the dry season (November to April).
Culture
Cuba has produced major international figures in literature and fine arts, film, ballet, modern dance and theatre. The country is also renowned for its original rhythms such as the danzon, son, bolero, mambo, cha-cha-cha and more. Cuba's prestigious cultural events attract international celebrities in dance, music, theatre and other arts. Among these events are the Casa de las Americas literary contest, the Havana International Ballet Festival, the Festival of New Latin American Cinema and the International Jazz Festival.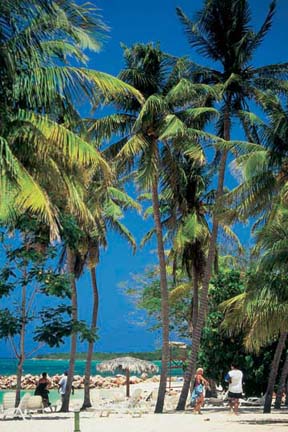 Packing for your trip
Cuba is a wonderfully warm, tropical island, so cotton and other light fabrics are ideal for outdoor activities. Keep in mind, however, that resorts, restaurants, tour buses and other public areas are generally air conditioned. During wintertime, which is slightly cooler, we recommend bringing a light overcoat. For the rainy season (May to October), rain gear will come in handy. Casual is the order of the day in Cuba. However, visitors who enjoy elegant dining, theatre and other sophisticated entertainment tend to dress more formally for those occasions.
Getting around in Cuba
Cuba has excellent taxi services as well as car, van and motorcycle rentals. Tour buses in Havana and Varadero cover the major sites of interest. For special excursions, contact the tourism desk at your hotel. The country has nine international airports, and eight local ones with domestic charters and air taxis. Of Cuba's extensive, 50,000-kilometre network of highways and roads, 14,000 kilometres are paved.
Shopping
Shops in hotels, villas and airports sell world-famous Cuban cigars, rum and coffee, as well as snacks, arts and crafts, toiletries, books and souvenirs. Specialty stores in the main tourist regions also carry high-end European and other imports.
Currency
All the goods and services in Cuba are priced in Cuban Convertible pesos only. The Convertible peso is value now at 1.08 US dollar. Currency exchange from US dollars in Convertible pesos will be subject to a 10% charge while transactions from Canadian dollars, Euro, UK pounds and Swiss Francs are not going to be taxed when exchanged into Convertible pesos. Of course, the amount of CUCs you'll receive for your Canadian dollar will reflect its new, stronger value ($US 1.08). Accepted are Visa, Thomas Cook & American Express Travelers' cheques and Visa & Master Card credit cards. All must be drawn on Canadian Banks.
Telecommunications
Cuba's telephone network provides direct communications inside the country and out – with any part of the world. Some hotels and resorts also provide Internet connections.
Getting There
A three-hour flight from Eastern Canada and a four-hour flight from the West, Cuba is closer than it looks. Visitors can fly with tour operators or on regularly scheduled flights. Scheduled airlines are Cubana and Lacsa (Toronto and Montréal to Havana). Charter flights are provided by Air Transat, Skyservice and Air Canada with direct flights to Varadero, Havana and six other points-of-entry.
Entering the Country
All visitors must have passports that are valid throughout their stay, as well as tourist cards (issued by travel agents, airlines or the Cuban consulate in Toronto or Montréal). Business travellers need valid passports and visas (issued by the Cuban consulate). Tourist cards for Canadians are valid up to three months. Tourist cards are available from travel agencies, airlines and the Cuban consulate.
For More Info:
Cuba Tourist Board (Montréal)
2075, rue University, Bureau 460
Montréal, QC H3A 2L1
Tel.: 514-875-8004
Fax: 514-875-8006
E-mail: montreal@gocuba.ca
Website: www.gocuba.ca/en/index.asp
Embassy of Cuba
388 Main Street
Ottawa, ON K1S 1E3
Tel.: 613-563-0141
Fax: 613-563-0068
Email: cuba@embacuba.ca
Website: www.embacuba.ca
Cubana Airlines (Montréal)
620, rue St-Jacques, Bureau 10
Montréal, QC H3C 1C7
Tel.: (514) 871-1222
E-mail: ventas@qc.aira.com
Website: www.cubana.cu