Dominican Republic
Destination: Samaná
Published in the Spring 2010 Issue of Canadian World Traveller
By Greg James (greg@canadianworldtraveller.com)
Photos Courtesy of Dominican Republic Tourist Office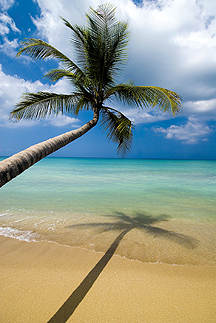 There is no doubt that the Dominican Republic is one of the most popular sunny destinations for winter weary Canadians.
As global warming makes even our summers unpredictable, more and more of us now consider this Caribbean island paradise as an ideal year-round destination.
While the charms and amenities of established holiday Meccas such as Puerto Plata, Sosua and Punta Cana still draw the majority of Canadian and international tourists, the relatively unspoiled northeastern region of the Samaná has become an interesting choice for discerning vacationers 
Samaná Peninsula
The Samaná Peninsula, its protected bay and its northern coastline that faces the Atlantic Ocean offer forested mountains, charming towns and spectacular seasonal whale watching along with its uncrowded pristine beaches.
Activities on both land and sea abound for the adventurous vacationer, but for those like myself, just relaxing and soaking up nature at its best is more than enough.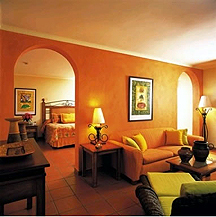 Late March Break
My Air Transit flight to the DR, as Dominican Republic is often referred to, landed at Samaná's new International Airport, which was opened in November 2006.
This modern facility receives direct flights from several cities in Canada. However on this trip, I continued on the flight to Puerto Plata where I would spend a few days at the beachside well-appointed Gran Oasis Marien Hotel before returning to Samaná by road.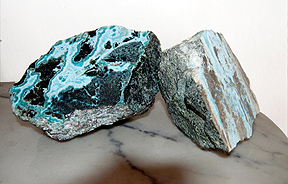 Amber, Art and Rum
For those unfamiliar with Puerto Plata, this popular tourist town is located on the northern coast of Dominican Republic and, of course, I did all of the usual tourist things.
A tour of the town included a visit to an Amber Museum where the formation of this beautiful golden-hued fossilized tree resin was explained.
We later stopped at a shop that sold exquisite items of gold and silver jewellery adorned with either amber or a beautiful marble-like volcanic blue rock called larimar, which is unique to the Dominican Republic.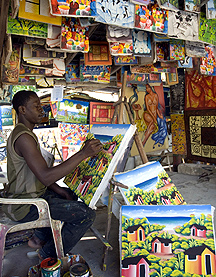 As we walked through the town, I took note of the many colonial wooden buildings painted in pastel shades and decorated with elaborately craved brackets and friezes. Some were pristine, while others were sadly in need of repairs.
We wrapped up our leisurely stroll through Puerto Plata by visiting a few of the many souvenir and handicraft shops that lined its commercial streets.
Judging from the numerous fascinating paintings and wooden sculptures on display, it seemed that half of the population of the country must be artists!
Our final stop was at the Brugal rum distillery, the third largest in the world, that produces what can only be described as liquid gold.
Mountaintop View & Fairytale Beach
One of the must-do attractions in Puerto Plata is a ride on the cable car up Mount Isabelle Torres. The ride itself is worth the trip and the view from the top of the entire town and the azure waters of the ocean beyond is spectacular.
That night we dined at Cabarete, which is quite magical at night. The town is just a short drive from Puerto Plata.
It features a long row of restaurants and bars that line its sandy beach. At night, the beach is lit by strings of coloured lights strung between the lofty palm trees.
Samaná Bound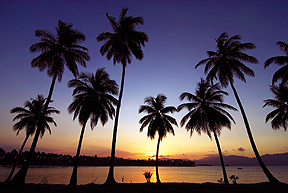 The next morning, we took off for Samaná, which is the name of a town, a bay, a peninsula and a province.
Located at the extreme northeast of Dominican Republic, Samaná is blessed with lush green mountains, long sandy beaches, turquoise warm Atlantic waters and quaint little towns that have not been spoilt by over-tourism.
Until the new Juan Bosh Samaná International Airport was completed in 2006 at El Catey, most visitors had to travel here by road or regional carriers from Puerto Plata or the capital city of Santo Domingo, located on the southern Caribbean coast of the DR.
Now, regular flights arrive here directly from several cities in Canada and Europe, making it much easier to visit this fascinating region of the country.
A Short History Lesson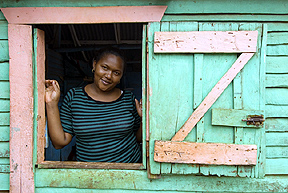 The town of Samaná lies on the southern coast of the peninsula, which forms Samaná Bay. The town has an unusual history. It was settled by two shiploads of freed American slaves around 1824.
Consequently, to this day, many residents speak English (or Spanglish) as a first language even though, like the rest of the DR, the official language is Spanish.
Because of its important strategic location, Samaná has always attracted European invaders to its palm-fringed sandy shores.
Periods of French colonial rule alternated with the intrusion of English and Dutch buccaneers and pirates. In the 19th century. Napoleonic forces captured Samaná and at one point, the region was sold to the United States for one million pesos.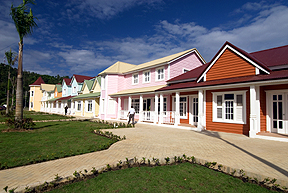 Fairly isolated from the rest of the DR, Samaná was relatively late in developing a comprehensive tourism infrastructure. However, today it boasts several all-inclusive topnotch resorts offering fine international cuisine, as well as more modest accommodations and eateries for the budget conscious.
In addition, French, Italian and Spanish expats have opened up businesses that cater to tourists visiting the area, adding a European flavour to the vibrant local culture.
A Stunning Resort
On arrival at the Gran Bahia Principe Cayacoa Hotel in Samaná, I had only one question. Where's the beach? You see we had driven up a steep road to arrive at this wonderful cliff-top gated complex of buildings.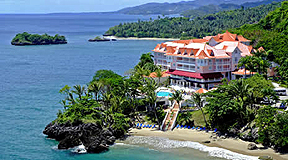 My question was answered the moment I stepped into my room. The view from the balcony was breathtaking!
There I was looking out on Samaná Bay, which was framed way down below by the resort's private beach. And just to the right of my view was a bridge which connected the hotel to an outdoor elevator tower. The base of the tower stood right on the beach!
I hurriedly got into my swimming trunks, grabbed a towel and headed out. The ride down in the some seven-storey-high elevator was amazing. The side of the car facing the bay was glazed so one could admire the view as one descended. It was then that a noticed that a cruise ship was moored out on the bay. What a perfect Kodak moment!
Stepping out onto the beach there was a hard decision to be made. Should I turn to the right where a beachfront cabin offered equipment for snorkelling and other water sports or turn to the left where the hotel's beach bar beckoned to me with cold beer and cocktails?
Another hard decision awaited me that night. Which of the resort's two gourmet restaurants serving delectable seafood and international haute cuisine would I choose to dine at?
Thank goodness I would be here for a few nights, I thought.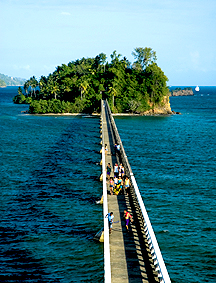 Bridge to Nowhere
One of Samaná's unique and puzzling landmarks has to be the Cayacoa Bridge, which is actually a series of spans linking several small islets in the bay to each other and the shoreline.
In fact the first span began a few metres from the hotel's grounds. No one seems to know why the bridge was built, but it's great for an afternoon stroll. 
I got to the furthest islet and there was nothing there to speak of, but it felt like a real adventure. Some locals advise visitors not to venture across the bridge after dark but during the day it's perfectly safe and offers visitors great photo ops of the town and the bay 
Heavenly Islet
There is a little island in Samaná bay called Cayo Levantado. This surely must be one of the places on earth that's closest to paradise.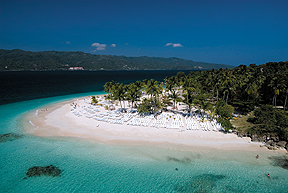 The coral reef island of about one square kilometre in size is rimmed with white sand beaches that are lapped by the warm waters of the bay. There is a small ferryboat that takes you to the islet, which until recently was sparsely inhabited, a veritable Robinson Crusoe Island.
Today, the Gran Bahia Principe Cayo Levantado Hotel stands discretely on one side of the island. We had a terrific lunch there and toured some of its guest villas, which featured outdoor hot tubs surrounded by tropical plants!
A visit to lovely Cayo Levantado makes an ideal not-to-be-missed day excursion from the town of Samaná.
My Elusive Waterfall
Another of Samaná's unique attractions is the waterfall called El Limon. It cascades 40 metres down a mountainside near the town of Las Terrenas, ending in a crystal-clear natural pool that one can bath in.
On a former trip to the DR, I missed seeing this spectacular sight because of bad weather.
You see, the trek inland to the falls is done on horseback and if the trails are wet they become slippery and unsafe.
This trip was no different. It rained in the mountains two days before my intended visit. Now I have a reason to revisit Samaná and try for a third time to see my elusive falls!
Winter Whales
Samaná Bay has some of the best whale watching in the world. Every winter, from January 15 to March 15, thousands of tourists from around the globe come to Samaná just to catch a view of the frolicking giant humpbacks as they give birth and mate before retuning to the North Atlantic Ocean.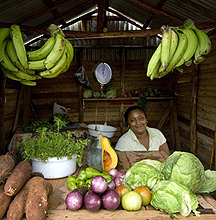 Out and About in Town
Samaná's open-air market is definitely worth a visit. This is the Caribbean version of an Arab souk.
Cars, trucks and motorcycles vie with shoppers for possession of the limited space between the stalls that offer everything from fresh vegetables, fruit and fish to clothing and running shoes.
The sights, sounds and smells are unforgettable. Here you can meet the real Dominicans going about their everyday lives.
For a much more quiet and contemplative time, you should visit La Churcha, which has a colourful and highly improbable history. Its proper name is the Dominican Evangelical Church Saint Peter Samaná but the locals call it La Churcha.
It is actually an old church building that was shipped all the way from England in 1824. As it had to be transported by ship, the prefabricated building was clad in tin to make it light!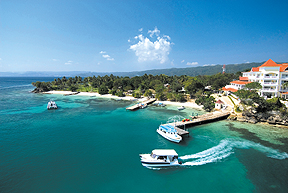 Something for Everyone
The variety of Samaná's natural terrain and the clear waters of its bay make it a Mecca for the active vacationer.
Swimming, snorkelling, diving, sailing, mountain biking, hiking, horseback riding, caving and rock climbing are just some of the activities that are available.
However, if lazing on one of Samaná's world-famous beaches while reading a book and sipping on your favourite cocktail is your idea of fun, there's no better place to do it than Samaná!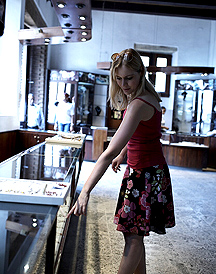 More Info About the DR:
Dominican Republic Tourist Office
Tel: 514-499-1918 or 1-800-563-1611
Email: montreal@sectur.gov.do
Website: www.godominicanrepublic.com