Florida
With an Appetite
by Michael Morcos
The South Florida Foodie Scene
Tropical breezes and endless miles of sandy shores make for the ideal environment to enjoy delectable cuisine. South Florida's acclaimed culinary atmosphere is alive, thriving and drawing in some internationally talented chefs to show off their skills. Incorporating farmed fresh ingredients and plenty of seafood delights, the food there is diverse and innovative, from the informal beach shacks to the elegant affairs in new high-end urban restaurants. Indulge in the sun and stay for the delicious dishes to be explored throughout South Florida.
Coconuts cannot be missed
Immerse right into the heart of Fort Lauderdale's food scene with dinner at Coconuts. Its laid back ambiance and beachy charm is only part of what makes it most popular. Have a juicy lobster roll or coconut shrimp platter, pull up a chair outside and revel in the magnificent sunsets.
Support relaxation and pampering
Almost every traveler who frequents Florida goes there for one reason – to have a rejuvenating time. Sampling incredible food goes hand in hand with spa and massage treatment, especially when it all can be enjoyed with incredible surrounding views. At the Atlantic Hotel and Spa, one of the city's best and most luxurious hotspots, choose from a series of services including an Orange Blossom or vanilla ginger facial, to stay with the food theme.
Beaches galore
South Florida boasts some incredibly sandy and serene shorelines. For instance, the famous Delray Beach bring in a million visitors a year for its natural beauty and ample activities, from sandcastle building to body boarding. It is two miles of great surf line with restaurants, shops and even spas.
Back for a memorable dinner
The Atlantic Hotel and Spa hosts a fantastic place to wine and dine by the water. Specializing in home grown ingredients and wonderful fresh surprises, the East End Brasserie pairs perfectly prepared dished of filet and seared scallops with tasty wines. Finish with homemade dessert, such as the vanilla ice cream with white chocolate shaving, for the perfect finish.
Floridian art and culture
Like many other major cities in the U.S, south Florida has some incredible artwork to observe and appreciate. Although some exhibits rotate, most visitors will find ancient Roan relics, black and white photography and much more. Take the afternoon to peruse the wide selection can choose your favorites. Before heading back to the beach.
Locally sourced
Temperate weather makes for ideal farming weather for many different types of produce, dairy and livestock. It's worth leaving busy downtown areas to take a trip to Marando Farms for some homegrown fun. Take a tour to learn more about bee colonies, irrigation and other farming techniques great for all ages. Stop by the colorful farmer's market to check out what's growing seasonal and on sale. On the way back, have a egg any style paired with smoked sausage at the popular, locally sourced food truck Eggtastic.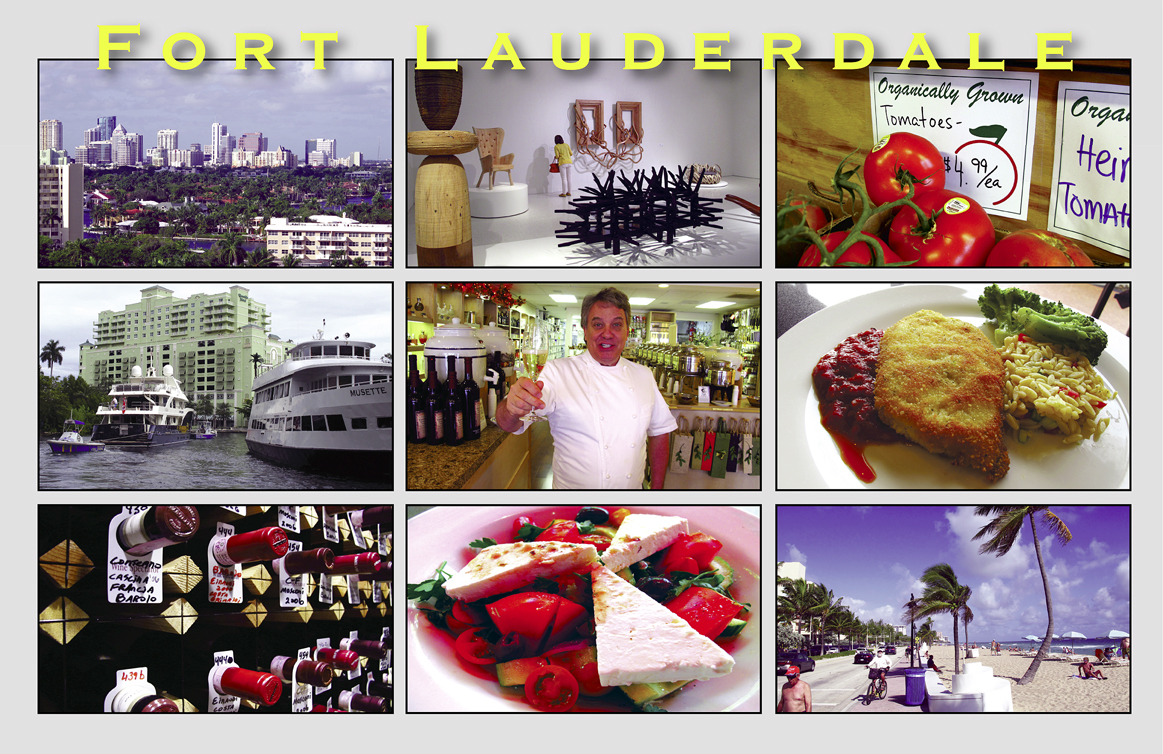 Learning from the best
With all these wonderful meals, it can be a thrill to get a little behind the scenes and see how they are created. Make some time to experience the Chef Jean Pierre Gourmet Emporium and Cooking School for a lesson and foodie shopping. Observe or take a class in many different concentrations and perhaps meet the animated Chef Jean Pierre himself. Before leaving, take a peek in the gourmet shop fill of kitchen wares and imported treats.
A waterway tour
If not in the mood for swimming, hop aboard a water taxi instead in the Intracoastal waterways near Fort Lauderdale. These nautical modes of transportation offer the opportunity to take a closer look at the harbor yachts and gorgeous mansions that lines the shore. The area has become a magnet for many top stars, chefs and business owners to take root and indulge in all the fanciful, sophisticated aspects of South Florida.
A Tuscan flair
Cuisine of every flavor can be found along the southern coast – Italian is no exception. For a really hearty dining time, enter the homey Casa D'Angelo. Run by Angleo Elia, backed by his mother's home cooked recipes, smells wafting from the kitchen include fresh sautéed seafood and Mediterranean vegetables. The collection of more than 20,000 wines is icing on the cake for a complete experience.
Following the trend
Have a few classy dinners out in Fort Lauderdale, but also leave a bunch of room for fun. Make a beeline for the new restaurant YOLO in Fort Lauderdale. Named after the catchphrase "You Only Live Once", it can be a super place to mingle with locals and travelers alike over satisfying food, great drinks and a lively atmosphere. There's even an area just for the adults to nosh on some eclectic and sassy choices, such as chorizo with cheese or a spicy calamari. Nearby there's plenty of places to shop and work off those extra calories, as Las Olas Boulevard teeming with boutiques and galleries.
Switching gears on the shore
Florida is a large state, but it is worth heading from Fort Lauderdale over to check out the Palm Beach area. Also in the south and just as sunny, it has its own charms and wonderfully modern facets for a sleek and memorable trip. 
The Breakers, found in Palm Beach, can create the ultimate ambiance for the excursions, complete with private beach and wonderful culinary opportunities. Laid out along the shoreline, guests can pick from luxe suites or guest rooms, all which have beautiful vistas of ocean and the pretty resort itself. The possibilities are endless outside the plush rooms, as guests may try beach yoga classes, bicycle tours, spa treatments and golfing, to name only a few of the relaxing and invigorating activities. The Beach Club on site has access to the massive pool and bungalows for a lazy and scenic afternoon.
For cocktails and dinner, HMF is the place to see and be seen. Curl up around some unique and perfectly seasoned appetizers, paired with a classic libation can nods to the finer, simpler things in life. Many items respect the seasonal crop and use delicious ingredients from Florida, so patrons know they are getting a true taste of the real destination. In comparison, have a light and visually pleasing breakfast also inside the resort at The Circle Room, which has some of the best views through arched ceilings on the property.
Fresh and fun
Throughout Palm Beach there are more incredible foodie choices around every corner. 50 Ocean welcomes the casually elegant crowd to have a great seafood platters and sweet desserts made in house. Max's Harvest in nearby Delray Beach has delighted those into socially and ethically conscious food sourcing, which supports perfectly prepared dishes as well. Unwind in a classic way as well with some tea time at DU20, all located in a great area full of countless shops and fun things to do.
Every corner of South Florida, whether on the east or west coast, is well worth exploring. Exploding savory and sweet inventions or flavor dance on the palate and are cultivated by some of the best chefs in the nation. This reason alone is why millions flock to this part of the state annually, only enhanced by the amazing beaches, shopping districts and entertainment that makes Florida special.