Greece
Life's a Beach in Zakynthos
Article and photography by Gregory Caltabanis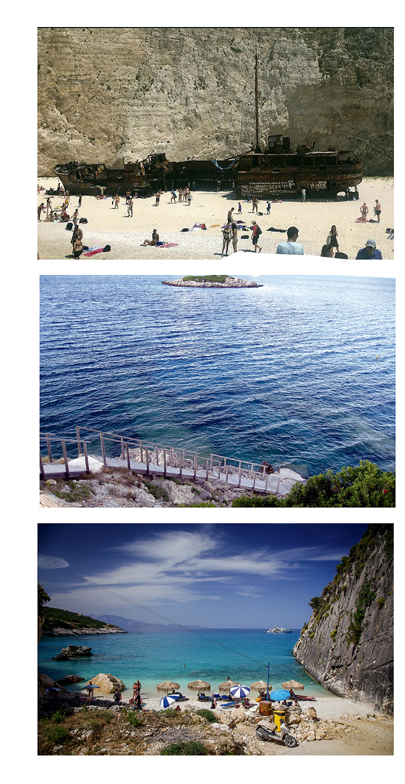 Zakynthos has gained notoriety in recent years and is beginning to top travellers' wish lists across the globe – and for good reason. Off the eastern part of the Ionian sea, Zakynthos finds itself well positioned to accommodate all globetrotters wishing to take in Greece's beauty and many wonders.
Famous for its white sand beaches and deep blue waters, Zakynthos – also known as Zante – is an ideal hotspot for tourists looking to relax with their significant others. Despite the island's many attractions and sightseeing opportunities, its most famous landmark is undisputedly the Navagio beach. Only accessible by boat, the Navagio is a cove located on the northwest shore and is surrounded by high cliffs, offering tourists some much needed exclusivity.
The Navagio is also known as the Shipwreck beach after a freightliner in 1980 – the MV Panagiotis – was abandoned there. To this day, the ship remains buried in the beach for all its visitors to see, highlighting its illustrious past. Over the years, it's also been rumoured that the MV Panagiotis was smuggling contraband such as cigarettes and wine before crashing into the cove. As a result, the locals gave the Navagio one of its most famous yet more unknown nicknames: Smugglers Cove.
As the Navagio is secluded by nature due to its cliffs, tourists are unable to go on their own and an excursion is required. The tour itself costs 30 euros a ticket, which is a decent fee considering that it gets you there and back. After a thirty minute bus ride, you will then be escorted onto a speedboat that will bring you directly on the Shipwreck beach. Friendly tip: Be sure to go on the second floor of the boat as it is far more comfortable and spacious compared to the main floor. To make matters better, you'll also be able to take in the sun on your way to the beach.
Xigia Beach is another one of Greece's wonderful spots and should be a part of any tourist's Zakynthos itinerary. Off the Eastern Coast of the island, this beach is naturally divided into two by the surrounding cliffs. The first Xigia beach has seen its popularity rise in recent years and is mostly known for its sulphuric water, as a result of the minerals pouring into it from the cliff. Other than the medicinal benefits of this beach, it is an ideal spot to relax and sunbathe. However, be warned: While the sulphur is good for your skin, it results into a strong smell on the beach. Also, two chairs will run you about 10 euros for the day.
On the other side of the cliff, lies the more hidden version of Xigia Beach. You will need to follow the stairway to get down and could even relax on the cove before descending into the water via ladder. Atop the stairway, there's a lovely tavern which offers some of Greece's finest delicacies at a relatively modest price. I would recommend ordering the moussaka and risotto and please – top it off with a chilling Mythos beer. After you're done eating, you could also sunbathe on the many beach chairs overlooking the water. All in all, it makes for a wholly satisfying experience and is a day well spent.
After visiting both Xigia and Shipwreck beaches, tourists should also make time to visit Kalamaki. Located a mere 6 kilometres from Zakynthos town, it is more central compared to the previous hotspots and is much easier to get to. Host to a plethora of water sports among other things, there is no shortage of activities. Kalamaki beach – which is essentially a continuation of Laganas – is dominated by rock formations and clear blue water. Note: bring your own towel to take in the sun as chairs are largely occupied by the early hours of the morning.
A final, must-see destination in Zakynthos is Marathonisi – also known as turtle island. Marathonisi, located off Laganas bay, got its name due to its unlikely turtle-shaped formation and acts as one of the nesting homes for loggerhead turtles called Caretta Caretta. It's important to note that all excursions to this islet are handled by the National Marine Park in order to preserve the turtles' nesting grounds. With that being said, it's quite easy to catch a boat from either Laganas or Keris to get there and will cost you approximately 25 euros. Turtle spotting has become a common touristic activity in Zakynthos and is made easier by Marathonisi's sparkling blue waters.
As a whole, Zakynthos offers tourists a bit of everything and has proven to be an ideal vacation spot, be it for the family or even for a lovers retreat. Its wonderful beaches, authentic food and unique excursions on offer ensure tourists could have a relaxing time all-while immersing themselves into the rich, Greek culture.
www.visitgreece.gr
Click on cover to view published article