Ireland
Exploring the Rugged West Coast
By Jen Gouthro
Email: caper_in_toronto@hotmail.com
Published in the February, 2004 Issue of Canadian World Traveller
Photos: Jen Gouthro
We couldn't have been more pleased. Our rental car turned out to be a cheerful kelly green Fiat, a fitting vehicle in which to explore the beautiful Dingle Peninsula on Ireland's rugged west coast.
The Dingle Peninsula is the westernmost peninsula in Ireland, and the lesser-known cousin to the touristier Ring of Kerry. Its silver-sanded beaches and jagged cliffs have been backdrops for such movies as Ryan's Daughter and Far and Away, and it's easy to see why the Dingle Peninsula is growing increasingly popular as a tourist destination.
Town of Dingle
Our first stop on our Dingle tour was the charming town of Dingle, home to 1500 inhabitants and more than 50 pubs! Dingle also serves as the residence for Fungi, a friendly dolphin who has been charming locals and tourists alike since the mid-eighties.
Surprisingly, Dingle offers more than good traditional pub grub and a cold pint. You can pick from gourmet restaurants and trendy cafes if your cravings are more sophisticated.
We opted for some homegrown craic (Gaelic for lively conversation) coupled with fish and chips at Murphy's Pub on Strand Street.

Dingle Peninsula
After debating which one of us was best equipped to drive the 30 plus miles of treacherously thin, winding roads of Slea Head Drive (on the other side of the road, no less!), we departed for magnificent Slea Head. Despite Dingle being a Gaeltacht (Gaelic-speaking) region, the locals are kind enough to have signs written in English and Irish.
On the way, we stopped to snap some photos of the awe-inspiring emerald green hills, dotted with clans of white sheep. Any plans to make good time around the peninsula were forgotten as we rested awhile amidst the breath-taking beauty. We quickly realized that renting a vehicle and taking our time to explore this region was a great idea.
Ventry Beach
Can you really call it a road-trip without getting lost at least once? A few wrong turns apparently made a right when we happened upon a rocky inlet protecting what we realized later was popular Ventry Beach. We trekked down the steep path and gasped at the tenacity of several swimmers braving the still chilly June waters. We couldn't decide which had the deeper blue hue – the cloudless sky or the unrelenting waves, so we declared it a tie.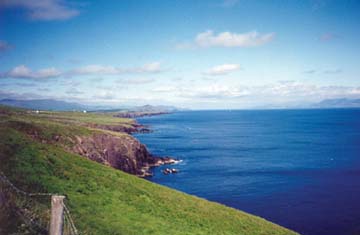 Slea Head

It was my turn to take the wheel. I was white-knuckled as impatient locals sped by me on the sharp turns. Undaunted, I took my time so I could enjoy the lovely drive.
Nonetheless I was relieved to spot the normally cloud-obscured Blasket Islands in the distance, confirming our arrival in breathtaking Slea Head. Sharp outcroppings of rock lined the base of the craggy cliffs and green waves exploded into soaring arcs of foam as they reached land.
The spectacular shoreline was on one side of the road, and on the other side, magnificent stone fences interrupted steep, grassy hills. There were plenty of sheep to coo over as we explored Dunbeg Fort, a series of stone "beehive" huts reconstructed from Iron Age and Early Christian ruins. The Fort (or Cashel as it was also called) was occupied by five structures, one of which bore an inscribed cross. The huts were interesting, but the view from the hill was more than worth the price of admission.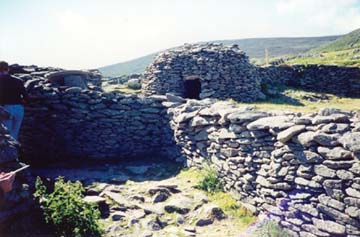 Musical Landscape
My travelmate Lynne wanted to experience the hairpin turns of the Dingle Peninsula, so we changed drivers again.
As we traveled north past the village of Dunquin on the way to Ballyferriter, we noticed some cars parked alongside the road. We couldn't resist stopping to investigate, lest we miss a fantastic sight. We weren't disappointed.
As we walked up the hill, we were greeted not only by a majestic view of the Irish landscape, but we had musical accompaniment as well! A harpist played traditional tunes beside a box of quickly moving homemade CD's. We sat and listened to the soothing music and meditated upon this movie-perfect moment. It was wonderful to relax and drink in the view. Several sheep roamed about, indifferent to our presence.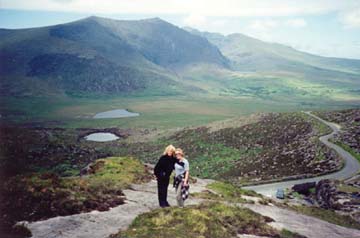 Green Valleys & Glacial Lakes
We were successful in tackling Slea Head Drive in half a day, but were determined to explore North Dingle before pushing on to the town of Tralee.
After a late lunch, we drove north from Dingle along a narrow cliffside road via majestic Connor Pass, the highest mountain pass in Ireland.
We were surprised to encounter our most challenging roads yet, with barely one small car being able to squeeze through in some places. I felt like a world-class driver after navigating this area! For me, Connor Pass was the most beautiful part of the trip.
The scenery was otherworldly: rocky, windswept hills emerged from fertile green valleys, with the basin floors punctuated by glassy glacial lakes. We felt fortunate we added this leg of the trip to our Dingle adventure. "Now, this is Ireland!" my friend Lynne announced. I agreed.
Cold Pints & Irish Smiles
We soon realized our weariness and decided it best to depart for Tralee. The town was a convenient stopping point after a day on the Dingle Peninsula and had an abundance of comfortable accommodations and quaint eateries.
We meandered through the surprisingly bustling streets until we happened upon the Abbey Inn, former stomping grounds for many Irish bands, including U2. We savored the atmosphere as well as our cold pints, and reflected upon a day jam-packed with sandy beaches, jagged cliffs and true Irish hospitality.
Sláinte! (Gaelic for Cheers!)
About the Writer
Jen Gouthro was born and raised in Cape Breton, Nova Scotia. She presently lives and works in Toronto. She writes a weekly newspaper column for the Cape Breton Post entitled "A View from Away" about her experiences as a "small-town girl living in the big city." She's dealing with a chronic case of the travel bug. She can be reached at caper_in_toronto@hotmail.com.
For More Info:
Tourism Ireland
2 Bloor St. West, Suite 1501
Toronto, ON M4W 3E2
Tel.: 1-800-223-6470
Fax: 416-925-6033
E-mail: See Website
www.tourismireland.com
Embassy of Ireland
130 Albert St.
Ottawa, ON K1P 5G4
Tel.: (613) 233-6281 (6282)
E-mail: embassyofireland@rogers.com
www.irelandemb.org
Aer Lingus (Irish Airlines)
538 Broadhollow Road
Melville, NY 11747 USA
Toll-Free Reservations: 1-800-474-7424
Toll-Free Helpdesk: 1-866-886-8844
E-mail: See Website
www.aerlingus.com