Israel
Tel Aviv at 100 Years!
Published in the Summer 2009 Issue of Canadian World Traveller
By Michael Morcos
Israel's welcoming and incredibly open city of Tel Aviv boasts scores of wonderful museums, art galleries, restaurants, bazaars, hotels and long sandy beaches.
It is known in the Middle East as "the city that never sleeps", due to its year-round pulsating nightlife, its many young and outgoing residents, its large foreign student body and the countless international visitors who arrive each year.
With my weeklong itinerary jam-packed with activities, including a short visit to Jerusalem, I didn't think that I would be doing much sleeping myself!
Shalom and Happy Birthday!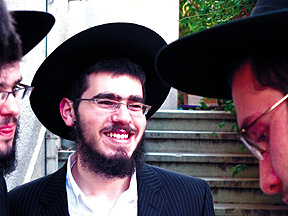 I would be visiting Tel Aviv during its yearlong 100th anniversary celebrations.
This modern, liberal, world-famous holiday destination was founded on April 11, 1909 in the outskirts of the ancient Mediterranean port city of Jaffa, which is also called Yafo.
However, Tel Aviv's early dynamic growth soon outpaced that of neighbouring Jaffa and the two cities, which were then abutting, became a single municipality in 1950, just two years after the official establishment of the State of Israel.
Hill of Spring
During my stay, I discovered that the name Tel Aviv is literally translated as "Hill of Spring".
I also learnt that the amalgamated City of Tel Aviv-Jaffa, with an estimated population of just under 400,000, is the second largest city in Israel after Jerusalem.
Situated on the country's sunny Mediterranean coastline, Tel Aviv-Jaffa is actually part of a much larger metropolitan area called Gush Dan, home to over three million of Israel's total population of some seven and a half million citizens.
Arriving in The Promised Land
Ben Gurion International Airport, which today serves over 11.5 million passengers annually, was originally established by the British Mandate authorities in the pre-Israeli-independence times of the 1930s.
Over the years, the airport was modernized and expanded to become Israel's main port-of-entry. In 1973, it was renamed to honour the country's first Prime Minister David Ben-Gurion.
The airport is located near the City of Lod, about 15 km (9 miles) southeast of Tel Aviv, so it took a mere 12 minutes to drive to the ultramodern, 273-room Crowne Plaza City Center Hotel, which overlooks the entire vibrant metropolis.
Classy Burgers
My first culinary experience in Tel Aviv was actually American in inspiration! We dined at Dixie Grill Bar Restaurant.
Along with its excellent burgers, the brasserie-styled eatery serves everything from wings to pasta and mussels, 24 hours a day.
The Dixie is favourite eating spot with students and tourists. I never expected to find an establishment offering such genuine North American fare in Israel!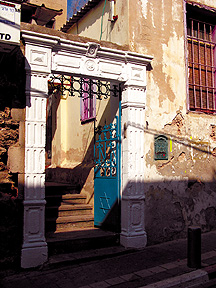 New Old Neighbourhood
The Neve Tzedek historic neighbourhood was established in Jaffa by Jewish families in1887, 22 years before the 1909 founding of Tel Aviv.
The colourful, low-rise buildings, built along picturesque narrow streets, were abandoned by the original owners when they moved to the newly established city.
These houses became the refuge of many young artists and writers who later rose to fame, but the buildings fell into disrepair when they also left.
Plans to demolish the historic neighbourhood for new development were eventually cancelled as many Neve Tzedek buildings had been placed on preservation lists.
Museum Houses
By the end of the 1980s, efforts began to renovate and preserve Neve Tzedek's century-old structures. New establishments were housed in old buildings, most notably the Nahum Gutman Museum, located in the artist's former home.
On our fascinating tour of Neve Tzedek, we visited the Gutman Museum and Beit Rokach, the faithfully restored 1887 home of Shimon Rokach, the founder of Neve Tzedek, which is now an equally fascinating museum house filled with century-old furnishings.
After a meeting with renowned Israeli architect Ilan Fibko, we toured Jaffa's historic port. Our day ended with dinner at the Manta Ray Restaurant, the perfect spot to look out over the waves breaking on Tel Aviv's coast and catch a breathtaking view of the sun setting over the Mediterranean, while enjoying the restaurant's fine seafood specialties.
Bargain Shopping & Wine Tasting
For those who love haggling, the Jaffa's Flea Market is the perfect venue for a shopping expedition. The market offers everything from genuine articles of copper and brass to memorabilia like old family albums as well as faded jeans from India, but the age-old adage of 'buyer beware' still applies.
Like many a tourist, I couldn't resist the charms of some of the persuasive market vendors. The flea market is open Sunday to Thursday from 10am to 6pm and on Friday from 10am to 2pm.
For a change of pace we visited the Pri Hagefen Wine Centre, which is located in the historic Neve Tzedek neighbourhood. This establishment boasts a wonderful ambience and a selection of Israeli wines from more than 70 wineries. Every week the centre holds wine-tasting events featuring vintages from various wineries.
Living Art
Art seems like second nature to Israelis. We visited the Ilana Goor Museum in Old Jaffa. This accomplished Israeli artist has displayed her cutting-edge sculptures in the world's leading galleries.
After a tour of some of Jaffa's many other first-rate art galleries we visited Beit Hapsifas, the former home of Israeli mosaic artist Yossi Lugassy.
We had dinner at Boya Restaurant, located at the Tel Aviv Port. It featured a menu with a decidedly Mediterranean and Middle Eastern twist.
The tapas were served with hummus and the long dessert list included homemade Arabic kanafeh made with sweet cheese. The seaside venue alone made this dining experience worthwhile.
Rothschild Boulevard
The following day, we visiting the impressive Independence Hall, where Israel's first Prime Minister, Ben Gurion proclaimed the State of Israel on May 14, 1948, then we continued along Tel Aviv's ritzy Rothschild Boulevard.
Many of the street's historic buildings are built in the distinctive Bauhaus or International style. They were designed by German Jewish architects who immigrated to the area after the rise of the Nazis in the 1930s.
The totally unexpected and well-preserved buildings have been dubbed the "White City of Tel Aviv". In 2003, this unique area of architectural gems was justly designated as a UNESCO World Heritage Site. Today, Rothschild Boulevard it is one of the most expensive and exclusive streets in the city.
Segways and Fashion
After a bistro-style lunch at the Benjamin Segal Restaurant hosted by Chef Zadok Lavi, I took off for Tel Aviv's Port to experience my first ride on a Segway, a scooter-like device that is self-stabilizing and powered by electricity. My ride along the riverside Promenade gave me yet another unique view of the city.
One of my interesting stops was at the Comme Il Faut Café Fashion and Art Design Complex, a collection of fashionable shops and restaurants located at Tel Aviv's recently redeveloped trendy New Port Area.
Spices & Other Delights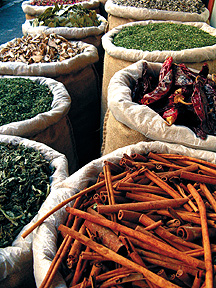 Levinsky Street Spice Market is actually a series of shops along the animated street selling many exotic spices from the Near and Far East, as well as other delicacies such as pickles, smoked fish and gourmet cheeses.
The next stop on our walking tour of Tel Aviv's outdoor shopping areas was at Shabazy (Shabazi) Street, noted for its unique but quite affordable handmade shoes and bags and its one-of-a-kind pieces of jewellery.
We then made our way to the Carmel Open-air Market, which offers a perfusion of fresh fruit, vegetables and flowers, as well as clothing, spices, candies and freshly baked goods.
The sights, sounds and smells alone make this a must-visit shopping venue. On Friday afternoons before the Sabbath begins, the market is packed with shoppers.
Arts and Crafts Bazaar
Rounded out our tour was a leisurely stroll through the Nahalat Biyamin Pedestrian Mall and Arts and Crafts Bazaar, which featured wonderful examples of jewellery, made by local artisans.
Our final stop was on Sheinkin Street – Tel Aviv's Yuppie area. If you're looking for the latest international fashions, up-to-the-minute music stores or trendy cafés and bars, this is the place for you!
We had worked up quite an appetite and heartily consumed our well-deserved Mediterranean-cuisine dinner at Carmella Bistro, which is located at the very centre of the Carmel Market area, in one of Tel Aviv's most beautifully renovated historic buildings.
This Year in Jerusalem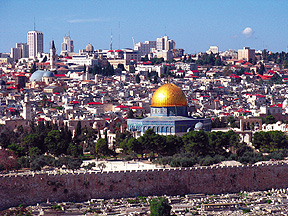 My trip to Israel was primarily to explore Tel Aviv on the 100th Anniversary of its founding, but I did manage to spend two short days in the Holy City of Jerusalem located a mere 63km (40 miles) away.
Awe-inspiring History
As I stood taking in the stunning panoramic view of Jerusalem's Old City from the vantage point of Mount Scopus, I was awestruck by the fact that this sometimes-troubled, often-occupied city has such a rich and fascinating recorded history that goes back more than 3000 years!
As with most historical accounts, there are many differing versions. Three of the world's major religions, Judaism, Islam and Christianity all consider Jerusalem as the site of a very significant aspect of their history and beliefs. In that regard, they are all correct and today's well-preserved monuments and holy places in Jerusalem's Old City are testament to that.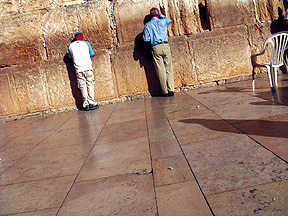 A Walk Back in Time
We visited the Western Wall, which is the holiest of all Jewish religious sites. Located in the Old City of Jerusalem.
This impressive wall once enclosed and supported the Second Temple. Herod the Great constructed this sacred place around 19 BC. In 70 AD, the Romans destroyed Jerusalem and its Temple.
It has sometimes been called the "Wailing Wall" because for centuries Jews have gathered here to lament the loss of their temple. Today people of all religions come to pray at the historic wall.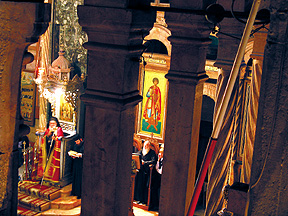 Our tour of the Old City included a visit to the Church of the Holy Sepulchre, traditionally believed by Christians to be built on the site of Christ's burial place and his resurrection.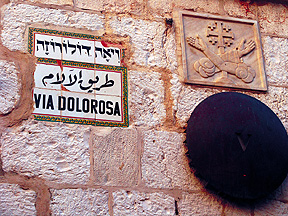 We also walked along the Via Dolorosa, again believed by Christians to be the true Way of the Cross.
Thousands of pilgrims visit Jerusalem each year to follow this revered route that led to their salvation.
Ancient Roman Street
Continuing on our fascinating tour, we visited what remains of the Cardo, a 6th-century Roman-built twelve-metre-wide (40 ft) commercial street that ran through the Old Jewish Quarter of the city and included rows of five-metre-high (16 ft) columns and shops on either side.
Today, a part of the remaining restored Cardo, which was excavated in the 1970s, houses modern souvenir shops.
Charming Vineyard Village
The village of Ein Kerem, which means "Spring of the Vineyard", lies just southwest of Jerusalem. According to Christian tradition, this is the site where John the Baptist was born, hence the village's attraction for Christian pilgrims and its many churches and monasteries.
For non-religious tourists, this picturesque village, with origins that dates back to the Bronze Age, is still worthy of a short visit.
After dinner at the Dolphin Yam Restaurant in Jerusalem we made our way to the Regency Hotel where I spent a restful night in preparation for our second full day of touring the city.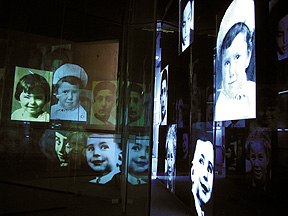 Moving National Memorial
Jerusalem's Yad Vashem is the National Memorial and Museum of the Holocaust.
Our visit here was indeed a moving and unforgettable experience. 
We then took a drive through modern Jerusalem past the government complex that houses the Knesset, Israel's Parliament, and Israel's New Supreme Court Building.
Colourful Markets and Malls
We visited Jerusalem's colourful open-air Mahane Yehuda Market known as The Shuk.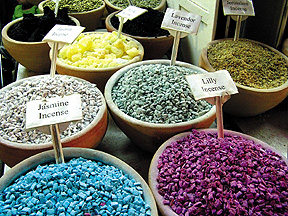 The stalls in the narrow crowded streets of this boisterous market sell everything from fresh produce, nuts and spices to jewellery and clothes, all with a decidedly Middle Eastern and North African flavour. Once again, haggling over prices was the order of the day.
Our shopping expedition then took us to Mammilla, the newly opened shopping centre in front of Old City.
We then strolled along Jerusalem's Nahalat Shiva and Ben Yehuda Pedestrian Malls.
After a typical Mediterranean dinner at the Bahazer Restaurant in Old Jerusalem it was time to leave for Ben Gurion International Airport for the journey home.
Two Worlds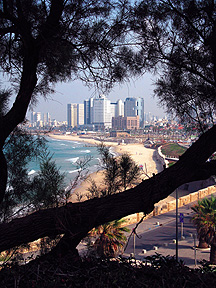 On my flight back to Canada my thoughts returned to modern, vibrant Tel Aviv and 3000-year-old, historic Jerusalem, each with their unique attractions for the visitor.
Still, it was hard imagine how two such different cities could exist less than an hour's drive from each other!
As my plane flew out over the calm waters of the Mediterranean, I looked down and once again wished Tel Aviv "Shalom and Happy Birthday!" 
For More Info On Visiting Israel:
Israel Government Tourist Office
180 Bloor Street West, Suite 700
Toronto, ON M5S 2V6
Tel: 416-964-3784
Email: info@igto.ca
Website: www.goisrael.ca