Japan
Relaxing in Tokyo
Article & Photography by Steve Gillick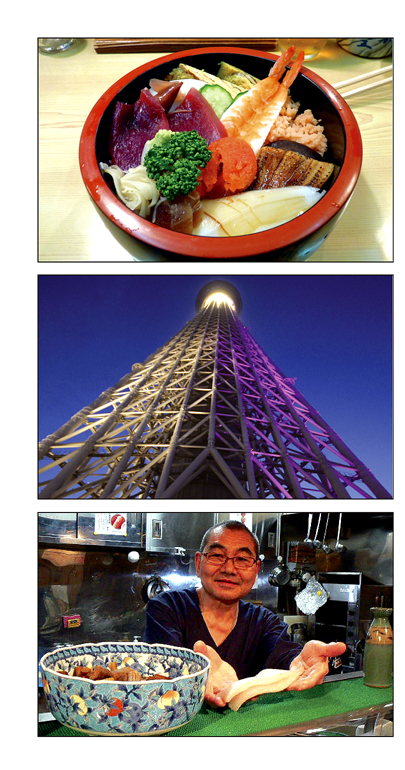 Myths about visiting Tokyo include concerns over the expense, the crowds, the frenetic pace of society, the food (raw-fish anxiety) and the language. Travellers need to take a deep breath and experience the city for themselves. They'll discover at the first smile, the first "Konichiwa" (good day) and the first "Irashemasay" (welcome) that Tokyo can be a very comfortable and relaxing experience.
As in all major cities, different services respond to individual budgets. In Tokyo a 2-3 star business hotel provides a small, clean room. Some travellers believe that any 'business' hotel is in fact a 'capsule' hotel (one where hotel guests literally sleep in tiny –sometimes crawl-in spaces that resemble capsules) but these are totally different accommodation categories. The capsule is popular with those who have had a late night of partying and need a quick, cheap place to stay; a business hotel is for tourists and business people who are looking for accommodation that is at a lower price point and with fewer amenities than traditional 4 and 5 star hotels.
Our favourite hotel is the 4-star Courtyard by Marriott Tokyo Ginza, which is perfectly located for our needs. It's a 10 minute walk to the famous Tsukiji fish market, 10 minutes to the Kabuki Theatre, 10 minutes to the Ginza shopping area (and about 15 minutes to the shops in Yurakucho) and an even shorter walk to the Ginza subway line where areas such as Shinjuku (shopping, dining, electronics) and Harajuku (fashion, fun and shopping) are only 15 to 20 minute ride away.
Those overplayed videos of Tokyo subway pushers–guards who cram that last customer onto the subway train by leaning into them and shoving–are actually quite rare and in 14 trips to the city I've never seen a 'pusher' during rush hour or any other time. That's not to say that rush hour isn't crowded on the trains and in the major street intersections (the biggest crowds are always shown crossing at Shibuya), so savvy travellers avoid these times, just as they might in their own home town.
Tokyo food is amazing and those who relish sushi and sashimi will be more than pleasantly surprised at the freshness of the seafood and the "umami" – the savouriness – of other dishes. Those who prefer not to eat fish or seafood have tantalizing choices of chicken, beef, pork and vegetarian dishes. The small outdoor restaurants in Shimbashi that specialize in Yakitori (meat and vegetables grilled on a skewer) are excellent. Most department stores have a floor dedicated to restaurants and this is a great way to enjoy an inexpensive meal, while those stores that have a food court, such as 'Isetan' in Shinjuku allow you to pick and choose foods to take back to the hotel and enjoy your own gourmet meal.
Tokyo Izakayas (informal eating and drinking establishments) provide opportunities to meet locals, chat with the chef and his family and experience ultra-fresh food. Two of the friendliest are Wasuke, in Kappabashi and Tsuzuku, in Ushigome Yanagicho.
Fugu, the deadly puffer fish is actually quite popular and there are a few specialty restaurants in Tokyo that serve it fried or as sashimi (raw). It's quite tasty with a sprig of green onion wrapped inside the delicate translucent pieces.
Most people in Tokyo either speak English or readily understand it. In high traffic tourist places (the subway, train stations, hotels, restaurants, department stores) English-only speakers will not have difficulty making their needs understood.
So now that the myths are out of the way, Tokyo can be seen as a treasure house for special interest fulfillment. Structures such as the Metropolitan Building, the Tokyo Tower and the Sky Tree provide breathtaking views of the city and on a clear day, in the distance, Mount Fuji sunsets are spectacular. Museums are world class, from the Tokyo-Edo Museum by the Ryogoku Metro station, to the Art Galleries by Ueno Park, to the Japanese Sword Museum and the brand new Samurai Museum in Shinjuku.
Tokyo's temples add another dimension to a visit, from the large Sensoji temple and complex at Asakusa to the tranquil Sengakuji Temple in Minato-ku, where the legendary 47 Ronin are buried.
And still Tokyo offers so much more. Anime can be enjoyed at the Ghibli Studio or in the shops in Nakano. Electronics are featured in Shinjuku and Akihabara and for those who have an affinity for robots, can enjoy the display in the Sony Building or head to the show at the Robot Restaurant. Shopping and fashion, street markets, coffee shops, Disneyland, parks, architectural wonders, music venues, the nearby hot springs in Hakone, and even a photo visit to the grounds of the Imperial Palace, allow for the ultimate in fulfilling city holidays. Set the myths aside and head to Tokyo. It's one amazing city.
www.gotokyo.org 
Click on cover to view published article