Kruger National Park
Wildlife in the South African Bush
By Leanne Currie-McGhee www.ourlifejourney.com
Published in the March, 2004 Issue of Canadian World Traveller
Photos Courtesy of South African Tourism www.southafrica.net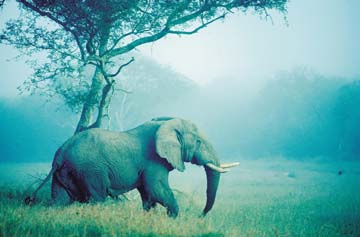 Hundreds of zebra and impala grazed in the African bush. Giraffe joined them in a feast of grass and leaves. My husband Keith and I relaxed and enjoyed this peaceful, quiet scene.
Suddenly the animals flinched and we heard a scraping noise. We looked into our rearview mirror. A wild elephant's face and sharp tusks filled the mirror; it was barreling right toward us from behind. We gasped and turned around.
Luckily, just before reaching our car, the elephant turned into the grass veld. He was only on his way to enjoy a cool drink at a nearby watering hole. This was just another typical morning during our visit to South Africa's Kruger National Park.
A Safari by Car
Keith and I decided to visit Kruger, located in northeast South Africa, because it is one of the oldest (established in 1898), largest (350 km by 65 km) national parks in the world and it is teeming with wildlife. 147 types of mammals, 34 types of amphibians and 507 species of birds inhabit the park. This includes the Big Five — buffalo, rhino, lion, leopard and elephant. To experience the wide variety of wildlife and terrain in the park, Keith and I stayed in cottages located at three different areas of the park.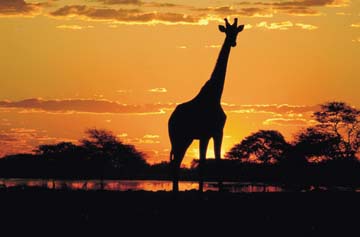 The best way to view Kruger's wildlife is by driving a car through its numerous dirt and paved roads. On our first day we drove near Berg-en-Dal, our camp in the southwest corner of the park.
Within minutes, an ugly, yet proud family of warthogs trotted by us. Continuing our drive we played a game of "I Spy." I spied vervet monkeys playing together in the trees. Keith spied a herd of buffalo, standing quietly near a river. A giraffe spied us as he peered at us while eating his lunch of leaves.
Hiking Through the Bush
At 6:30 the following morning, I awoke filled with adrenaline. We were going to hike with Justin, an armed ranger, through the African bush. Justin warned us that animals feel threatened by humans who walk through their territory. Some will react by running away and others by charging. For that reason we needed to follow all of his instructions carefully for our and the animals' safety. We hiked along a path created through the bushveld by a rhino.
Justin led us to a point 10 meters downwind from a 1000 kg sleeping rhino. He explained that rhinos cannot see well, but have a keen sense of smell and hearing; we were to walk past the rhino very quietly. The rhino noticed us and awoke from his nap. He stood up and Justin motioned to us to follow him quickly. Not until we were well past the rhino did I breathe again. Wildlife in the wild provides quite a rush!
Wild Oliphants
The next day we drove to our second camp, Oliphants, located in Kruger's central east area. The surrounding land is filled with antelope, zebra and giraffe because there are large expanses of area for good grazing. These animals attract predators and we were lucky to spot many of them. We glimpsed a stealth leopard as he leapt beside us.
Along the same route, we spotted two cheetahs, napping under shady trees. At night we heard hyena's howl and lions roar in the distance.
After listening to these night calls, we decided to venture on a guided night drive. In Kruger visitors are strictly prohibited from driving outside of camps at night, so the park offers guided night drives as a way to experience Kruger's active nocturnal life. As the sun set we drove off in an open air vehicle with Natasha, our guide. The moon and stars lit the night and we soon spotted nocturnal creatures such as a jackal and an owl. Suddenly, Natasha whispered to be very quiet; a lion proudly sauntered toward us. Oblivious to us, he greeted a lioness and another lion. His confidence and elegance took my breath away.
Lush Punda Maria
Our last few days were spent at Punda Maria, the furthest north rest camp, which receives more rainfall than most areas of the park. This creates a lush terrain. On our drive around Punda Maria we passed lands filled with herds of giraffe, zebra and buffalo, attracted by the area's high density of plant life.
The area's plants also attract a variety of bird life. Before Kruger, I thought that bird watching was boring. After viewing birds such as iridescent blue starlings, red billed hornbill and dainty multi-colored rollers, I discovered why the world of the bird watcher is fascinating. The birds' beauty and music made us converts. The remainder of our time at Punda Maria, Keith and I peered through our binoculars in search of the green parrot, salmon pink hoopoe, gray lourie and more.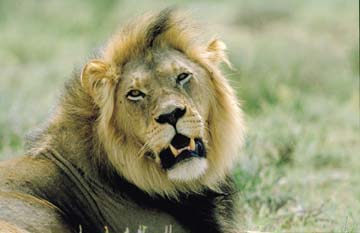 After a week in Kruger it was time to leave the world of the wild and drive back to Jo'burg. As we drove out of the park I looked back at it longingly. After only a week, it was hard to imagine falling asleep without the night calls of the owls, lions and hyena's. When I discovered our Jo'burg hotel received the National Geographic channel, I used it to lull myself to sleep!
Getting There
Kruger National Park is located approximately 500 kilometers northeast of Johannesburg, South Africa. The Johannesburg International Airport is a major hub for international flights.
The best method for exploring Kruger is via car; this is easy with Kruger Park's infrastructure of sealed and unsealed roads, detailed maps, helpful information centers, and road signs. Cars can be rented from the numerous international and national rental car companies located at the Johannesburg International airport.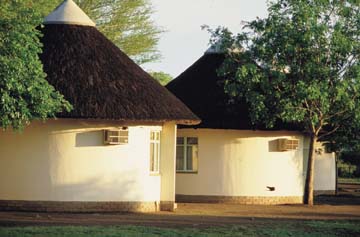 Accommodations
Within Kruger is a wide range of accommodation. Rest camps with facilities such as information centers, cafeterias, and gas stations are located throughout the park. Accommodation in these camps range from camping to self contained cottages. All bookings should be made through South Africa's National Parks Board.
About the Author
This and other articles by Leanne Currie-McGhee can be found at www.ourlifejourney.com and bootsnall.com. This article is reproduced with the kind permission of bootsnall.com, the Ultimate Resource for the Independent Traveller.
For More Info:
South African National Parks
P.O. Box 787,
Pretoria 0001, South Africa
Tel.: +27 (0)12 428-9111
Fax: +27 (0)12 426-5500
E-mail: reservations@sanparks.org
www.sanparks.org
South African Tourism
500 5th Avenue
20th Floor, Suite 2040,
New York, NY 10110
Tel.: (212) 730-2929
Fax: (212) 764-1980
E-mail: info@southafrica.net
www.southafrica.net
South African High Commission
15 Sussex Drive,
Ottawa, ON K1M 1M8
Tel.: (613) 744-0330
Fax: (613) 741-1639
E-mail: rsafrica@southafrica-canada.ca
www.southafrica-canada.ca
SAA South African Airlines
515 East Las Olas Blvd
Fort Lauderdale, Florida 33301
Tel.: (954) 769-5000
Fax: (954) 769-5079
E-mail: saausa@flysaa.com
www.flysaa.com