Las Vegas
Like You've Never Experienced It Before!
Published in the Summer 2010 Issue of Canadian World Traveller
By Greg James (greg@canadianworldtraveller.com)
Photos: Courtesy of CityCentre, Las Vegas (www.citycenter.com)
Las Vegas… Sin City, glitzy showgirls, 24-hour casinos, aging crooners, free drinks, mediocre cuisine, quickie weddings, tacky recreations of the world's iconic landmarks and a longstanding reputation as the "anything goes" capital of the USA! That's what most people think of Vegas.
Well, no more. CityCenter, the stunning new addition to the world-famous Strip has changed all that!
A complex for Our Times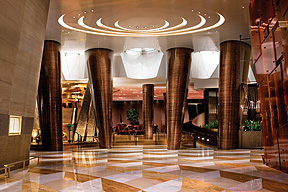 The brainchild of MGM Mirage, now renamed MGM Resorts International, CityCenter is truly a city within a city.
This 67-acre complex of buildings, plazas and pleasant "green" pathways brings together within walking distance the very best of visitor and resident accommodations, international gourmet dining, high-end shopping, first-class entertainment and relaxation amenities in an eco-friendly, people-oriented environment unheard of in the history of Las Vegas and indeed the entire USA.
Form and function truly converge here with impressive public art and innovative internationally inspired architecture and interior design creating a feast for the senses while maintaining a human-scaled ambience. A popular saying goes, "What happens in Vegas, stays in Vegas." However, after my short stay at CityCenter, I couldn't wait to tell all!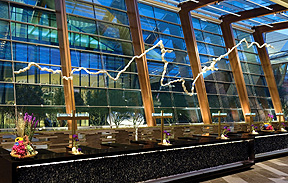 Innovative Aria Resort & Casino
I had never stayed at a resort casino before, but the Aria belies what I'd heard about such establishments.
The moment I entered the lobby I was struck by its airy, elegant and almost hushed atmosphere. I would later discover that the world-renowned New Haven, Connecticut firm of Pelli Clarke Pelli Architects had designed this state-of-the-art, gently curving, eco-friendly edifice.
The reception area staff of the Aria who welcomed me in such a personable and friendly manner made it nearly impossible for me to believe that this was a 61-storied, 4,004-room hotel!
A Room for the 21st Century

The clever layout of the ground floor casino afforded easy acc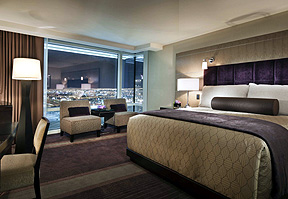 ess through a wide central aisle leading to the elevator that whisked me up to my room.
I knew that I had arrived in Las Vegas the minute I closed the door behind me. The room's wall-to-wall blackout drapes, followed by its sheer curtains, silently slid open to reveal a stunning bird's eye vista of the city's famous neon-covered Strip and the ridge of the snow-capped Spring Mountains beyond!
While the décor, furnishings and amenities of my room where second to none, it was the handheld bedside touch-screen monitor that impressed me the most. All of the functions in this state-of-the-art room, including the lights, air-conditioning, TV and curtains could be controlled from the pad-sized monitor without even getting out of bed.
The feature I truly loved was the 'Good Night' command, which simultaneously turned off the TV, slowly lowered the lights and silently drew the curtains closed!
C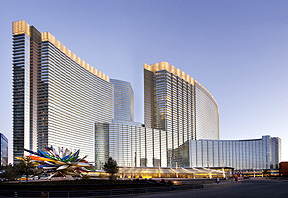 ity Within a City
Although I had never visited Las Vegas before, many of my friends were amazed when I told them that I didn't venture out to see most of its clichéd flashy landmarks that run along the Strip.
First of all, it actually rained quite a bit during my four-day stay in late January. Annual precipitation in Las Vegas is only about 4.5 inches (110 mm), which usually occurs during the entire span of the winter months.
However, it seemed it all fell during my visit, not something you would expect in the Nevada desert. Even the Las Vegas natives I encountered were surprised by this unusual phenomenon.
But more to the point, there was so much to see and do within CityCenter that I had little time for anything else. What follows is a brief overview of some of CityCenter's fascinating and impressive components that truly make it a one-of-a-kind city within a city.
Leaning Veer Towers
The first time I saw the two glass-covered, 37-storey Veer Towers leanin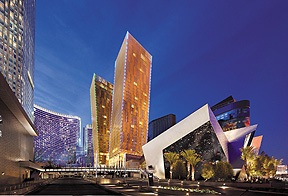 g in opposite directions (five degrees from centre), I thought I was seeing things.
The two towers each feature approximately 335 condo-residences for those who want to make Vegas their permanent home. Because they tilt away from each other, the residents of each tower can enjoy unobstructed views.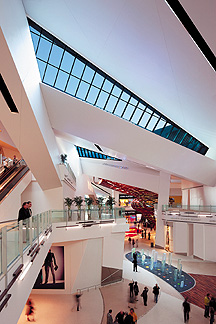 World-Class Shopping
The Veer towers rise from an equally spectacular multi-storied high-end shopping, dining and entertainment emporium, Crystals, which is a destination all by itself.
Innovative interior architecture (that allows for natural light to stream in), stunning indoor fountains (one consisting of frozen pillars that rise from a refrigerated chamber below) and Crystals' eye-popping sculptural elements vie with the likes of Tiffany, Bulgari, Cartier, Christian Dior, Fendi, Van Cleef & Arpels and Versace for the attention of well-heeled shoppers or casual browsers, like myself.
What was most impressive was the lack of any snobbery on the part of these exclusive establishments. Maybe it's because they couldn't tell if you were a big winner at the casinos the night before!
One evening during my stay, I was fortunate to be invited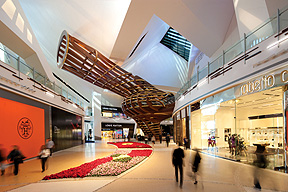 to a cocktail affair at Tiffany's brand new two-levelled Crystals outlet.
The rather chic event featured a martini and whiskey bar, along with a lively jazz performance.
After that ritzy evening, I must agree with Audrey Hepburn who declared in "Breakfast at Tiffany's" that nothing bad could ever happen at Tiffany's, whether at their legendary New York home base or their equally tony store in Las Vegas..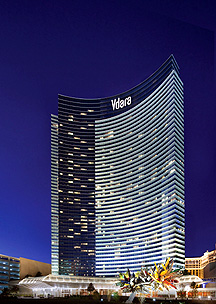 Exclusive Vdara Hotel & Spa
The unique 57-story crescent-shaped Vdara Hotel and Spa offers 1,495 suites to those who prefer a non-gaming environment when visiting Las Vegas. Its Sky Pool & Lounge features 19 luxuriously appointed retreat cabanas including six private spa cabanas.
The Vdara's 10,000 square feet of conference space can accommodate up to 400 guests and its visually appealing Silk Road restaurant offers a contemporary Mediterranean menu with Middle Eastern and Asian influences that were brought brought to Europe so long ago along the legendary "Silk Road".
But like all the other edifices of CityCenter, what makes this internationally inspired hotel so special is the public art it has acquired and proudly displays.
One of the most prominent public art pieces, rising dramati
cally from the Vdara's driveway, is Nancy Rubins' towering "Big Edge" installation.
It consists of colourful, life-sized, stainless steel and aluminium canoes and other watercraft suspended by nearly invisible metal cables in a gravity-defying cluster some 50 feet above the driveway.
I am still in wonderment that the whole thing doesn't come crashing down to the ground!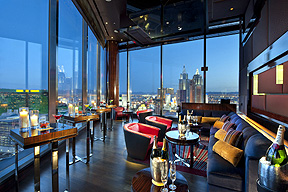 East Meets West at the Mandarin
Rounding out the unique combination of properties located in CityCenter is the Mandarin Oriental Las Vegas, an exceptional 47-storey luxury hotel that is a revolution in sustainable design and a welcome oasis of non-gaming oriental calm.
The Mandarin Oriental's elegantly appointed 23rd floor Sky Lobby, restaurant and bar offer some of the most breathtaking views of Las Vegas.
The hotel's 392 guest rooms and suites feature
interiors by renowned designer Adam D. Tihany.
Each is a model of sleek, contemporary design with subtle oriental touches like the two-way cubbyholes that allows room service to be delivered without guests having to open their doors.
During my Las Vegas sojourn, I attended a cocktail reception at the intimate 23rd floor Mandarin Bar where I was graciously served signature cocktails and creative tidbits of finger food by the oriental-attired staff, while marvelling at the 225-degree glittering views of Las Vegas spread out below me.
Green & Wet Features
D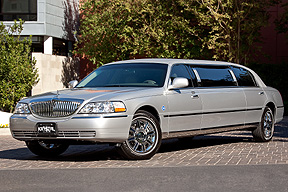 uring an informative sustainability tour, I discovered that CityCenter is the largest private green development in the world.
CityCenter's innovative green solutions include everything from its specially designed slot machine bases that double as air controllers (meaning air only has to be conditioned at people level) to the world's first fleet of stretch limos powered by compressed natural gas,
I also noticed that all of the interior and exterior vegetation consisted of cleverly arranged local desert plants, which were watered by an automatic system only when the sensors inconspicuously placed around them detected that they needed it.
On another fascinating tour, a representative from CityCenter's collaborator WE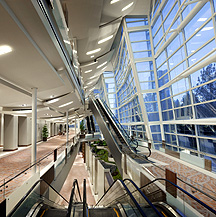 T, whose designs include the "Fountains of Bellagio" and the "Mirage Volcano", guided us through the five exclusive water expressions they created for CityCenter.
These included Aria's stunning exterior fountain featuring dancing shoots of beaded water illuminated by special multicoloured lights, as well as the hotel's dramatic interior two-storied glass "waterfall".
It may seem strange that water features in the desert would be environmentally sound but the water used is constantly recycled and has a cooling effect whether indoors or outdoors.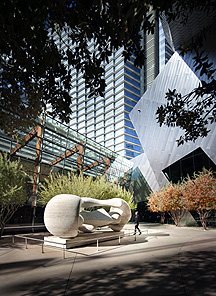 Art and Architecture
CityCenter's fine art collection that seems to be found everywhere one turns is just too large to be listed here. However I cannot fail to mention a few outstanding pieces.
On entering the Aria's lobby one is struck by Maya Lin's "Silver River", which is cast in reclaimed silver. The 84-foot-long, approximately 3,700-lb sculpture is suspended over Aria's registration desk area. Lin was inspired to create it by the undulating Colorado River that borders the state.
The late famed British sculptor Henry Moore's contribution to CityCenter, "Reclining Connected Forms", was carved out of Roman travertine marble. The massive piece is 10 x 17 x 7 feet and is installed in "The Park" between the Aria and Crystals.
Finally, the aforementioned "Big Edge" by Nancy Rubins that stands in front of the Vdara and Claes Oldenburg and Coosje van Bruggen's                     "Typewriter Eraser, Scale X", created out of stainless steel, fibreglass and acrylic polyurethane paint and found standing in "Crystals Place", adjacent to the Mandarin Oriental, are both playful and imaginative – exactly what great public art should be!
As to the spectacular architecture and interior design of CityCenter's complementing buildings, the kudos go to numerous collaborating internationally-renowned individuals and firms, including the likes of Cesar Pelli, Daniel Libeskind, Kohn Pedersen Fox, Helmut Jahn, Rafael Viñoly, the Rockwell Group, Norman Foster and Gensler.
In addition, more than 45 talented interior designers were involved in the creation of what some call America's most important development project of the decade.
Viva Elvis! Viva Las Vegas!
I was thrilled to discover a Montreal connection in Aria's opening show Viva ELVIS, which was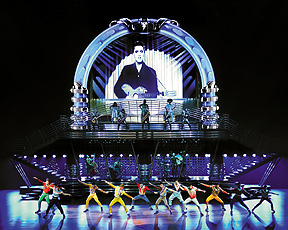 created and performed by Montreal's own Cirque du Soleil.
This tribute to the late, great Elvis Presley explored highlights of his life in dance, amazing aerial acrobatics and live music.
The spectacularly staged and enthusiastically performed show may not be everyone's cup of tea but the fans of the late singer surely enjoyed it.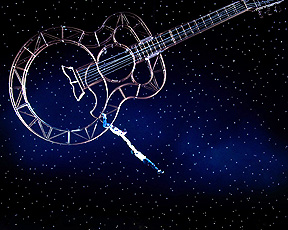 Both before and after the show, I spotted many female fans of a certain age kissing the life-sized statue of Elvis that stood in front of the theatre.
Following the show, The Light Group hosted a cocktail reception at "The Gold Lounge" located across from the theatre.
The décor of this exciting Aria venue, designed by The Light Group, is the result of an intriguing concept and that pays homage to the celebrated life of Elvis Presley.
Smorgasbord of Food & Drink
Once again space does not permit me to give full credit to the many magnificent restaurants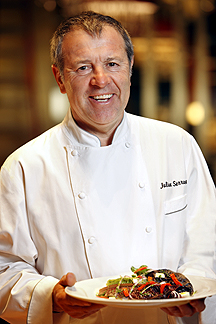 located at the Aria and elsewhere in CityCenter. One could spend a whole week here and not eat at the same gourmet restaurant twice.
From the authentic paella creations of Spanish Chef Julian Serrano at Julian Serrano to Michael Mina's signature fish and seafood dishes at his newest restaurant American Fish; from the flavourful, tender cuts of aged beef and fresh ceviche at Eva Longoria Parker's Latin-inspired Beso Restaurant to the succulent steaks lovingly prepared with house-made steak sauces and rubs by award-winning chef Jean-Georges Vongerichten at Jean Georges Steakhouse, each and every meal I enjoyed was a truly satisfying and memorable experience.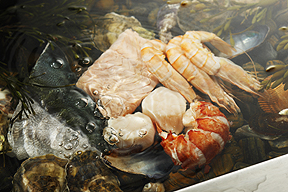 Other fine eateries found within Aria are Bar Masa and Shaboo, where Chef Masa Takayama's Japanese cuisine remains unrivaled around the world; Sage, renowned Chef Shawn McClain's first restaurant outside of Chicago; Union Restaurant & Lounge, serving a playful mix of contemporary American cuisine; Jean Philippe Pâtisserie, a charming Parisian-style pastry shop; Blossom, offering a 100-dish menu of fine Chinese cuisine; and Sirio, where the Maccioni family presents impeccable Italian taste in their Ristorante  named for the family's legendary patriarch.
In the drinks department, I learnt quite a bit about mastering mixology at Aria's Bar Moderno from the resort's Director of Beverage Heidi Hinkle when I attended her crash course in making (and tasting) cocktails, including how to infuse sprits, muddle Caipirinhas and create a signature cocktail using fresh ingredients.
Dancing the Nights Away
After all of the gourmet dishes that I consumed during my stay, I needed to work off som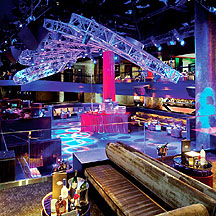 e of those calories and what better way to do that than by dancing. One night I tripped the light fantastic at the Eve Nightclub, Eva Longoria Parker's newest hotspot, located above Beso at Crystals.
But it was the evening I spent at HAZE Nightclub in the Aria that was truly mind-blowing. The Light Group designed this huge multi-levelled, surreal entertainment venue where state-of-the-art technology controlled the amazing sound and light system.
Dry ice smoke occasionally floated across the room as costumed characters walked gingerly through the crowd of dancers and revellers on six-foot-high stilts. This was my last night in Las Vegas and what a way to spent it!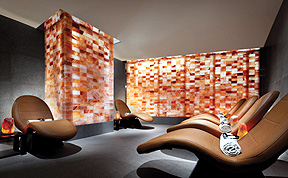 A Fitting Farewell
An early morning massage at The Spa at Aria was just the right remedy for that old morning-after-the-night-before feeling. The state-of-the-art facilities of the spa and professionalism of its attendants produced an incredibly revitalizing effect.
On my way to the airport, driving past the old-style casinos, I mused at what impact CityCenter would have on existing perceptions of Las Vegas.
I know this city-within-a-city had dramatically changed mine. During my stay, I hadn't spent a single quarter on the slot machines and yet had experienced one of the best times of my life.
For More Info on CityCenter: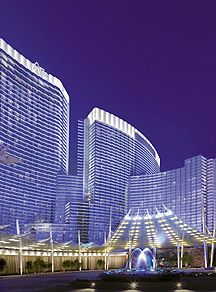 CityCentre, Las Vegas
www.citycenter.com
For More Info on Aria Resort & Casino
Aria Resort & Casino, Las Vegas
www.arialasvegas.com