Puerto Vallarta, Mexico
Urban Charm Meets Nature's Best
Published in the Fall 2010 Issue of Canadian World Traveller
Text by Greg James (greg@canadianworldtraveller.com)
Photos by Greg James and other sources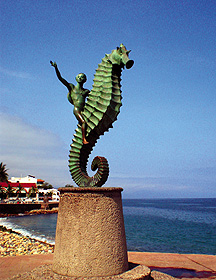 My last visit to Mexico's legendary Pacific Coast was many years ago when I visited Acapulco, which was still basking in the afterglow of Elvis Presley's 1963 film and title song about having 'fun' there.
I knew that Puerto Vallarta would be different but I had no idea just how different!
To my delight, during my weeklong stay I found myself indulging in meticulously prepared and graciously presented local and international cuisine in elegant surroundings; clambering up a jungle pathway to bathe under a cool mountainside waterfall; and learning how Mexico's popular national drink tequila is actually made.
I was also fortunate in attending an engaging stage performance in a state-of-the-art theatre in downtown Puerto Vallarta that would be the envy of Montreal or Toronto.
And although not particularly adventurous, I even found myself zip lining on cables strung high beneath a canopy of lush subtropical trees at an ecopark aptly called El Eden!
An Ideal Holiday Destination
Puerto Vallarta fulfilled all three of my criteria for what makes an ideal holiday destination!
A picturesque location: Puerto Vallarta is located in the State of Jalisco between the beautiful calm waters of the Bay of Banderas on Mexico's dramatic Pacific coastline and the country's lofty forested Sierra Madre Mountains.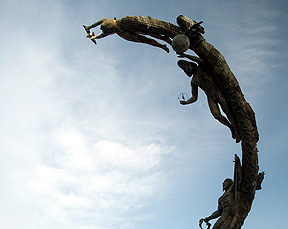 Next on my list is a pleasant climate: Puerto Vallarta's subtropical climate has been compared to that of Hawaii, not surprising, as they are both on the same line of latitude.
Annual temperatures fluctuate between 28 degrees Celsius in the winter months and 33 degrees Celsius at the height of the summer. Even though the rainy season lasts from June to September, heavy downpours tend to be brief.
Lastly, there are the creature comforts: Nationally, Puerto Vallarta's gastronomic scene is considered only second to that of Mexico City.
And its fabulous new luxuriously-appointed hotels and spas; lively nightlife, both straight and gay; year-round theatre and an abundance of high-end boutiques, art galleries and public modern sculptures speak of an urban sophistication I did not expect to find in a resort town of just 250,000 permanent inhabitants.
Many more pleasant surprises awaited me as I uncovered the all-too-hidden secrets of Puerto Vallarta.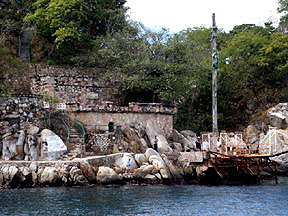 Hollywood Comes Calling
I became aware of an intriguing story about Puerto Vallarta during my visit. The 1964 Hollywood film "Night of the Iguana" was actually shot in and around Puerto Vallarta.
The stars of the film were Richard Burton, Ava Gardner and Deborah Kerr, but the real story was the off-camera illicit affair that Burton was engaged in with vivacious Elizabeth Taylor who flew down to be with him during the shooting of the film. (Picture at left is one of the locations used in the film.)
More importantly, the director of the film John Huston fell in love with Puerto Vallarta both for its natural beauty and its relatively remote location and decided to make it his permanent home.
This would not be Puerto Vallarta's last brush with Hollywood's stars. In 1987 the sci-fi action film Predator, starring Arnold Schwarzenegger, was shot in and around Puerto Vallarta and, as mentioned earlier, I actually visited the adventure ecopark El Eden and zip-lined over the very real jungles where Arnold fought the imaginary evil alien monster.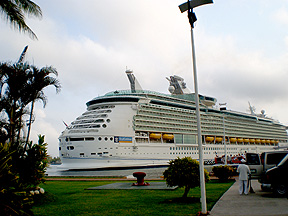 All Aboard!
On my way from Puerto Vallarta's International Airport to my hotel, the Sheraton Buganvilias Resort, I was mesmerized by the lights of a huge cruise ship shining out from one of the city's docks.
I later found out that some 200 ships carrying almost half a million passengers docked here in 2009, with many more expected in 2010, making this one of the most popular ports-of-call on Mexico's entire Pacific Coast.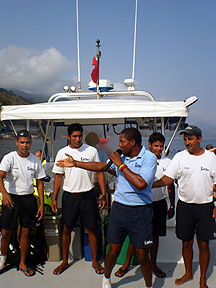 Boat Trip to Yelapa
Yelapa is a truly unique experience and getting there really was half the fun. The boat ride, which hugged the coastline of the bay, was informative and entertaining thanks to the young male crewmembers, who kept us entertained with their attempts at cabaret-style dancing.
The animated emcee recounted intriguing stories about the filming of Night of the Iguana, its stars and the other Hollywood luminaries who visited Puerto Vallarta during and after the shoot. Some of the original structures used as sets are still standing and visible from the water.
Incredulously, that little film is forever linked to the development of Puerto Vallarta as a popular destination for the jet set because of the publicity generated by its making.
Many who flocked here bought or built homes on the cliff sides overlooking the bay. Today the sometimes-towering coastline is also the site of luxury condos and hotels that host the four-million-plus tourists who now visit Puerto Vallarta each year.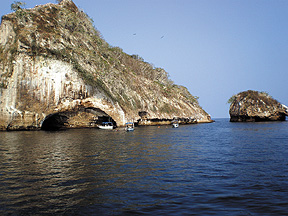 Los Arcos
During the boat trip we sailed pass Los Arcos, a unique grouping of rock outcroppings that rise majestically from the water, some of them having arched openings navigable by small watercraft.
Thousands of seabirds make their home atop these imposing rocks, which are covered with their snow-like droppings. Los Arcos is also the name of the surrounding protected reserve.
We stopped at a nearby small inlet to enjoy some of the best snorkelling in the world. Some of the passengers opted for kayaking or simply enjoyed a dip in the warm clear water of the bay. Having worked up an appetite, we all welcomed the delightful cold lunch, accompanied by ice-cold margaritas, served on board by the crew.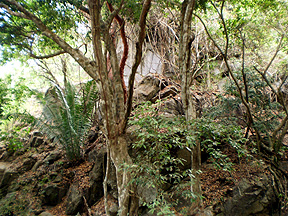 Haven for Hippies
Yelapa was a welcome departure from the usual 'tourist' attraction. Our visit entailed climbing up a steep path past rustic homes improbably perched on the forested rocky landscape.
The small trek ended with a quick dip in the natural pool of a waterfall. This car-free tiny settlement is only reachable by boat. The simple way of life enjoyed here temporarily made it a haven for foreign hippies during the 1960s.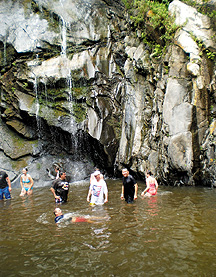 The present-day rather shy inhabitants earn their living primarily by making and selling beautiful handicrafts fashioned out of local woods and other natural materials, as well as hand-printed fabrics and handmade jewellery.
Happily, unlike at many other holiday destinations, not once did I feel pressured to buy anything here or elsewhere on the trip. However, the obvious artistry and quality of the wares for sale in Yelapa made them very hard to resist.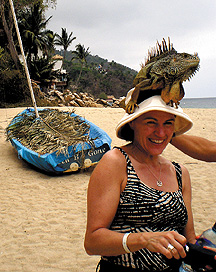 Day of the Iguanas
Taking a short hike from Yelapa we arrived at a small beach that featured coarse loose caramel-coloured sand.
Several of the locals carried what they called their 'tamed' iguanas in their arms. So that's why that film was made here, I thought out loud.
For a small fee, an iguana tamer would place his rather large and fearsome-looking creature on your head so you could have your picture taken with it!
I declined that offer, opting to relax on one of the beach chairs where I enjoyed a delicious local cream-filled pastry and a cold 'cerveza' offered by one of the young beach vendors.
This was one of those wonderful moments during an activity-packed trip when the world seemed to stop and all was calm and peaceful! But not for long, as a 'water-taxi', just a small motorboat really, came along to bring us to our next stop Caletas.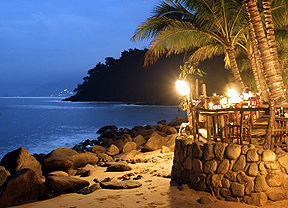 Extraordinary Caletas
I loved this extraordinary resort. The unique aspect was how the facilities were built into the natural landscape. One still had the feeling of communing with nature while enjoying all of the creature comforts tourists expect.
The day resort also offers classes that teach youngsters the art of various water sports. We actually had to wait to dock to avoid hitting a group of a dozen or so young snorkelling students.
But the fact that overnight stays are not allowed adds immeasurably to the charms of this special refuge. Whether one is staying at a hotel in Puerto Vallarta or on a cruise ship docked there, Caletas is the perfect day trip. A real pearl!
After a pleasant dinner at the resort's open-sided restaurant, we moved on to a small open-air amphitheatre for a very special show.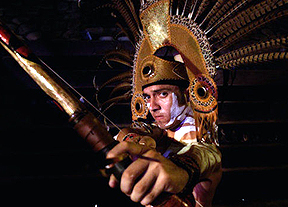 Rhythms of the Night
The show was spectacular and the natural setting quite unique. It was interesting to find out that Montreal's Cirque du Soliel was involved in its artistic direction.
The show told the story of the pre-Columbian inhabitants of what is now Mexico in words, music, song, dance and acrobatics, combined with spectacular lighting effects and great costumes. What a perfect end to a perfect day!
As night fell, we re-boarded our boat for the return moonlit trip, this time speeding directly across the bay, back to our hotel in Puerto Vallarta.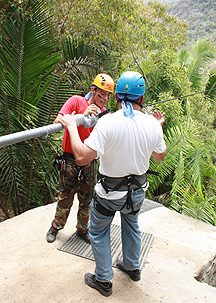 Zip lining at El Eden
One of the more unusual excursions was a visit to the adventure ecopark called El Eden. One could simply enjoy the network of hiking trails that run through this beautiful reserve.
However, for the more adventurous, the park offers zip lining along steel cables that are stretched across the pack's many valleys. This was an unexpected and quite thrilling experience. The guides were fabulous and helped to allay any fears I had of trying this for the first time in my life.
All safety precautions were taken including a special harness that had a hook that would be locked over the taut heavy and well-anchored cables, making it impossible to fall as you zip along from one station to the other, propelled by the sheer force of gravity and your own momentum. Just great!
The meal of Mexican cuisine served in the park's thatched roof restaurant afterwards was enjoyable as were its fancy cocktails.
As we left the park, I once again had to smile on seeing the life-sized statue of Arnold Schwarzenegger standing in his classic combative pose atop a burnt-out helicopter. Apparently, Arnie is still one of the park's strongest drawing cards!
Tequila at Don Crispin
For all the years that I had enjoyed Mexico's signature drink, I never knew how it was made. Unlike a popular belief that it is made from the cactus plant, Tequila is actually made from the heart (or piña) of the blue agave plant.
This plant was grown, harvested and fermented by the natives who lived here in what is now the State of Jalisco, long before the first Europeans arrived.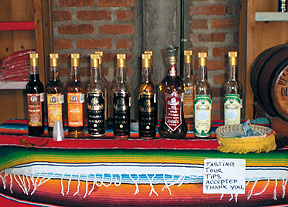 The story goes that the Spanish 'conquistadors' ran out of their own imported brandy and decided to try the local tequila, which was then called octli. And the rest, as they say, is history.
The young female sommelier at the Tequila Don Crispin showroom was remarkably knowledgeable and communicative and the tastings of about a dozen varieties of the genuine stuff were nothing short of excellent. Well worth the trip!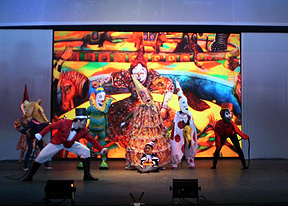 Teatro Vallarta
One of the most unexpected things I encountered in Puerto Vallarta was the ultramodern 960-capacity Vallarta Theatre.
Located downtown, this remarkable venue boasts the latest in lighting, audio and video technology and is capable of handling a variety of events, including operas, ballets and concerts.
However, It's the way it announces itself to the world that was so impressive. Located on a side street off of the main downtown artery, the theatre is faced in glass and the lights that are embedded in the floor of the starkly minimalist lobby run right out onto the sidewalk and street. This effectively connects what goes on in the theatre with the daily life of the city.
Fandango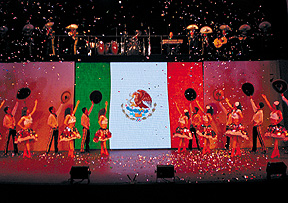 As of March 6th, 2010 it is also home to Fandango, a celebration of Mexico's past, present and future through modern and traditional dance, live and recorded music, visual arts and brilliant staging. 
This show more than any other aspect of my stay in Puerto Vallarta confirmed that world-class culture is alive and well here. The truly surprising performance in an equally impressive modern theatre rivalled anything I've seen in Mexico!
My kudos to the director and performers of this show that seamlessly melds Mexico's past and present.
Vibrant Cultural Centre
With its year-round live theatre, countless art galleries, high-end boutiques offering fine jewellery, outstanding works of public art, especially the sculptures all along the Malecon, Puerto Vallarta left me with the distinct impression of a vibrant centre of art, craftsmanship and cultural appreciation and activities.
Surprising Gastronomy
I can personally affirm Puerto Vallarta's well-deserved status as Mexico's second most important centre of gastronomy after Mexico City. The dishes I enjoyed during my stay were all delectable.
The welcoming dinner at the Sheraton Buganvilias Resort where I stayed was truly excellent as were the other meals I indulged in at the Café des Artistes, La Ceiba at the Villa Premiere Hotel & Spa, the River Café and the Blanca Blue Restaurant at the Garza Blanca Resort & Spa, where the romantic setting for my 4-course dinner was on an open-air, torch-lit patio that jutted out into the bay.
From fusion to traditional Mexican to international gourmet cuisine, the restaurants and hotel dining rooms of Puerto Vallarta never failed to surprise and delight me.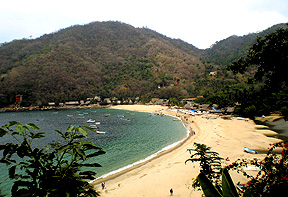 Hasta Muy Pronto!
I think that Puerto Vallarta is definitely one of the Mexican holiday destinations most overlooked by the average Canadian tourist. I hope that my article will help to remedy that.
My experience has definitely changed my idea of what a Mexican resort town is all about. Hasta muy pronto Puerto Vallarta!
More Info About Puerto Vallarta:
Puerto Vallarta Convention and Visitors Bureau
Official Website: www.VisitPuertoVallarta.com