Morocco
Historic Kingdom on the Atlantic and the Mediterranean
Published in the January 2003 Issue of Canadian World Traveller
Photos Courtesy of Moroccan National Tourist Office www.tourismemarocain.ca/
Morocco is a modern country with a rich history testified by its many historical sites. Located at the far northern tip of Africa, Morocco is bordered to the North by the Mediterranean Sea, and to the West by the Atlantic Ocean. Only 14 kilometres lie between Morocco and Europe at the Straits of Gibraltar. The northern coast and interior are mountainous with large areas of bordering plateaus, valleys and gorges, starkly contrasting with the lush beach-lined coastal plains.
The Phoenicians, Carthage, the Berbers, the Byzantines and Romans ruled Morocco until the Arab invasion which began in the 8th century. Today the country is a constitutional monarchy. It offers the tourist many places of natural and historic interest in addition to a rich and diverse cultural heritage.
Rabat: The Royal City
Morocco's capital city of Rabat is steeped in history and many traces of its colourful past are still visible. The extraordinary fortifications stretching over several kilometres, from the medina (old town) to the kasbah in the Oudayas, and the Chellah necropolis lend it a special character.
Agadir: The Atlantic Seaside Resort
In 1505, the Portuguese built a small fort here and prosperity came only thirty-five years later in 1540, under the reign of the Saadian sultans. The city was rebuilt after being almost totally destroyed by an earthquake in 1960. With 300 days of sunshine a year and a mild climate all year long, Agadir has become Morocco's leading seaside resort.
Casablanca: Historic Centre of Trade
Called Anfa by its very first inhabitants, the Berbers, Casablanca was then home to pirates, Portuguese settlers and Spanish traders (who gave the city its present name). In the 1920s, Casablanca experienced considerable prosperity and became the leading commercial port of Morocco. Today Casablanca forms the heart of the commercial, industrial and financial life of the Kingdom.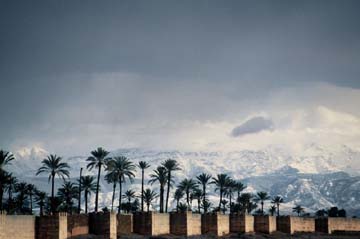 Errachidia: Palm Groves and Gorges

This city is located at the crossroads of this surprising Southeastern region. A full array of paradoxical sites are intricately intertwined in the region.
The snow-covered peaks of the High Atlas contrast with its amazing sand dunes and incredibly green palm groves that dot the river valleys. Errachidia offers a wealth of historical monuments and mausoleums. confirming its connection to the Ksours and Kasbahs.
Essaouira: City of Legends
Its original 15th-century name, Amogdoul, was later changed by the Portuguese to Mogador. In 1764, Mogador adopted its current Arabic name, Essaouira (image or wall). This city spreads across a natural peninsula on the Atlantic coast. Because of its moderate climate throughout the year, Essaouira has always been a desirable destination. The city boasts numerous year-round traditional dance festivals, art galleries and international music festivals featuring traditional Moroccan music, World Music and Jazz.
Fez: The Eternal City
Founded in the year 789, Fez is Morocco's oldest imperial city. Several dynasties ruled here as testified by the city's many monuments. Fez has always been a religious, cultural and artistic centre of the Kingdom. Its famous 9th-century university-mosque, El Qaraouiyn, is the oldest university in the Arab Islamic world. The old quarter of Fez El Bali is without doubt the most interesting in the country because of its numerous narrow, intertwining streets, historical relics and suks (markets). The inhabitants of Fez still live according to centuries old traditions.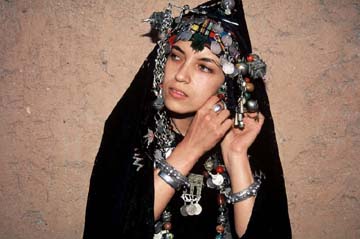 Laayoune: Capital of the South
The city of Laayoune lies on the left bank of Saguia El Hamra on the two neighbouring plateaus. Although only 20 km from the coast, it is only recently that this city has come into its own in its true capacity of a centre for maritime activities and tourism. Formerly an oasis, today Laayoune has become the main economic focus of Southern Morocco.
Tangier: City of Light
Situated at the meeting point of the Atlantic Ocean and the Mediterranean, Tangier proudly sits on the heights of the Straits of Gibraltar. Proximity to Europe, just 14 kms away, since antiquity has made it a privileged springboard for relations with that continent. In the 1940s Tangier attracts a considerable number of foreign artists and writers who contributed to making it a legend in their works. At maritime and cultural crossroads, Tangier is Morocco's leading tourist port and an important shipping stop-over between the continents of Europe and Africa.
Marrakech: Pearl of the South
Founded in the 11th century Marrakech is the kingdom's second imperial city after Fez. "The Pearl of the South" charms visitors with its monuments and colour contrasts: the green of the palm trees, the red earth colour of the facades of the homes, and the white of the snowy mountain tops of the High Atlas. Its attractions include the Koutoubia Mosque, which was completed in 1199 and features a 70-metre high minaret, and the Palm Grove, stretching out over 13 000 hectares and containing more than150,000 palm trees.
Moroccan Cuisine
Sun-drenched fruit and vegetables, rare and aromatic spices, delicate fish and succulent meats are common ingredients in the distinctive oriental cuisine offered in Morocco's restaurants and cafés.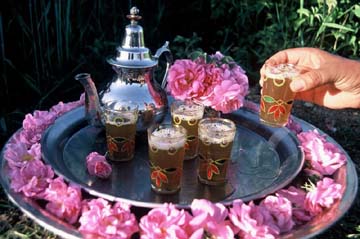 Kebabs (often cooked and sold at the roadside), couscous (eaten with the fingers, Moroccan style), Méchoui (oven or spit roasted lamb), Pastilla (flaky pastry stuffed with pigeon, fish or chicken combined with almonds), and Morocco's national dish, Tajine (meat, chicken or fish stew with vegetables cooked in a decorated earthenware plate with a conical cover) all make mount-watering meals.
Mint tea is the beverage of choice any time of day and pastries that consist of honey cakes, cornes de gazelles, almond feqqas, raisins, and ghoriba with almonds are quite irresistible!
Entertainment
Traditions and folk art remain very much alive in Morocco. Music is present everywhere in the country, accompanying festivals and ceremonies. In the towns, it has developed into an instrumental form. This is traditional classical or popular Arab music. In rural or Berber tribes, music is intimately linked with poetry and dance. The folk dances are magnificent and accompany the tribes' everyday life. Lists of festivals are readily available from the Moroccan Tourist Board.
Population, Climate and Language
The population of Morocco is more than 26 million and its surface area is over 700 square kilometres. It enjoys a highly diversified climate: Mediterranean in the North; a continental climate inland; cool, humid and snow-covered areas in the Atlas Mountains; and a dry desert climate in the South. Moroccan Arabic is the country's main language. Berber is spoken in the regions of the Rif, Atlas and Souss. While most Moroccans also speak French, Spanish is frequently spoken in the North and English and German are spoken in the major tourist centres.
Getting Around in Morocco
If time is an issue, internal Royal Air Maroc flights can help you to make the most of your visit.
Another option is Morocco's Office National des Chemins de Fer (ONCF), which operates one of the most modern rail systems in Africa, linking most of the main centres. The trains are generally comfortable and fast with sleeping available on many overnight trips. Rail lines go as far south as Marrakesh. Morocco's inter-city bus network is widespread and efficient in most areas. Car rentals are not cheap, but deals can be struck with smaller rental companies and gas is available pretty much everywhere.
Morocco's bigger cities have public bus services and the average ticket price is about Dr2. Petits taxis, licensed to carry up to three passengers, are inexpensive and a common sight in most cities and major towns.
Specialty Travel
Depending on the time of year and your planned destinations, Morocco offers a wide range of activities including hiking and trekking; golf; surfing and wind-surfing; alpine skiing; white water sports; horseback riding; hunting and fishing; aerial sports; spas and thermal cures; and sailing, yachting and water skiing. Due to its unique climate most of these activities can be enjoyed in Morocco on a year-round basis.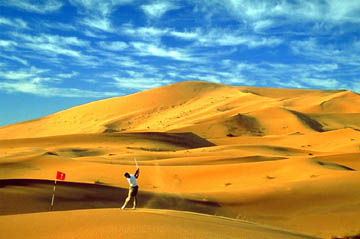 Shopping
Strolling through the souks (open air markets) is a wonderful feast for the senses and the perfect opportunity to practice the refined (and expected) art of bargaining.
Every region has its specialities: Rabat, for embroidery and carpets; Sale, for its pottery; Casablanca, for its leather work and Mediouna carpets; Meknes, for its carved wood and its metal animal motifs inlaid with silver thread and mosaics; Fez, for its blue pottery, copper trays and leather work; Marrakesh, for its hand-sewn leather slippers, spices and Berber carpets; Safi, for its subtly-coloured bas-relief pottery; Taza, for its hand-woven carpets; and Essaouira, for its Jewellry, marquetry, weaving, brass-ware and elaborate embroidery.
Currency
The Moroccan currency is the Dirham (DH) divided into 100 centimes. You can only obtain Dirhams in Morocco. It is illegal to change money in the streets. To best place to change money is at a bank or approved change office, indicated by a golden sign. You can withdraw money in banks with a credit card and a cheque book, or directly from an ATM machine in some large towns. Major credit cards and traveler's checks are accepted in most restaurants, hotels and certain shops.
Getting There
Through its international airports at Casablanca, Tangier and Agadir, Morocco is well linked to North America, Europe, Africa and the Middle East. Both Royal Air Maroc and Air Canada, as well as your local travel agency or tour operator can provide you with flight and travelling information.
Taking your own vehicle from Europe to Morocco is straightforward. There's a variety of car ferries and jet-foils operating between Algericas in Spain and Morocco's Tangier and Ceuta. There are also ferry trips twice a week from Gibraltar to Tangier.
Entering the Country
A valid Canadian passport is usually all that is required for a tourist visit of 3 months or less. No vaccination certificates are required for Canadian tourists. Personal items do not have to be declared. Check with your travel agency, tour operator, airline or the local Moroccan Consulate for other visa and customs regulations.
Places to Stay
There are more than 550 hotels, ranging from one to five stars, in Morocco. They are generally less expensive than their European equivalents, but it is preferable to pre-book your accommodations through your travel agent or tour operator.
For More Info:
Moroccan National Tourist Office
1800, av McGill College, Bureau 2450
Montréal, QC H3A 3J6
Tel.: (514) 842-8111
E-mail: onmt@qc.aira.com
www.tourismemarocain.ca/
Embassy of the Kingdom of Morocco
38 Range Road, Ottawa, ON K1N 8J4
Tel.: 613-236-7391
Email: sifamaot@bellnet.ca
Official Website: www.maec.gov.ma/
and www.consulatdumaroc.ca
Royal Air Maroc
75, rue Sherbrooke O,
Montréal, QC H2X 1X2
Tel.: (514) 285-1435
E-mail: info@royalairmaroc.com
www.royalairmaroc.com/eng