Mysterious
Japan
Published in the Spring 2008 Issue of Canadian World Traveller
Text and Photos by Michael Morcos
There is something that has always intrigued me about Japan. It is where my Nikon camera, my Nissan car, and our Sony television were made. It is the origin of karate, the wonderful sushi, sake, and the land of the bullet train.
It's a mystery how such a small island nation with few natural resources can dominate so many industries worldwide.
My ten day tour of central Japan on the main island of Honshu would bring us to Mount Koya, the city of Sakai, Osaka, Yokohama, and finally Tokyo.
Mt. Koya
Getting to Mount Koya (Koyasan) was a thrilling bus ride that twisted and turned up a narrow cliff occasionally stopping to let small cars and motorcycles pass. Over one hundred temples stand in the small town on top of the wooded mountain.
Koyasan is one of the best places to experience a night at a temple. About fifty temples in the area function as shukubo, where tourists are welcome to stay overnight, try shojin ryori, the vegetarian cuisine of monks and participate in the morning prayers. 
Mount Koya is the centre of Shingon Buddhism, a Buddhist sect that was introduced to Japan in 805 by Kobo Daishi (aka Kukai), one of the most significant personalities in Japan's religious history. 
Koyasan is home to an active monastic center founded twelve centuries ago by the priest Kukai for the study and practice of Esoteric Buddhism. It is the headquarters of the Koyasan sect of Shingon Buddhism, a faith with a wide following throughout Japan. 
Situated on a small plain at the top of Mount Koya is the sacred area known as the Danjo Garan, a complex of temples, halls, pagodas and Buddhist statues that welcome visitors to this serene and hallowed place.
Danjogaran Complex
The Konpon Daito pagoda is a very impressive site and is seen as a symbol of Koyasan. This great pagoda was struck by lightning five times and was last rebuilt in 1937. Many other historical buildings of great importance including Fudo Hall, the oldest building on the mountain, were found here.
A very important part of the pilgrimage trail was witnessing individuals who were on their trail including a young monk who would read a long verse out of a book.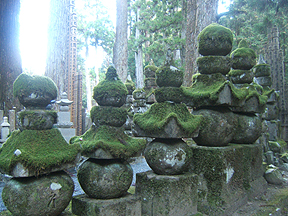 Okuno-in Memorials
Surrounded by a thick forest of massive cedars, the area known as Okuno-in, or the Inner Sanctuary, is the setting for a vast cemetery that features the mausoleum of numerous famous Japanese figures, including that of the samurai ruler Toyotomi as well as memorials to the spirits of soldiers killed in the Pacific War.
Many well known Japanese companies buy plots here, placing large elaborate marble monuments with their company name engraved in them.
The weirdest one was from a termite company that had a monument for the termites they exterminated.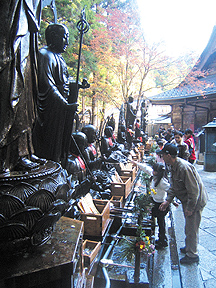 Mizumuke Jizo
Towards the back of the park was a holy shrine and large Buddha statues where worshippers commemorated their ancestors by pouring water over them three times before saying a prayer.
The kids seemed to be totally amused by the ritual while the elderly were far more solemn bowing, closing their eyes and praying.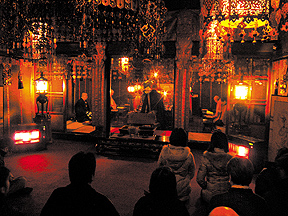 Overnight Temple Experience
A major highlight of my trip to Japan was the overnight stay at a temple that was run by Buddhist monks.
We checked in to the monastery just in time for the evening meditations. It was a great experience sitting in a dark room with the head master. It seemed as though not much happened. There was nary a sound and everyone was still.
After an hour the head master turned to greet us and explained that we are all part of the same universe that is dominated by the Cosmic Buddha and by being still and quiet we would have the powers of this Buddha pass through us. He also made it clear that meditation is a lifetime practice and takes time to master.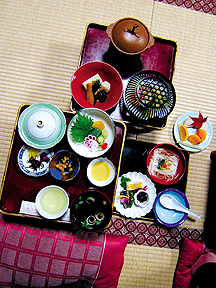 That evening we were treated to a vegetarian supper prepared by the monks which was served in a traditional style on low tables, sitting on pillows on the floor.
After supper we took Japanese style baths in a common room where men would first wash themselves while sitting on small chairs. This seemed a social event, as the men would discuss matters while lathering, scrubbing and rinsing themselves. Afterwards they would sit in a small pool of hot water almost too hot for comfort, and chat away the night.
The total temple experience would have me in my own room that faced a beautifully and meticulously cared for Japanese garden. My room was simple with only a thin mattress on the floor, a small table and rice paper doors. What stood out was the contrast between these very traditional rooms and the state of art bathrooms with heated toilet seats and automatic self-flushing bowls.
Our short Temple experience would end much too soon but not before a very early morning ceremony with five monks that had them chanting while playing drums and bells. I was moved by the devotion of the monks and their way of life, serene, juxtaposed against the ever-changing quick paced world in which I live.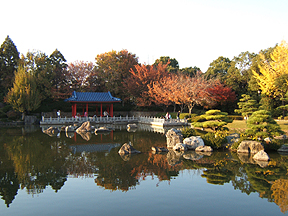 Town of Swords
Sakai is well known for its knife making, but has many other notable places including the burial place of the first Japanese emperor.
The burial grounds are on a forested island in the heart of the city that is forbidden to everyone except the royal family. Legend has it that the first emperor was not even Japanese but a Korean which many consider scandalous.
Our city walk brought us to many interesting temples and historical places including a well cared for Japanese public park. There we had a personnel unscheduled privet tour of the manicured grounds by a proud city gardener.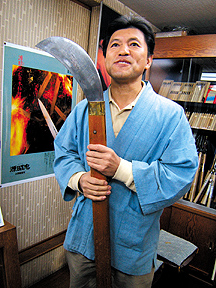 We also had a tea tasting ceremony and a demonstration in traditional cookie making.
Most interesting to me was a knife making shop that was owned and run by a long generation of sword makers. The pleasant husband and wife greeted us with warm inviting smiles and gave us a tour of the small production shop in the back.
They explained the whole process of knife making had changed little over the centuries. They made everything from tailor's scissors to sushi chef knives and every samurai style sword which were all on display and for sale.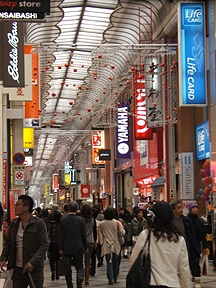 Osaka
Osaka, Japan's third largest city is laid back compared to Tokyo. After pleasant conversations with several of its' citizens, my impression was that they thought of themselves as having a good living with all of the modern amenities yet at a slower gentler pace. Many Oskaians eat out as often as six times per week.
Even though the city was hit hard during World War II there is still a balance between modern and historic buildings. Most notable is the contrast between the Umeda Sky building with its' futuristic two tower glass facade and Osaka Castle that was rebuilt to a smaller scale than its' original from 1586. 
One outstanding feature was the great pedestrian streets that seemed to go in all directions and are mostly covered to protect pedestrians from the elements. With the little time I spent in Osaka I was able to see the many stores that lined this area, but unfortunately did not buy many souvenirs here.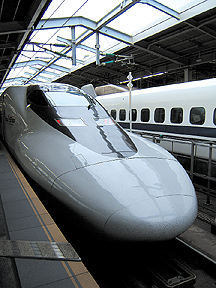 The Great Shinkansen
The Shinkansen, also known as the bullet train, was first introduced in 1964. This Japanese state of-the-art transportation masterpiece remains a symbol of national pride.
With much excitement we entered the Osaka train station to take the train to Yokohama. Like a little kid I marvelled at the sleek aerodynamic bullet trains that came and went on other platforms. With but a few minutes to spare I had to run to a different platform to take pictures of one that was stationed. 
Our train would arrive and depart at the exact times announced! No time deviations were permitted. Our train would bring us from Osaka to Yokohama at an astonishing 300 k/h. Even at this speed the ride was smooth enough that many of the passengers were able to sleep in their ever comfortable airplane style seats.
Yokohama
Yokohama is Japan's second largest city. A large earthquake in 1923 destroyed 95% of the city and WW II bombings again destroyed more than half the city. Today the city is as modern as any to be found in Japan.
Our brief stay in Yokohama was at the redeveloped docks area of Minato Mirai 21 that has many high scale hotels, a convention centre and an amusement park. Among the many things to see in Yokohama is Japan's largest China town, the Landmark Tower; Japan's tallest tower with the fastest elevator and the Yokohama Museum of Art.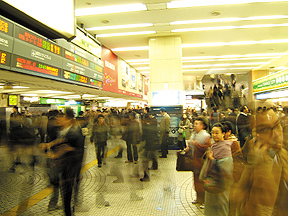 Although Yokohama is thirty-five kilometres away from Tokyo, it is still part of a very large urban centre of Tokyo as travelling between the two cities found only more urban development.
Tokyo
No first time trip to Japan would be complete without a stop in Tokyo and this would prove to be a great city to end my trip. I would find out that there is nothing like this capital city. What stood out the most is how clean the city was, the incredibly efficient subway system and the people, lots and lots of people, crowding every street.
Ginza District
With so much to do and see I decided that I wanted to get a small feel of the different parts of Tokyo.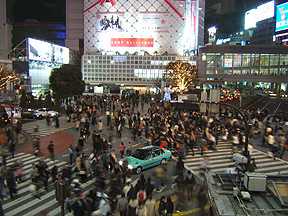 The Ginza district located in central Tokyo was my first destination. I visited the five-floor Sony house to see the latest new electronic marvels, a Nissan show room that had an amazing high-end luxury sports car, and shopped at the classic Tokyo Mitsukoshi department store and its Kimono department and sampled its' exquisite food department.
Luckily, I also managed to get in to the Kabuki-za theatre to experience a traditional Japanese play that is known for the stylization of its drama and for the elaborate costumes and make-up.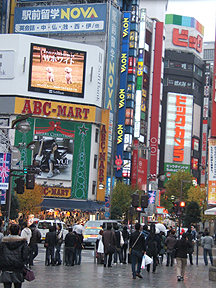 I visited many other important and interesting districts: East Shinjuku, where I was mesmerized by all the colourful, huge neon lights and signs; the Shabuya district, where I saw more young people than on most university campuses; the electronic district of Askaska, where just about everything electronic (old and new) can be found and Ropponigi, the restaurant and music district.
A-la-mode Tokyo
It is quite conceivable that Tokyo is the most fashionable city in the world. Its people are all well dressed, carefully choosing and paying attention to their appearance. Men are more conservative while the women dress up for an evening out all the time.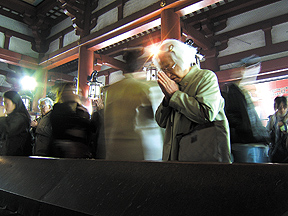 Senso-ji Temple
The Senso-ji temple in northern Tokyo is the city's most sacred and spectacular temple. The many buildings in the complex were all in traditional Japanese style. I spent a long time in this area and although there were many people it still had a serene feeling.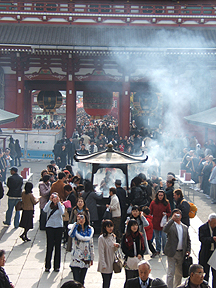 The incense burner was a focal point and was constantly surrounded by people fanning smoke all over them to keep them healthy. In the main hall there was a ceremony going on as I was able to see and hear it but unfortunately its purpose remains a mystery to me. I also witnessed many locals going through their prayer rituals. 
In the same area was the Nakamise-dori, which had many small shops selling traditional wares. This was the perfect time for me to catch up on my souvenir buying for family members including fans, combs and even antique Sake bottles.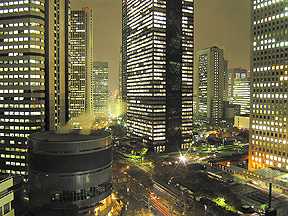 Tokyo Hilton
My stay while in Tokyo was in the Tokyo Hilton situated in the West Shinjuku-Ku district; a stone's throw away from the Tokyo Metropolitan Government building. This district was extremely clean, quiet and safe and was near two major subway lines that made getting around Tokyo very easy. 
A private hotel shuttle ran by every twenty minutes between the hotel and the Shinjuku subway station, which is the worlds busiest train station with two million people passing through it every day. This was a great bonus as the hotel kept me away from the noise and congestion but the shuttle kept me close to it all.
I had a spectacular view of the whole area from my 18th floor window. Office buildings filled the skyline. It was especially striking at night as they illuminated the night sky.
My best meals while in Tokyo were had at the hotel. The breakfast buffet served American style foods but also had some traditional Japanese cuisine. This was a great way to start the day.
By far the most memorable lunch was at the Musashino Japanese restaurant.
Our personal chef prepared the fresh vegetables, rice and a Shabu Shabu (beef hotpot) meal on a grill right in front of us. The well-decorated restaurant and relaxed ambiance added to the delight of the experience.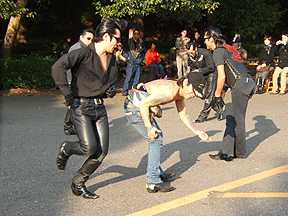 Sunday in Yoyogi Park
A walk in this park is unlike any other park experience.
At the entrance to the Yoyogi Park is a kaleidoscope of sounds and music; middle-aged men dressed in fifties-style clothing dancing to Chuck Berry music, young rock and roll bands playing their hearts out, rappers, techno rockers… 
No, this was not Central Park in New York, but a weekly event every Sunday where the people of Tokyo gather to let it all out! Yoyogi is a must visit place for seeing the other side of Tokyo.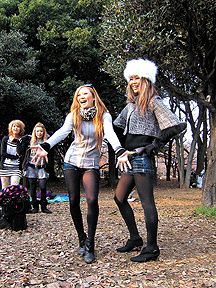 As with any great city and country, three days in Tokyo and ten days in Japan is not nearly enough time to experience all its pleasures and culture. It was all I could do running around just to get a taste of this world-renowned city and country, tasting just enough to know that I wanted to return. I was already planning the trip on the plane home!
If you go:
Japan National Tourist Organization
481 University Avenue, Suite 306
Toronto , ON M5G 2E9
Tel.: 416-366-7140
www.jnto.go.jp
Tokyo Hilton
www.hilton.com or
www1.hilton.com/en_US/hi/hotel/TYOHITW-Hilton-Tokyo-
hotel/index.do