Newport, Rhode Island
A Romantic Voyage Back in Time
By Norm Goldman (www.bookpleasures.com)
Published in the March, 2004 Issue of Canadian World Traveller
Photos: Courtesy of Rhode Island Tourism Division (www.visitrhodeisland.com);  Newport Museum of Yachting (Newport Yachting); and Kindra Cline (Newport Castle Hill).

Newport, Rhode Island is a town of colonial charm, victorian architecture, gilded-age mansions, welcoming inns, jazz festivals, tennis courts, a picturesque harbor, marvelous restaurants, narrow old-world streets, and "la bonne vie" — the good life. However, not widely known is that this New England town is blessed with an unusual past as evidenced by the many firsts the fabled town can boast of.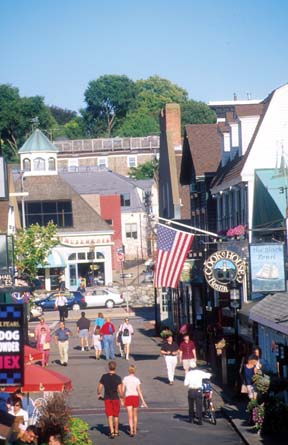 Town of Firsts
The White House Tavern, located on Marlborough Street, is the oldest tavern building in continuous use in the US. On Touro Street you will find the first synagogue in the country, the Touro Synagogue, built in 1759. Did you know that the first gas-illuminated streetlights, installed in1803, and the first photograph taken using electric light, both took place in Newport?
The oldest newspaper in continuous operation in the US, the Newport Mercury, which was founded by the Franklyn family, started its publishing days here in 1758. And a leisurely stroll along the elegant Bellevue Avenue will lead you to the oldest lending library in the US, the Redwood Library, founded 1747.
The Quakers also claim that their first settlement in North America was established in Newport. In 1895, the town was host to the first open golf tournament. And the list goes on and on, far too numerous to mention in this brief overview.
Camelot
Newport, Rhode Island is the town where Jacqueline Bouvier grew up and where she married Jack Kennedy on the 12th of September 1953 at St Mary's Church, the oldest Roman Catholic Parish in the state, located at 70 Church Street.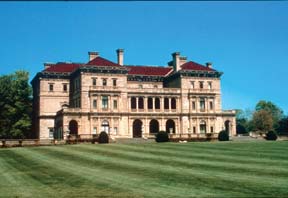 A Brief History
English settlers first began arriving in Rhode Island in 1636, when an English clergyman, Roger Williams, and his small army of followers were practically drummed out of Massachusetts for their liberal religious views challenging the foundations of Puritanism. The first Puritan settlement was established in Providence in 1636, followed by Newport, in 1639.
Among Williams' followers were Ann Hutchinson, along with her spouse William, and William Coddington. Eventually these three found their way to the southern tip of Aquidneck Island, and Coddington purchased a tract of land, later to be renamed Newport, from the local native inhabitants, the Narrangansetts.
What is momentous about these early settlers is that there was a concerted effort to cast off the restraints imposed by the political intervention in religious life, and to separate the church from the state. For this reason, Newport has often been described as the birthplace of democracy, and provided a refuge for Jews, Quakers and other minorities, who were constantly escaping from religious and social intolerance.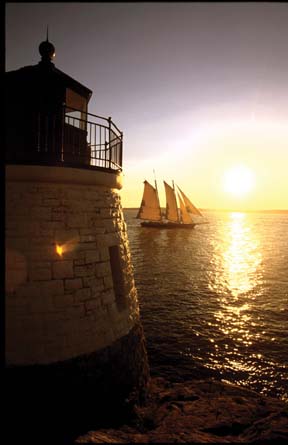 Romantic Voyage
A visit to Newport is a romantic voyage back in time. It seems that everything in this historic town are reminders of its past. To appreciate historic Newport, and a good starting point, is to hop on the narrated Scenic Overview Tour, offered by Viking Tours of Newport that will take you along the 9.5 mile Ocean Drive overlooking the rugged Atlantic Ocean.
The tour will remind you of Newport's seafaring past, as it was one of the leading ports in colonial America, along with Boston, New York, Philadelphia and Charleston. Bustling with activity in the 1700s, the waterfront was the scene of 150 separate wharves and hundreds of shops.
Today, these old wharfs, Bannister's Wharf and Bowen's Wharf, have undergone a most impressive restoration housing charming restaurants and shops.
The tour will also point out some of the grandiose mansions lining Bellevue Avenue, where the Vanderbilt's, Astors, and their friends spent their summers having a grand time partying. Mansions they referred to as their "cottages." Or, if you prefer, why not jump aboard the Spirit of Newport where you will enjoy a one-hour narrated cruise of the harbor. The sightseeing boat departs behind the Newport Harbor Hotel and Marina.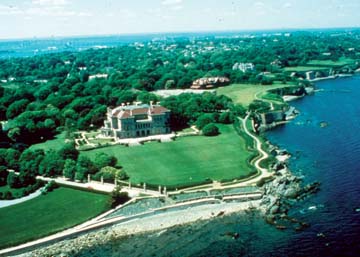 Bellevue and the Cliff Walk
A visit to Newport would not be complete without taking a leisurely stroll along Bellevue Avenue. It is here where you will be able to enter some of Newport's castle-like mansions that have been preserved by the Preservation Society of Newport County, and are open to the public.
Incidentally, the Rosecliff Mansion has recently been the setting for such films as The Great Gatsby and True Lies.
If you are brave and energetic, try the scenic Cliff Walk, a 3½-mile public park that winds its way between the backs of the Bellevue Avenue mansions and the ocean. In 1975 it was designated as a National Recreation Trail. It is one of the best ways to see the city.
Where to Stay
To capture Newport's colonial charm, discriminating travelers will insist on well-appointed amenities, and no less than perfection when it comes to service. Without doubt, the legendary Hotel Viking, ideally located within the fashionable neighborhood of Bellevue Avenue's graceful mansions satisfies these requirements.
Stepping into this charming hotel is a step back in time circa 1920s. Originally built in 1926, the hotel's primary's objective was to accommodate out-of-town guests of the famous Newport "400." This prestigious list comprised 213 families and individuals, whose lineage could be traced back at least three generations. It is the only hotel in Newport to be listed in the prestigious National Register of Historic Places.
Over the years the hotel has been host to President and Mrs. John F. Kennedy, the Astors and the Vanderbilts, many international dignitaries, Tennis Hall of Fame players and Newport Film and Jazz Festivals attendees. Guests who appreciate Queen Anne and Chippendale-style furnishings will relish settling in one of the 237 newly renovated guest rooms, offering an authentic romantic Newport experience.
Walking About
Newport lends itself to walking about and many of the town's attractions, restaurants, antique stores, and boutiques are located on Thames Street and Spring Street in the heart of Newport.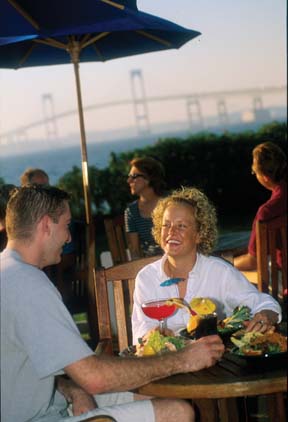 Scenic Dining
Newport, no doubt, is endowed with great history and culture. However, it also overflows with many fine-dining establishments. Le Bistro, a Yankee Magazine Travel Guide "Editor's Pick Award," located on Bowen's Wharf specializing in French country cuisine for the past twenty-nine years is a favorite choice of visitors and locals alike.
This charming and intimate restaurant has a wonderful view of Newport's harbor, making it somewhat difficult to concentrate on the menu. After soaking in the beautiful scenery, turn your attention to the innovative menu.
Menu selections include baked stuffed lobster, broiled local scrod, seafood linguini, roasted duck, steamed native lobster, New York Sirloin Steak, fresh sea scallops, grilled salmon, rack of lamb, shrimp sauté, chicken sauté.
One caveat, the portions are humongous! We hardly had enough room to savor the finale, the delectable deserts, such as the apple tart and the amaretto cheesecake.
The casual atmosphere of the restaurant with its simple décor makes you feel at ease, creating an ideal setting for a pleasant, romantic rendezvous and a lasting memory of your stay in Newport.
About the Author
Norm and Lily Azerad-Goldman are a unique husband and wife team, writer and water colorist, who write and paint about romantic destinations. This and other articles are featured on lovetripper.com, thetimesbeat.com, invaction.com and bootsnall.com.
Norm also has his own book reviewing site, www.bookpleasures.com and Lily's paintings can be found at www.azergo.com. This article is reproduced with the kind permission of bootsnall.com, the Ultimate Resource for the Independent Traveller.
For More Info:
Rhode Island Tourism Division
One West Exchange Street
Providence, RI 02903
Toll-Free: 1-800-556-2484 (24 hours)
E-mail: visitrhodeisland@riedc.com
www.visitrhodeisland.com
Newport Rhode Island Tourism
Visitor Information Center
23 America's Cup Avenue
Newport, RI 02840
Tel.: 401-845-9123
Toll-Free: 1-800-976-5122
E-mail: jbailey@GoNewport.com
www.gonewport.com
American Consulate
1155, rue St-Alexandre,
Montréal, QC H2Y 2W7
Tel.: (514) 398-9695
E-mail: Montreal-NIV@state.gov
www.usembassycanada.gov