Peru
Beyond Machu Picchu
by Liz Bruckner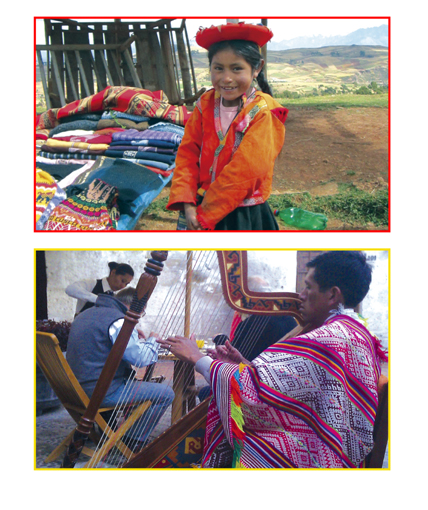 The infamous Incan site may be Peru's claim to fame, but it's not the only reason to visit.
I'm perched at the helm of an impressive yacht as it glides through calm waters off the coast of Paracas, Peru. To my left is the Nature Reserve, a UNESCO site shaped over time by seasonal sandstorms, and home to millions of flamingos, pelicans and boobies that thrive on this nutrient-rich area of the Pacific. To my right is the open ocean and straight ahead are the picturesque Ballestas Islands, otherwise known as the baby Galapagos: a score of tiny islands that hosts a mecca of dolphins, hundreds of sea lions, thousands of circling birds and even the occasional killer whale.
It's taken almost 10 days of trekking through the highlands, lowlands, mountains and desert, but as I sit swaying on the gentle waves, I've decided: This is my favourite Peru.
When I told family, friends and pretty much everyone I knew about my impending trip to one of South America's best-known countries, the obvious refrain was centered around Machu Picchu. But just as there's more to Rome than the cathedrals, Peru isn't just the country that surrounds the Incan relic. Here, some of this South American jewel's many standouts.
Arequipa, Southwest Peru
Arequipa, also known as the White City since most of its buildings are made from sillar, a local, white volcanic stone, is Peru's second largest metropolis. Here mountains are used as billboards, road-side fighting bull sightings are a normal occurrence, and "Juanita the Mummy" – the young, sacrificial victim offered to the Andes mountains between 1450 and 1480, and discovered in 1995 by an anthropologist – is one of its main draws. (From May to November in Museo Santuarios Andinos, you can catch a glimpse of the carefully preserved body.) The city's Monasterio de Santa Catalina, which occupies an entire block and is guarded by stalwart towering walls, adds its own flavour of charm. Not your average convent, it was founded in 1580 by a wealthy widow and at 20,000 square metres, it's one of the best-preserved and most fascinating religious buildings in the country. Also worth seeing: Canon del Colca. A three-hour drive from Arequipa, this massive hole in the ground – it measures 100 kilometres long and is twice as deep as the Grand Canyon – makes North America's largest pit look wee in comparison.
Cuzco, South Central
Nestled in the southern highlands, Cuzco is literally brimming with gasp-inducing mountainous views and lush greenery. Home to Machu Picchu, the site is indeed exhilarating and, well, incredible, when you behold the mountaintop home of the Incans. But the 'Picchu isn't the only attraction worthy of your time. Pisaq Market is a mecca for hagglers and souvenir affecionados with all manner of handicrafts, jewelry, minerals, spices and indigenous foods. And at ChocoMuseo, where admission is free and die hard sweet tooths can experience their own slice of heaven, visitors are invited to make their own chocolate, indulge in cacao tea, fondue, iced chocolate, and experience a chocolate tasting with delicious (and local) Peruvian coffee. And then there's the food. While it's fair to say it's a foodie mecca, heading to picturesque Huaypo Lake for a five-star picnic hosted and catered by Cicciolina restaurant while taking in the surrounding green mountains is definitely worth the 45-minute drive from Cuzco.
Lima, Central Coast
The fourth largest city in Latin America and Peru's most populated, Lima is dubbed the Garden City, and is as diverse as they come. Founded by Spanish conquistadors, it is home to many distinct neighbourhoods and cultures, and is liberally peppered with unique cultural experiences and attractions. That and it's bustling to boot. Lima's streets are so jammed with cars and buses they'd make the most seasoned cabbie weep, yet it's worth braving the madness to sleuth out the many museums and galleries littered throughout the city– two not to miss are Museo Rafael Larco Herrera, which showcases pre-Colombian artifacts, and the Gold Museum, highlighting just that. Also worth the visit is the village of Pachacamac, some 40 kilometres south of Lima. Not your average destination, the home of Ulises Moreno, a retired plant physiologist turned agronomist, is completely powered by renewable energy created from guinea pig droppings. Take a tour of the "ranch" as he explains why their poop packs a punch, how more than 100 fruit and vegetable species growing on-property reap the benefits, and finish the experience with a freshly concocted pisco sour, Peru's national bevvie.
Paracas, Southwest Coast
Located two hours south of Lima in the Pisco valley, here's where you'll find the famed Nazca lines, one of the first vineyards ever planted in the New World, and the picturesque Ballestas Islands mentioned above. It's also here that you'll find seaside beauty to rival that of any Riviera, as well as the Paracas Candelabra, a prehistoric geoglyph measuring almost 600 feet that's been mysteriously carved into a peninsula ridge. Also nearby is the California Desert, the most arid of its kind in the world, which presents visitors with a rare opportunity for adventure. Sand surfing is a popular undertaking here, as is riding at full speed in a 4×4 truck up, over and around sand dunes reaching up to 200 feet. An hour-long tour is a must before sunset, as is a light meal and glass of champagne in a Bedouin-style tent amidst an ocean of sand once the sun's gone down. It's a surreal adventure that belongs firmly emblazed on everyone's bucket list. Seriously.
Regardless of where you visit, you'll have your pick of stellar accommodations.
•In Arequipa, Casa Andina is a 1794 colonial mansion transformed into a unique hotel with a beautifully preserved stone courtyard. It's hidden behind a giant wood door in the heart of the city, and boasts a harpist who plays during breakfast.
•Machu Picchu's Tambo del Inka in the Sacred Valley combines luxury with Peruvian culture. It's also the only hotel in the area with a private train station to the Machu Picchu's Railway.
•The Lima Marriott provides waterfront views, a casino and an easy walk to attractions in the picturesque Miraflores district.
•Hotel Libertador Paracas, about two hours south of Lima, offers oceanside luxury and serenity. It's also conveniently located near the Nature Preserve and Ballestas Islands.
Visit: peru.travel.com