Pohnpei, Micronesia
Venice of the Ancient Pacific
Published in the Summer 2009 Issue of Canadian World Traveller
Text by Tom Koppel © 2009 (koppel@saltspring.com)
Photos by Annie Palovcik
Our excitement builds as Jimmy Obispo, a bare-chested young boat operator, throttles back on his twin outboards. He steers us out of a broad turquoise lagoon, where ocean surf breaks on the outer reef, and into a calm precinct of narrow waterways. The shores are defined by straight, obviously old and well-built lines of rock, all overgrown with tall coconut palms, broad breadfruit trees and dense thickets of gnarled mangrove.
Looming ahead are what my wife Annie and I have read so much about and come so far to see, the impressive ruins of Nan Madol, an ancient royal city built on 92 small artificial islands separated by shallow canals. This is where a dynasty of local kings ruled for a millennium over 25,000 subjects on the large, lush, mountainous island of Pohnpei in Micronesia, 3100 miles southwest of Honolulu. It is a remarkable place.
Jimmy ties up the boat and beckons us ashore to poke our way around the most impressive of the islands, a rectangular mortuary islet called Nan Douwas that is surrounded on all sides by high ramparts of stone. Long, fortress-like walls of gray basalt tower eight metres above us and sweep gracefully upward at the corner ends. We pace the perimeter, marveling at the fine stonework, before approaching a broad entrance to the complex.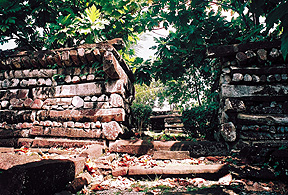 Tomb of Pacific Kings
A flat, well-worn stone marks the spot where, upon entering, ancient priests pounded kava root to make a mildly intoxicating drink and led prayers to their island spirits. Stepping into a rectangular inner courtyard, we are struck by the silence and eerie feeling that the past lives on here, even in the present. In the middle stands a raised stone burial vault, where archaeologists have unearthed human bones, shell adzes, bracelets and countless beads.
"We respect this place," says Jimmy in a hushed voice. "We don't make too much noise. We walk around slowly and don't just climb over everything." This tomb is the final resting place of long-dead Pacific kings, the Saudeleurs, who made Nan Madol their religious and political seat of power.
Canal Kayaking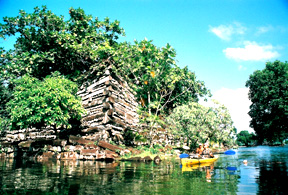 We launch kayaks and paddle slowly along the canals, exploring the complex of raised islets that sprawl over three square kilometres. Many have former temples, tombs and royal residences built on them using long, narrow pieces of basalt stone arranged in a distinctive crisscross fashion, log-cabin style.
The buildings sit atop foundations made from perimeter boulders of a volcanic rock called "tuff," with coral rubble used to fill the islet centres. It was all laid down between 1400 and 500 years ago on a flat, shallow coral reef.
Over the centuries, an estimated 750,000 metric tons of stone were brought from Pohnpei or a smaller adjacent island to create the islets and monumental stone structures. Some of the foundation boulders weigh 50 to 60 tons, making them comparable in size to the Easter Island stone heads. But unlike that famous Polynesian landmark, few people know of Nan Madol, and only a handful of foreigners visit each week.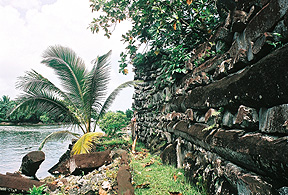 US National Historic Landmark
Even after decades of study, scientists are not certain just how the huge rocks were moved into place, or even precisely where most of the stone came from.
They believe the foundation boulders came from nearby Temwen Island, which is adjacent to Pohnpei, and were dragged along wooden rails, laid down on the reef, by brute human force.
The basalt may have come from any of several possible quarries on Pohnpei, none closer than 10 to 30 kilometres away, and floated to Nan Madol on bamboo rafts. Jimmy, our boatman, tells us that some locals think the stones were brought in "by levitation, by magic." These are just some of the mysteries of this vast and amazing place, truly a wonder of the ancient world.
Until its independence and current status as the capital of the Federated States of Micronesia, Pohnpei was part of an American governed trust territory, so Nan Madol is still recognized as a US National Historic Landmark. Some call it the Venice of the Pacific.
We are here mainly to research a book about the discovery and settlement of the ancient Pacific islands, and plan to return another day at low tide, when we can tramp on foot among the islets and examine them more closely.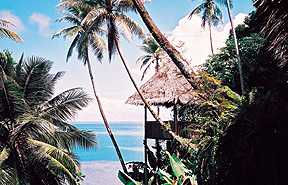 Charming Village Resort
After our kayak outing, Jimmy brings us back to our enchanting little resort on Pohnpei.
Called The Village, it has been owned and operated for over 30 years by a transplanted American couple, Patti and Bob Arthur, who have gone thoroughly native.
Their son Jamie is married to a local woman, fluent in the language, and several of his daughters help out at the resort. There are 23 roomy, well-ventilated thatched bungalows overlooking the fringing lagoon that encircles Pohnpei.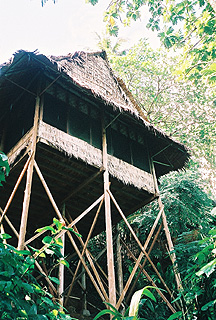 Each has two queen-size waterbeds, which the Arthurs say is necessary, because ordinary mattresses would get mildewed in the humid, tropical climate. Draped over the beds are mosquito nets, but we notice very few insects at all.
In fact, there are no snakes, spiders or creepy crawlies of any kind, only a few cute and harmless tiny geckos that occasionally run up or down a wall. If the usual breeze off the sea and wafting in through the screened side walls is insufficient, ceiling fans keep the bungalows comfortable
The resort is situated on its own large peninsula and well off the island's main road, so there is no traffic noise. Each unit is surrounded by gorgeous tropical foliage and reached only by foot paths, which further ensures quiet and privacy.
There are no phones, TVs or radios to disturb the mellow ambience. The loudest noise at night is when a melon-size breadfruit drops in the forest. We wake at dawn to the song of birds or a rooster crowing in a distant village.
Island Dining & Scuba Diving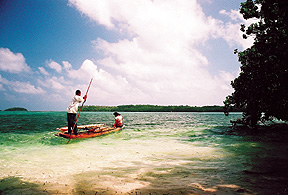 The social centre is a large, open-air restaurant and bar that offers stunning sea views, good coffee, refreshing chilled drinking coconuts, and excellent, reasonably priced meals.
During our six nights there, we enjoy fine wines and some truly memorable dinner specials: local mangrove crab spiced with the island's own pungent peppercorns, baked fresh tuna stuffed with cheese, and perfect prime rib with baked potatoes and Yorkshire pudding.
The other guests are largely Americans and fellow Canadians. Most are serious scuba folks who have come to Pohnpei for its notable dive sites, especially one where they can swim among clusters of giant but docile manta rays. At happy hour, they show us stunning shots of undersea life taken with their digital cameras. Besides outings to Nan Madol, the resort organizes dive and snorkeling trips with its own boats and staff, and open-sea crossings to a pristine neighbouring atoll, weather permitting.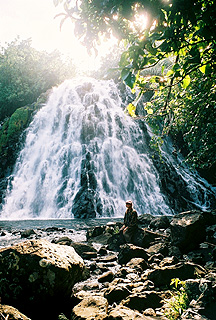 Idyllic Days
Our days fly by. We snorkel over colourful coral full of fishes in the warm lagoon, or swim at the resort's small private beach, which is just a short walk down the trail from our bungalow, and where we find ourselves happily alone each time.
We enjoy a picnic lunch at a tiny, remote island in the lagoon, and watch two local couples as they fish from hand-built outrigger canoes and husk coconuts to take home.
We visit a high waterfall and bathe in the tepid fresh-water pool at its base. The more ambitious can hike steep mountain trails along a network of even more spectacular waterfalls in the island's interior rain forest, or climb dramatic Sokehs Rock, with its Japanese wartime bunkers and rusting guns.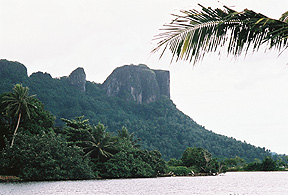 Kolonia's Past
One day, we take a taxi to the low-key, friendly main town of Kolonia and stroll among the vestiges of Pohnpei's colonial past.
A section of old stone wall, now green and mottled with moss and lichens, is all that's left of the former Spanish governor's compound.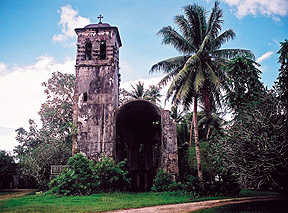 A tall grey bell tower and adjacent ruins mark the remnants of a Catholic church built when Germany took possession of the islands from Spain in the late 19th century.
Nearby is a Buddhist-style statue commemorating the decades when Japan ruled most of Micronesia, after Germany was stripped of its Pacific possessions during World War I.
Many locals are of mixed parentage, with distinctly European or Japanese facial features or names.
Walking along the harbour, where tuna boats are anchored in the distance, we meet a guy who is preparing an odd-looking wad of something to chew. It turns out to be betel nut, to which he adds some rind of fresh lime, a sprinkle of powdered limestone, and a pinch of loose cigarette tobacco. Apparently, it gives him a buzz.
Harbour-side Lunch
The skies then open in a sudden downpour, which on Pohnpei can be shockingly heavy. Not for nothing is the island covered in rainforest. Fortunately, the torrent is usually brief, and the sun soon shines again.
Meanwhile, though, we duck out of the rain for a lunch of barbecued chicken and rice at a barebones street-side kiosk, one of many in Kolonia and along the road in the small outlying villages as well.
Others are enjoying grilled local reef fish and baked plantains or yam. Nearly everyone speaks at least some English, making it easy to chat with those sharing our Arborite table.
Low-Tide Excursion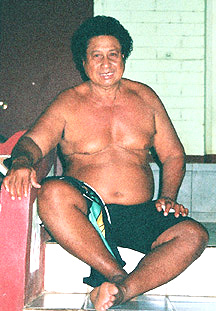 Another day, we return to Nan Madol to explore it at low tide on foot, accompanied by two guides from the Office of Historic Preservation. First, they take us to meet the region's paramount hereditary chief, or nahnmwarki, Kerpet Hebel, to get formal permission. He receives us, bare-chested and wearing only shorts and a decorative cloth, in a large, airy meeting hall.
The floor is strewn with flat kava-pounding stones. We pay him a few dollars in tribute. One of our guides, Rasner Elias, a grizzled and wiry village chief in shorts and a t-shirt, gives Hebel a stalk of freshly cut sugar cane, a typical gift that shows respect.
In return, the nahnmwarki demonstrates his generosity by giving Elias a much more valuable root of yam the size of a large pumpkin.
Islet Uses Revealed
Hiking into Nan Madol from the nearest road, we fasten our sandals or reef shoes to our feet with duct tape, so they won't pull off in the mud. Then we slog for a couple of hours through the knee-deep canals and across the many islets.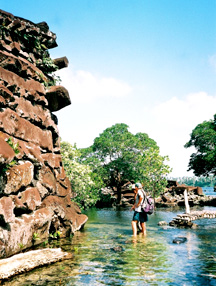 Young Jason Lebehn, our other guide, has worked closely with visiting archaeologists. So he is able to explain what used to take place on each islet, whose ancient names and purpose are known from oral histories, as told to early missionaries or compiled by visiting ethnographers.
On one, Peikapw, big green sea turtles, a highly revered animal, were raised in a pool, only to be ceremonially sacrificed. They were taken to the adjacent islet of Idehd, cooked, and their entrails were fed to a moray eel, held to be sacred, as part of a rite of atonement.
A Smithsonian Institution project in 1963 excavated the stone-lined pit where the eel was kept in sea water and found burnt turtle bones nearby. We pass Peinering, where coconuts were processed to make oil, which was used as a perfume for dead bodies prior to burial as well as burned for lighting.
When chiefs or their family members died, their bodies were perfumed with coconut oil and flowers, rolled up in mats, and taken by canoe from islet to islet. Ritual kava drinking and funeral dancing accompanied the procession, followed by burial in tombs on one of several mortuary islets, depending on rank.
There were many other specialized islets. Pahn Kadira was where royal decisions were made. It had a temple to the traditional god of thunder and the spacious, well-guarded dwelling of the Saudeleur, or king, himself. Usendau was a residential islet for the priests, while Kelepwei housed the Saudeleur's many servants in tiny huts.
Darong had a large pool in its centre, where clams were raised to feed the chiefs. Archaeologists found that tunnel-like channels had been dug under the islet, probably to bring in fresh sea water to aid the growth of the clams. Lemenkau was a medical centre, with a pool where, after people were cured, they were rinsed before returning to their residences.
The many broken adzes found on Dapahu lead archaeologists to think canoes were built there. And Dau is said to have been the place where the guards lived, although a recent Japanese archaeology team has found both unfinished and completed pearl shell fishing lures there, indicating a production site for shell goods, probably as status symbols for burial or ceremonial use.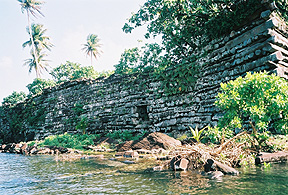 Place of Spirits
For centuries, Nan Madol was an entire world unto itself, with a population, including the commoners who worked there, estimated at 1000.
Then, about 400 years ago, an invading force from another island overthrew the Saudeleur dynasty, established a new political order, and Pohnpei split into the five chiefdoms that exist today, each with its own paramount chief.
Gradually abandoned, the city was left to the wind, rain and jungle. Today, the silent ruins retain their secrets. Many on Pohnpei do not go there at all, thinking it to be a place of the spirits. It is said that if you stay overnight, you will die. We decide not to push our luck.
If You Go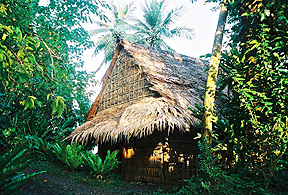 For the best accommodations on Pohnpei, visit www.thevillagehotel.com.
Flying with Continental Airlines, Pohnpei is ten-hour-long, westward island-hopping flight from Hawaii.
It is advisable to break your trip with a stopover at a Honolulu International Airport hotel, such as the Ohana (www.ohanahonoluluairporthotel.com) or the Best Western, (www.bestwesternhawaii.com).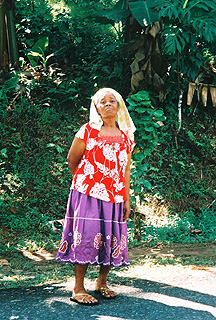 For More Info on Pohnpei:
Federated States of Micronesia Visitors Board
Website: www.visit-pohnpei.fm
About the Author
Tom Koppel is a freelance writer living on Salt Spring Island, BC. Tom can be reached at koppel@saltspring.com.