Seven Days and Seven Nights in
The Dominican Republic
Published in the Summer 2005 Issue of Canadian World Traveller
Text: Ron Paquet (rpaquet@bulzi.ca)
Photos: Ron Paquet and courtesy of Dominican Republic Tourist Board (www.dominicana.com.do).
I ploughed through the sleepy central Dominican Republic village of Jarabacoa on my four-wheel-drive, 250cc, off-road vehicle. I was admiring the verdant sugarcane fields, which were dwarfed by the 3,000-metre Cordillera Centrale mountain range, when, within seconds, I missed a sharp curve and was tossed in a heart-stopping dive over a steep embankment.
The Dominican Republic (DR) is half of the second largest Caribbean island, which it shares with Haiti. Populated by over eight million Spanish-speaking residents, it is a 48,484-sq. km tropical paradise rimmed by some 1,600 km of soft, white, sandy beaches on both the tranquil Caribbean Sea and the roaring Atlantic Ocean.
Our group, comprising of members of Canada's traveling press corps, arrived at Breezes, a world-class resort located on the Atlantic Sosua shoreline. In no time, we were enjoying the warm evening sea mists spraying our faces, as we watched in awe the white-tipped breakers crashing on the beach.
We danced salsa and meringue with our Spanish-speaking hosts until the wee hours of the morning. This was probably not such a good idea, as we were roused for a 7:00 am buffet breakfast before leaving the hotel for our first day of touring.
Puerto Plata
Carlos Batista and Gabriela Espinal, our ever knowledgeable and effusive DR reps, led our bedraggled bodies to our waiting air-conditioned minibus. Our first stop was Puerto Plata's Ocean World Theme Park, where dog-like seals danced and pranced for appreciative spectators.
A coastal town located in Northern DR, Puerto Plata boasts a Spanish colonial quarter, which was protected by Fort San Felipe in historic times from seafaring marauders approaching from the Atlantic. This city of 150,000 features first-class all-inclusive accommodations even for the most budget-conscious visitor.
Playa Cabarete
After a twenty-minute drive down the two-lane C5 highway, we reach Playa Cabarete's main drag, Calle Principale. This 300-kilometre thoroughfare cuts through Cabarete's exclusive boutiques, sports equipment rental outfits and mercados (markets). On one side is the 3,000-metre mountain range of Cordillera Septemtrional and on the other the roaring Atlantic Amber Coast.
In 1984, Canadian windsurfer Jean Laporte discovered Cabarete's near-perfect surfing conditions. Since that time, the beach has become a world-class windsurfing and kite-boarding destination. It is also the DR's coolest party town, particularly when the town hosts the Cabarete Kite-boarding World Cup and the Red Bull Masters of the Ocean.
Everything comes alive in the afternoon, as the majority of young hipsters finally recuperate from nightly bar-hopping and exquisite dining in the many restaurants, cafes and bars that line the laneways running down to the beach.
Adventure Tour
We returned through Cabarete the following day on our way to bike through the Cordillera Septemtrional Mountains with representatives from Iguana Mama, an adventure tour operation founded by an American who settled here with a native Dominican.
While some of the writers preferred the comfort of the minibus, the majority of us took to the steep hilly curves by bike, passing a few tiny settlements where groups of weather-torn men sat under thatched bohios selling petrol in soft drink bottles. Not too many gas stations en route. Towards the end of a grey afternoon, we dragged our feet into the hotel after being drenched by a tropical downpour.
Rancho Baiguate
The next day we were en route from Puerto Plata to the centre of the island to visit our first large city, Santiago. Under a steady downpour we drove through the Cordillera Centrale mountain range climbing the long, slippery roads towards Jarabacoa for some fun and games at Rancho Baiguate.
Rancho Baiguate is an eco-resort where you can loosen it up and participate in rappelling, rafting, climbing steep hills and crossing rivers on horseback riding four-wheel all-terrain-vehicles.
On a dewy morning our small convoy of ATVs headed along a single pot-holed dirt road through a small village past vast coffee plantations and the 3,000-metre Cordillera Centrale mountain range to rappel down a steep cliff above the Jimenoa river.
However, the trip took a surprising twist as I suddenly lost control of the ATV on a muddy curve and flew over a steep embankment. I ploughed through small, leafy tropical trees. I stopped rolling and was then tossed onto the ground as the ATV fell on my leg. In a state of severe shock and pain, I mustered my energy and pushed away the vehicle above me and collapsed before finally driving my disabled vehicle out of the small thicket to resume my trip.
We finally reach the Jimenoa river waterfall, a 45-meter vertical rock descent. Images of trained Special Forces rapidly rappelling down 500-metre cliffs crossed my mind as I made my first descent ever off the side of the rocks, which became all the more daunting as I carefully placed my feet in the mountain crevices.
With two rafts in tow we later headed by truck for Level 2 rafting on the DR's longest river, Rio Yaque Del Norte. The current pushed us past sparsely built private dwellings on the bluffs above and past a lone, oddly located restaurant and disco under construction on the hills further downstream.
Santo Domingo
As the time flew by, we hurried on to the Dominican capital of Santo Domingo, the New World's oldest city. It is a sprawling, bustling Caribbean Sea Coast city, laced with multi-lane roads and home to three million inhabitants.
The quaint city is well known for its 600-year-old Spanish quarter, dating back to when Christopher Columbus first set foot on the Island in 1492. I was amazed by the preservation of its 16th century buildings: Fort Saint Dominique, replete with stone garrisons and prisons; the impressive Santa Mario Cathedral de la Incarnacion; and Columbus' two-story, grey stone mansion overlooking the Ozama River.
That evening Carlos invited us to what is perhaps the world's only underground cave discothèque, La Guacara Taina. Nestled in a naturally formed coral cave, the 5,000-square metre dance floor combines a mix of theatre bench seats and tables on all sides, providing a commanding view of the Meringue dance troop performing on the stage below.
Bayahibe & Saona Island
Dying to experience the virgin beaches depicted in brochures, we left for Bayahibe the next morning.
The Cora Canoa is one of many all-inclusive resorts lining the long, white sandy beaches, which are caressed by a tranquil, aquamarine Caribbean sea.
The rainstorms now behind us, we rapidly slice through the fine Caribbean waters in a 20-passenger, 200 horse-powered speedboat, hopping from one deserted island to the next. The postcard perfect beaches of the Dominican's Eastern National Park on the South Eastern part of this grande island features lush palm trees and virgin white sand with no inhabitants.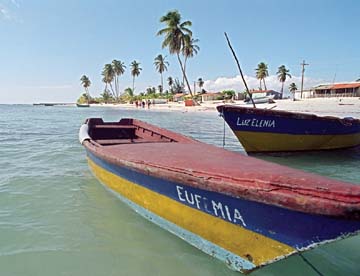 Our destination, Saona Island, is the only populated island. It is home to some 30 residents, whose ancestors have been there for generations. Apart from one gas-operated generator owned by the local restaurant, there is no electricity, and only one phone and fax.
The inhabitants live in small colourful homes, and never wear shoes when they walk about this island of grass and sand. The children travel each day by boat to La Romana for their secondary schooling. The men fish for what is considered the DR's best lobster, and the woman chat with each other while they tend to their arts and crafts kiosks on the Saona shoreline.
Saona is the lunch stop for tourists from Bayhaybe who come in the hundreds in some 40 high-powered ferry speedboats to feast on a buffet of fresh pasta, lobster and wine.
Later, the sea fills with throngs of partyers cooling off before the long seaward-bound return to Bayhaybe.
Amhsa Marina, Sosua
The following sunny day we endured a grueling six hours of driving over sun-baked highways to our final destination. Ecstasy bestowed her love on to us as we approached the tropical Amhsa Marina in Sosua. It is impossible to be melancholy while still afoot in paradise.
Anxious to play in the three-metre waves, I threw myself at the mercy of the vicious Atlantic, one immense body of water after another crashing down on me and tossing my body into the sand while an undertow would tear me out from the safety of the shore for another attempt for the perfect body surf.
Following a late dinner at a choice of six different restaurants (Mexican, American, Chinese, Italian among others), we danced to salsa and meringue.
Mesmerized by the moonlit Atlantic, I pulled up a deck chair to her shoreline and felt the theatre of energy pound away in the stillness of the Sousa evening while sipping my final rum and coke. I have been to many paradises and have always fallen prey to their seductive powers. This was certainly no exception!
At 2:00 am, I leapt out of my trance and headed for the Gregorio Luperon International airport to catch an Air Transat flight back to face another unforgiving Montreal chill.
For More Info:
Dominican Republic Tourist Board
2080 Crescent Street,
Montreal, QC H3G 2B8
Tel.: 514-499-1918
Toll Free: 1-800-563-1611
Fax: 514-499-1393
E-mail: Montreal@sectur.gov.do
www.dominicana.com.do
www.dominicanrepublic.com
Dominican Republic Embassy (Canada & US)
1715 22nd Street NW
Washington, D.C., 20008, USA
Tel.: 202-332-6280
Fax: 202-265-8057
Email: www.domrep.org
Dominican Republic Consulate (Montreal)
1470, rue Peel, Bureau 263
Montréal, QC H3A 1T1
Tel.: 514-284-5455
Fax: 514-284-5511
E-mail: raquel.jacobo@consulado-dominicano.com
www.consulado-dominicano.com
Air Santo Domingo
http://airlines.priceline.com/airlines/air-santo-domingo.html