Germany
Three cities, three different Germanys
Published in the Winter 2008-09 Issue of Canadian World Traveller
By Michael Morcos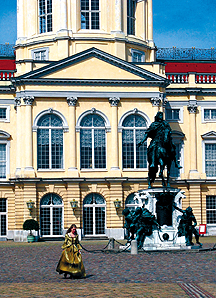 Three different German cities and three different atmospheres. At times, they almost seemed like three different countries! This was my first return trip to Germany after some twenty-five years.
I would revisit Berlin to find a transformed city and also tour the harbour city of Hamburg and the charming Baltic Sea town of Lübeck for the very first time.
The distance between the three is short but their characters are far from the same. Berlin and Hamburg are city-states on their own, which would partially explain how they differ in attitudes. Berlin had a more stately air while Hamburg was anything but and Lübeck was totally laid back.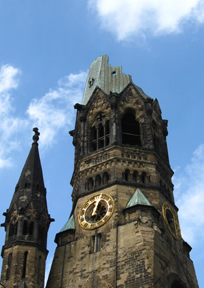 Cosmopolitan Berlin
Time changes everything! Berlin used to be overshadowed by other European capitals, but no more.
In fact, with so much more to see and do there than was when I first visited the city, I realised that three days would only allow me to just scratch the surface of all of the new attributes that this world-class cosmopolitan city has to offer its visitors.
My return visit reaffirmed to me that Berlin has just about everything a traveller could desire. Berliners enjoy a certain joie-de-vivre, which they willingly share with tourists, and are justly proud of the abundance of interesting historical sites and attractions found in their city.
These include Bellevue Castle, Alexander Platz, the Brandenburg Gate, the Tiergarten, the Berlin Zoo and the exquisite18th-century baroque palace, Schloss Charlottenberg.
Adding to all this is the Berlin 's legendary nightlife. It seemed that many locals dine at restaurants or outdoor cafes almost every night before moving on to live it up at the city's popular bars and clubs, until the wee hours of the morning.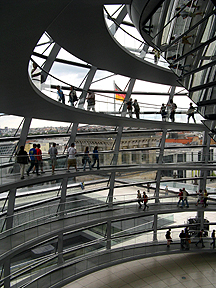 The New Reichstag
After the reunification of the two Germanys, a vote was taken in parliament and it was decided, by a narrow margin, that the capitol of the new Germany would be moved from Bonn back to Berlin and the new parliament building would be the Reichstag.
The Reichstag was heavily bombed and largely destroyed during the war. Its reconstruction preserved the old facade while giving the building a modern interior and a glass doom, making it one of the most impressive buildings in Berlin and one of the most visited. The wait in long queues is well worth it!
At first glance the mix of old and new stunned me and I was particularly taken aback by the ultra-modern shiny metal railings and glass dome. A ramp that circled the inside of the dome led to a platform with an amazing 180-degree view of Berlin. The remodelled building is truly a great work of modern art.
Kaiser Wilhelm Church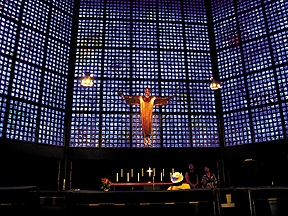 The Kaiser William Memorial Church is one of Berlin's most famous landmarks.
Built in the 1890s, it was badly damaged in a bombing raid in 1943. After the war, it was decided that this church would not be rebuilt but left as is.
An adjacent memorial hall was erected in which the history of the church is explained. The impressive blue glass walls of the building create a surreal feeling of being in a wide-open space.
Daimler and Sony Centres
When the infamous wall came down in 1990, it created lots of new space to build on in Potsdamer Platz (the heart of reunified Berlin).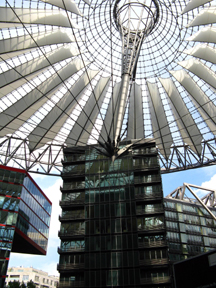 Multi-corporations like Daimler and Sony wasted no time in constructing modern complexes that include residential apartments and office buildings. 
I was particularly impressed by the Sony Centre, consisting of several buildings surrounding an inner courtyard, which is covered by a steel and glass dome.
It is unlike anything I had ever seen before and although the surrounding area had its Old World charm, the ultramodern complex seemed to fit right in.
This is just one of the stunning examples of Berlin's wild and eclectic mix of 'new meets old' and 'east meets west' styles of urban architectural
The Famous Wall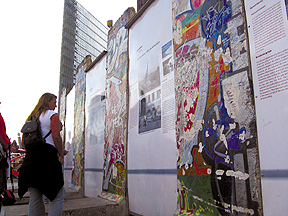 Was there any other wall constructed during our lifetime that was as famous as this one? On August 13, 1961, two events occurred.
One was the start of the construction of a wall by the East German government to physically divide the eastern sector of Berlin from its western sector, thereby stopping its citizens from defecting to the West.
The second very important event that happened on the same day was my birthday, not quite a world event, but now the wall is mostly gone and I'm still standing and able to visit what remains of my twin.
On my last visit to Berlin in 1984, I was able to walk for hours alongside the western side of the wall. Today, there are only three places left where you can still see remnants of it and none of these gives one a true feeling of that unforgettable symbol of the Cold War.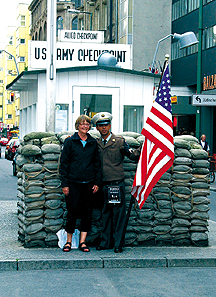 Checkpoint Charlie
During the Cold War, when the wall was erected, Checkpoint Charlie became the one and only official border crossing between West and East Berlin.
It is now a tourist site where visitors have their picture taken standing beside a German stand-in dressed as an American GI. Of course today, everyone can move freely between the former Western and Eastern sectors of the city.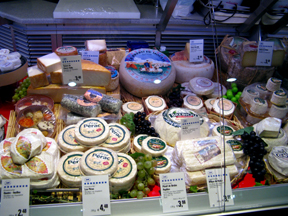 The KaDeWe Store
There are but a few stores that enjoy worldwide recognition. There are, of course, Macy's in New York, Harrods in London and the Galleries Lafayette in Paris. Berlin's KaDeWe in is also one such store and is considered the city's top shopping destination.
This shopping emporium is a Berlin landmark. It was bombed during WW II but was important enough to be reconstructed to recapture all of its former glory.
Strolling through its multi-levelled floors, one finds extensive departments offering everything from top-of-the-line perfumes and designer clothing to gourmet foods. Its top floor features a restaurant with a magnificent panoramic view.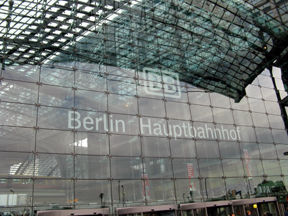 Berlin Hauptbahnhof
There are train stations and then there is the Berlin Hauptbahnhof. I cannot remember ever visiting a central station that uses such a relatively small space with such efficiency while doing so in quite such a visually pleasing manner.
Built on many levels, it has its own food court and stores.
This is also the station where city, national and international train lines intersect. This amazing building is at the crossroads of Berlin and has some 1,100 trains leaving daily from its 14 multi-levelled platforms.
Once again, this was astonishing evidence of the new, unbelievably dynamic Berlin that that didn't exist 25 years ago.
Distinct Traffic Lights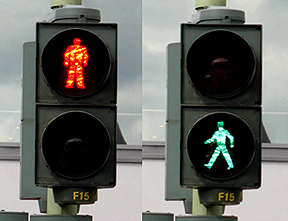 One city, two different pedestrian traffic lights! When the East and West Berlins were united it was understood that the Easterners would be respected by keeping what they had and that the unified government would not arbitrarily change those unique things.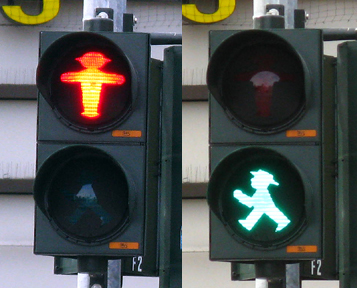 So, after quite a few protests from West Berliners, East Berlin's lights remained unchanged. Today, you can still tell if you are in the former Western or Eastern Sector, just by the type of pedestrian lights.
Personally, I found the Eastern lights more interesting, as they are unlike any others seen worldwide.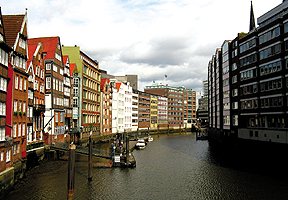 Hamburg: Port City & More
A short train ride from Berlin brought me to the second of three German city-states. Hamburg is a city of canals and there are over 2300 bridges.
That is more than those found in both Venice and Amsterdam combined. The port of Hamburg is the second largest in Europe and the ninth largest in the world.
Naughty St-Pauli
Hamburg has many faces but one that stands out is its 'bad-boy' partying reputation. It goes without saying that wherever there are sailors coming ashore, there will be a raucous party atmosphere and a red-light district somewhere in town.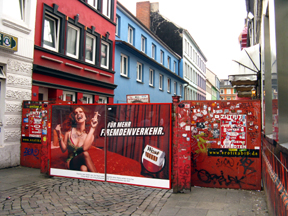 In this regard, Hamburg is no exception and is generally known for its hearty acceptance of this reality.
As evidence of its 'naughty' reputation, I could say that I have never witnessed a bigger party scene than that of Hamburg's St-Pauli district. Hamburgers and tourists thronged the streets till the early morning, quaffing mostly local beer (pils) and dancing the night away at its clubs.
St-Pauli's red-light district, where prostitution is legal and controlled and taxed by the government, is located on the Reeperbahn. This major street is barricaded by high fences, where only those 18 years or older are permitted to enter. This was a different and somewhat amusing travel experience and most foreign visitors were only there to window-shop.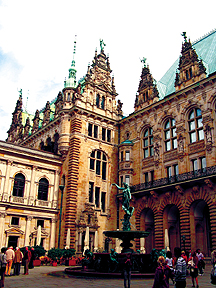 In fact, there are lots of other interesting aspects of Hamburg waiting to be discovered.
Historic Rathausmarkt
Standing on Rathausmarkt Square is Hamburg's town hall (Rathaus), an impressive Neo-Renaissance building dating from 1897 and the symbol of the city.
It is located facing Lake Alster and close to the city's main pedestrian shopping area and the business district.
Picturesque Lake Alster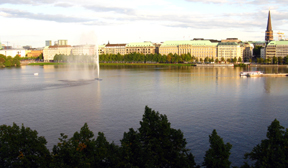 Not many cities can boost about 164-hectare lake at its centre. This is not a natural lake but was manmade by a farmer who dammed the river because he needed a large source of water to run his mill.
Lake Alster is now a recreational venue and adds immeasurably to beauty of the city. A favourite with locals and visitors, Lake Alster is surrounded by parks, walkways and cafes. It is the perfect place for strolling around or sailing across in small boats.
Harbour Cruises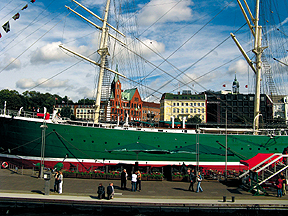 A harbour cruise of Hamburg is a perfect way to get oriented. Boats leave and drop off passengers all along the way in a ferry-style vessel.
The price is also right and you could see the many important buildings and districts from the top deck.
New Role for Old Warehouses
Hamburg is home to Europe's largest inner-city development project. HafenCity, which is located near the harbour and the old warehouse district, will be the new face of this dynamic city.
This area was largely abandoned after it was destroyed in WWII, but now it's a highly desirable district with more than 80 ambitious construction projects in development or in the planning stages.
Once completed, the Elbe Philharmonic Hall, which is being built on top of an old warehouse, will become a stunning Hamburg landmark, much like what the Sydney Opera House is to that city.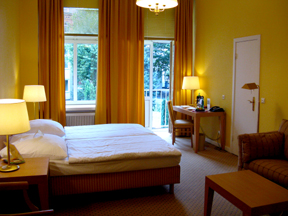 Relexa Hotel Hamburg
My four nights in Hamburg were spent at two of the city's great hotels. I spent the first two nights at the Relexa Hotel Bellevue Hamburg, an elegant building ideally located across from Lake Alster and close to shopping areas, the subway and the train station. 
Its newly renovated rooms, with Northern- European-style furnishings, made for a very comfortable stay. I felt cozy throughout my time there.
The well-appointed room, as well as the quiet courtyard view from my window, were just perfect. It felt like a home-away-from-home and the price right. With a great breakfast buffet included, I could not have been better accommodated.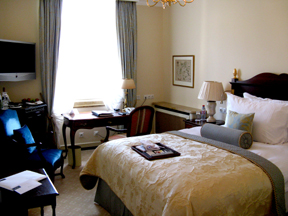 Fairmount Vier Jahreszeiten
I spent my other two nights at one of Hamburg's finest hotels, the Fairmont Vier Jahreszeiten.
The Canadian-owned chain of high-end hotels had just recently purchased this historic landmark property also located on Lake Alster at the heart of Hamburg and its busy city centre.
Luxury travel does not get any better this, as the Fairmount offers its guests nothing but the best. Besides the courteous service one would expect from the staff, the hotel also boasts a richly decorated lobby and banquet hall.
My room was very comfortable and had a fantastic view over the city. So good were the accommodations that it was hard at times to leave for sightseeing.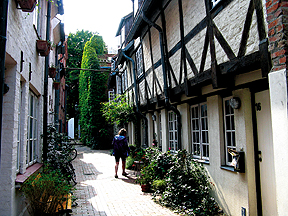 Charming Lübeck
My day trip to Lübeck was short but there was still just enough time to fall in love with this beautiful Baltic Sea city.
Things just seemed to move along at a much more leisurely pace compared to Berlin and Hamburg. It also felt like time forgot this city, as its well-preserved architecture gave it a pleasant yesteryear look. 
Lübeck is one of the major ports of Germany and due to its unique brick houses it was named a UNESCO World Heritage Site.
The city suffered great damage during the war, but the Gothic town hall survived the attack and the historic structures in its old town have all been faithfully rebuilt.
Lübeck is also known for its many picturesque alleyways and courtyards. With space being limited in the old town, residents use every possible place to plant the flowering plants that grace their doorways while still leave enough room for pedestrians to pass by unimpeded.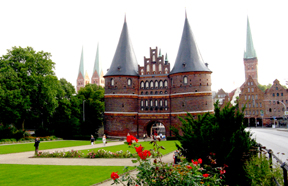 Lübeck Landmarks
Among the many very impressive buildings to see in Lübeck is the Holstentor Gate, which is the emblem of the town; St. Marien Church, which is larger than the local Cathedral and holds many of the city's great art treasures; and the Dom (Cathedral), which dates back to 1230 and should be considered a must-see site.
There is also the city's historic Rathaus (town hall) which features exquisite architecture and unusual walls and turrets.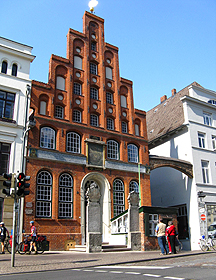 Seaman's Guildhall
Originally used as an assembly hall for the seamen of Lübeck, this building dates back to 1535 and is now a popular restaurant with both locals and tourists.
The decor has remained almost unchanged throughout the centuries. Its dark wood paneling and other historic touches made it a great venue for a lunchtime meal. Unsurprisingly, the catch-of-the-day was the main item on its menu.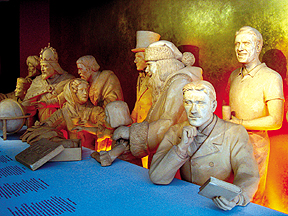 Niederegger Marzipan
When in Lübeck, do as the Lübeckers and have a coffee and a desert at Niederegger's. Established in 1806, Café Niederegger is well known for its marzipan creations, so much so that I am able buy their products in my hometown.
Uniquely, the café's museum, located on its premises, features giant life-like marzipan figures. These were in the images of historical characters and made entirely out of the world-famous almond paste. A visit to this unusual type of museum was yet another first for me.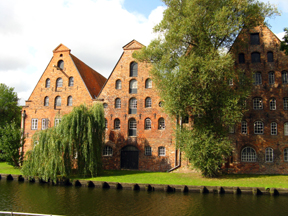 So Much Germany to See!
Not enough time is always the case when travelling to interesting destinations. As previously noted, Berlin, Hamburg and Lübeck are only short distances away from each other yet they are miles apart in lifestyles and attitudes.
My return visit to Germany was a revelation, especially when I realised that there was so much more to see in this incredible country. I must make sure that my next visit will not be in another twenty-five years! 
Getting There
Air France (www.airfrance.ca) offers several daily flights to Paris, with convenient connecting flights to Germany, from major Canadian cities. I had an open-jaw plan, which enabled me to fly to Berlin and return from Hamburg, through connecting flights.
I was also able to squeeze in a few hours on the stopover in Paris, as I purposely reserved the latest connecting flight to Montreal from the 'City of Lights'.
Places to Stay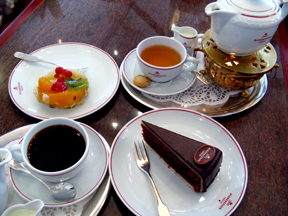 Relexa Hotel Bellevue Hamburg
www.relexa-hotels.de
Fairmont Hotel Vier Jahreszeiten
www.fairmont.com/hamburg
Hotel Bogota Berlin
www.bogota.de
For More Info
German National Tourism Office
Tel.: 416-968-1685
Email: info@gnto.ca
Website: www.cometogermany.com