Tunisia
Desert Charm and Seaside Delights
Text & Photos: By Lise Giguère (l.giguere@videotron.ca)
Published in the Summer 2006 Issue of Canadian World Traveller
Even after spending a few days in the untamed and sun-parched region of So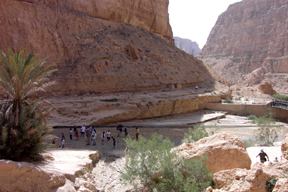 uthern Tunisia, nothing had prepared me for my reaction to the golden sea of sand on which I would soon set sail!
Exhausted by the severe heat, the members of our small group stopped at Douz, the gateway to the desert. This is where the one-hour camel tours (or three-day tours for avid adventure seekers) begin.
At first glance, it was nothing special. Camel drivers and their camels, despite the searing heat, were offering the classic, much too short rides in the sand dunes. The drivers and their animals had the same somewhat haughty look, as if judging these hapless pale-faced tourists in their tight, constricting clothes.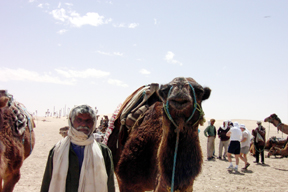 A Camel Ride to Remember
Magically, the drivers offer us light white linen head scarves (chechia), which they tie around our foreheads to help us avoid getting sun stroke. Then, everyone chooses a camel.
After a rather unsettling departure (the camels have very long legs, and when they get up, you must brace yourself to not fall head first into the sand), we finally manage to take off on our strange mounts.
A few minutes later, we realise the folly of a noontime ride. The sun is really strong and burns into our skin, which quickly turns the colour of a red lobster. Quietly I bless the stranger who tied the "chechia" around my head. This light but effective protection is very welcome.
In no time, we get thirsty. Then turning my head, and despite the fact that we only left a few minutes ago, I survey the vastness of the desert. Where are my fellow companions? I feel alone and vulnerable, sitting on an animal that is unconcerned about my feelings. As far as my eyes can see, there is only the vastness of the desert. Without any landmarks, I panic. For a moment, I imagine myself being alone, left behind in these endless dunes. Then I imagine myself in the middle of one of those sand storms I once saw in a movie. What will I do then? Fortunately, the rest of the caravan shows up again, which reassures me.
My Camel Driver
Being familiar with this environment, my camel driver walks at a slow pace, his face completely covered by his turban, showing only two black piercing eyes, as well as part of his forehead and nose which are totally tanned to an almost black colour. At each stop, he squats down and uses the animal's tail as a sun shade. He knows his country well and he saves his energy.
My camel looks unconcerned, but I realize life is not easy for him either. The sun burns his skin and the trail is uneven, but above all, pesky flies buzz around his eyes and ears. To my great surprise, I suddenly see him raise his rear foot to scratch himself. So here I am on a three-footed camel! I brace myself!
As I look into his bored eyes, I realized this path he takes several times a day is somewhat like a prison. So, I indulge in his fantasies and let him pretend that he's free for a while.
At this precise moment, there in this ocean of sand dunes, the magnificence and mystery of Tunisia struck me right in my very heart.
The Grand South
Travellers are fascinated by Southern Tunisia. Here you can discover the "Thousand and One Nights" stories of your childhood dreams. Men become Lawrence of Arabia and women Scheherazade!
Acknowledging the interest of its many foreign visitors in its desert, Tunisia has developed camelback-ride tours with the option of sleeping under a tent or, for those who prefer luxury, a five-star hotel.
In the hinterland, the oases, olive groves and orange plantations are lush and beautiful but the true measure of success of any trip to Southern Tunisia is based on a change in scenery, which in this case is presented by a visit to the menzels (traditional farms), the ksours (villages made of stacked granaries in which nomads would store their harvests) and more particularly, the troglodyte village of Matmata.
The Berber tribes, who found shelter in this region, dug th
ese caves as their dwellings. They feature a unique form of architecture, as well as providing a cool environment. Even though no one actually lives there anymore, Southern Tunisian women come to work there from time to time, which is very much appreciated by visiting tourists.
The Red Lizard
In Southern Tunisia, the desert gets to a high altitude. You almost feel that you are on another planet of red and pink stones, separated by canyons. There is only one way to get there: The Red Lizard, a train from the Twenties that France gave to the Bey of Tunisia in 1940, when the country was a protectorate. Departing from Metlaoui station, a few kilometres from Tozeur, we choose our coach (there are six in all and each has a different decor).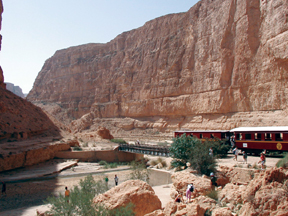 Our dreamlike trip begins as this iron snake creeps slowly past the mountain oases and through the tunnels of the Selja gorges. How fascinating that this railroad could have been built in this lunar landscape, between the cliffs. Unconsciously, this journey is one that gets imprinted in your mind for the rest of your life!
Up North
Travelling from the South to the North, one must admit the landscape is rather boring, even though the roads are excellent. Fortunately, the domestic flights with Tuninter, departing from Jerba or Tozeur, bring you much more rapidly to the beaches and its thalassotherapy centres of the North.
But, before taking advantage of the promised creature comforts, we took the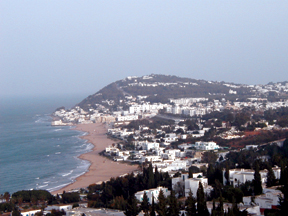 opportunity in the Tunisian capital of Tunis to visit the amazing Medina and its extraordinary museum.
We then stopped in Carthage with its roman ruins, dating from the Christian era, and Sidi Bou-Saïd, a place well-known by artists for its blue and white setting and its jasmine scents, and Port El Kantaoui, the first Mediterranean garden-harbour. We then headed to Hammamet, which means the baths and where you can still see traces of the ancient Roman baths.
Thalassotherapy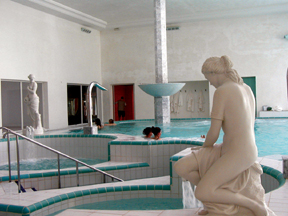 As the second most popular thalassotherapy destination in the world, after France, Tunisia welcomes thousands of spa patients. Several thalassotherapy centres were constructed along the Tunisian seaside, which runs for some 1,300 km and where three hundred of the country's natural water sources are found.
These centres are charming and very relaxing. Most have an opulent decor, recalling the roman era, with sun decks and large windowpanes offering a view of the sea. The antique arches and pillars, fountains, patios, domes, marble and evergreens create a calm atmosphere fostering total relaxation. In this setting, it's very easy to give yourself up to the hands of the experts and enjoy being pampered.
In Tunisia, the Health Department has very strict standards. Each centre must have at least one doctor and some paramedic specialists on staff. If the centre does not comply with these rules, it is immediately shut down.
You can choose from a body-wrap treatment with marine mud, massages, reflexology, shiatsu, sauna, sophrology, pressure therapy, marine circuit (sea water filled pools with jets for back, belly and lower limb massaging), underwater jets, etc.
Extended Stays
With its 3,000 years in existence, much of Tunisian history is about its many conquerors, who left their traces here. It takes time to discover it all and to fully appreciate it. And for Canadian tourists, it is now possible thanks to extended stay packages that are offered at very affordable rates.
One can now escape from the biting frost of Canadian winters and stay a few weeks or months at the hotel of one's choice, making it a home base from which to visit the surrounding area and get acquainted with this country, where history and nature have designed astounding contrasting vistas.
Good to Know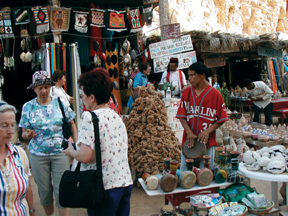 The best time to visit Tunisia is from November through January. From March to the end of June, it is rather hot and there are sand storms. In July and August, temperatures can reach 45 C degrees.
Dates are harvested in September
An International driver's licence is required if you plan to drive
The Dinar is the country's currency
Time difference from Montreal is six hours during wintertime and five hours during summertime
Arabic is the official language of the country and French is the second language. English and German are also spoken.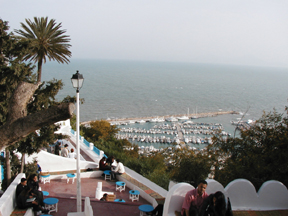 Getting There
Air France (Via Paris), Royal Air Maroc (Via Casablanca), KLM (via Amsterdam) and SwissAir (Via Zurich).
For More Info: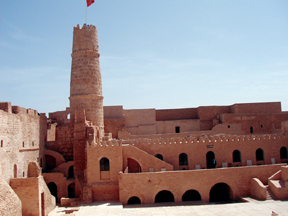 Tunisian National Tourism Office
1253, av McGill College, Bureau 655
Montréal, QC H3B 2Y5
Tel.: (514) 397-1182
E-mail: tunisinfo@qc.aira.com
www.tourismtunisia.com
Embassy of the Republic of Tunisia
515 O'Connor Street
Ottawa, ON K1S 3P8
Tel.: 613-237-0330, -0332
http://tunisia.embassyhomepage.com