Tunisia
Spellbinding Land of Sea and Sand
Published in the January, 2004 Issue of Canadian World Traveller
Photos: Courtesy of Tunisian National Tourism Office www.tourismtunisia.com
Hear the siren song that calls you to Tunisia. This hospitable land of colours and contrasts, spices and scents invites you to enjoy its natural beauty, ancient cities, lively festivals and the warm friendliness of its people. Welcoming visitors to its shores has long been an honoured Tunisian tradition. As a result, an impressive infrastructure of modern hotels, restaurants, international airports, tourism offices and information centres has been developed. In this land of the familiar and the exotic, one can watch the sunrise over the Sahara, enjoy a gourmet meal at a seaside resort and top off the evening with a midnight swim in the pool of a modern comfortable hotel.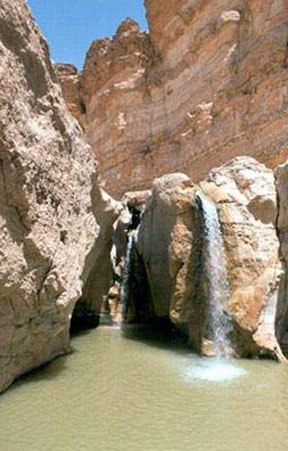 Whether you prefer a long walk along miles of sparkling beaches, windsurfing in the cool Mediterranean breezes, exploring ancient sites and legendary cities, playing a round of golf or just a long lazy day relaxing on the warm golden sands, Tunisia is truly a spellbinding land of sea and sand and much more.
Location, Climate and Population
Located on the northeastern coast of Africa, Tunisia has a long coastline bathed by the Mediterranean Sea and a southern border drawn in the sands of the eternal Sahara. It is mountainous and very green in the North, becoming increasing flatter and drier toward the South.
As with its landscape, Tunisia's climate offers a season for everyone's taste. Sailing, surfing, diving, golfing, exploring archeological sites, deserts and oases is a pleasure from October to May, when the average temperature ranges from 12°C to 28°C. The Tunisian Spring, from March through May, brings spectacular displays of wild flowers throughout the countryside and Autumn, from October to December, offers warm seas and a particularly golden sun. From June through September warm weather is the rule and August brings the peak of the summer heat. This is the season for the joy of refreshing a sun-bronzed body in the cool sparkling waters of the Mediterranean.
In the 1999 census, the population of Tunisia was counted at 9.4 million.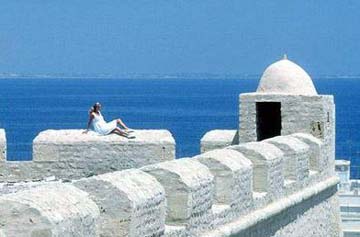 Government, Language & Religion
The country has a Presidential type of government, seated in the capital city of Tunis.
Tunisians are quick to give directions and any form of assistance to the visitor who asks for help.The overwhelming majority speak Arabic and French.With the advent of modern education, English is taught today in all schools and is increasingly spoken, especially by younger people in urban centres and those involved with the tourism industry.
98% of the inhabitants are Muslim, with remaining 2% being Christian and Jewish. However, tolerance of religious minorities is the rule.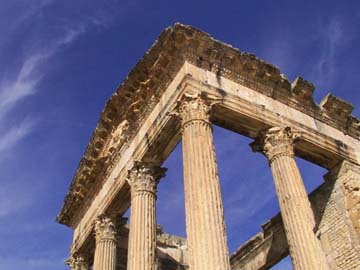 History & Culture
With an ideal climate and a long and gentle seacoast, Tunisia, the northernmost country of Africa, has for over 3000 years witnessed the passage of Phoenicians, Romans, Vandals, Byzantines, Turks, Spanish and French. They came as fugitives or adventurers, to conquer or to claim, warriors and missionaries, traders and farmers, each leaving a part of their story in stone or mosaics, on the hills of Carthage and at the threshold of the Sahara.
The original inhabitants of Tunisia were the Berbers, followed by settlers and tradesmen from throughout the Mediterranean basin. Throughout the centuries, Phoenician, Roman, Byzantine and Visigoth settlers, colonisers and traders intermingled with the population. However it was the Arabs who, in the 7th century, exerted the most influence and established themselves permanently. Bedouin tribes from the east arrived in the 11th century and further reinforced the Arabic language and Moslem religion. The Berbers initially resisted assimilation retreated to the mountains, the island of Jerba, or the arid regions of the south behind their earthen fortresses called ksours. Centuries of intermarriage and trade broke down their isolation.
The Tunisian of today, whether city dweller, rural farmer, or inhabitant of the desert or the mountains, is proud of his "Tunisian identity", a composite of various civilisational influences. Aware of their rich historical heritage, Tunisian people show a genuine interest and definite respect for others, as evidenced in their moderation, tolerance and hospitality.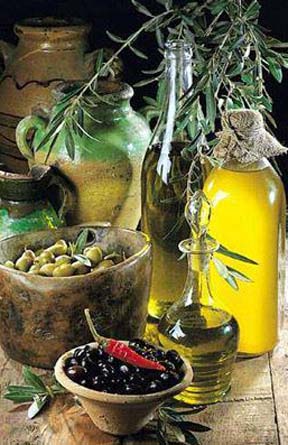 Cuisine & Music
While Tunisian hotels provide international cuisine, Tunisian specialities are very tempting. Try the chorba soup with vegetables and lamb; a brik, which is a crêpe stuffed with egg and tuna; a chicken omelet called a tajine or ojja, if served with merguez; and of course couscous, served with lamb, chicken, fish or even sweetened, with dates and raisins. Desserts include baklava, acida, makhroud and kaacs (semolina cakes made with nuts, dates or honey). Beverages include mild Tunisian wine; Boukha, a type of gin made with a base of figs; robust refreshing mint tea or, in the South, palm milk, drunk fresh from the tree.
Getting There
There are regular scheduled flights from Canada to Tunisia, with stopovers at several European airports. Charter flights to Tunisia are also available through tour operators and travel agencies. For those travelling from Europe by car, there are regular sea links between Tunisia and the two Mediterranean port cities of Marseilles, France and Genoa, Italy.
When to Go & What to Wear
Because of its mild and temperate year-round climate, light clothing is recommended. However, a sweater or jacket may be needed in the evenings or during the cooler winter season. It goes without saying that swimwear, sandals and sun protection are a must for seaside resort vacations.
Visas & Vaccination
Canadian visitors to the Tunisia require a valid passport. No vaccinations are required for Canadians.
Where to Stay
There are hotels throughout the country to suit every taste and budget. A complete listing can be found at the National Tourism Office of Tunisia's website at www.tourismtunisia.com/hotels.
Getting Around
Getting around Tunisia is simple. By air, the Tuninter company offers internal flights between most tourist destinations. An extensive rail network also covers the main tourist areas of the country. Tunisian highways make travel by bus, group taxis or rented car easy and comfortable. An international driver's license is required in order to drive in Tunisia.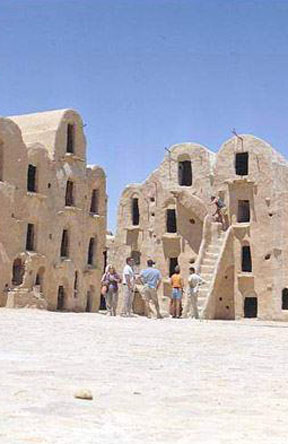 Each region of the country has its own charm. In the north, Tabarka and mountainous Aïn Drahim offer a stately welcome with oak, pine and cork forests that meet a rocky coast. In the south, you can visit the oases of Gabes, Tozeur and Nefta, where palm groves soften the proud Sahara. On your way, you can travel the thousand-mile coastline and breathe in the nectar of Cap Bon-Hammamet and Nabeul with their orchards of golden lemons and fragrant orange blossoms. As Tunisia is the heart of the Mediterranean, so the Sahel is the heart of Tunisia, noble Kairouan and light-hearted Sousse where ancient olive trees stand in symmetry for mile after mile. Lastly, hear the song of Djerba and like Ulysses, stay.
Historical Points of Interest
The long and diversified history of Tunisia is recorded by its statues, bronzes, pottery and world-famous mosaics which are exhibited in the museums located in urban centres and at several important archeological sites and ruins throughout the country. From the prestigious not-to-be-missed Bardo Museum in the capital city of Tunis to the small Punic museum in Utica, each enlightens the visitor with a particular aspect of this country's rich historical heritage. Some of the museums highlight the Prehistoric, Berber, Punic, Roman or Islamic periods, while others display an array of traditional arts and crafts.
Important sites to visit are the Medina of Tunis; the great mosque at Kairouan; the Roman Ruins at Dougga; the Roman Coliseum of El Djem; and the Berber caves in the South which served as a backdrop in the latest Star Wars film.
Most Museums are closed on Mondays, whereas many on-site archeological museums and ruins are open all week. An entrance fee is usually charged and a caretaker will often act as guide.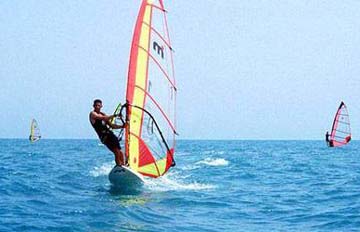 Water & Land Activities
Whatever the season, your first glimpse of Tunisia will be one of golden beaches and a deep blue sea. With over 1,200 kilometres of coast this sunny Mediterranean land is a paradise for the water-loving vacationer. Well-known seaside resort areas such as Sousse, Monastir, Hammamet, Nabeul, Djerba and Tabarka offer their visitors the finest sand beaches and crystalline water, along with a dizzying choice of waterfront hotels featuring such sun and sea sports as windsurfing and sailing, underwater sightseeing, fishing and short boat rides.
Land sports such as golf, tennis, hunting, riding and hiking are readily available. Where some sports are not offered at your hotel, clubs with small entry fees furnish additional first-class facilities. For the amateur, these clubs can provide lessons at a very reasonable cost and some will rent the necessary equipment. Sports fan can attend exciting races of Arabian horses and, for the more adventurous tourist, a camel ride in the Sahara can be arranged!
Festivals and Events
The Tunisians "joie de vivre" is reflected in their festivals. Even the smallest village sets aside a time for celebration whether it be for the summer harvest, fishing season, a local saint, or the arrival of Spring. Visitors are always welcome and urged to participate whether it be in dancing, sharing a cup of tea or just a friendly smile. A balmy summer evening under a magnificent starry sky is often the setting for these occasions.
The Saharan Festival is of special interest to those who dream of the vast expanse of dunes and sober beauty of the Sahara. Douz, the gateway to the desert, offers an authentic and genuine picture of desert traditions, folk art and customs. The village itself, surrounded by sand dunes, is the departure point for the Mehares and Saharan safaris.
The International Music Festival is held on mild summer evenings in the Coliseum of El Djem. Enjoy an unforgettable experience of hearing the music of renowned artists and symphonic orchestras in the unique setting of a majestic Roman coliseum.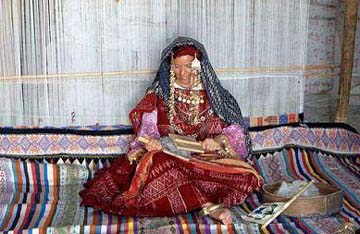 Shopping
Outside of the official, quality-guaranteed and price-controlled Artisanat (handicraft) shops, where everything from carpets to birdcages bears a price tag, shopping in Tunisia is definitely an art.
Located in the old part of cities (the Medina), the Souks (outdoor markets) offer a selection of objects of unsurpassed beauty and distinction, excellent arts and craft and traditional works.
A sharp eye, nerves of steel, a faked show of disinterest and a good sense of humour will make shopping a real pleasure. Inflated prices give both parties the pleasure of bargaining and a golden opportunity to exhibit your talent as an actor. Start by cutting the offer in half, then work up to a compromise if you are really interested.
The choices are almost endless, but the exquisite hand-carved items of solid olive wood are distinctly Tunisian. The hard and durable wood needs only an occasional slight rubbing with oil to bring out the richness of its patterns. Other purchases might include authenticated, hand-knotted carpets made with raw wool; copper utensils; clay pottery and ceramics; embroidered and leather goods; intricate bird cages; Berber jewellry; rock crystal; and the unique sand rose.
Currency & Exchange
The currency of Tunisia is the Dinar divided into 1,000 millimes. Travellers' cheques, major credit cards and foreign currencies can be exchanged at banks, money exchanges at ports, airports or hotels at the exchange rate established by the Central Bank of Tunisia.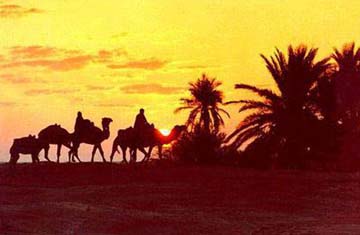 For More Info:
Tunisian National Tourism Office
1253, av McGill College, Bureau 655
Montréal, QC H3B 2Y5
Tel.: (514) 397-1182
E-mail: tunisinfo@qc.aira.com
www.tourismtunisia.com
Embassy of the Republic of Tunisia
515 O'Connor Street
Ottawa, ON K1S 3P8
Tel.: 613-237-0330, -0332
Fax: 613-237-7939
http://tunisia.embassyhomepage.com

Tunisian Consulate (Montreal)
515 Place d'Armes, Suite 501
Montreal, QC H2Y 2W7
Tel.: (514) 844-6909
Fax: (514) 844-5895
E-mail: hannibal@info.internet.net
http://tunisia.embassyhomepage.com
Tunisair Tunisian Airlines
47, av Farhat Hached
Tunis, Tunisia
Tel.: (21671) 330.100
Fax: (21671) 350.107
E-mail: mail@tunisair.com.tn
www.tunisair.com.tn/anglais.html