Cappadocia
Sixty million years in the making
by Michael Morcos
As the midday sun beats down, I can picture George Lucas taking notes and mental images of this wonderfully magical terrain in central Turkey. Those notes and images are said to have inspired him to create the hugely successful Star Wars movies, and particularly the scenery that was to be used for his own distant land. While I'm no Star Wars buff, that first glimpse as my eyes panned the vista upon arrival was what felt like the glimpse of another world. 
Layers of 'fairy chimneys' – which were created by Mother Nature herself over thousands of years thanks to wind and water erosion of some force – rise up with a brilliant inconsistency, while churches dating back 1500 years jostle alongside an array of boutique hotels, and that's just scratching the surface. Below the ground one can explore some of the 36 underground cities – some which are remarkably connected by tunnels – as well as a selection of museums and fortresses. Where to begin?
Centre of the Turkish World
Until recent times, Cappadocia was never an easy place to reach. Istanbul is a 10-12 hour drive away whilst those on the sunny coasts of Marmaris and Bodrum can expect a drive of up to 14 hours, leaving the region also known as Kapadokya inaccessible to day trippers. For this reason a good tour operator is a necessity and Travel Xclusive were the team on hand to ensure not only a smooth, reasonable flight from Istanbul was checked off, but also they provided us with quality lodgings in the best part of the region along with invaluable tips on where, when, and how to do the things that interested us personally. The company are the experts in all Turkey related travel, and we even had the pleasure of meeting the owner Zee and her husband who were more than pleased to roll out the red carpet for us, as they are with any customer.
The Other Side of Cave Living
After a swift airport transfer we rocked up at Kelebec Cave Hotels where we were greeted by the hotel's owner Mohamed who would eventually go on to make our trip very special. Mohamed and his parents started from scratch and are now providers of quality accommodation and unique tours throughout the region. The Kelebec cave hotels do not feel as such as the have added stone facades and windows to all of the rooms; no two are alike. There are modern showers, electricity and hard wooden floors complemented by all of the amenities you would expect from a great hotel. The grounds are on a mountain slope and have plenty of comfortable places dotted around to sit and relax in your own space, including a flower garden, a swimming pool, a Turkish style spa, and the main eating area on top, fantastic for a romantic evening meal or an early sunrise breakfast.
Our stay at the Kelebec Cave hotels provided us with some lasting memories, and we were even a little fortunate with our timing. Every full moon, Mohamed invites guests to his parents old living quarter for a memorable outdoor dinner. This was situated way off the beaten track and the journey there was a joy itself, riding along an old tracker pulled wagon before a short walk down a steep hill to reach the seemingly hidden cave. An evening of Cappadocian cuisine prepared on a wooden stove, local musicians and traditional dance made for a local experience like no other.
The following morning our full immersion continued as we were invited back to pick grapes and make grape juice in the old traditional way – by stomping on them. The juice is then boiled in a large pot on a wood fire. Whilst getting involved like a professional, it struck me that whilst the region is mostly mountainous the locals are still able to grow just about anything from fruits and vegetables to berries and nuts. We rounded off the afternoon with some fresh vegetables and chicken for lunch, in an area so relaxing that the napping pets that hang around will encourage you to take a siesta.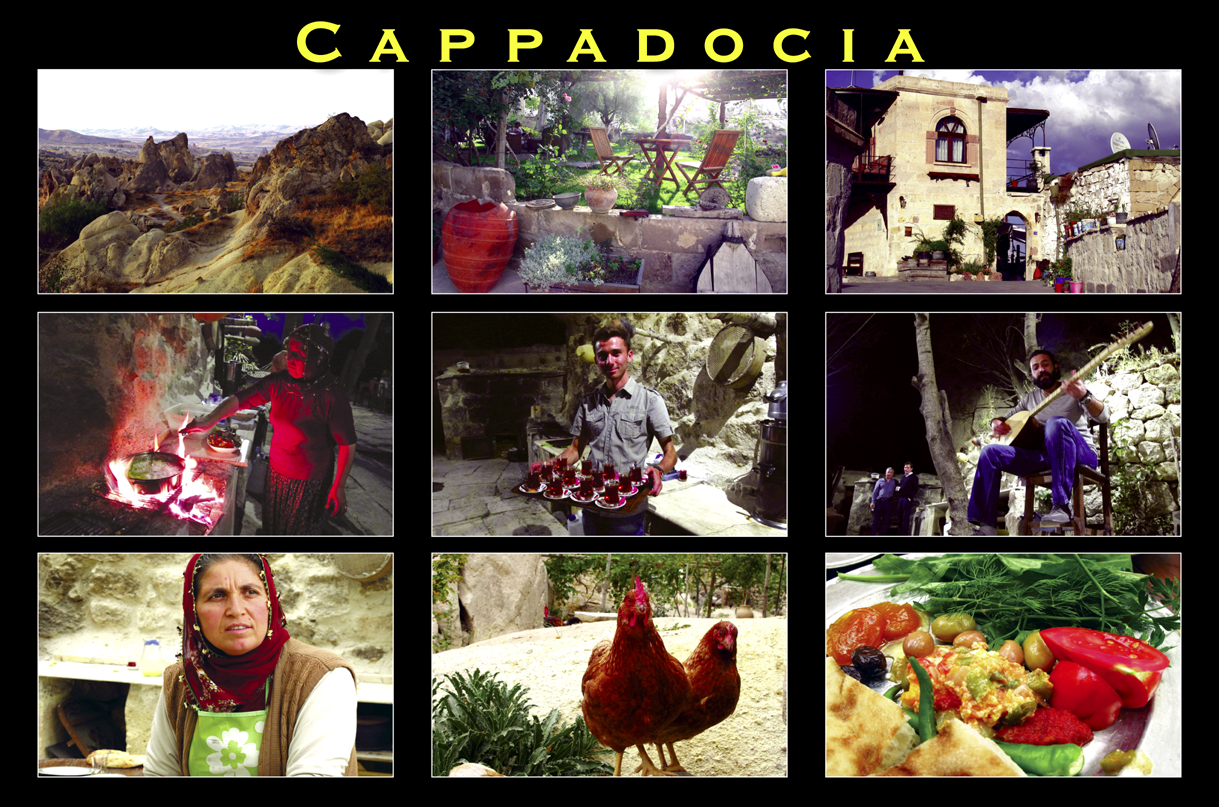 Above it All
Very touristic with reason; one of the most well-known sights of modern day Cappadocia is that of the gentle hot air balloons that soar above the landscape, crowning the region as one of the top destinations in the world for this relaxing yet exhilarating method of sightseeing. Cappadocia is blessed with excellent flying conditions for most of the year, and set off early morning with Butterfly Balloons whose expertise and professionalism made us feel more than comfortable throughout.
We were picked up by the crew before sunrise, and after the breezy launch we floated silently above the moonscape, peering down at the jagged formations freckled with sleepy villages and vineyards. The trip lasted around one hour, offering out of this world views and is a must for visitors to Cappadocia.
Off the Beaten Track
The hardened traveler normally gets the well-known attractions out the way early before delving deeper. While my trip so far hadn't exactly consisted of long lines and elbowing through crowds, I did feel that we were about to embark on a new adventure away from the hoardes. We contacted Turkish Heritage Travel, who arranged a wonderful two day tour of the alternative, starting with the old Greek town of Mustafapaşa, formerly known as Sinasos. Mustafapaşa offers wonderful examples of ancient Greek architecture through the wonderful old houses and workshops. After a morning taking in the sights, we headed to Sobessos, a 4th century AD town which is still in the process of excavation after its 2001 discovery. The excavation has so far unearthed a Roman bathhouse, a meeting room which consists of a vibrant, mosaic flooring, and several tombs and graves amongst other intriguing insights into the areas past.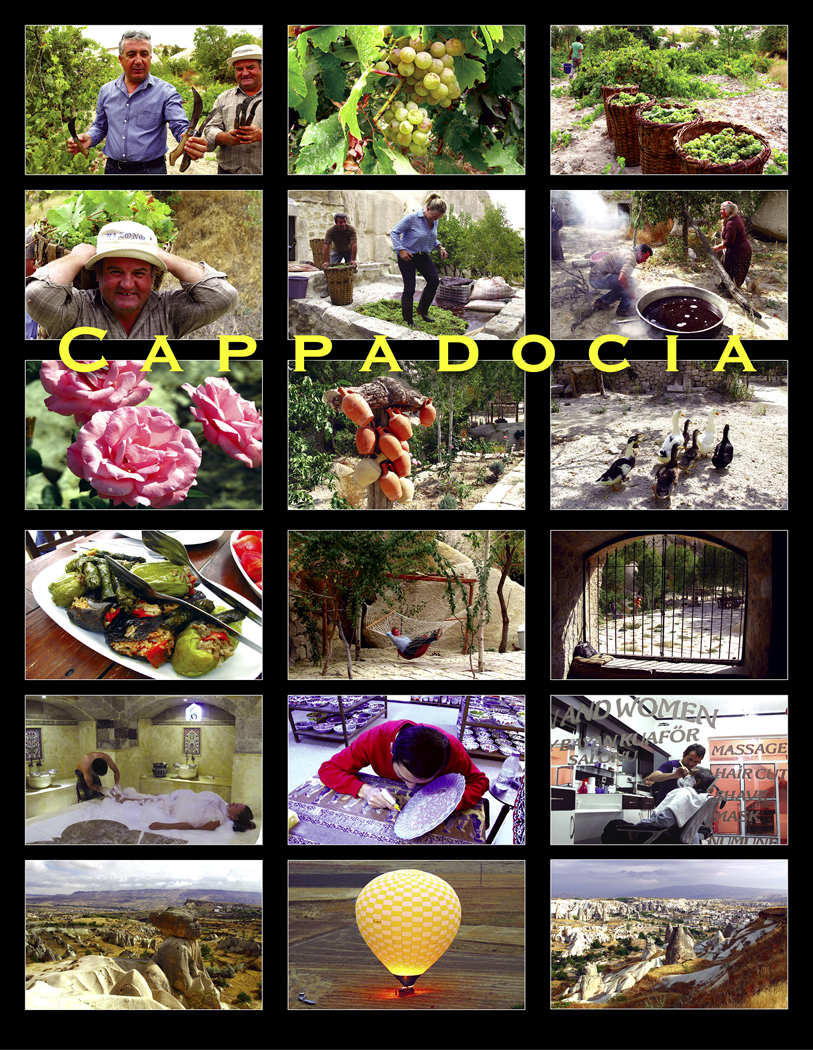 The following day provided the perfect opportunity to dust off the hiking boots and hit the trails. Cappadocia is bestrewn with open air trails for all levels offering majestic scenery. For those looking for serenity and a piece of the Cappadocian landscape to themselves, there are a few options that remain. Up until recently, the Ihlara Gorge was just that. The gorge, a once lush river valley, was the region's best kept secret that few foreign visitors had known about. After the initial discovery the gorge was living on borrowed time with regards to its reputation as an off the beaten track destination. The whispers soon became part of every tour in region, and the gorge of today is far from your own.
There are however, alternatives. Halfway between Derinkuyu and Yeşilhisar lies Soğanlı, also known as Onion Valley. The location of Soğanlı results in far fewer visitors than Ihlara Gorge, and the first glimpse of the not-so-aesthetically pleasing buildings provides additional evidence to search further afield. Once past this, we encountered typical Cappadocian architecture and several valleys which pass 14th century churches with remarkably maintained interiors and surroundings that rival all of the more touristy hikes in the region.
Going Underground
After a fantastic vegetarian lunch, we were driven to Derinkuyu Underground City, an 18 stories deep network of tunnels connecting a plethora of residencies, wine cellars, communal rooms, stables and chapels. Today a major tourist attraction, it's difficult to feel impressed by what Derinkuyu offered to the local people all those years ago. A well-functioning ventilation system alongside a self-containing fresh water supply allowed inhabitants to live comfortably, while the huge arch shaped doors weighing up to 1000 lbs kept potential invaders at bay – a theory many scholars believe to be the reasoning behind the construction of these subterranean metropolises. 
After an educating afternoon we were left to our own devices, where we headed to the Goreme Open-Air Museum. The UNESCO World Heritage site is an must see for anyone visiting Cappadocia, and offers a wealth of churches and chapels carved into the rocks and standing side by side, some of which are decorated with Maltese crosses and remarkably maintained frescoes of St. George and St. Catherine along with others of biblical scenes. It's important to arrive with a good guide or guidebook to fully understand the differences between the churches, and the representation they hold.
When leaving the museum, be sure to visit the Tokalı Kilise (Buckle Church), which is situated on the other side of the road. Many believe this to be the highlight of the tour, and the entrance is included on the same ticket.
If You Go
Although a little out of the way, Cappadocia is still one of the most visited places in Turkey, and numbers are growing due to increased accessibility. Spring and autumn are the most comfortable months to visit with regards to tourist numbers and weather. It is almost guaranteed to snow every winter between December and February, with this being a major attraction for some tastes. Summers are hot but temperatures can drop any night of the year so warm clothing is recommended.
Our Cappadocia experience was made even more magic by the professionalism and expertize of Travel Xclusive, who catered for every one of our needs with minimal fuss.