Brazil
Your Passport to Brazil
by Olivia Balsinger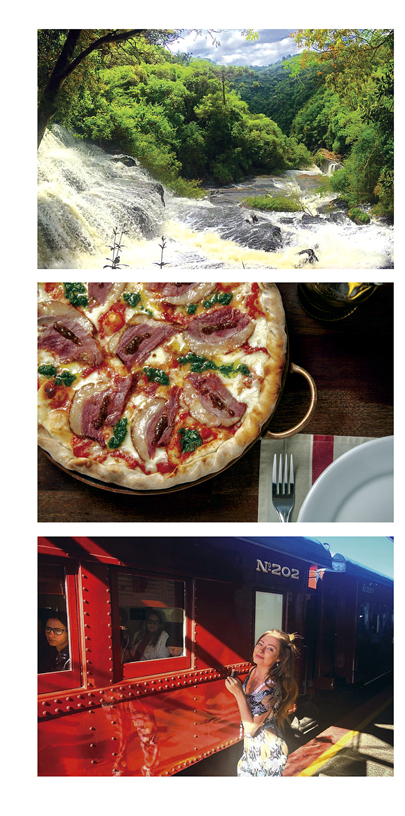 II recently had the privilege of traversing thorough Brazil and experiencing true magic in the Southern Hemisphere. Visiting its multiple cities is a great way to introduce yourself to the rich and fascinating culture of Brazil. But the truth is, once you venture to surrounding areas, you come to realize that each place bears a specific and nuanced charm that can be traced back to its respective beginnings.
Sitting atop the banks of the Guaiba River is the capital of the state of Rio Grande do Sul in southern Brazil: Porto Alegre. The city has a long history as a successful port city, due to its placement at the junction of five rivers, which has come to define it as a leading center of industry and commerce within the country of Brazil.
Founded by immigrants from the Azores in 1742, the city welcomed the reception of people from many other parts of the world, which cultivated its identity as a multicultural, eclectic hub. This was not just for the exchange of goods, but also for the exchange of ideas. The lasting result is a city that bustles with a European flair incomparable to any other throughout the country. It is also a city that breeds a prolific art and alternative music scene, set amidst small hills that peek out over the planes and a majestic river flowing majestically on its western border.
A two-hour drive north of Porto Alegre, I arrived in the quaint town of Gramado, home to only 31,000 inhabitants, but which welcomes over six million tourists each year. Black Lake Park resides in the center of Gramado, which makes it an ideal and convenient haven for those wishing to unwind beneath the shade of trees, or people watch on the stone steps leading to its centerpiece: a man-made lake. Originally constructed in 1953 after a fire destroyed a section of the original surrounding forest, the park offers fun activities for a peaceful day outside of the more urban parts of Gramado.
And holiday joy is experienced all year in Gramado—and especially highlighted from October through January, when the entire down is decked out in lights and Santa Clauses greet children and children-at-heart on every corner. Quaint inns and hotels—like the centrally located Hotel Serra Azul and the five-star Hotel Casa da Montanha, joyfully house visitors in theme—with holiday brunches featuring dancing Christmas fairies and homemade hot chocolate. Speaking of chocolate, to visit Gramado without sampling the sweet so synonymous with it's identity would be a chocolate covered crime. Chocolate shops line the main street, each more enticing to the senses as the next.
Nothing goes with chocolate quite like wine—which certainly in ample quantity throughout Southern Brazil. For instance, the municipality of Garibaldi was settled by Italian immigrants in the late 19th Century and most of the people living there today are descendants of these roots. Even more, the vineyard industry that they brought to their new settlement developed over the centuries to mark the municipality as a leader of wine exportation. Specifically, they are famous for their sparkling wine, and have become the country's main producer of such. A visit cannot be considered complete before sampling their sparkling wine, which is made easy by their tourism initiative that offers specific itineraries to guide you through the city's many successful vineyards.
While Girabaldi has made an indelible mark within the legacy of winemaking in Brazil, it is Bento Conclaves that has earned the title of the country's wine capital. Like Garibaldi, the population is mostly of Italian descent. The stereotype was true: I found locals to have a warm and exuberant nature. The city offers a comprehensive, thematic tour route which I experienced on the Maria Fumaca, a wine train that embraces its Italian culture through song and story whilst showcasing the stunning region, arriving to a delicious glass of sparkling wine, made with care and tradition.
What southern Brazil delivers in a naturally stunning landscape, its northern counterpart of Rio de Janiario delivers in metropolitan grandeur and madness in only the way a city with a population of more than seven million can do. A flight from Porto Algre to Rio is only about two hours away via a multitude of airlines, but a world of difference.
Rio de Janeiro is a city of sun, sand, and samba — a spectacle of gorgeous golden beaches that open to vistas of the lush mountain landscapes that surround it. Rio has long been celebrated as a city of endless indulgence; where the shimmering water and gilded sand of their beaches fade effortlessly into one of the most stunning urban areas in the world. If the city had a pulse, it would always beat a little bit faster, keeping in rhythm with the samba music that drifts from the Tijuca rainforest. It is a place known as a party paradise, where you can spend your days on the shimmering, world-famous beaches; try your hand at surfing, or even sailing across the Baia de Guanabara. You go to Rio to dance, to surf, to sun-soak, and to feel free.
One tour company that I booked for my adventure throughout The Magnificent City was RLM Brazilian Tour Operator—with its newer North American counterpart of South America Specialist (Infinity SAS)—a company founded and developed by Isaias Reis, a Rio-born Brazilian who started as a tour guide and decided to use is knowledge and skills to open his own company. From the moment I was greeted at the airport, I knew that I was in capable and loving hands of tour guides Marilia and Francisco Vieira, Rio-born husband and wife. They shaped my itinerary to my specific interests—which included a cable car to the top of Sugarloaf Mountain with panoramic views of the city and a quaint train to the illustrious Christ the Redeemer Art Deco statue. We also strolled around the city's downtown—where modern and vibrant street art beautifully contradicts the Portuguese colonial architecture from the 18th century.
We also enjoyed plenty of sunshine and smiles. Rio's beaches that first put it on the map as one of the most sought after touristic destinations. Actors, starlets, and other glamorous members of high society made Copacabana Beach famous in the 1940s. We've all heard that song. Rio is like a playground, where you can jump from the excitement of the metropolitan area to the chill vibes of the shoreline. And at night, you can experience some of the best nightlife in the world in Rio's Lapa district, making memories that will be hard to forget.
Following a day of inhaling sea salt, taste testing the city's best caprihinas and dancing (or in my case, attempting) la samba, you'll need reliable accommodations. Luckily Rio is dually affordable and varied in terms of its many hotels. I decided to taste test a variety of accommodations in different neighborhoods. I began at the AC Hotel Barra da Tijuca, a Spanish hotel brand in the up-and-coming neighborhood of Barra de Tijuca–comparable to Miami's South Beach—with its plethora of high-rises and surf-friend beaches. The AC brand of hotels was so flawless in design and convenience that I stayed in another—The AC Porto Maravilha. The port area may not have always been a quintessential touristic hotspot, but has become revitalized into a posh cosmopolitan center, with the new Museum of Tomorrow and dazzling graffiti art comparable to Tel Aviv and New York City. Hearing just how magical Copacabana was–I knew a stay at the JW Marriott, adjacent to the famous beach, would be necessary as well. And boy, was I correct. Not only was I spoiled with five-star service and a massage at the luxurious spa, but I also enjoyed the hotel's Ginga Tropical samba show, showcasing the energy of the world famous Carnival through vibrant music and dance.
Brazil appearing on itinerary lists more frequently in the last couple of years—the country contains a culture that is inherently eclectic and truly incomparable to any parts of the world. This is because is a heterogeneous expression of traditional Brazilian customs, infused with a quintessentially European flare. This delightful hodge-podge of influence, which when combined creates the core of this remarkable region of the world, is visible in every aspect of Brazilian culture.
www.visitbrasil.com

Click on cover to view published article