Alberta
A Winter Wonderland
Published in the Winter 2006-07 Issue of Canadian World Traveller
By Bill Lowson
Photos: Bill Lowson & Lake Louise Inn
Having visiting every other Canadian province (excepting Saskatchewan), I had to ask myself why I had waited so long to come to Alberta? My travelling companion and I both agreed that this was definitely a trip to remember and one that we would readily do all over again.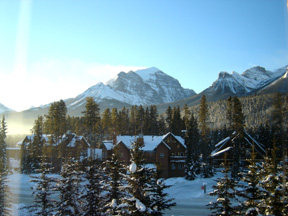 Our plans were quite simple: tour Downtown Calgary on arrival; drive to Lake Louise for a weekend of skiing and relaxation; then enjoy some sightseeing at nearby Banff National Park before returning to Calgary. Everything on our whirlwind trip went off way better than we could have ever expected!
On arriving at Calgary International Airport in mid-afternoon, we picked up our rental car to begin our tour of the city, which welcomed its one millionth resident in July 2006. There are many unique things for the first-time visitor to see and do in Calgary, but with some help from friends who had visited the city, our own Internet research and a call to the Calgary Tourism Board, we were able to narrow down our must-do list.
But let me tell you, there are so many things to see and do in this fast-growing Western Canadian city that one would need well over a week to discover them all.
Calgary Tower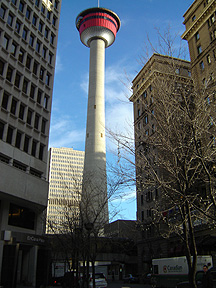 Our first stop was at the Calgary Tower. Officially opened in 1968, the Tower receives over 500,000 visitors each year. The adult entrance fee is $12.95 and is well worth it. During the elevator ride to its top, there was an informative recording explaining different aspects of the Tower, including its storied history.
After travelling 525 ft. up to the observation deck, we enjoyed a 360-degree view of this dynamic city. My favourite view was that of the Calgary skyline set against a backdrop of the magnificent Rocky Mountains.
There is something special about seeing the city's modern skyscrapers and its surrounding picture-perfect countryside, all in one take. Incidentally, many outdoor scenes in the popular Superman films were shot in Calgary, which the directors decided looked more like 'Metropolis' than New York City!
New to the Tower's observation deck is its 36-foot-long, 4-foot-wide glass floor. Visitors can stand on the glass and watch the busy city humming along far beneath their feet. It was quite amusing watching some the visitors nervously stepping onto the glass floor while holding onto a nearby pole or a friend's arm to help them feel secure. Bring your camera to take a picture or video of this one. It still brings a smile to my face!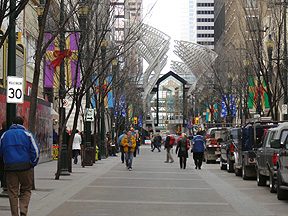 Stephen Street
Next on our agenda was a stroll down Stephen Street. Located just steps away from the base of the Tower, this pedestrian-only street is filled with trendy shops, bars and restaurants.
We decided to stop at Dakota's Bar and Grill for some of that hearty Alberta beef I had heard so much about and I must say that the reviews were right. The beef was tender and succulent; the ale perfectly chilled and the service prompt and super-friendly.
Canada Olympic Park
Before heading off to Lake Louise, we stopped at Canada Olympic Park, the premiere site of the XV Olympic Winter Games, which Calgary hosted in 1988. This is a must-stop for tourists.
The many interesting things to see and do at the park include cross-country skiing; ski-jumping; snowboarding; an exciting sloped half-pipe; Olympic-level luge and bobsledding; museums and much more.
Visit www.canadaolympicpark.ca for a complete list and schedule of the park's many thrilling activities to participate in or to simply watch in awe.
The Rockies
Not being that fond of driving, I was a bit skeptical of undertaking the 2-hour winter drive to Lake Louise. However, what a fantastic drive it was! A short while after leaving the foothills, we were surrounded by the towering Rockies with awe-inspiring views at every turn. This was the best drive of my entire life… and that's no lie!
We soon arrived at Lake Louise, a breathtakingly beautiful winter wonderland of mountains, resorts and piles of powdery virgin snow! It was obvious why this is the perfect spot for ski and snowboard enthusiasts and nature lovers, as well as the ideal venue for a quiet, romantic getaway or for partying the night away.
Its winter high season runs from November to April and it's equally popular summer high season, from June to September.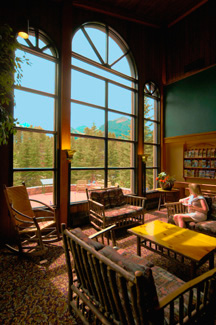 Lake Louise Inn
With much anticipation of the weekend ahead of us, we checked into the Lake Louise Inn and were warmly welcomed. The hospitable and friendly service offered at the Inn was very apparent during our entire stay. The reception desk staff, maids, waiters and bartenders always greeted us with a genuine smile and were only too happy to assist us in every way.
Lake Louise Inn is the second biggest resort in this picturesque mountainside village. With its 200-plus rooms designed for singles, couples, families or groups of up to ten (including their pets!), the Inn can provide ideal accommodations for individuals or parties of any size.
Its well-appointed lodgings are spread out over five buildings, some with recently renovated rooms (as was ours), and 15 new rooms are presently being added. The fact that the Alpine Skiing World Cup Organizers have signed a 5-year contract with the Inn is living proof of its international reputation.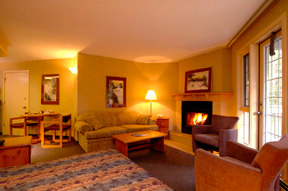 In the main building, where we stayed, there are three restaurants, a bar, a heated pool, a steam room, a Jacuzzi, a well-equipped exercise room and spacious banquet-hall facilities.
The Explorer Lounge
On our first night at the Inn, we decided to visit the Explorer Lounge. This is a cozy restaurant-bar serving pub-style fare. Throughout the week, there are different theme nights. We were lucky enough to be there on their Dance Night! Wow! I started the night by enjoying some of their excellent chicken wings and the best samosas I have ever had, perfectly accompanied by a pint of Big Rock, a locally brewed beer.
During the meal, I watched the hockey game (a Saturday night Canadian tradition) on one of their huge TV screens while other patrons lounged by the fireplace or played darts, shuffleboard and other pub games. Soon, the DJ arrived to set up his music and the party was on! As he spun his discs and we danced into the wee hours of the morning, it became clear why so many guests from other nearby hotels had come over to join the party.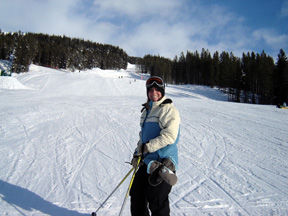 Hitting the Slopes
We got up early the next day, as it was time for us to hit the slopes. Boarding the Inn's convenience complimentary shuttle bus, we took off for the Lake Louise Mountain Resort, located just five minutes away! Renting skis was quick, easy and, not to mention, very professional. This ski hill is the biggest in the Canadian Rockies, offering trails from those designed for beginners to those to challenge the most advanced of skiers. It's the only ski resort in the world to host back-to-back World Cup races on consecutive weekends.
Après-ski par Excellence!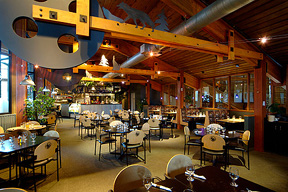 After a day of skiing we returned to the Lake Louise Inn and were greeted with a complimentary fireside beverage at the Inn's gazebo. Several of the other skiers huddled together to talk about their thrills and spills on the slopes. This was a great après-ski event… but it wasn't over yet! Next was a relaxing soak in the Inn's hot tub before my appointed time of a massage. Oh, what a life!
After my massage, I was introduced to the Inn's special après-ski drink, the Ski Naked Martini! The name of this cocktail always results in a big laugh and really gets the party rolling. This almost made me late for our dinner reservation at the Inn's Timberwolf Pizza and Pasta Café. Once again, the service from our waiter was impeccable. This restaurant is said to serve the best pizza in Lake Louise. Its specialty is the calzone; an Italian turnover made of pizza dough and stuffed with cheese. I enjoyed the Veal Parmesan accompanied by a glass of wine… absolutely delectable!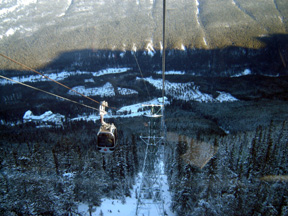 A Short Visit to Banff
Since Banff National Park is just 57 kilometres from Lake Louise, we swung by it on our way back to Calgary. Here, we took the magnificent gondola ride to the top of Sulfur Mountain.
In just eight minutes, we were transported to the summit, an elevation of 2,281m (7,486 ft) above sea level. The spectacular view must be seen to be believed!
The Banff Upper Hot Springs is just minutes away from the gondola ride. For just $8.00 we spent an truly amazing time in the outdoor natural mineral bath. The temperature was about -15C but the water was around 42C.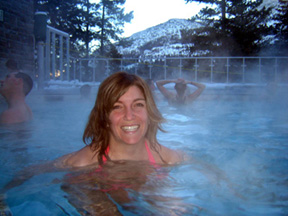 It's quite incredible to sit in this steaming water while it's freezing cold just a metre above you. And looking out on the Alpine scene while sitting in the warm water and breathing in the fresh cold mountain air is an experience I will not soon forget.
A special mention must go to Banff's Wild Bill's Legendary Saloon. Once again I enjoyed triple-A Alberta beef in the form of a pepper steak and the superb service provided by our waitress Melissa made the meal even more enjoyable!
The Alberta Experience
Overall, our experience in Alberta, and in particular our stay at the Lake Louise Inn, was truly memorable. For those Canadians from back east and for travellers from further afield who have never visited this province, I can only say you don't know what you're missing.
We thoroughly enjoyed the ski hills, the hot springs, the amazing panoramic views and every moment of our short time there. Now, I can't wait to see this winter wonderland when it's transformed into its other equally enthralling role as a premiere summer destination!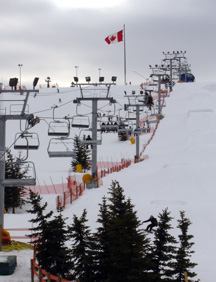 For More Info on Alberta
Contact: Travel Alberta
Tel.: 1-800-252-3782
Email: travelinfo@travelalberta.com
Website: www1.travelalberta.com/choose.cfm