Making Tracks to
Whistler, BC
Published in the Winter 2008-09 Issue of Canadian World Traveller
By Jane Cassie (janecassie@telus.net)
Whistler is definitely the place for making tracks in pure-white virgin snow and though we don't plan on cruising down from its heavenly peaks during this spring visit, we do manage to "make tracks" in another wonderful way – by getting there and back on The Whistler Mountaineer.
As just about everyone now knows, Vancouver and Whistler will host the 2010 Olympic Winter Games next February. British Columbia's all-season Rocky Mountain resort town Whistler is located just 123 km (76 miles) from Vancouver, but this lofty alpine community is 675 m (2214 ft) above sea level!
For those who want to preview the sites of the Games, or for others who would simply prefer to visit during more balmy weather, a spring, summer or fall train ride on The Whistler Mountaineer is the only way to go!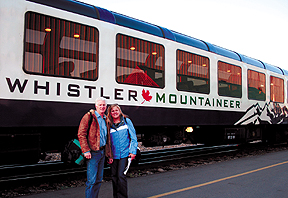 All Aboard!
It's just after eight in the morning when three attendants, decked out in classic pin stripes, proudly call out the command, "All Aboard!"
This signature welcome has been around all of our lives, and it's one that immediately conjures up images of another era – when train travel was the classic way to go and people had more time to travel in style. 
The familiar whistle blows and we gently rumble along the shoreline of North Vancouver, slink beneath Lion's Gate Bridge and rim the beautiful strip of waterside greenery that constitutes Ambleside Park.
The city's skyline of high-rises forms a dramatic backdrop to the calm, still waters of English Bay and while chugging along we settle in to enjoy the passing scenic panorama while catching glimpses of the multi-million-dollar homes of the rich and famous.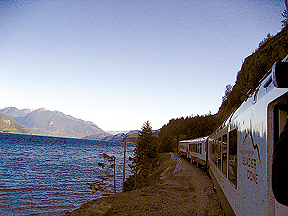 Majestic Fjord
Howe Sound is next on our roving picture-show and while skirting this majestic fjord, the train feels like being on a "land cruise".
Today, just a few wispy clouds drape this islet-laced setting. Backed by glacial peaks and topped by a sky-blue dome, this Toni Onley-like landscape is nothing short of spectacular.
We carve our way through older-growth forests, snake past campers at Porteau Cove and, for a while, ride parallel to the Sea to Sky highway.
Sections along this busy thoroughfare are being re-constructed to speed the drive to Whistler's world-class wonderland. But for us, this train ride is a breeze. It couldn't be improved and is already a memorable part of our trip.
Glacier Dome Experience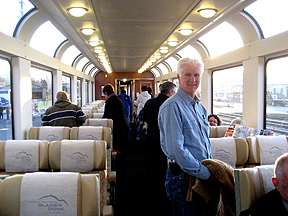 While the views of this moving-picture-show on the traditional Coast Classic option are just as spectacular, we chose to upgrade to the Glacier Dome Experience.
The cushy interiors of the cars and impeccable service we received added immeasurably to the scenic wonder.
Jessica and Valerie, our faultless attendants, not only deliver an ongoing commentary on the passing geography, but dish up classic cuisine that would appease any palate.
The menu included cheesy omelets, roasted tomatoes and rosemary potatoes topped off with OJ champagne and an open bar service, after which, in spite of the incredibly smooth ride, we would have to work a little harder at steadying our steps.
The "about face excursion" features a quartet of finger sandwiches, scones with Devonshire cream, lemon tarts, chocolate strawberries and éclairs – have one, or have them all – it's your choice. This is 'high tea' while riding low on the rails.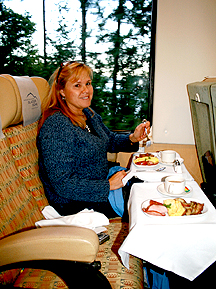 Scenic Dining
While dining in decadence, the views continue to roll on by: historical Britannia and its once-thriving copper mine, cascading torrents of Shannon Falls and the snowy 2,678 meter summit of Mount Garibaldi.
With every scenic "wow", we jockey with other passengers for that prime photo op. Regardless of whether one tries to capture on film this "feast for the eyes" from the comfort of our domed car or from the breezy Heritage Observation Car, it's impossible to do its true grandeur justice.
Heart-stopping Canyon
"Get your cameras ready once again," Jessica announces, as we enter Cheakamus Canyon.
The screeching sound from metal on metal echoes within the steep, cavernous gorge and as we creep over the trestle bridge that spans the chasm, a collection of oohs can be heard.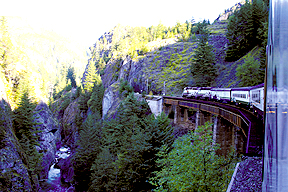 For a few moments it feels like we're hanging in the air – not a simple task for several tons of rolling stock. And while the white water of the chasm roils 60 meters below us, our camera shutters go non-stop.
No sooner do we bridge this amazing gap when other must-take photo moments come into view: the volcanic monolith of Black Tusk; the steep precipice of Brandywine Falls; and the shimmering Alpha Lake.

Whistler Vistas
After our three-hour expedition, we reach the famed resort town of Whistler and are quickly transported to our temporary refuge, the Pan Pacific Whistler Mountainside Resort.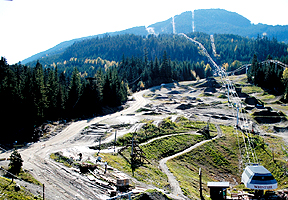 From the balcony of our lofty retreat suite, the panorama is stunning, affording us an unimpeded view of both of Whistler's mountains from their bases to their summits.
Although these now dusty trails currently host bikers, hikers, and the occasional black bear, when the snow flies, they'll be transformed into a winter wonderland by tons of pure powder snow.
2010 Olympic Winter Games
With over two hundred glorious runs, 8,171 acres of skiing terrain and thirty-eight lifts, including the revolutionary PEAK 2 PEAK, an unforgettable 2010 Olympic Winter Games experience for world-class athletes and the thousands of expected spectators is assured.
And though, in winter, it's a destination where many tracks in the snow will always be created, we'll once again make ours in a different way, when we take the Whistler Mountaineer back home.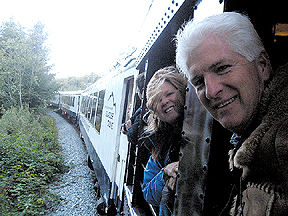 If You Go
Whistler Mountaineer
Toll Free: 1-888-687-7245
Tel.: 604-606-8460
www.whistlermountaineer.com
Pan Pacific Whistler Mountainside Resort
Toll Free: 1-888-905-9995
Tel.: 604-905-2999
Website: www.panpacific.com/WhistlerMountainside

For More Info on Whistler:
Tourism Whistler
Website: www.tourismwhistler.com
For More Info on the Winter Games:
2010 Vancouver Olympic Winter Games
Website: www.vancouver2010.com
About the Author
Jane Cassie is a director of Travel Writers' Tales is an independent travel article syndicate that offers professionally written travel articles to newspaper editors and publishers. To find out more, visit www.travelwriterstales.com.