Gal-livanting in
Victoria
Published in the Summer 2008 Issue of Canadian World Traveller
Text by Jane Cassie (janecassie@telus.net)
Photos: Jane Cassie and Tourism Victoria (www.tourismvictoria.com)
Every year I escape with two of my best buds for a weekend of gal-palling. We always try to intertwine our girl time with tourist attractions, pampering perks and, of course, lots of shopping.
This year, we decide to do it with a royal flair, and as we discover, British Columbia's colonial capital of Victoria is the next best place to jolly old England!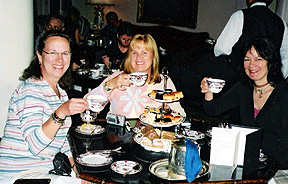 Afternoon Tea
Rays of afternoon sun filter through century glass panes onto the exquisite Edwardian décor. They wash over gleaming hardwood, Corinthian pillars, and handcrafted tapestries that share a bygone tale.
Presiding over the scene are the painted portraits of Queen Mary and King George V. And as classical favourites flow melodiously from the baby grand, we feel as if we've been magically zapped back to the early 1900's. But we work hard at staying in the moment. We don't want to miss a regal second…for what we are about to experience, is the legendary afternoon tea at the Fairmont Empress.
"The hotel has honored the beloved British ritual since 1908," our server informs, while graciously directing us to a formally set table, topped with polished silver and Royal Doulton.
Both the exquisitely restored Tea Lobby and Library Lounge delightfully imbibe the era, and like the princesses who have preceded our visit, we dine on delectable dainties, sensational pastries, and traditional scones topped with thick clotted cream.
While sipping the secret 'Empress Blend,' we can also gaze at the inner harbour where all the action is.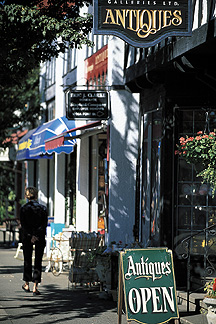 Footloose and Fancy-Free
The city is designed on a grid pattern, and fanning out from the bustling hub is a shopping spree waiting to happen. Being three ladies on the loose, we look forward to delving into the specialty shops that line Government Street, rummaging through antiques along Fort, and exploring the oldest Chinatown in Canada where Fan Tan Alley was once home to opium dens and gambling parlours.
Cinderella horse-drawn carriages, Kabuki Kabs, and double-decker buses also whisk time-rich vacationers away to the hot spots, while Zodiacs and kayaks do an about face, towards the ocean blue.
And sandwiched in between, is a scenic promenade that hosts magicians, musicians and more. In spite of the sheer numbers, people seem friendly and courteous. The pace appears unhurried, relaxed and laid back.
Many Imperial icons have understandably made their way into Victoria's tourist treasures. Though we're well on the road to royalty after sipping tea like three ditsy duchesses, we head out to discover a couple of women who have claimed their fame in other ways.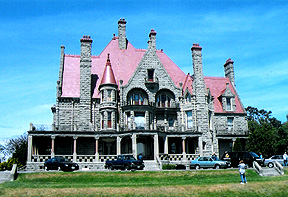 A Victoria Castle
A steep gothic roofline soars skyward from the residential thicket of opulent homes.
Turrets, towers, dormers, and Elizabethan chimneys contrast sharply with the glossy red slate to create the illusion that the Victorian castle is even more vertically immense than it is!
"Any queen would love to live in this place," comments a nearby tourist, while taking a photo moment. "So would the Addams Family," another responds.
Although the impressive structure could easily be a set for a Hollywood flick, the Craigdarroch Castle (www.craigdarrochcastle.com) and former home of Joan Dunsmuir is a real McCoy.
The thirty-nine room mansion sprawling over twenty thousand square feet, is decked out with imported white oak and one of Canada's finest collections of stained and leaded glass.
Rooms are lavishly decorated with period pieces, coiffed ceilings flaunt paintings of birds and bouquets, and eighty-seven stairs escalate the four and a half heavenly storeys.
We huff and puff our way to the top of the Tower where Joan once sipped tea while reveling in her twenty-eight embracing acres. "Quite the lifestyle" I mutter in awe, while gazing over the panorama of Victoria.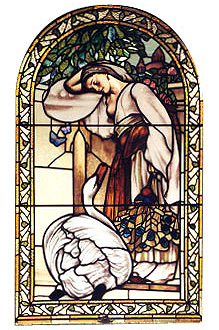 No Fairy Tale Ending
We were very interested to learn more about the history of this storybook castle. But unlike most fairy tales, this one doesn't have the happiest ending. Joan's husband and wealthy coal baron, Robert Dunsmuir, died a year before the castle was completed.
Although he had verbally promised to leave the estate in the hands of his two sons, Joan's name just happened to be on the will.
The idea of a woman managing a twenty million dollar estate in this era was absolutely preposterous, and she was persuaded to hand over most of the dealings to her boys.
In 1900, one of them died. The other fought for his brother's share of the estate, and after major family riff, Joan sued him and won. She died in 1908 leaving the entire lump sum to her five surviving daughters and three other heirs. The son was left totally out of the picture.
Since then the castle has dubbed as a military hospital, a college, school board office and a conservatory of music. In 1979 it was finally opened as a historic house museum and, as they say, the rest is history.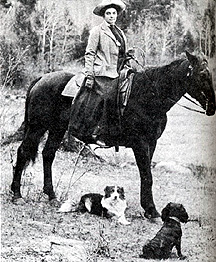 A Canadian Icon
Being fully immersed in the Victorian era, we're lured a short distance away, to where another famous female made her roots. Instead of being rich or royal though, this lover of Mother Earth was considered to be more of a rebel in her time.
The yellow clapboard home is no competition for the mansion we'd just left behind, but the messages shared on posted placards convey the sensitive feelings of their world-renown creator.
Emily Carr, a Canadian icon of the arts, had five older sisters, and during her childhood she had nick-named herself 'small.'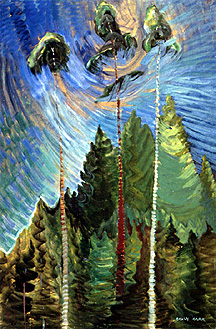 Excerpts from The Book Of Small, and her other six manuscripts, capture her early years in this home that was built in 1864 (www.emilycarr.com).
Carr's journey and vivid landscapes are also revealed a few blocks away, at the Art Gallery of Greater Victoria (www.aggv.bc.ca).
We discover that Emily was inspired during her visits to remote BC native villages, and though she started painting at an early age she wasn't truly recognized until she was fifty-seven years old. "There's hope for us yet," I affirm to my friends while we absorb the life of this incredible woman.
The Royal Treatment
After tracing the footsteps of time, we realize just how liberated women have become over the past century. And it's even more evident when we return to our boutique hotel, for ironically, it is managed by a competent team of females.
The contemporary Magnolia Hotel and Spa (www.magnoliahotel.com) melds seamlessly into the surrounding Brit wit and Old World charm.
Her chic interiors, graced with Italian marble, rich mahogany and an Aveda Lifestyle spa, certainly heighten our stay.
From within these cushy confines, over the regal two days, we giggle and gab, and share tales that will never escape the four walls.
And though none of us have a drop of royal blood in our veins, we all declare that we've been treated like queens while Gal-livanting in Victoria!
Getting There:
From Vancouver, BC:
BC Ferries
39 departures daily between Vancouver and Vancouver Island
Tel: 250-386-3431 or 1-888-223-3779
www.bcferries.com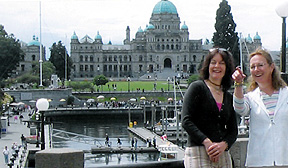 From Anacortes, WA:
Washington State Ferries 
Between Anacortes, WA and Sidney, BC.
Tel: 206-464-6400 or 888-808-7977
www.wsdot.wa.gov/ferries
From Seattle, WA:
Victoria Clipper 
Between Seattle & Victoria, BC
Tel: 250-382-8100 or 800-888-2535
www.victoriaclipper.com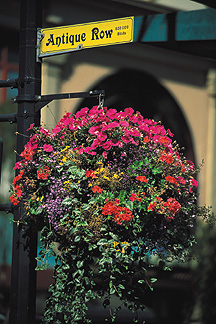 Things To Do:
Craigdarroch Castle Historic House Museum
1050 Joan Crescent, Victoria, BC  V8S 3L5
Tel: 250-592-5323
www.craigdarrochcastle.com
Carr House 
207 Government Street, Victoria, BC  V8V 2K3
Tel: 250-383-5843
www.emilycarr.com
Art Gallery of Greater Victoria 
1040 Moss Street, Victoria, BC V8V 4P1
Tel: 250-384-4101
www.aggv.bc.ca  
Where to Stay:
The Magnolia Hotel & Spa
623 Courtney Street , Victoria, B.C. Canada V8W 1B8
Tel: 250-381-0999
www.magnoliahotel.com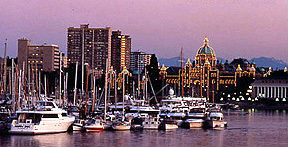 For More About Victoria
Tourism Victoria
Visitor Information Centre
812 Wharf Street, Victoria, BC V8W 1T3
Tel: 250-953-2033 or 1-800-663-3883
Email: info@tourismvictoria.com
www.tourismvictoria.com