Vancouver
Dramatic West Coast Scenery and Urban Chic on a Budget
By Neilia Sherman
Published in the April, 2004 Issue of Canadian World Traveller
Photos: Courtesy of Tourism Vancouver www.tourismvancouver.com
The Lion's Gate Bridge portrayed above is undoubtedly the one most identified with Vancouver. But there is another famous bridge that swayed as I took my first tentative step across it. There were at least two dozen people ahead of us and I wondered how this fragile looking structure could withstand the hoards of tourists who cross it each year. But I had make my start and was determined to make it across. After watching other 'dare devils' proudly bearing their "I survived Capilano" certificates earlier, I knew that I had to bring one home as well.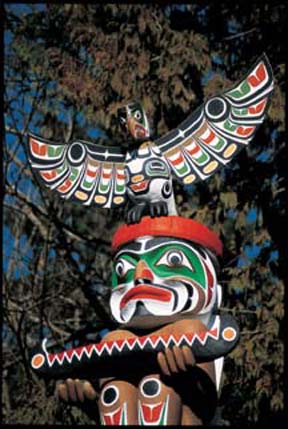 The World's Longest Pedestrian Bridge

Over 100 years ago, George Grant Mackay came upon this beautiful spot. With the help of friends and a team of horses, he pulled a hemp and cedar plank bridge 450 feet across the Capilano River. The area became so popular that a more secure wire bridge was built in 1903 and then one with cable firmly encased in concrete was built in 1914.
Visitors from all over the world now flock to the Capilano Suspension Bridge. It is truly the ultimate tourist attraction – gorgeous wilderness a few minutes from downtown Vancouver combined with the hair-raising sense of danger when you walk across, as the bridge shakes with each step you make. In the 1930's, local Native Indians were invited to place their totem poles on the grounds and the originals still stand. The present suspension bridge was built in 1956. At that time pre-stressed wire cables were encased in 13 tons of concrete at either end.
The world's longest pedestrian bridge stretches 450 feet across the canyon and 230 feet above the river. You may feel like you're taking your life in your hands when you cross but you'll be proud when you reach the towering evergreens on the other side.
Other features which make this attraction worthwhile are a Story Centre walk-through history exhibit, the Big House native carving centre, where you can watch carvers at work, and the 1911 Trading Post gift shop which is filled with unique items made by local artists.
At $9.95 per person, we felt that this unique attraction was well worth the money. But there are plenty of things to do in Vancouver that are free and thoroughly captivating.
Touring by Coach
Where else can you find a such a diverse urban experience against a backdrop of exquisite scenery? Almost surrounded by water, with beautiful snow capped mountains and lush evergreens, your eyes will never tire of the view.
We saved money by forgoing a car rental and buying a two day pass to the Gray Line City Tour, at $22 per adult. Our CAA membership saved us another four dollars right off the bat. The benefit of this mode of transportation is that you don't have to worry about getting lost and you can concentrate on the lovely surroundings. This tour was great because we had the choice of getting off on any stop on the tour or staying on and bypassing any or all of the stops.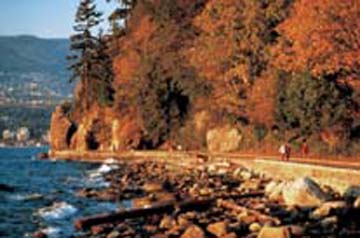 For free or inexpensive touring, I recommend visiting the following places:
Stanley Park
In 1886, Vancouver's first City Council petitioned the Federal Government to lease 1,000 acres of land in order to establish the fledgling city's first green space. The Park officially opened in 1886 and was named for Lord Stanley (of Stanley Cup fame) who was then the Governor General of Canada.
This huge park has a free trolley service of its own, a water park with a large dryer that children can stand inside and an Art in the Park display. Go to Prospect Point to get a wonderful view of the city. The most popular pastime in Stanley Park is to walk the 8 km shoreline and take in the views which include lovely beaches backed by gray-blue mountains. We were content with more passive forms of relaxation.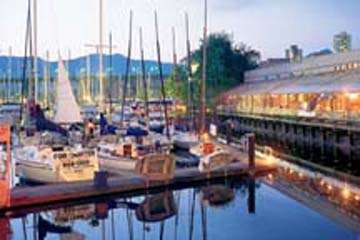 Granville Island
Formerly an industrial area, the warehouses now hold shops and restaurants. There is also a theatre, and a number of nautical museums. Performers put on family oriented antics and the whole area is right on water.
There are crafts stores, artist's studios and a colourful public market filled with neat edibles. We loved this funky people place.
The best way to get there from downtown is to take the Aquabus. This fleet of commuter ferries operates seven days a week in False Creek and costs a couple of dollars depending on where you pick it up. Admission to Granville Island is free and wandering around can easily take up an entire day.
Robson Street
Vancouver's chic area, this street is good for window shopping. Have a coffee and soak in the atmosphere. The stores are fun and we enjoyed lunch at Planet Hollywood which is filled with big screen televisions and Hollywood memorabilia. It connects to Denman St. in the West end which has a more freewheeling air if designer shopping is not your style.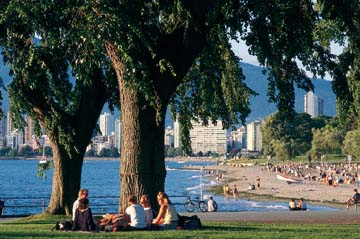 The Beaches
This city is full of them. Go to English Bay for its wonderful view and natural environment. Here sun worshippers lie against conveniently placed logs rather than under umbrellas. Interesting stores and cafes complete the experience. Another favourite is the funky Kitsilano area where the beach houses a playground, Vancouver's biggest outdoor pool and is the place for people watching.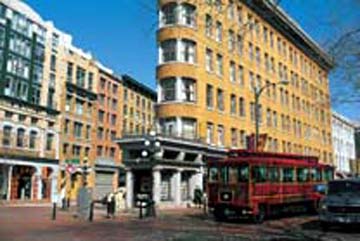 Gastown
Located in the oldest part of the city, Gastown was a bustling frontier town during the gold rush. It has cobblestone streets, an antique steam clock that sounds the Westminster chimes. and is named for its founder Gassy Jack Deighton whose statue oversees Maple Tree Square. This fun area features souvenir shops, good restaurants, and great atmosphere.
An Ideal Destination
If enjoying mountains, ocean, culture, and adventure in a temperate climate sounds like your idea of a great vacation, plan a trip to Vancouver, a place so beautiful that it will take your breath away. And it won't break the bank, either.
About the Author
This article by Neilia Sherman can be found at www.bootsnall.com and is reproduced with the kind permission of bootsnall.com, the Ultimate Resource for the Independent Traveller.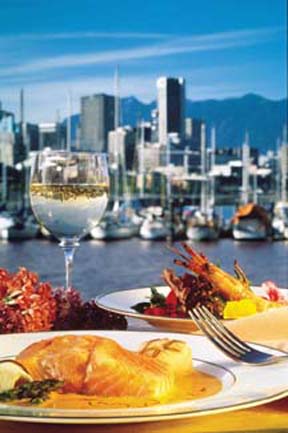 For More Info:
Tourism Vancouver
The Greater Vancouver Convention and Visitors Bureau
200 Burrard Street, Suite 210
Vancouver, BC V6C 3L6
Tel.: (604) 682-2222
Fax: (604) 682-1717
E-mail: See Website
www.tourismvancouver.com
British Columbia Tourism
12th Floor, 510 Burrard St.
Vancouver, BC V6C 3A8
Tel.: (250) 387-1642
Toll-Free (North America): 1-800-435-5622
E-mail: See Website
www.hellobc.com
Air Canada
Air Canada Centre, PO Box 14000
7373, boul de la Cote-Vertu, Bldg 2
Saint-Laurent, QC H4Y 1H4
Tel.: (514) 847-1106
Toll-Free (North America): 1-888-247-2262
E-mail: See Website
www.aircanada.com