Niagara-on-the-Lake, Ontario
A Memorable Carriage Ride
Published in the Winter 2008-09 Issue of Canadian World Traveller
By Mike Keenan (mkeenan3@cogeco.ca)
During her Golden Jubilee, I watched the Queen leave Buckingham Palace, transported inside an ornate gilded carriage, waving to thousands of cheering loyal subjects.
However, it's a much different view from where I sit, perched beside Robert, my driver, facing the formidable rump of Jackie, a frisky, part Clydesdale mare, who transports tourists in a simpler coach.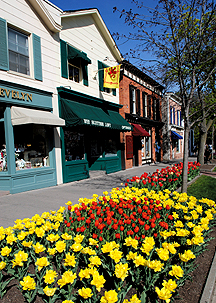 Springtime in Niagara's Welcoming Town
In spring, the downtown area of Niagara-on-the-Lake becomes thronged with pedestrians. This is the beginning of the tourist season, which lasts until the snow flies.
Yet, everyone seems happy as they jostle along the sidewalks and crowd into the well-stocked shops with the town's permanent residents and its many graciously welcomed national and international visitors.
Lakeside Charm
Situated on the southern shore of Lake Ontario at the mouth of the Niagara River and close to the famous falls, Niagara-on-the-Lake is easy to reach by road from all of Eastern Canada and Northeastern USA.
This picture-perfect historic town is famous for its fine wineries, its charming B&Bs and its world-famous, year-round Shaw Festival Theatre performances.
An Amish-built Carriage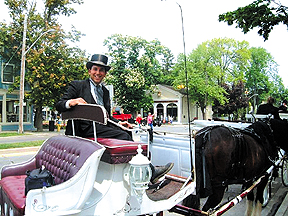 Our carriage, which was equipped with a hydraulic brake, was constructed by hand out of fibreglass by an Amish family in Indiana.
Unlike Her Majesty's coach, used only once or twice each century, this carriage will be sold off after three to four years of steady use.
"Clip-clop, clip-clop," is the sound of metal shoes from the 1600-pound horse transporting me back to a more leisurely time. Jackie is regularly shoed as her considerable weight wears out the metal every five or so weeks.
Moving History
There is no set commentary from the drivers. "Some people aren't interested in history," Robert opined. "For example, St. Mark's Church, built in 1805, is the oldest building in town. Most won't remember that, but they will remember that it's the only building that survived the burning during the War of 1812, thanks to its stone base."
Sometimes he gets questions that are truly inane. A few ask him directions to far-off locales such as Banff, Alberta. (The same types, thankfully few and far between, who motor across the Peace Bridge in the summer, equipped with skis on their roof racks.)
Would-be comedians inquire, "Did you feed your horse 'beefarino'?" referring to an episode of the Seinfeld TV program in which, Kramer's horse, Rusty, passes gas during the entire tour. Another popular question Robert gets is: "How do you people get your flowers to grow so well in this town?"
Hollywood Calling
Formally dressed in top hat, cravat, vested coat and black pants, Robert has an amazing command of detail and trivia about his town.
We learn that the Rectory, constructed between 1820 and 1830 in the Italian-villa style, was featured in Steven King's 1983 movie, 'The Dead Zone' starring Christopher Walken, along with the picturesque gazebo adorning Queen's Royal Park.
The gazebo was used as the location of the film's murder scene. Director David Cronenberg, avoided the view of the water (perhaps too picturesque for him), and filmed the scene towards the park.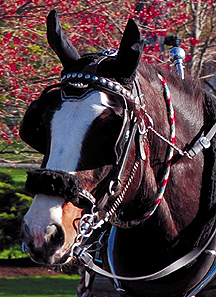 Horse Sense
The route for any carriage ride depends on the time schedule and the horse's speed. Jackie and Ebony are quicker than many other horses.
The stable's massive and powerful Clydesdales and Percherons are treated well. However, no feeding is allowed on the street, but a supply of water is constantly supplied to the horses.
"When horses are allowed treats, they get nippy," advised Robert. "They are fed before they come out and when they go back. Some locals are allowed to bring them apples.
If the heat is bad, we don't go out." Robert has a cell phone handy in case of any sign of trouble. "Jackie loves to work; she has lots of energy."
History Along the Way
There are memorable buildings aplenty along our route, such as artist Campbell Scott's home; the five-diamond rated Queens Landing Hotel, where guests stay for $375 per night and Somerset B&B where visiting actors, politicians and other notables pay $260-310 per night.
We also go by the oldest golf course in North America, completed in 1875, prior to titanium golf clubs and wimpy carts equipped with global positioning devices that measure your next shot.
Fortunately, its past and present owners have kept the historic golf course, with its basic narrow fairways and small greens, totally intact. As to the town's many B&Bs, Niagara-on-the-Lake offers its visitors accommodations to suit every budget.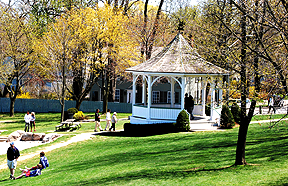 How Does Your Garden Grow?
Jackie was well behaved. As we sauntered around town amidst traffic, a sudden, loud noise emitted from a truck backing up. She handled it well. Another activity that she handles well is filling the black leather diaper suspended at her rear!
By the time we returned to our starting point, it was packed with fresh, steaming manure, something Queen Elizabeth does not have to contend with during her infrequent excursions. Robert let me in on a secret. The fresh manure is placed in a box at the corner at their home base near the Prince of Wales Hotel.
At the end of each day, astute local gardeners scoop up all of the accumulated pungent contents emptied from the bags and that's why the flowers grow so well in Niagara-on-the-Lake!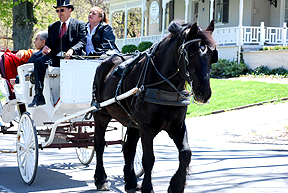 If You Go
Sentineal Carriages
www.sentinealcarriages.ca
Niagara-on-the-Lake Chamber of Commerce
www.niagaraonthelake.com
Tourism Niagara
www.tourismniagara.com
About the Author
Mike Keenan writes a weekly newspaper column for the St. Catharines Standard and is publisher/editor of www.whattravelwriterssay.com.