Arctic Adventures
Spectacular Fishing and Much More
Published in the December, 2003 Issue of Canadian World Traveller
Photos Courtesy of Arctic Adventures www.arcticadventures.ca
A fishing expedition to the Payne River Fishing Camp is an experience you will never forget! Situated on the 60th parallel far above the tree-line on the shore of Quebec's Ungava Bay, this modern, fully-equipped fishing facility is 1,100 miles due north of Montréal.This truly is an Arctic adventure for both the seasoned and novice fisherman.
Those who have fished here, return home with many exciting stories about the feisty Arctic Char they caught. They also cherish the lasting memories of their hospitable Inuit hosts, the stunning pristine Arctic scenery and the unique northern wildlife they encountered during their visit.
Legendary Arctic Char
Almost as soon as the warm summer breezes push stubborn ice floes offshore, the first runs of sleek, silvery Arctic Char show up at the mouth of the major rivers flowing into Ungava Bay.
They're big fish, many having grown to trophy size by feeding on capelin, krill, shrimp and sand eels in the wild expanses of Ungava Bay. Through the summer months, these big char eagerly bite on any variety of lures and streamers then battle valiantly against all odds.

Getting There
Getting to the Payne River Fishing Camp could not be more simple. An all-inclusive week-long fishing package includes round-trip air transportation by jet from Montréal to Kuujjuaq and round-trip transportation by Twin Otter aircraft, from Kuujjuaq to the private airstrip conveniently located just behind the camp. Shuttles to and from airports, transfer services in Kuujjuaq and two nights accommodation in Montréal, based on double occupancy, are also included, ensuring a smooth, relaxing journey.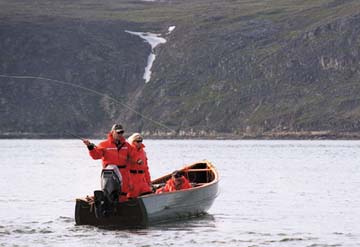 Knowledgeable Guides
The Inuit guides, whose forefathers have hunted and fished in this region for thousands of years, are friendly, cheerful hosts who enjoy sharing their traditions and culture with their guests. Their knowledge of the land and local wildlife provides many insights to those who come to fish.
According to many well-travelled anglers and outdoor magazine writers, the Arctic Char fishing in this locale is the "very best" to be found anywhere in Canada's North.
Time and Tides
The significant tides in Ungava Bay fill and drain the Payne Bay fjord twice each day. Guides work according to the tidal schedule and know where the fish congregate when the tides are the lowest. Besides enjoying the non-stop action for Arctic Char in salt water, anglers can explore the fresh waters of the Payne River and fish for Brook Trout and Lake Trout from our comfortable and safe 24-foot freighter canoes or by wading.
Camp Lodgings
The all-inclusive week-long fishing package offered by Arctic Adventures, includes six nights' accommodation in oil-heated sturdy cabins, bedding and sleeping bags, hearty home-cooked meals prepared by its qualified camp cook, daily hot showers and toilet facilities.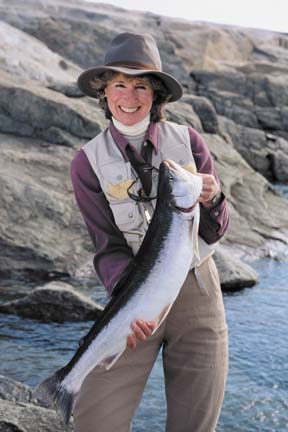 Fishing Extras
Your five days of fishing includes: fishing permits; one guide, freighter canoe and outboard motor for each pair of fishers; landing nets and survival suits; conservation and preparation of fish for homebound transportation; fish boxes for transportation of fish; freezer storage for fish in Montréal; H.F. radio and satellite telephone communications; and all federal, provincial and airport taxes.
Personal fishing equipment, transportation of fish from Montréal to your final destination, meals and incidental expenses in Montréal, insurance, and items of a personal nature are not included in the fishing package.
Other Arctic Fishing Camps
In addition to its Payne River Fishing expeditions, Arctic Adventures also offers equally exciting packages to their Tunulik II Fishing Camps located 85 miles east of Kuujjuaq, which is the gateway to Quebec's Arctic Ungava region.
A Midsummer Fishing Dream
Mid-August produces a new surge of activity, with char answering the lure of fresh water and new life. In the rivers, their silver flanks begin to blush gradually as they take on their bright-crimson spawning colour. After mid-August most of the fishing is done from outpost camps situated inland for the big, now-colourful Arctic Char, Sea Run Brook Trout, Native Brook Trout, Lake Trout and the occasional Atlantic Salmon. Each new tide on Ungava Bay, brings in a new run of fish.
A visit to one of Arctic Adventures fishing camps is more than a fishing trip. It's a total experience, an opportunity to spend some time above the tree-line, where the summer days are long and the nights are short. These two camps are considered by those fortunate enough to have fished in their teeming, pristine waters as the closest thing to paradise!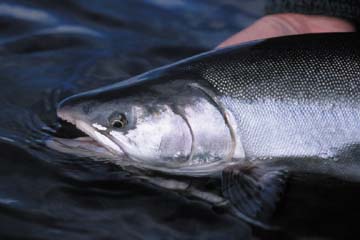 For More Info:
Arctic Adventures
19950, rue Clark Graham,
Baie D'Urfé, QC H9X 3R8
Tel.: (514) 457-6580
E-mail: arcticadventures@fcnq.ca
www.arcticadventures.ca
Tourisme Québec
Infotouriste Walk-In Centre
1001, Dorchester Square,
(corner Peel and Ste-Catherine Streets)
Montréal, QC H3B 4V4
Tel.: (514) 873-2015
E-mail: info@bonjourquebec.com
www.bonjourquebec.com