Prince Edward Island
Lazy summer days in Prince Edward Island
Article & Photography by Ron Paquet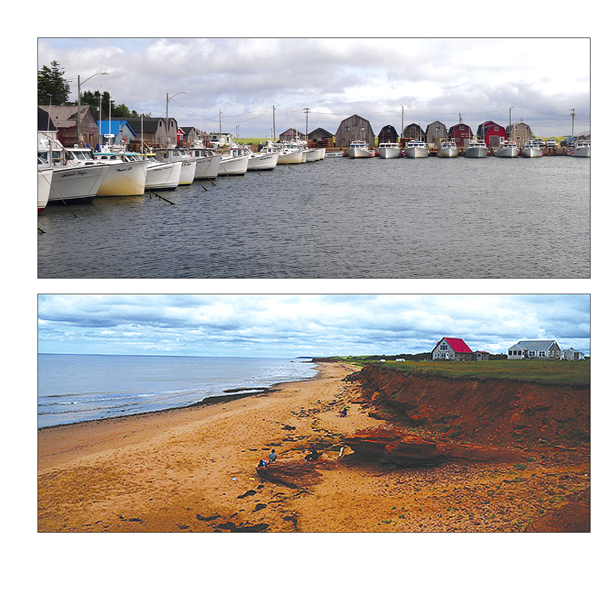 Where in Canada do you find balmy beach weather, a perfect vacation getaway that many Canadians overlook. Prince Edward Island of course, where the 800 kilometers of sandy red, expansive beaches feature a warm 21 degrees all summer.
It is a premier family or couples island who desire a calm, peaceful and quiet vacation, where dogs can roam on the beaches and swim in the ocean, and couples can walk for miles without seeing another person. At night the family can celebrate on the beaches in front of a bonfire and sprinkle the sky with fireworks.
Nightlife on PEI is relegated mainly to Charlottetown as folks tend to go to the island for the outdoor activities, like golfing by the sea at any of the 33 golf courses, or biking the low rolling hills where every turn presents a new vista of the lush farmlands and abundant well-manicured lawns.
For water activities there are seven provincial parks that charge a daily admission, Cavendish or Cabot, or for those that prefer the path less traveled, venture down dirt roads to your own private spot with few souls walking the sands.
The two large towns, both less than a hour apart are Summerside and Charlottetown. Charlottetown, the cradle of Confederation has a diversity of restaurants and charming pubs.
Prince Edward Island, as you would expect, has many seafood restaurants in all price ranges. A few very exceptional restaurants, all within one hours driving distance include, Blue Mussel Cafe in Rustico, Malpeque Oyster Bar, Malpeque and Carr's Oyster Bar in French river.
If you like to fish for your supper the Island has numerous boat charters, from party boats going out for a few hours jigging for mackerel, to private deep sea excursions for big game fish.
Island's End Tuna Charters in Tignish, offers the chance to catch Bluefin tuna, some of which can weigh in over 544 kilograms. But that will set you back at $1,250 per day.
Or you can go for a $40 boat trip fishing for cod and mackerel at Cambell's Deep Sea Fishing in Covehead.
Although the island features many artists, Tony Diodato displays superb PEI landscapes and seascapes. Certainly worth a visit to his two-floor studio in Springbrook off Route 20.
Cottage living is the favored accommodation on the island. Whether you chose from cozy one room units to luxury homes, most are close to favored beach regions. For example, a two bedroom cottage, Aunt Elizabeth Cottages in Seaview runs for $1,450 per week.
You can travel to PEI by air, or take the 12.9-kilometer Confederation Bridge, from Cape Jourinan, NB, or the ferry from Caribou, NS.
www.tourismpei.com

Click on cover to view published article