All aboard! Debunking popular cruise myths
by Tully Luxury Travel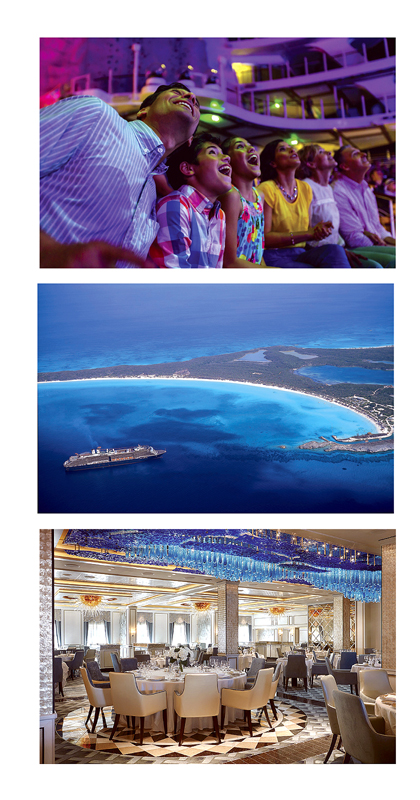 Cruising is one of the most popular ways to travel the world, with more than 20 million people heading for the seas each year. But, armed with images of bland food buffets and overcrowded ports, some still view cruising as a shameful stain on real travel. Here at Tully Luxury Travel, our experts have been cruising for three decades and sending our clients on dazzling holidays around the world on ships of all kinds. We truly believe that in today's cruise market, there is a perfect ship for every kind of traveler. Don't believe us? Read on as we debunk the most common myths and misconceptions about cruising.
Myth: I'll be so bored!
Truth: Being "stuck" on a ship with nothing to do is one of the top reasons why travelers overlook cruising as a viable option for travel. While cruise ships vary in style and size, all of them contain a world of options for onboard entertainment. The key is choosing the right ship for your entertainment needs. Some of the large mega-ships have everything from fitness centres and multiplex theatres to multiple restaurants, nightclubs, casinos and Broadway-style shows — not to mention a dizzying array of waterslides, pools and glitzy attractions. On these ships, you would be hard-pressed to enjoy all the offerings during a weeklong sailing.
Different cruise companies offer other types of entertainment. Enjoy lectures and enrichment programs? Some Cunard ships offer technology classes, workshops from the Royal Academy of Dramatic Arts and stargazing presentations from the Royal Astronomical Society.
Myth: I'm too young for a cruise!
Truth: At some point in time, cruising got the reputation of being a pastime of retired folks. Although many retirees have discovered the joy of cruising, this is certainly not the only demographic that can enjoy a good cruise. Different companies offer activities and itineraries for all ages and group sizes, including solo travelers and multi-generational families.
Expeditions cruises can include adventure activities such as hiking volcanos, biking on mountains and diving in coral reefs. Yacht cruises offer water adventurers even more options. Crystal's Esprit, for example, comes with top-of-the-line water equipment like speedboats, paddle boards and even a deep-sea submersible. Solo cruisiers will find more ships now offer cabins for one. Norwegian, for example, has cabins designed for single travelers of all ages and includes a private lounge for these guests to relax and mingle.
Myth: The ports are overcrowded tourist traps.
Truth: If a popular port of call is not your idea of a good time, consider a cruise that goes off the beaten path. Yes, you read that correctly — contrary to popular belief, cruises do travel beyond the most popular ports of call. In fact, cruises can sometimes visit places that are only accessible by air or sea.
Have you ever heard of Severozapadniy Cape? This is one of the stops aboard a Silversea cruise to Russia's rarely visited Far East, where travelers walk along waterlogged dirt roads to a sea lion rookery on the north side of the cape. Or perhaps a cruise along the mighty Mekong River that separates Vietnam and Cambodia is more to your liking? National Geographic hosts expedition cruises along this waterway, stopping to explore traditional villages.
And if you are dreaming of a sunny getaway closer to home but don't want the hassle of overcrowded ports, many smaller cruise lines head to out-of-the-way Caribbean ports that have less tourists and more beach space.
Myth: Food is bland and always served buffet-style.
Truth: Much like large resorts, cruises do rely on buffets as an efficient way to feed a large group of people. But long-gone are the days of bland buffets! Most large ships these days offer a variety of restaurants — some buffet and some a la carte — with fresh ingredients and many styles of cuisine.
With a luxury cruise, you can experience 5-star cuisine that can be enjoyed in the dining room or served on your private verandah, course by course. The movement for culinary excellence with cooking workshops and enrichment programs are now the norm. You can even have the opportunity to shop with a chef at a local market and enjoy an amazing meal with locally sourced produce.
Myth: I need a ball gown/tuxedo for dinner.
Truth: Although formal attire was once the cruise norm, most cruise lines now offer a far more relaxed dress code. Some still host formal nights where guests are encouraged to wear formal attire, but others encourage a more country club casual feel in the evenings. The good news is that there is a cruise out there for both types of people and everyone in between! Much like resorts, each cruise ship will have their own rules and norms, so choose one that fits your ideal.
Myth: Time is so regimented on cruises.
Truth: No longer do cruise lines dictate that you have to eat at the same time every night at the same table. Cruises now offer freestyle and open dining options, allowing guests to eat when they want and with whom they choose. Your schedule is completely in your hands — from dining to activities to relaxation. Do as much or as little as you choose.
Myth: I can't go on a cruise – I get seasick!
Truth: Nowadays, almost all ships come with fixed stabilizers to help control and reduce the ship's "rock n' roll" due to strong winds and waves. Half the time you barely even feel the ship moving unless you're really focusing on it. If you are very worried about the amount of movement, book an itinerary that's prone to calmer waters, like the Caribbean, and reserve a cabin that's located mid-ship and lower level — these tend to move less than cabins in the bow or stern of the ship. Or better yet, book a river cruise — nothing but smooth sailing!


Established in 1987, Tully Luxury Travel has long-standing relationships with the finest travel and tourism suppliers, and we offer world-class customer service through our three divisions: Cruise Professionals, African Dreams and Private Travel Designers. 
Why Contact a Cruise Professional?
Exclusive Amenities offered on ALL sailings
VIP access to sites often closed to the general public
Condé Nast Traveler "World's Top Travel Specialist" since 1999
Find out which is the best itinerary for you and receive exclusive amenities when you book with a Cruise Professional by Tully Luxury Travel. 
Call today at 1-888-351-6772.
www.tullyluxurytravel.com
Click on cover to view published article