Chicago
America's Remarkable Windy City
Published in the Spring 2008 Issue of Canadian World Traveller
By Mike Cohen (info@mikecohen.ca)
Photos: Illinois Tourism & Chicago Convention & Tourism Bureau
The Windy City of Chicago, located on the southern shore of Lake Michigan, is a bustling, energetic place that never stops, no matter the season. It's a destination with world-class cultural attractions, diverse neighbourhoods and a wealth of architectural wonders. 
Chicago is widely known for its critically acclaimed restaurants, world-famous museums, first-class shopping, adventurous nightlife, action-packed sporting events and thriving theater scene.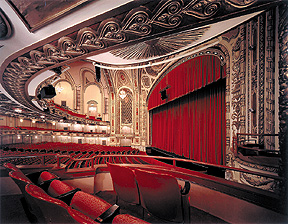 Vibrant Theatre
Chicago's theatre industry pushes the envelope with cutting-edge performances on historic and state-of-the-art stages.
The Chicago Theatre Goodman, LaSalle Bank, Cadillac Palace, Auditorium Theatre of Roosevelt University and the Ford Center have made visiting the city's downtown core a must for theatre lovers.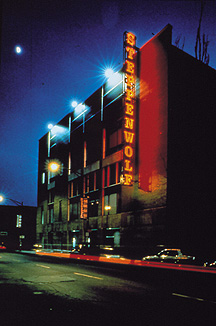 Applause, Applause!
Distinctive theaters can also be found throughout Chicago's neighborhoods.
Theatres like the Steppenwolf and The Second City are woven into the fabric of local districts, solidifying Chicago's reputation as a world-class theatre destination.
Until I visited this exciting Midwestern city for the first time, I always thought one had to travel to New York City to see true Broadway productions. Was I wrong!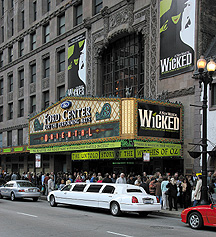 A Wicked Success!
Wicked, the Broadway musical phenomenon telling the previously untold story of the Witches of Oz continues to cast its spell on Chicago audiences in an unprecedented run at the Ford Center (24 W. Randolph Street).
This wildly popular production by its Chicago cast opened in June 2005 and has since become the city's longest running Broadway musical.
The ticket hot line of 'Broadway In Chicago' (the portal for many of the city's theatres) is 312-902-1400. Tickets can also be obtained online at ticketmaster.com.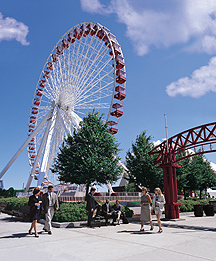 In the Navy
Navy Pier is the city's lakefront playground and the state's most popular destination, offering visitors a unique blend of activities for individuals, couples, families and groups.
This is a must-see attraction!
Millennium Park
Chicago's most recent global icon is Millennium Park, which opened in 2004. The 24.5-acre park became an instant world-class attraction and Chicago landmark.
It contains an outdoor performing arts pavilion, an indoor year-round theatre, a restaurant, a skating rink and a contemporary garden.
This remarkable park also features public art, fountains, a promenade area for special events, landscaped walkways and lots of lush green spaces.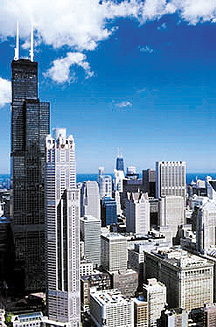 Other Chicago Must-sees
Other Chicago must-see sights include Buckingham Fountain at Grant Park, the Hancock Observatory and the view from the Sears Tower Skydeck.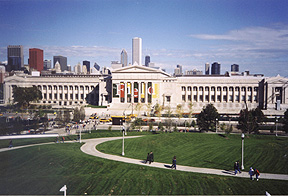 A Myriad of Museums
The city is world-renowned for its diverse museums, which explore a variety of subjects including Chicago history, fine arts, African-American culture, astronomy, natural history and much more.
Visitors should plan on spending quite some time at the Museum Campus.
This scenic lakeside park offers convenient direct access to the Adler Planetarium & Astronomy Museum, the Shedd Aquarium/Oceanarium and the Field Museum of Natural History.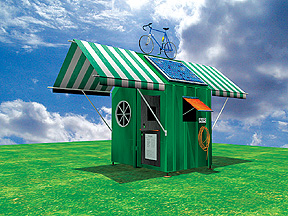 Something for Everyone
Other premier Chicago museums include the Chicago History Museum (the city's oldest cultural institution); McCormick Tribune Freedom Museum (Chicago's latest museum); the Museum of Science and Industry; the DuSable Museum of African-American History; the Art Institute of Chicago (recognized as one of the world's leading art museums); the Museum of Contemporary Art and the Museum of Contemporary Photography.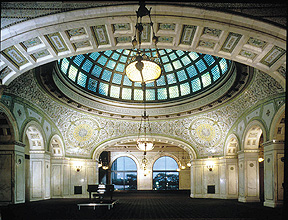 Outstanding Attractions
In addition to world-renowned museums, Chicago is home to a variety of spectacular attractions. The Chicago Cultural Center is described as a "neo-classical masterpiece" that features two art-glass domes and glittering mosaic walls.
The many galleries in the Cultural Center exhibit local contemporary art as well as notable works of artists hailing from around the world.
Six Flags Great America
Six Flags Great America (www.sixflags.com/greatAmerica) is located in Gurnee, Illinois, half way between Chicago and Milwaukee.
The 31-year-old park, which is open May through October, boasts eight themed sections, a 13-acre water park called Hurricane Harbor, three especially themed children's areas and various other forms of family-oriented entertainment. 
There are 13 roller coasters, including everything from traditional woodies to a bone-rattling hypercoaster.
Altogether the park boasts over 75 rides and attractions. If you purchase a special flash pass, you will have the benefit of not having a long wait in line for some of the more popular rides.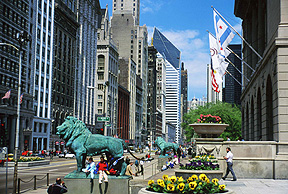 Unique Architecture
Visitors from around the world come to Chicago, the birthplace of the modern building, to admire its architectural marvels. From historic landmark buildings to contemporary technological masterpieces, Chicago is built in the unique and innovative designs that have shaped American architecture.
Chicago is home to the world's first skyscraper designed by William Le Baron Jenney in 1885.
Although his Home Insurance Building no longer stands, Chicago is today the home of three of the world's 10 tallest buildings including the 110-storey Sears Tower (the tallest in North America), which opened in 1974. 
Other landmark buildings include the Chicago Cultural Center, completed in 1897 in the Beaux Arts style; Adler and Sullivan's 1889 Auditorium Building; and the Art Deco era Chicago Board of Trade Building, designed by Holabird and Root in 1929.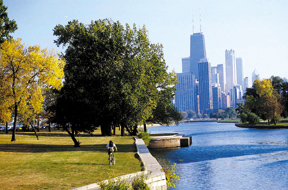 Extended Stays
When visiting Chicago for an extended stay of 10 nights or more like we did, you will want to find accommodations that are comfortable, affordable and conveniently situated.
Homewood Suites (www.homewoodsuiteschicago.com) is located right in the heart of downtown at 40 East Grand Avenue. Guests can overlook Chicago's well-known architectural landmarks while enjoying their daily complimentary 'Suite Start' hot breakfast or the 'Welcome Home' reception, featuring a complimentary light meal including beverages, on Monday through Thursday evenings.
With the hotel's fully equipped kitchens in every suite, you can enjoy all the convenience and comforts of home during your entire Chicago stay.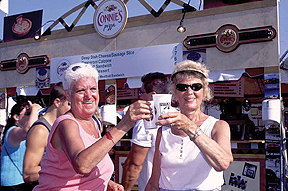 Dining Out
Right next door to the Homewood Suites is the best restaurant in town. In 2000, Joe's Seafood, Prime Steak & Stone Crab™ (www.icon.com/joes) opened its doors in Chicago.
The Chicago Joe's builds upon the grand tradition that began in the Miami Beach dining establishment of the same name in 1921 by adding a uniquely urban twist to the dining experience.
The restaurant's signature dishes of stone crab claws with mustard sauce and bone-in filet mignon are both exceptional but Joe's also features an extensive selection of fresh seafood, flown in for the restaurant on a daily basis.
Excursion to Lisle
If you are in Chicago during the summer, another "must" excursion is to the Village of Lisle. In the Lisle Park District (www.lisleparkdistrict.org) you will find Sea Lion Aquatic Park, one of the most attractive water-feature facilities I have ever experienced.
It boasts two exhilaratingly fast, steep body flume slides and two drop slides. Its Teen Leisure Pool is designed for ages 12 and up and its baby pool and sand play area features age-appropriate interactive water play activities for children aged five and under. There is even a mini-lazy river and an outdoor Jacuzzi. What a perfect place for a family outing!
The River Bend Golf Club (www.riverbendgolfclub.org) is just down the road at 5900 S. Route 53.
Rated as one of the top three nine-hole courses in the state of Illinois, it is also home to a great dining spot, The View Restaurant & Bar.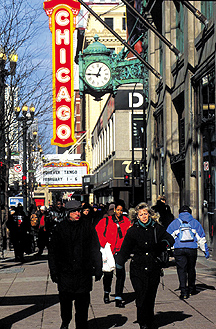 Second to None
After visiting Chicago, most would have to admit that this fascinating and entertaining city is second to none! 
For More About Chicago
Chicago Convention & Tourism Bureau
2301 S. Lake Shore Drive
Chicago, IL 60616
Tel.: 312-567-8500 Fax: 312-567-8533
Website: www.choosechicago.com