Las Vegas
An Unexpected Place to Park
by Susan Campbell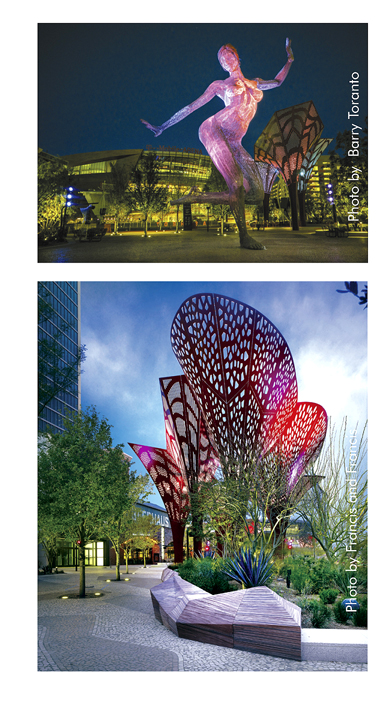 The famous Las Vegas Strip is probably the last place you'd expect to find an eco-park but then again, when it comes to this city you never know what to expect. So on a recent visit I wasn't all that surprised to find a brand new green oasis, I was however surprised at the gigantic sculpture that punctuates it!
The Park Vegas
The US $100 million development is simply called "The Park Vegas" and was built solely by MGM Resorts International, It's secreted away between New York-New York and the Monte Carlo right on the Strip. It was built with locally sourced stones and is full of desert blooms, waterwalls and nature surrounded resting areas. Shade is provided by 16 giant sculptures inspired by the desert cactus flower. There are also half-a-dozen brand new eateries there with al fresco options. It has a very European café culture atmosphere, and that's exactly what Jim Murren, Chairman and CEO of MGM Resorts International had envisioned. On opening day last April 4th, 2016, he enlightened the media about its design. He said, "One common theme I've often noticed in my travels is that all those great cities have gathering places, piazzas, parks, plazas… I've long thought, in my 18 years here, that Las Vegas could use such a place."
But the true enchantment there happens at night.
Beautiful Bliss Dancer
That's when they light up the gigantic cactus flower sculptures and you get the most impressive view of "Bliss Dancer"- a 40 ft. tall sculpture of a naked woman that punctuates the park without apology. Though she is hard to miss by day- 7,500 pounds of mesh steel shimmering in the sun- after dark she totally unavoidable as that's when the sculpture continually changes colors illuminated by 3,000 led lights. And she was built with a message.
Created by artist Marco Cochrane he dedicated it to his childhood female friend who had been sexually assaulted when she was young. He wanted to create something larger than life that empowers women and celebrates their right to express themselves freely. The idea behind her lack of clothes is to de-objectify the female form and view the true spirit shining through. I would say he has succeeded.
The grand unveiling was very emotional, especially since his muse and actual model for the artwork Deja Solis was there for it. She is now an entertainer and surprised the crowd with a touching song as they lit up the statue for the very first time.
New T-Mobile Arena
The new park is also designed to accommodate the expected overflow of visitors and locals alike who will be attending events at the brand new 20,000 seat T-Mobile Arena- a joint venture between MGM Resorts International and the Anschutz Entertainment Group. It's a fabulous modern space – almost a work of art of its own- absolutely stunning like a huge magenta spaceship. The arena opened on April 6th, 2016 with a concert from well-known local band The Killers and Vegas icon Wayne Newton. And directly across the street from The Park is a brand new 5,000-seat theater under construction at Monte Carlo slated to open later this year.
This entire non-gambling focused development seems to signal a new direction for the city already most famous for its world-class casinos.
www.mgmresorts.com
www.theparkvegas.com
www.t-mobilearena.com
Click on cover to view published article