China
Hong Kong: Pearl of the Far East
Published in the January 2003 Issue of Canadian World Traveller
Photos: Courtesy of Hong Kong Tourist Bureau www.discoverhongkong.com
An exhilarating fusion of East and West, Hong Kong will delight you with its diverse culture and heritage. Shaped by an exciting blend of Chinese and British Colonial history, this modern, sophisticated city is a spectacular study in contrasts and offers excitement at every turn.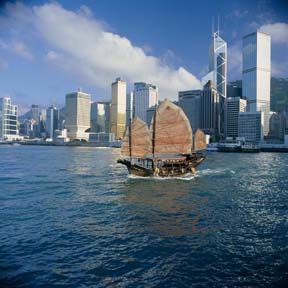 Hong Kong at a Glance
Named Asia's "Best City" by Travel and Leisure, Hong Kong will dazzle you with its vibrant energy, exotic history and heritage. Hong Kong is situated on the southeastern coast of China and spreads out over about 424 square miles, including more than 260 outlying islands. The main areas are Hong Kong Island, Kowloon Peninsula and the New Territories.
Once called a "barren rock" by the British when claimed as a Crown Colony in 1841, this once humble collection of fishing villages soon thrived as a trading port and gateway to mainland China. On July 1, 1997, the world watched as Hong Kong returned to Chinese sovereignty, beginning a new chapter in history.
Heritage and Culture
Hong Kong welcomes you with a fascinating heritage and culture. Immerse yourself in its elaborate festivals and celebrations, hear predictions of a fortune teller, or receive advice from a Feng Shui master. Experience the enduring Chinese traditions that are so embedded in the heart and soul of Hong Kong.
Things to see and do
Things To do in exciting Hong Kong include the Panorama Tour, the Art & Antiques Tour, the Morning Tea & Tai Chi Tour, the Feng Shui Tour, the Tsing Ma – Lantau Monastery Tour, and the Heritage & Architectural Walks. To really get to know a city, you've got to get out and walk around. Hong Kong is full of unexpected sights that are best explored on foot at your own pace. Interesting walks include the Back Streets of Central by the Mid-Levels Escalator, the Sha Tin Walk and the memorable markets of Yau Ma Tei and Mong Kok.
Museums
Hong Kong has museums preserving every facet of its history and arts, both ancient and modern. The largest is the Hong Kong Museum of Art, located on Tsim Sha Tsui's waterfront. It is filled with exhibits from around the world, as well as jade and ceramics from the Han, Ming and Qing dynasties. There are also museums devoted to space, science, history and heritage. A Museum Weekly Pass costs approximately US$4.00 (HK$30). The ticket entitles you to unlimited access to the five museums.
Sighting Tours
From the pulsating city life to the romantic Hong Kong harbour, Victoria Peak and intriguing, time-honquility as you explore one of Hong Kong's 260 beautiful Outlying Islands. Join a tour to Lantau to see the world's largest seated, bronze Buddha. Indulge in one of Lamma Island's seaside seafood restaurants. Hong Kong is an ideal destination for nature lovers, with 40% of the land protected in nature reserves, the perfect place for hiking, running, bird-watching or simply taking a peaceful respite in Hong Kong's fine parks.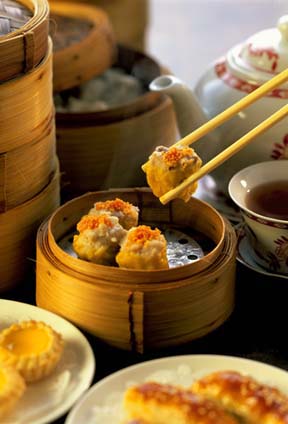 Dining
Hong Kong is a food-lover's paradise, offering international cuisine, as well as the many regional varieties of Chinese cooking. With more than 9,000 eateries to pick from, you can surely find a meal that fits any palate.
Shopping
If you love to shop, Hong Kong is the place to be, with bustling markets and glittering malls offering everything from street bargains and fine international goods to priceless antiques. Most shops are open 7 days a week, and late night shopping is common.
Transportation
Because it's geographically compact, it's easy to get around Hong Kong with it's convenient network of buses, mini-buses, taxis and modern Mass Transit Railway subway system. And no trip to Hong Kong would be complete without a ride on the famous Star Ferry, the Peak Tram, or the cross-island tram (streetcar). Explore the city with the convenience of an Octopus Card and Star Ferry Tram Pass.
Language
English is one of the official languages of Hong Kong – the main language of business and the service industries – and is widely spoken in hotels and other visitor establishments.
Climate
By Canadian standards, Hong Kong is an all-season destination. It has a sub-tropical climate. From March to Mid-May, the average temperature is 23C (humidity 82%). From late May to Mid-September, the average temperature rises to 28C (humidity 80%). From late September to early December the average temperature returns to 23C (humidity 72%) and from late December to February the average temperature is 17C (humidity 72%).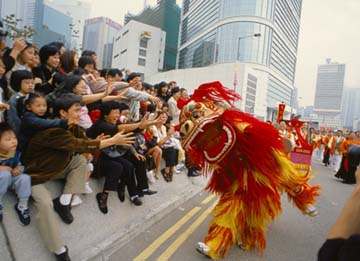 Currency
The Hong Kong dollar is stable and pegged to the U.S. dollar. US$1 to HK$7.8. The current exchange rate is approximately $1.00 Cdn = HK$5.00. Canadian traveler's checks and credit cards are widely accepted.
Evening Entertainment
Hong Kong never sleeps – the pace and diversity that fills the day carries through into the night. Lan Kwai Fong, right in the heart of the Central District, is the premier nightlife neighbourhood. Ambient bistros and delis, jazz clubs and bars spill out onto the pedestrian-friendly streets as Hong Kong's affluent professionals meet and mingle.
Wan Chai throbs with the beat of nightclubs that will take you right through until the very next day and malls, such as Pacific Place in Admiralty and Times Square in Causeway Bay, offer hi-tech cinemas and a variety of restaurants and bars.
On Kowloon side, neon-lit Tsim Sha Tsui is lined with shops, bars, cinemas and restaurants.
Heritage & Architectural Walks
Explore Hong Kong's many historic and modern landmarks at your own pace with the help of a practical walking guide and portable audio equipment, available for rent daily from 8:00 a.m. to 6:00 p.m. The walking tours include Victoria Peak, the Star Ferry, Aberdeen, Tai Chi in the Park, Repulse Bay, Stanley Market and Tin Hau Temple on Hong Kong Island Also included are the Chi Lin Nunnery and the Temple Street Night Market in Kowloon, the Enchanted Wishing Tree in the New Territories, and the Giant Bronze Buddha in the Outlying Islands.
Getting There
With nearly 35 flights from Canada each week, flying into Hong Kong is incredibly easy and convenient. Airlines serving Hong Kong include, Cathay Pacific and Air Canada. A non-stop flight from Vancouver to Hong Kong, is about 12.5 hours. From Montréal, the flight is about 17.5 hours plus a stopover.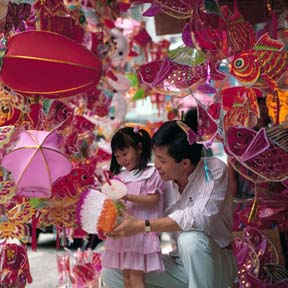 Where To Stay
Reflecting the city's diversity, Hong Kong's hotels accommodate every pocketbook. From legendary five-star hotels with breathtaking views of the famed Fragrant Harbour to major international hotel chains, Hong Kong boasts more than 35,000 rooms to accommodate visitors in comfort and style. And there are a wide variety of guest houses and hostels that will suit the budget-conscious traveller.
Before You Go
Canadian citizens can enter Hong Kong for a period of up to three months without a visa, provided they have a valid passport. Vaccinations are not required for Canadians travelling to Hong Kong.
For More Info:
Hong Kong Tourist Bureau
9 Temperance Street, 3rd Floor
Toronto, Ontario M5H 1Y6
Tel: (416) 366-2389
Toll free: 1-800-563-4582
Fax: (416) 366-1098
E-mail: info@discoverhongkong.com
Website: www.discoverhongkong.com
Embassy of the People's Republic of China to Canada
515 St. Patrick Street,
Ottawa, ON K1N 5H3
Tel.: (613) 789-3434
Fax: (613) 789-1911
E-mail: chinaemb_ca@mfa.gov.cn
Website: www.chinaembassycanada.org
Cathay Pacific Airways
Lester B Pearson International Airport, Terminal 3
PO Box 59,
Toronto AMF, ON L5P 1A2
Toll-Free: 1-800-268-6868
E-mail: See Website
Website: www.cathay.ca