Hangzhou, China
The West Lake City
Published in the Summer 2009 Issue of Canadian World Traveller
By Michael Morcos
Hangzhou has been called one of the most beautiful cities in China. This historic and picturesque city lies near the bay of the same name in East China's Zhejiang Province. Hangzhou is located just 200 km southwest of Shanghai, but its ambience couldn't be more different.
One of its most popular tourist sights is the city's scenic West Lake Area, which is home to some of Hangzhou's most treasured historic edifices as well as being a wonderful setting of natural untouched beauty.
Green City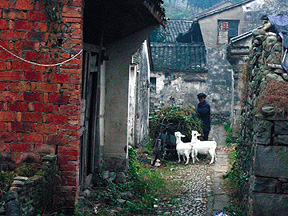 On my visit here, I found subtropical Hangzhou to be an extremely clean and green city.
Trees, shrubs and flowers were found everywhere, as were the city's army of fastidious street cleaners.
Although Hangzhou has recently undergone quite a bit on new urban development, it has still managed to preserve much of its rich historical and cultural heritage for the entire world to see and marvel at!
Hangzhou Bay Bridge
Getting to Hangzhou via the Hangzhou Bay Bridge was a marvel on its own. At 35 kilometres (22 miles), this is one of the longest trans-oceanic bridges in the world.
Construction of the six-expressway-lane bridge started on June 8, 2003 and it was opened to the public five years later on May 1, 2008.
Before the bridge was built a detour of around 400 km (249 miles) was required to circle around the bay. The bay bridge dramatically reduced that distance to just 80 km (50 miles).
Another interesting aspect of the bridge is its 'S' shape, presumably designed to minimize the effects of the stormy weather that seasonally affects the region.
Typhoons are common during August and September but usually only result in strong winds and heavy rains in Hangzhou.
Some say the bridge's 'S' shape was designed to keep drivers alert! Regardless of the reason for its configuration, crossing over this remarkable feat of modern-day engineering was quite the experience.
Town of Tongs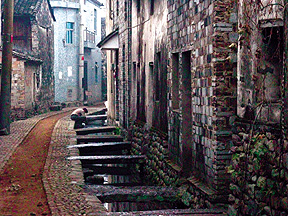 On our way to Hangzhou, we stopped for a short visit at the 760-year-old town of QianTong Guzhen, which was only opened to Westerners in the last decade.
Many of the houses in this ancient town were built during the Ming and Qing dynasties. Considering their age, they were surprisingly well preserved.
Another quite fascinating aspect of QianTong Guzhen is that, of the 2,000-plus families living in this tiny town, 80 percent are named Tong. It wasn't very difficult to figure out how the town got its name!
Hangzhou's Famous West Lake
Hangzhou lies just north of the Qiantang River that flows into Hangzhou Bay. Its central urban population of some two million people are part of greater metropolitan population of four million permanent residents.
The city's historic centre is built around the eastern and northern shores of its famous West Lake. This freshwater lake, which is divided into different sections by narrow causeways, only encompasses an area of about 6 km2. However, many of Hangzhou's historical pagodas, cultural sites and enchanting landscapes are found in the adjacent West Lake Area.
This wonderful inner-city parkland covers over 50 km2 of natural hilly terrain. Hangzhou's West Lake Area is so esteemed as a top-rated scenic resort by all of China that an illustration of the lake was printed on the one-Yuan bill issued by the Central Bank of China in 2004!
A Pagoda Reborn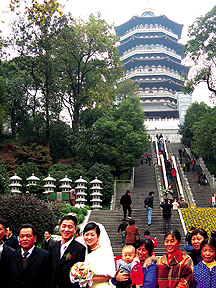 The original Lei Feng Pagoda was constructed in 975 A.D. at the order of Qian Hong Chu, King of Wuyue Kingdom, to celebrate the birth of a son he had fathered with one of his favourite concubines – Huang Fei.
The original five-storey, eight-sided tower, located south of West Lake on Sunset Hill, collapsed in 1924 due to disrepair but was faithfully reconstructed in 2002 out of similar materials of bricks and wood on a solid brick foundation.
We discovered on our visit that many stories surround the original pagoda. These include an episode that happened during the Ming dynasty.
Japanese pirates mistakenly thought the pagoda contained weapons and finding none, set the pagoda on fire.
In another more modern episode, some local people came to believe that bricks from the ancient unprotected tower had special medicinal powers, so they stole them one by one and grinded them into powder.
In light of the colourful history of the original structure, the present Lei Feng Pagoda, which stands on the same site, is one of the most visited of Hangzhou's many attractions.
Temple of Soul's Retreat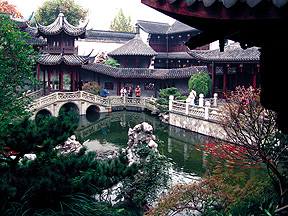 Located northwest of Hangzhou, the Lingyin Temple (literally translated as the Temple of Soul's Retreat) is one of the largest and wealthiest of Buddhist temples in all of China.
This temple of the Chan sect of Chinese Buddhism lies in a narrow valley between Fei Lai Feng (Peak flown from Afar) and North Peak in the Wulin Mountain Range.
A travelling Indian monk Hui Li founded the monastery in 328 AD during the Eastern Jin Dynasty.
At its peak, under the Kingdom of Wuyue (907-978), the temple and its many pavilions, halls and dormitories housed more than 3000 monks.
Many of the incredible Buddhist carvings in the Feilai Feng grottos and surrounding mountainsides date back to this era.
Although Lingyin Temple had always been considered as one of the ten most important temples of the Chan sect, its prominence did not save it from being pillaged during the latter part of the Southern Song Dynasty.
In fact, the temple has been destroyed and rebuilt at least sixteen times over its long and illustrious history, so the current buildings are fairly modern but still impressive restorations.
Today Lingyin Temple is a very popular destination among pilgrims and tourists alike. The carvings in the Feilai Feng grottos alone are worthy of a visit to this intriguing site.
Song City Show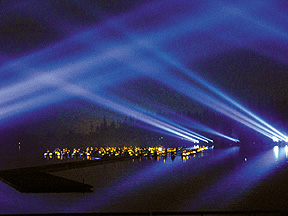 The Song Dynasty ruled China from 1127 to 1279, moving their capital to Hangzhou in 1129. In recognition of this shining moment in its history, the city created this fabulous singing and dancing venue and named it 'The Song Dynasty Town'.
The theatre is open daily, with minor performances held throughout the day. However, the main performance is held only once every day, from 7:30 to 8:30 pm. I soon discovered that I was lucky to have a ticket to the show, judging by the throngs of people trying to buy one.
The opening act billed as 'The Romance of the Song Dynasty' was brilliant. Colourful costumes, dazzling laser lights and polished dancers and actors accompanied by traditional Chinese music added up to a spellbinding show.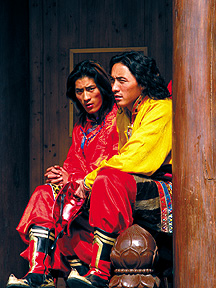 The second act called 'The Battle' was performed in honour of the much-respected General Yue Fei, a renowned general of the Song Dynasty who was killed in action.
This act included live horses running across the stage, real cannons and bomb blasts, ending with the dramatic death of the general.
Several other entertaining acts followed concluding with the performance of 'The World Meets Here' featuring pan-Asian dance acts from China, Japan, Korea, Taiwan and a Bollywood-style Indian dance number.
If you plan to be in Hangzhou, I would suggest that you try to reserve in advance one of the highly prized tickets for this fabulous show!
Lake of a Thousand Islands
My final excursion out of Hangzhou was to the Thousand Islands Lake (also known as Qian Dao Lake), located 150 km west of the city. This man-made lake was created in 1959 when the dam for the New Anjiang Hydroelectric Power Station was constructed.
The lake and the surrounding area has since become one of China's premier scenic spots and its largest national forest park.
As we embarked on our wonderful boat ride on the lake, a recalled that there is an equally famous Ontario resort area near Kingston that bears the same name.
When our cruise got on the way I realised that there really were more than a thousand islands in the lake. These included the beautiful Five Dragon Island, Strange Stone Island, Dragon Mountain Island or Magic Dragon Island. Trust the Chinese to come up with such creative names!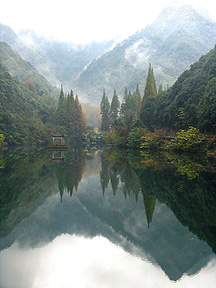 Memories of Green Hangzhou
Admiring the picturesque newly formed islets that we passed by and the verdant forests that surrounded the crystal-clear of the lake, I realised that this was indeed a fitting end to my short stay but eye-opening in green, historic and definitely memorable Hangzhou.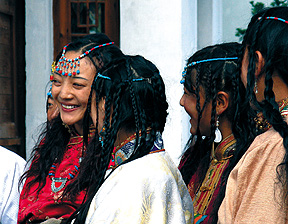 For More Info on Hangzhou:
China National Tourist Office
Tel.: 416-599-6636
Email: cnto@tourismchina-ca.com
Website: www.tourismchina-ca.com