Djibouti
Putting it on the Map
Published in the Winter 2007-08 Issue of Canadian World Traveller
Text and photos by Michael Morcos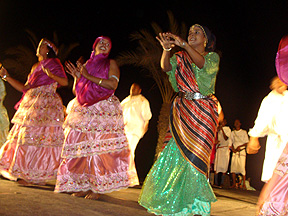 A seven-star hotel; a delicious local vegetarian meal; a calypso concert under a clear, star-studded African sky; a warm comforting ocean breeze; and a cold French beer all awaited me. This was only on my first day in Djibouti and everything was perfect, as was the rest of my visit in this country that I knew so little about.
When my friend Nathalie asked me if I wanted to go to Djibouti, my first thought was, why Djibouti?
This country didn't feature on my list of travel destinations, but I was intrigued and didn't need much convincing. Before I knew it, I was landing in Djibouti City, the country's capital.
Former French Colony
The republic of Djibouti, a former French colony, gained its independence peacefully in 1977. The mostly Islamic country, populated by ethnic Somalis and Afar people, sits at the horn of Africa and borders Ethiopia, Eritrea and Somalia.
Djibouti's coastline runs from the Red Sea to the Gulf of Aden. Yemen, located on the Arabian Peninsula, is only 40 kilometres across the narrow channel through which international ships pass on their way to and from the Suez Canal.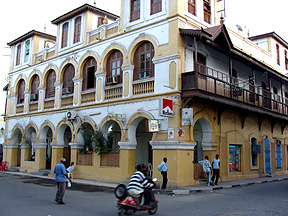 It was the French who established the country's capital city with the agreement of the local inhabitants. This was a strategic port for the French, who used it to re-supply their ships that were in transit to and from the orient.
Most Djiboutians speak some French and French influence is further evidenced by the colonial buildings in the central district of the capital and the style of dress, cuisine and manners of the present-day inhabitants.
Djibouti City
The capital is a fascinating place to get lost in. On many occasions I ventured out with my fellow travellers to stroll through its streets, squares and markets. The people we met were always friendly and helpful. They smiled when we asked for directions and at times would even accompany us to our destination.
Cars were markedly absent, as their high prices and the cost of running them make them unaffordable for most locals.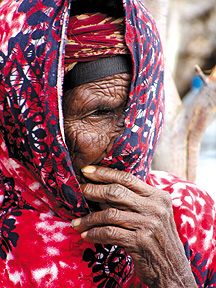 Marché Central
The central market is Djibouti's biggest. Along its hot, dusty streets and small winding alleyways, we met groups of men sitting and chatting together. We also encountered some veiled local women who spoke little or no English or French. We soon realised that some of them took exception to being photographed and we respected their wishes.
A large part of this market is devoted to produce such as fruits, vegetables, spices, dried goods, fresh meats and clothing, but the part that would interest most tourists is the market's arts and crafts section found on Brazzaville Street.
Souvenirs of Africa
I spent many hours walking through the section and haggling over souvenirs and gifts from the wide selection of locally produced and imported articles.
Of particular interest were the colourful decorative handmade Somaliland soapstone dishes and bowls; the Kenyan wood masks; the Tanzanian animal sculptures; and the Djibouti produced necklaces, bracelets and hair ornaments, which were made of camel bone, coral, stones and dried seeds.
My luggage was filled to capacity with my prized acquisitions, but unfortunately, some of them didn't make it home in their original condition and I had to dispose of a few broken pieces.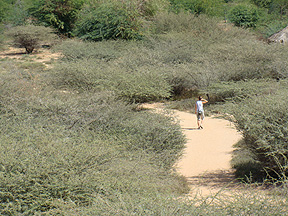 Rare Rain Showers
During our visit, the extremely dry climate of Djibouti was interrupted by two days of short light showers. My new friend Mohammed urged me to buy a lottery ticket since he thought that I was very lucky to have witnessed these two very rare days. He explained that in Djibouti, it only rains once or twice a year, if at all!
The perfect sunny 30ºC January weather, prevailed over the rest of our stay. However, I learnt that summers are unbelievably hot, as the temperature usually rises into the forties.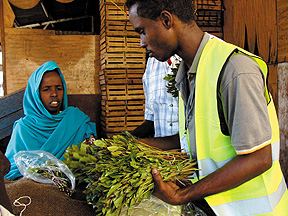 Chewing Khat
In a conversation with one of the locals, he mentioned that alcoholic beverages are shunned in Djibouti. In their stead, more then 80% of the male population uses Khat, a mild stimulant that is chewed.
The green-leafed plant is not even grown in Djibouti. Daily flights from Ethiopia bring in 10,000 tons of Khat, which is quickly distributed throughout the country, as it dries out fast and would not be any good on the following day.
My experience with Khat lasted about 20 seconds. My American friend purchased a small bundle and offered me a few of the leaves. Before long, I was spitting them out, much to the amusement of the Djiboutians who were present.
Camel Caravan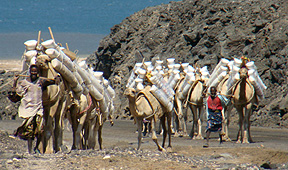 A 90-minute drive out of the city brought us to the edge of the Red Sea and then through bone dry deserts, spectacular rock formations, deep canyons and finally to a salt lake.
Along the way we were treated to the sight of a camel caravan carrying bags of salt. I felt as if transported back to the past century, as this way of trading has not changed since then.
The caravan took a break from their trek in the hot midday sun and without hesitation, we poured out of our tour bus for a close-up look at the salt laden camels and their drivers. The camels seemed bewildered by the clicking sounds of our cameras and the previous serene image of them silhouetted against the desert horizon had become one that looked like a Hollywood set that was invaded by avid fans.
A Salty Lake
The salt lake of Assal, one of the more visited places in Djibouti, is also the lowest point in Africa and the third lowest in the world!
The shores of the lake were a glistening white, while the still waters in the middle were blue, and in some places, as deep as 20 metres.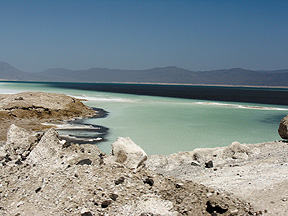 On discovery of this geological marvel, I found myself barefooted and ankle deep in the water, experiencing pangs of pain caused by the sharp salt crystals penetrating my skin.
With two handfuls of my prized salt rocks, I made off like a startled camel only to find that locals were selling much larger pieces on the shore at quite reasonable prices.
Yemen Supper
Djibouti receives quite a bit of influence from its maritime neighbour Yemen. This was evident at the Yemenite restaurant, which offered us warm hospitality and an entertaining dinner show.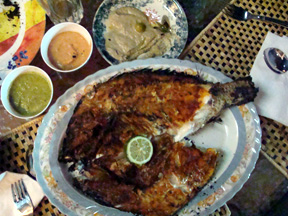 Our first course consisted of hot-out-of-the-oven flat bread accompanied by tasty Middle-Eastern dips.
This was followed by a plate-sized fish that was split down its centre, seasoned and grilled to perfection.
A happy interruption came in the form of male dancers and musicians, dressed in traditional Yemeni costumes, who gave us a memorable and highly entertaining show.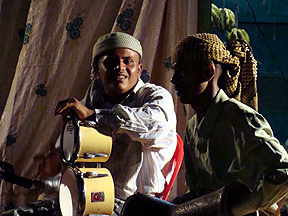 A light desert, Arabic coffee and shishas (water pipes) soon had the guests feeling in step with the rhythms of this perfect evening.
On leaving the restaurant, the performers joined us in an open-air truck and began beating their drums. We all began to sing along which provoked peels of laughter from the locals.
Island of Moucha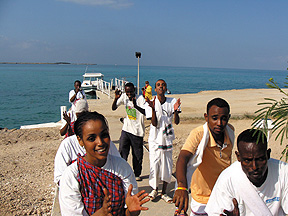 The Island of Moucha is just a 20-minute boat ride from the city. It is a popular venue for snorkelling and scuba diving and my fellow travellers and I spent a relaxing day on this sandy tree-lined island.
On our arrival, Djibouti singers and dancers greeted and entertained us, creating a party-like atmosphere.
A refreshing dip in the salty warm waters and chilled freshly squeezed fruit drinks under shady grass-covered huts made the day complete and added another dimension to our Djibouti adventure.
Kempinski Hotel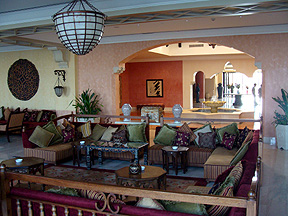 There is no better way to visit Djibouti than to stay at the country's premier hotel. The Kempinski is a traveller's dream come true. For seven nights, this was the comfortable home base that we returned to after our daily excursions.
From my first glimpse of this luxurious ocean-side hotel I knew it would be a challenge to leave. The friendly helpful staff created an ambience that cannot be replicated at home.
The hotel's classic Middle-Eastern décor including marble floors, water fountains, oriental lanterns and bronze, copper, and ceramic decorative pieces.
Previous hotel guests include no less than the President of Djibouti, cabinet ministers and international delegates. On many occasions, troops from France, the US and even the German Navy were treated to a brief relaxing stay en route to their postings in the Middle East.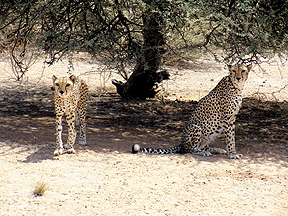 Decan Refuge
The Decan Animal Refuge was just a 30-minute drive from the city, but it brought us to a green oasis which is the temporary home of wild animals that were the victims of smugglers.
The private non-profit refuge is run by French volunteers who made it clear to us that the animals were only being kept there until suitable habitats could be found for them to roam free.
Amongst the many animals in the fenced compound were birds, antelopes and felines. The most striking to me were the six resident cheetahs. Cheetahs are commonly found in Djibouti's forested areas. I was mesmerized by their spotted coats, large heads, long tails and sharp claws. Their long athletic legs and extremely slim bodies are living testaments that they are indeed the fastest land animal. I soon found myself envisioning these beautiful cats in full stride on the open African plains.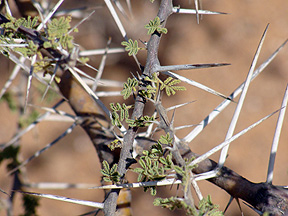 On a walk through the surrounding area I couldn't believe that it hadn't rained for 16 months. The main food source for the herbivores was spiky bushes that seemed in full bloom. It was only later that I learnt that the roots of the trees and plants burrow down more than five meters where they find enough ground water for their survival!
This highly educational visit to the refuge made me realize that there is still a lot to be done in the world to protect our ever-endangered wild life and this place was obviously making a small but valuable contribution to this end.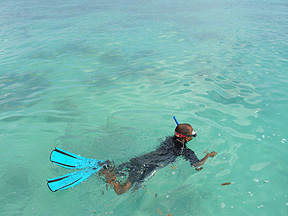 A Diverse Country
Our short seven-day stay in Djibouti was only long enough to be an introduction to this interesting and diverse part of the world.
Still to be experienced is a trip deep into the desert to see Lake Abbe; a visit to the forested hills of the Day Forest, where much of Djibouti's wildlife roams; and an excursion through the archipelago of the Seven Brothers that is filled with marine marvels, including the famous whale shark.
I hope that the highlights of my trip to this little-known country will persuade other world travellers to put Djibouti on their map of unique destinations.
I certainly have and hope to return there in the not too distant future.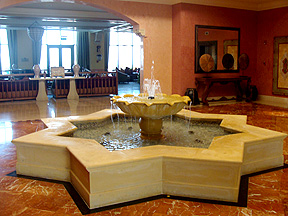 Where to Stay:
Djibouti Palace Kempinski Hotel
Tel: +253 326069
Website: www.kempinski-djibouti.com
For More Info:
Embassy of the Republic of Djibouti
1156 15th Street NW, Suite 515
Washington, D.C., 20005, USA
Tel.: 202-331-0270
Website: www.office-tourisme.dj
Africa Travel Association
Tel.: 212-447-1357
Website: www.africatravelassociation.org