Dominican Republic
The Newest Caribbean Hot Spot
Published in the Winter 2006-07 Issue of Canadian World Traveller
By Tania Tassone
Photos: Tania Tassone / Dominican Republic Tourist Board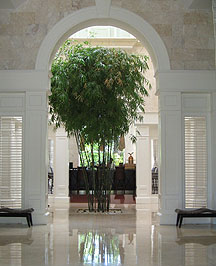 The Dominican Republic has always been considered one of the top Caribbean destinations for Canadians seeking an escape from our harsh winters. With its multitude of all-inclusive resorts, vacationers have been able to revel in its beautiful beaches, endlessly flowing rum and pulsating music, without ever leaving their resort.
But now the Dominican Republic is offering travellers a different type of vacation… one that allows them to feel changed by their experience while also enjoying the luxurious comforts of a genuine five-star holiday destination.
Recently, I had the chance to discover the charms of this beautiful country all over again and was able to pinpoint several outstanding new factors that led to its transformation and rekindled popularity.
Boutique Hotels & Spas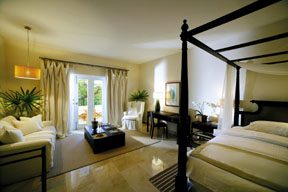 The 'boutique hotel' concept, characterized by upscale amenities, beautiful architecture and interior design and impeccable service, has hit the Dominican Republic at full stream, giving vacationers new options for travelling in style.
An excellent example is Casa Colonial, the only boutique hotel in the Playa Dorada Complex in Puerto Plata.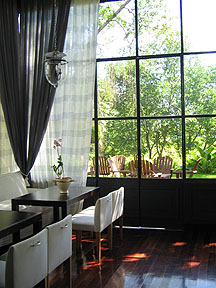 The minute you enter the hotel, you will immediately fall in love with its elegant décor and furnishings, its serene garden and its gorgeous lounge areas. Your body and mind immediately feel at peace.
Villa Serena, another of the Dominican Republic's most luxurious boutique hotels, is not quite as modern as Casa Colonial, but its classical beauty is like no other.
Housed in a former private Victorian mansion near the town of Samana, Villa Serena offers 21 elegantly appointed rooms, each boasting an oceanfront view. Shunning telephones and TVs in its rooms, the villa prides itself in providing a tranquil environment for its guests.
Cultural Outings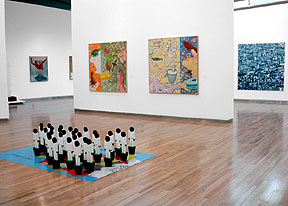 Centro Leon, located in the center of Santiago, is the one site culture lovers should absolutely not miss.
This national cultural center is dedicated to nourishing creativity, conservation and dissemination of all forms of Dominican artistic expression.
Another fascinating cultural experience is a walk through the historic center of Puerto Plata and a visit to the city's world-renowned Amber Museum.
Ecotourism
The Dominican Republic has done an excellent job at embracing ecotourism, an alternative to the often negative effects of mass tourism. Ecotourism helps to preserve fragile ecosystems, conserve endangered species and habitats, safeguard indigenous cultures and develop sustainable local economies.
Among the wide variety of nature-friendly activities are the not-to-be-missed, Whale-watching Tours from January to March at the Silver Bank near Samana. Nothing can beat the experience of watching these 50-ton mammals spouting water 20 feet into the air through their blowholes.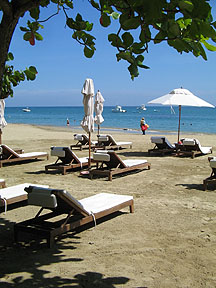 Samana: Paradise Found
Samana, located in Northeastern Dominican Republic (4-hour drive from Santo Domingo or 3-hour drive from Puerto Plata), is widely considered to be the most beautiful, yet relatively unknown resort area of the country.
For those seeking serenity and greater contact with nature, local people and culture, as well as a multitude of ecotourism activities, Samana is a destination unlike any other.
The Casa Marina Bay Resort, located on the Playa Las Galeras coast at the very tip of the Samana peninsula, offers all sorts of activities for the whole family. One of the activities organized by the hotel that you absolutely cannot afford to miss is the 4-wheeling trip to Playa Rincon.
Playa Rincon
The drive takes you through some of Samana's most untouched villages, where local children smile and wave at you continuously. Arriving at Playa Rincon, you stand in awe before the most beautiful and isolated beach you will ever see. Its clear water and gorgeous vistas seem surreal. And its sand is so soft and white that you wish you could lie in it for hours.
Other Not-to-be-missed Tours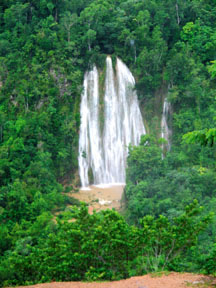 Just a short boat ride across the Bay of Samana is the astounding Cayo Levantado, a small island known for its lush greenery, turquoise waters, white sandy beaches and its 'piatto tipico' consisting of grilled catch-of-the-day fish served up with fresh veggies.
Another not-to-be-missed tour while in Samana is a visit to the Los Haitises National Park. Drive through sugarcane fields, visit strange rock formations and explore pre-Columbian Taino Indian caves.
A thirty-minute ride away, takes you to the little village of El Caffe, known for its cocoa trees. Enjoy a real Dominican lunch in the home of a local family then ride horseback through the mountains to view the remarkable Chute al Limon, a 44-meter high waterfall.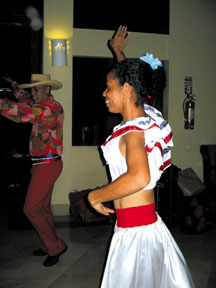 Dominican Cuisine & Music
The tropical flavours of typical Dominican cuisine will blow any food lover away. Among the many dishes that every visitor should try are Salcocho, a hearty dish resembling a stew; fresh fish cooked with coconut; and Mangu, a mashed green-plantain side dish served with meat or fish.
The sounds of the salsa and meringue music make Dominican Republic a nightlife haven. Interestingly, rather than attend traditional night clubs, many Dominicans spend their evenings at outdoor 'car washes'. To blaring music, they dance the night away under the stars. It's hard to resist an invitation to join in the fun.
Direct Samana Access
The newly built Samana International Airport (opened in 2006) now affords direct access to this beautiful region of the Dominican Republic. Air Transat offers direct flights to Samana twice a week from Montreal, Toronto and Vancouver.
Caribbean Hot Spot
Since the 1980s, the Dominican Republic has developed tremendously and is now known as the hottest spot in the Caribbean for very good reasons.
So if you've never been there or have only spent a week or two at one of the more popular resorts in Puerto Plata, remember that there is a whole country to be discovered and I can assure you that you will not leave it unfulfilled!
For More Info About Dominican Republic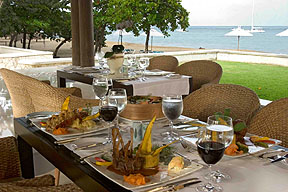 Contact Dominican Republic Tourist Board
Tel.: 514-499-1393 or 514-499-1918
Email: montreal@sectur.gov.do
Websites: www.godominicanrepublic.com
and  www.dominicanrepublic.com 
Getting There
Air Transit
www.airtransat.com