Grenada
Exploring the Spice Isle
Published in the November, 2003 Issue of Canadian World Traveller
Photos Courtesy of Grenada Board of Tourism www.grenadagrenadines.com
Known as "The Spice of the Caribbean," visitors will be enticed by the sweet scents of nutmeg, cinnamon, ginger and vanilla wafting on the balmy breeze. In fact, there are more spices in Grenada per square mile than anywhere else on the planet. Nutmeg is the most abundant spice, and Grenada produces about a third of the world's supply.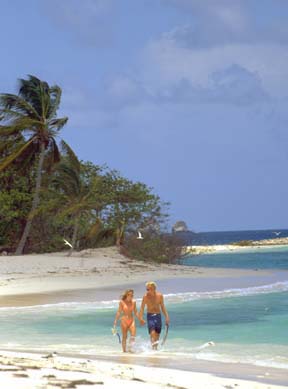 Three Islands in One
This small nation consists of three islands: Grenada, Carriacou and Petite Martinique. Grenada, the largest of the three, is twelve miles (18 km) wide and twenty-one miles (34 km) long. Its 133 square miles are mountainous, volcanic terrain, reaching heights of over 2,750 feet atop Mount St. Catherine.
Its topography provides Grenada with one of the loveliest and most varied environments in the Caribbean, including crater lakes and a variety of plant and animal life. Dwarf forests high atop Mount St. Catherine descend to rainforests at middle altitude, and dry forests in the lowlands. These forests shift to mangrove at the coast, and stunning white sand beaches, brilliant blue water and exquisite coral reefs.
Grenada's smaller sister island Carriacou, is ideal for walking and possesses fine sand beaches and natural harbours and Petite Martinique, Grenada's third and smallest island, is now being developed for visitors.
Picturesque St. George's
Grenada's capital, St. George's, is known as the most picturesque city in the Caribbean. Its horseshoe-shaped harbour is surrounded by a pastel rainbow of dock-side warehouses and the red-tiled roofs of traditional shops and homes. Rich in English, French and West Indian history, St. George's is filled with beautiful well-preserved examples of French and British Colonial architecture.
Location, Climate & Population
Grenada is located in the eastern Caribbean at the southern extremity of the Windward Islands, only 100 miles north of Venezuela. The islands are in the Atlantic Standard Time Zone.
Average temperatures range from 24C to 30C, tempered by the steady and cooling trade winds. The driest season is between January and May. Even during the rainy season, from June to December, it rarely rains for more than an hour at a time and generally not every day.
Approximately 101,400 people inhabit Grenada. The nation's citizens are primarily of African, East-Indian and European descent.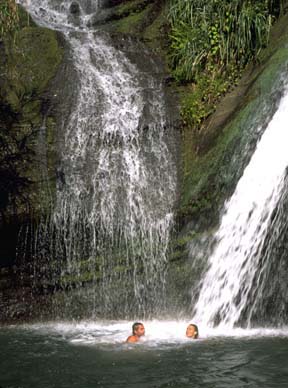 Government, Language & Religion
Grenada is a democratic independent nation within the British Commonwealth. English is the official language but it is not uncommon to hear a French-African patois spoken. Grenada's major religious denominations include the Roman Catholic, Anglican, Presbyterian and Methodist Churches.
History & Culture
On his third voyage to the New World in 1498, Columbus passed by Grenada and named the island Concepcion. In 1609 the British tried to establish a toehold, but were chased off by the cannibalistic native Carib Indians.
Then in 1650, the French came ashore and found themselves battling with the Indians. Rather than submit to European colonisation, the Caribs threw themselves over the edge of cliffs onto the rocks below at Le Morne des Sauteurs.
Over the next century, Britain and France exchanged possession of the island. Finally, in 1783, the Treaty of Versailles awarded Grenada to Britain, but the French heritage lives on in many of the geographical names and in the African-French patois still spoken by many.
In 1967, Grenada gained control of its internal affairs as an associated state within the British Commonwealth. Complete independence was achieved in 1974.
Cuisine & Music
Visitors can indulge in native Grenadian dishes, made from the fresh bountiful produce that is found in the bustling markets, as well as fine international cuisine. Many restaurants feature local specialities such as callaloo soup, a melange of fresh local seafood and meats. Calypso is the music of the native Grenadian. Though the mini-buses now play reggae and pop, it is still the music of choice at Carnival time. In the local Ex-tempore form of music, performers sing impromptu lyrics to standard tunes.
Getting There
Air Canada Vacations operates a weekly service from Toronto to Grenada. Air Transat specialises in charter flights and BWIA (British West Indian Airways) operates flights from Toronto to its Trinidad hub with daily connecting flights to Grenada.
There are a variety of cruise lines which stop in Grenada and visitors who arrive by private yacht have a variety of marinas at which they can dock. Anchorage is available in most inlets and bays.
Visas & Vaccinations
A visa is not required for Canadians and proof of citizenship bearing a photograph is acceptable. No vaccines are required for Canadian visitors.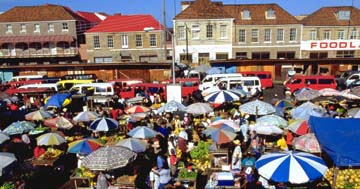 Getting Around
Travelling around is easy, with a variety of car rental companies, taxis and buses. In St. George's, there are even water taxis who will take you across the Carenage, to the Esplande, or even as far as Grand Anse Beach. Most car rental firms also issue local driving permits. There is a network of approximately 650 miles of paved roads and driving is on the LEFT.
Daily Ferry services will carry you from Grenada to the sister islands of Carriacou and Petite Martinique and back, all in one day. Travel by air will get there within half an hour.
Where to Stay
From the grandest luxury hotels and all-inclusive resorts to the smallest inviting guest-houses and inns, Grenada offers accommodations that suit every lifestyle. www.grenadagrenadines.com offers a complete listing.
When to Go
The peak periods for vacation travel to Grenada are the winter months of December to April, together with July and August, when Carnival festivities are held. The peak months for cruise travel are December to April.
What to Wear
Casual, light cottons are ideal during the day; in the evenings, elegantly casual attire is appropriate. Bathing suits or mini shorts should not be worn in the streets or stores. Long pants and hiking shoes are recommended for hiking.
Ecotourism
Grenada remains an unspoiled Caribbean gem through initiatives such as designating one sixth of its land mass to parks, natural sanctuaries and wildlife preserves. Human encroachment is limited to environmentally friendly and ecologically sound activities.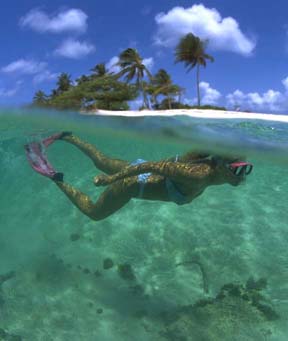 Diving
Grenada offers some of the most extensive and spectacular diving in the Caribbean. The island's sites, include the largest shipwreck in the Caribbean, the Bianca C, Divers, swimmers and snorkelers are greeted by colourful schools of fish, pristine coral reefs and unique varieties of marine life. The "Seahawk" offers a six-day diving cruise around the Grenadines.
Other Water Activities
Swimming in the pristine, safe, reef protected, warm waters off the island is unlike anything in the world. Avid sailors can charter a yacht and deep-sea fishing and whale watching are popular year-round activities.
Historical Sites
History buffs can go back in time through Grenada's colonial past by visiting a number of local landmarks and national museums. The hilltop forts that surround the island are worth a visit. One of the few remaining sugar cane plantations, Antoine Estate, still makes Grenada's famous bay rum the 18th century way.
Festivals & Sports
The annual Spice Mas, Grenada's unique Carnival, is a fusion of French and African traditions that lasts for two weeks in July and August, and the Grenada Spice Jazz Festival in held in May. For armchair athletes, St. George's 16,000-seat stadium hosts frequent cricket and soccer matches.
Weddings
There is no other spot on earth that provides such a lovely setting for a wedding than lush, tropical Grenada, one of the world's true paradise islands. Many of the island's very best establishments offer wedding and honeymoon packages.
Currency & Exchange
The Eastern Caribbean Dollar, linked to the US Dollar, is the local currency.
Major credit cards are accepted by most hotels, car rental companies, and shops. Travellers cheques are accepted everywhere.
For More Info:
Grenada Board of Tourism
439 University Avenue, Suite 920
Toronto, ON M5G 1Y8
Tel.: (416) 595-1339
Fax: (416) 595-8278
E-mail: tourism@grenadaconsulate.com
www.grenadagrenadines.com
Grenada Embassy Services
High Commission for the Eastern Caribbean States
130 Albert Street, Suite 700
Ottawa , ON K1P 5G4
Tel.: (613) 236-8952
Fax: (613) 236-3042
E-mail: echcc@travel-net.com
www.oecs.org/ottawa/consularservices.html
BWIA (British West Indian Airways)
40 Holly Street, Suite 401
Toronto, ON M4S 3C3
Tel.: (905) 676-8431
Toll-Free: 1-800-538-2942
E-mail: mail@bwee.com
www.bwee.com