England
Landmarks, History & Pageantry
Published in the Winter 2008-09 Issue of Canadian World Traveller
By Michael Morcos
By a happy coincidence, we started our visit of Merry Old England on the very same day as the 'trooping the colour' ceremony, an annual event filled with pomp and circumstance held in London to celebrate Queen Elizabeth's official birthday
"Dear, we have to hurry," my wife urged. I replied, "She will just have to wait for us." We both chuckled as we unpacked our bags and prepared ourselves for the Queen's birthday parade.
With not a moment to spare, we make our way to the parade grounds and then through the thick crowds to take part in an event that is nothing short of true British pageantry at its absolutely glorious best!

A Royal Tribute
We witnessed the colourful marching guards and the Queen's Cavalry dressed in their impressive uniforms go by. Then, one by one, the horse-drawn carriages carrying the British royal family followed. Prince Charles with Camilla, the Princes William and Harry and finally a radiant Queen Elisabeth and Prince Philip. The smile on her face was genuine and like a little girl, she waved to the cheering crowds.
What a great way to start a trip to Britain. Our first three days would be spent in London then it would be on to Oxford for three more days and finally to Bath for the remaining two days of our tour.
Along the way, we would visit Stratford-upon-Avon, where we attended a play, visit historic Blenheim Palace and Warwick Castle, drive through the rolling hills and quaint villages of the Cotswolds and have a second chance-encounter with the Queen and the royal family at Windsor Castle before arriving at our most westerly destination, the City of Bath.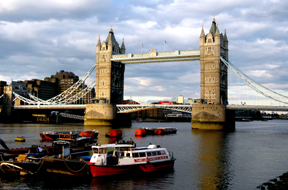 Whirlwind London Tour
This would be my fourth trip to London but the first for my wife. Acting as her personnel tour guide, I would try to show her as much of this great city that our three short days would allow. In the end, we did more than we had hoped to as we walked around the city until neither of us could take another step.
Our first day had already begun with the Queen's parade. From Buckingham Palace we followed the dispersing crowd through St. James Park and ended up in front of London's most recognizable icon, Big Ben. We then continued to Westminster Abbey, only to find out it was closed to visitors. From a distance, we viewed the city's most recent landmark, the London Eye.
By mid-afternoon, we were beat and had an early supper at a traditional English pub and then set off to see a musical in the West End.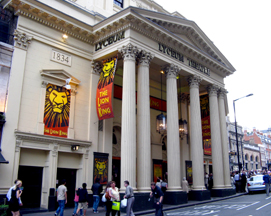 London's West End
The West End is one of the more interesting and animated areas of London. 
It encompasses many of the city's major tourist attractions, including its theatre district, popular shopping streets and a lively nightlife scene.
Our date tonight was with the Lion King at the famous Lucerne Theatre. This would be one of the highlights of our trip.
The stage was set. Here we were in one of the world's exciting capitals, on a Saturday night in London's legendary West End at an historic theatre about to watch one of the world's most renowned musicals. It promised to be a truly memorable evening.
Without having to say much, the Lion King left us dazzled and amazed. The acting and singing was fantastic, the costumes breathtaking and the ambience magnificent.
Attending a play in the West End is a must-do in London. My only regret is that I should have done so on earlier trips, but now I know.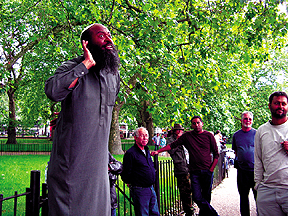 Hyde Park & Speakers' Corner
Sunday is speaker's day in London's Hyde Park and every one is welcome to air their favourite topic.
Even I as a visitor could have spoken on any topic I wanted with out being arrested. No censorship nor license is needed. Anyone can just get up talk. All it would have taken for me to speak there would have be a little courage and sooner or later I would surely have had an avid audience.
The hour we spent there was hilariously entertaining. In one area, a man was lecturing on the essence of believing in God.
Other speakers were engaged in orating about global politics, sex and all the other taboo topics people usually avoid.
Oxford Street
No shopping spree in London would be complete without a trip to Oxford Street. Most of the big department stores are found here, as well as high-end clothing boutiques, souvenir shops and even bargain-priced clothing stores.
Being on a tight schedule meant we would hurry through this famous shopping street but we would still find the time and money for purchasing important items.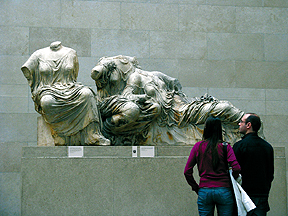 The British Museum
The British Museum is one of England's most visited museums as well as being one of my favourites. As this was my second visit here, I had an idea of what I wanted to see, but as always, this museum is overwhelming and there is just never enough time to view its many rich collections.
The entrance and main hall are breathtaking and are great examples of both Neo-Roman and modern architecture.
One of the best bargains to be had in London is that all British museums and galleries are free of any entrance fees.
Exotic Exhibits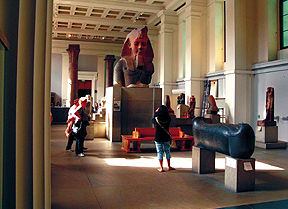 The British Museum's Egyptian collection is my favourite and could very well be the biggest outside Egypt and the so-called Elgin Sculptures brought to England from the Athens Acropolis by Lord Elgin are fascinating but very controversial, as the Greek government wants them back.
Among the museum's many exhibits originating from the four corners of the world, there's something for every taste.
Not having enough time to view them all is the best reason for a return visit to this incredible museum.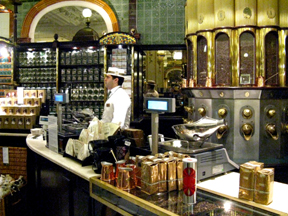 Harrods of London
Could there be another more important department store then Harrods? Well maybe, but this landmark store is one of the best known and a short trip to this store will amaze most visitors.
The department selling gourmet jams and the like is a delightful London experience and a visit to the one selling teas is well worth it, as there is a memorial to the late Princess Diana and Dodi Fayed.
London on the Fly
In the following two days we did manage to do more than expected on such a short stay.
We visited St-Paul's Cathedral, Trafalgar Square and the National Gallery, the Tower of London and Tower Bridge, the Tate Gallery, the Globe Theatre, Kingston Park and the National History Museum.
Having briefly seen all of those world-famous London attractions, we vowed to revisit them all at a future date in a more leisurely fashion.
Wrong Side of the Road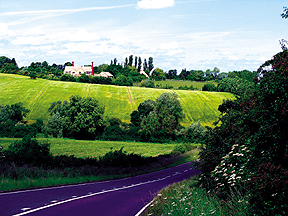 With the London portion of our trip behind us, we rented a car and set out for the countryside on our planned trip to Oxford and Bath but not before I learnt a lesson in British driving.
It would seem that in this part of the world, they drive on the wrong side (i.e. the left side) of the road. It did not take long to find that they were in the right and I was in the wrong.
Our new Mercedes rented car was soon undriveable. I had hit a parked car. Luckily, I only had minor scraps and with the assistance of an extremely helpful car rental company, we were on our way to Oxford with our second Mercedes.
The worst part was deciding how to explain all this to my friends back home!
Oxford Bound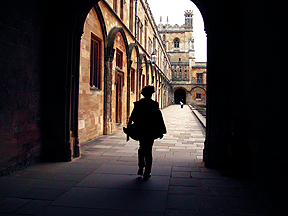 My long awaited dream of visiting this famous university town had finally arrived and it was just as I had envisioned it. It was love at first sight.
Students traversed its quaint little streets and alleyways.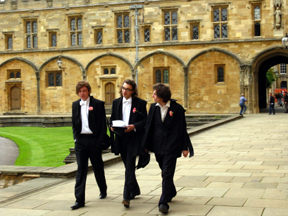 Our hotel, the Bank Hotel, was conveniently located on Oxford's main street, with views of spires and historic buildings in every direction.
This perfect little city would be our home base for the next three nights, as we headed out to explore Oxford itself and also Blenheim Palace and Stratford.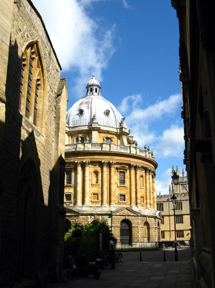 Touring the interior of the colleges was limited to certain hours. This time of the year was exam time.
Every morning I would see students dressed in their black examination robes, rushing off to their respective colleges.
What a sight that was! At times, I felt as if I was in a Harry Potter movie.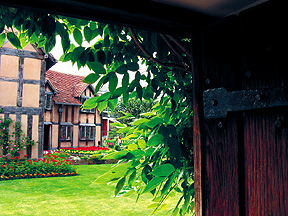 Shakespeare's Birthplace
There is nothing in Stratford more historically important then the great playwright's birthplace.
William Shakespeare was born here in 1564 and became what most consider to be the world's greatest ever dramatist.
His well preserved rustic home and romantic English garden are located in the heart of Stratford and they are the main attraction in this charming English town that sits on the banks of the Avon River.
In Royal Company
We were looking forward to this night. Shakespeare's 'A Midsummer Night's Dream' performed in Stratford by the Royal Shakespeare Company. Perfect!
Honesty though, I was a little disappointed when I first entered the theatre. This was a temporary playhouse being used while the main theatre was undergoing extensive renovations.
The stage? This wasn't the same on which one would normally expect to see such a classic performance. More precisely, there were mirrors along the whole back of the stage and a shiny metallic floor. The actors were dressed in 21st century clothing and used modern lingo.
To put the evening into perspective, at one point I wanted to leave, but as the play progressed I slowly warmed up to the performance and actually started to enjoy this updated version.
So much so that near the end, I wanted it to go on and finally when the house lights went up I wanted even more.
A great success, yes, but where else could this have been so well accomplished than in Shakespeare's birthplace!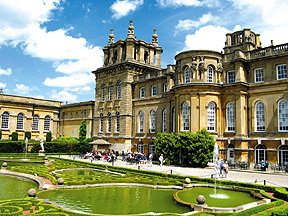 Blenheim Palace
A visit to this exquisite World Heritage Palace made a very memorable day. Not quite as large as France's Chateau Versailles, Blenheim Palace still has all the same feeling of grandeur. Its most notable resident was Sir Winston Churchill.
Even after 300 years, the interior was immaculate. The wonderful hand-painted ceilings, beautiful antique furniture, paintings, sculptures, tapestries and fancy porcelain collections in every room had the visitors looking up and down and in every direction.
Equally grand were the manicured gardens with its spectacular lake, but this is not the kind of place to bring a wife thinking of remodelling ideas for the home!
Windsor Castle
So much castle but such little time. Windsor is the oldest continuously inhabited royal residence in Britain.
Unfortunately, we only had a morning visit of the castle that bears the name of the reigning royal family. Of prime interest was the entrance hall that featured armoury from throughout the ages and colourful coats of arms and flags adoring its walls and ceilings.
Also of interest were St. George's Chapel, with a long history of royals that are buried there, Queen Mary's Dolls house and the State apartments.
That same day, we would again have a fleeting encounter with the entire Royal family attired for one of the year's major social events, the opening horse racing meet at Ascot. However, my wife and I couldn't stop for afternoon tea, as we had to set off for Warwick.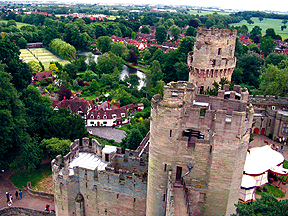 Warwick Castle
This medieval castle, which sits on a cliff overlooking the Avon River, was built by William the Conqueror in 1068.
A few hours spent on its marvellous lofty site that afford spectacular views of the countryside (especially from the castle towers), transports one back to an era one thousand years ago when England was but a mere tiny European nation.
Although the castle has been transformed many times over from its original beginnings with wooden walls, it has been an indomitable fortress throughout the ages. Its grand hall has witnessed many intrigues.
On my visit, I thought of the many important figures that had crossed its thresholds before me and I was awed by the Castle's historical significance. I can now see why it is one of England's most visited castles.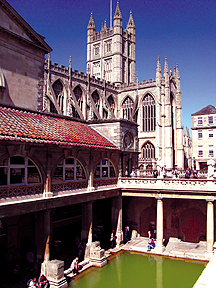 Bath Through the Ages
The earliest developers of Bath were the invading Romans who capitalized on the area's famous natural thermal springs and took great pleasure from them.
It was well known that Roman soldiers were given time out from their regular duties and traveled to bath for some R&R. But the significance of Bath was lost over the centuries and was only re-established in the eighteenth century.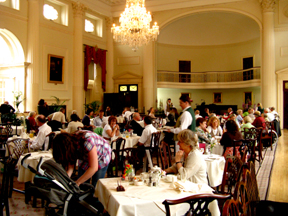 It was during that time that the town became popular as a health spa resort among members of the British royalty and the aristocracy and it was that very age that gave birth to Bath's beautiful Georgian architecture, including its Royal Crescent.
Visitors at that time indulged in a superficial lifestyle, as described in the books of one-time Bath resident Jane Austin.
The Bath pump and tearoom of the Victorian era is connected to the original Roman baths. Once a social hub for the spa community of the time, the richly decorated hall still has a decorative drinking fountain, where tourists can still 'take the waters'.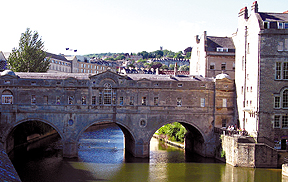 Pulteney Bridge
Another site worth seeing in this charming town is the splendid Bath Abbey located in the heart of town. Close by is the Pulteney Bridge that is lined with shops and has often been compared to Florence's Ponte Vecchio.
The Thermae Bath Spa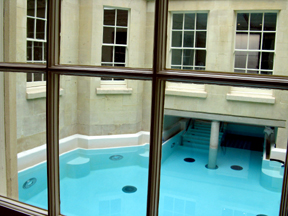 Situated in the centre of town, Thermae Bath Spa is Britain's only natural thermal spa. The water in the pools is from the same source that the Celtics and Romans used some 2000 years ago.
A day or a few hours spent there in the relaxing pools or getting one of the many types of massages offered in the newly-built facilities is good way to relive the joys of a bygone era. We thoroughly enjoyed the warm, relaxing waters of both of the spa's pools.
The indoor pool was quite large and had a whirling motion due to the amounts of natural water passing through it. The outdoor pool was located on the rooftop and had an terrific view over the entire city. This invigorating experience opened both the mind and the appetite.
Cornish Pasty
I did see a resemblance. As a teenager I looked forward to eating Jamaican patties, almost daily. The Cornish pasty looked exactly the same and having tried one at the West Cornwall Pasty Bakery, I would say it was the same as the patty expect for its name.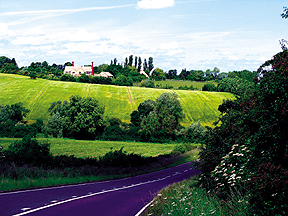 The history of the pasty is not exactly known, but it is believed that it originated in Cornwall (a stone's throw away from Bath) where the recipe can vary to include different types of vegetables in the basic meat filling.
But which came first, the pasty or the patty? If I had to wager money on it, I would say the Cornish pasty predated its new world cousin. Either way the tasty Pasty was a local favourite in Bath and could easily be a meal on its own.
English Farewell Shower
It is ironic that England is known for clouds and rain. In our week in England we experienced some of the best weather that England had to offer, including blue skies and bright sunshine.
But where was the rain? Were we to be denied the complete English experience? Not at all! On our way to the airport it finally came, a whole week's worth in less than an hour. However, this last day like the other days we spent travelling across Southern England was, yes perfect! 
Getting There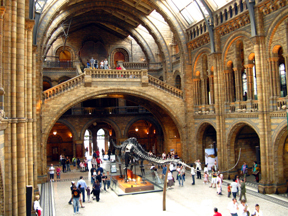 What a delight it was getting to London on a direct flight from Montreal. Our flight on Air Transat was direct and the airline's pleasant and helpful crew made the transatlantic flight enjoyable.
Air Transat, Canada's biggest charter airline, has many seasonal flights from major Canadian cities to several European destinations.
Air Transat
For schedules and fares to London and other European destinations, visit Air Transat at www.airtransat.com.
For More Info
Visit Britain
www.visitbritain.com