France
Rhone-Alps: Region of Contrasts
Published in the Spring 2010 Issue of Canadian World Traveller
By Michael Morcos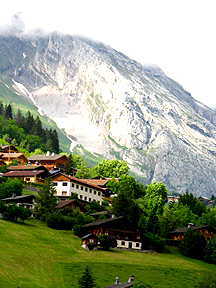 I have been to Paris a dozen times or so and made it to Provence, the Cote D'Azur and the northern French departments.
I have also visited the Austrian, Italian, German and Swiss Alps but I have never been to the Rhone region and the French Alps. I have thought about it for so long that I think it is finally time to go!
My weeklong trip first lands me on the Swiss side of Geneva. A new service by Air Canada would take me from Montreal directly to the heart of the French Alps.
A short drive would bring us to Lake Annecy to discover the charming lake and its many small lakeshore towns. We would then meander through the mountain villages before heading to Lyon and the Beaujolais Region.
Picturesque Lac d'Annecy
Lac Annecy is a fantastic introduction to the French Alps. The town with the same name as the lake is a popular retreat for the French well to do and is also visited by well-known international celebrities.
It just might gain more worldwide recognition if its bid to host the 2018 Winter Olympic Games is successful.
The town centre is like a fairytale setting. Just imagine surrounding mountains with chateaus perched on top, crystal clear waters, medieval buildings and small canals lined with flowers and you would have the recipe for 'Love at first sight'.
Local Trades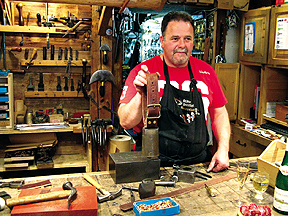 Our tour through the Alps brought us to many different traditional trade shops. Truly, these were remarkable visits as all of the tradesmen were genuinely happy performing their professions and smiled and joked throughout our whole visit.
Such was the case at the bourrelier (leather worker) we visited in the small town of Saint-Jean-de-Sixt. The shop was from another era. This is where bell collars are fashioned for the cows that spend their summer in the mountain meadows.
The process looked very simple once demonstrated. But it was the skilful craftsman that made it appear so.
The process involved cutting a wide strip of rawhide, punching holes in it, placing a buckle on it and attaching a large bell to it. It was incredible that this tradesman had been doing this for decades and still loved his profession.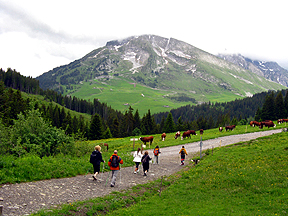 Region of Contrasts
The Alps and this region of Haute Sauvais attract adventure seekers from around the globe. Fresh air and magnificent scenery are the quintessential Alpine France.
In winter, this region is known for it's world-class ski hills and après-ski nightlife. Summertime is equally exciting for outdoor enthusiasts, as there are numerous trails and country roads for Alpine hiking, bungee jumping and treetop walking. On the day we visited we would do it all! 
In the morning we would hike through marvellous mountain pastures greeting and being greeted by cute cartoon-like milking cows. Before we began our trek, we would be shown the proper way to hike, which includes using what looked like ski poles. I never realised hiking was such a demanding sport!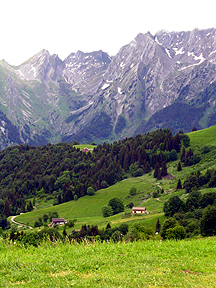 Heart-stopping Thrills
After a quick lunch (in fact, there never is such a thing as a quick lunch in France), we headed out for bungee jumping.
This would be the first as well as the second time for me, as I bravely jumped twice. The first jump was a free fall some hundreds of feet (it felt like hundreds) into (or almost into) a small river, with a heavily treed forest as a backdrop.
If this was not exciting enough I would them jump on a bicycle but not straight down. It would start with an exciting roll down a ramp and then I was airborne.
Two sensations took place: one of soaring through the sky like ET and then the amazing free fall. Our heart-stopping day was not over as yet.
This time we would participate in a locally developed adventure of l'arbre-à-l'arbre, which is basically walking, climbing and swinging through trees with the aid of wires and harnesses.
The whole event is safe once you are harnessed and properly wired, but equally important is making sure you remain that way as you move from area to area in the thick forest.
To my own disbelieve, I actually finished the long course and loved every minute of the physically demanding exercise. One thing is true; it will make your heart pound, your palms sweat and your spirits soar.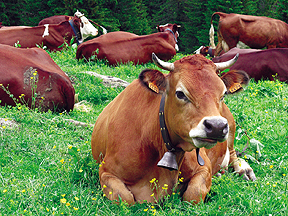 Alpine Cheese Farm
My visit to an Alpine cheese farm felt like stepping into an illustration on a chocolate box cover. The scenery of lush green pastures and the surrounding snow-covered mountains were perfect in every way.
The cowbells echoed in the background while we tasted the freshly made cheeses. The cheese made in this region is Reblochon, which is made from the milk of only three different breeds of cows. If not, it could not be called Reblochon.
Gastronomic Lyon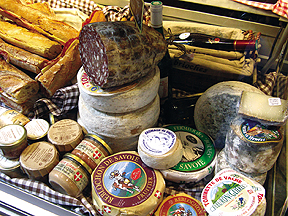 Lyon is known as France's second city. Like its big sister Paris, there is a definite feel of French chic but absent is the noise, traffic and hurried lifestyle of the French capital.
Lyon is also the self-proclaimed gastronomic capital of the world. This is a bold statement that has to be lived up to.
By the end of our three-night stay there, eating in bistros, restaurants and cafés, visiting local markets, chocolate stores and the countryside where the produce is grown, I could understand why Lyon would make such a claim.
Food is not just a necessity of life. In Lyon, it is treated with a great deal of respect. Its presentation in restaurants and markets is considered an art form.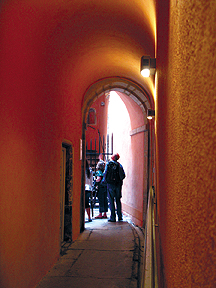 Saving the Old Town
Lyon's Old Town is a designated UNESCO world heritage site, but it took the outcry of its citizens to bring it this coveted acclamation.
At one time, two-thirds of this area was slated to be levelled to make way for a freeway and new construction. God must have been smiling on Lyon, as it was mercifully spared because it is one of the city's most attractive, desirable and fun-filled districts.
During our tour of the city we would climb to the top of Lyon's hill to visit the beautiful historic Cathedral and get a bearing on the city's urban layout.
We would see dozens of bridges that traverse the two large rivers that run through Lyon. On our walk down, we saw the ancient Roman amphitheatre, which is still used for concerts, and a secluded (almost secretive) city park lined with centuries-old trees.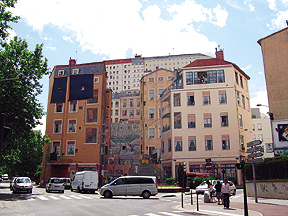 Larger-than-life Art
Lyon is also well known for it hundreds of city-commissioned art murals that cover the whole sides of buildings. This was very interesting seeing art that was (almost) larger then the city itself.
One of my favourites was a scene of a bustling city block filled with cars and people, painted on what would have been the barren side of a large apartment building.
Silk Trade Legacy
The silk trade was once a major industry in Lyon where manufactures would supply the palaces of the kings and queens of many European countries and including the French monarchy at Chateau Versailles.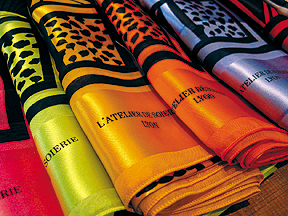 The invention of the synthetic silk-like material 'Rayon' and cheap foreign machine-made imports put a lot of pressure on the industry resulting in the closing of most of Lyon's silk houses.
We did however visit one of the surviving manufactures that still had a niche with the big French and Italian fashion houses and upscale stores. The dying art was alive and well on our brief visit.
The owners gave us demonstrations on the processes of custom silk screening mainly used in the creation of expensive ladies' scarves.
Beaujolais Country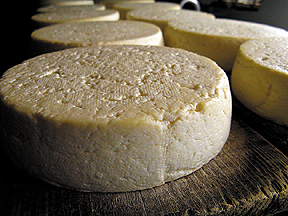 Our drive through this agricultural part of Rhone brought us through endless miles of vineyards, hilltop castles, chateau-hotels, charming towns, small family-run wineries as well as industrial wineries.
Beaujolais is best known internationally for the 'Beaujolais Nouveau' wines but there is much more here than that. 
Our daylong visit started at the George Duboeuf facilities, which included a museum and tour of the gigantic winemaking buildings. In contrast, we visited a family-run winery where we enjoyed an intimate wine and cheese tasting.
We later visited a real 'Countess' who opened up her family castle for us. We also visited a 1000-year hotel that I would best be described as a museum with beds.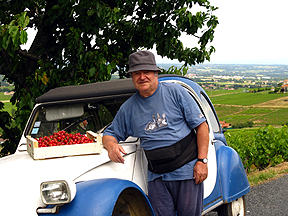 Along the way we even managed to eat a few cherries from an elderly gentleman picking his harvest on a country road.
While Beaujolais is known for its new wine I would best describe it as charmingly old and rustic, with a countryside feeling.
Vive Diversity!
The region of Rhone-Alps is one of 22 such regions that make up France but this region must be one of the country's most diverse.
In one morning you could be high in cool mountain pastures while later on you could be enjoying the warm rolling Beaujolais hills.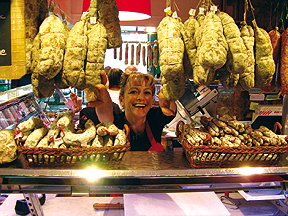 Here, it is possible to have a freshly made Alpine cheese for breakfast than indulge in an evening gastronomic feast in Lyon, all on the same day.
One could ski the world's best mountains during the day then relax in a quaint farmhouse at night.
Rhone-Alps seems to have something to suit everyone's taste. That's why I vowed to return, hopefully sooner than it took me to get there the first time.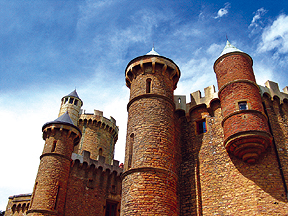 For More Info on the
Rhone-Alps Region of France
Visit:
Rhone-Alps Tourism
www.rhonealpes-tourisme.com