France
Slow and Easy, Life on the Burgundy Canal
Published in the Fall 2010 Issue of Canadian World Traveller
Text by Tom Koppel (koppel@saltspring.com)
Photos by Annie Palovcik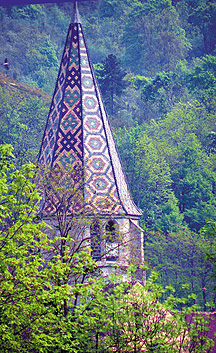 Cruising through rural France is like living within a series of paintings by the famous 19th century impressionists.  The mood is forever evolving with the advancing time of day and variations in the weather.
As our boat rounds each bend on the placid highway of water, the bright and vibrant colours change, as does the fragrant Spring foliage.  It is a feast for the senses.
Pastures full of cattle drift slowly by.  We float through ancient villages with narrow streets, old churches, faded stone walls and stylish tile roofs.
The diffused light, dappled leaves and mirror-like reflections off the still water hint at where artists like Monet, Pissarro and Renoir must have found their inspiration.
Burgundy by Barge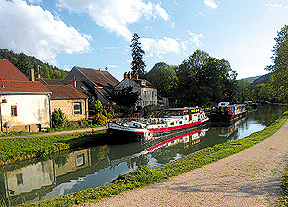 My wife Annie and I have the good fortune to be touring the Burgundy countryside in the most pleasurable way imaginable, spending six laid back days and nights on board a deluxe hotel barge as it navigates a centuries-old canal created mainly to move freight.
There is plenty of time for us to get off the boat, on foot or on bicycle, and without any kind of plan, to explore whatever places or scenes along the waterway may strike us as interesting.  And we savour it all in supreme comfort and luxury.
Arriving in Paris from Vancouver, we sleep off our jetlag at an airport hotel and, the next morning, take the suburban train to the venerable Gare de Lyon station.  There is time to peek into one of the French capital's most famous restaurants, Le Train Bleu, with its liveried waiters and gilded walls graced with amazing frescoes.  Soon we board our TGV high speed train, which whisks us smoothly and almost silently past towering wind turbines and bright yellow fields of canola to Dijon, where our barge awaits us.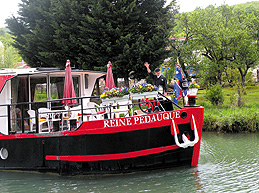 Aboard the Queen
Booked through Texas-based France Cruises and named La Reine Pedauque after a mythical goose-footed queen, the narrow boat, built in 1923 and renovated to provide opulent grace, is 39 metres long. 
The bright main salon is tastefully appointed with comfortable leather couches and armchairs, a well-stocked self-serve cocktail bar that is at the disposal of guests at all times, and a convenient computer nook. 
The dining room has a single large table set with fine china, silver, and glassware.  Our huge stateroom and bath is one of only four double accommodations for a maximum of eight guests.  The cabin is gorgeous, but we find ourselves spending little time there, aside from sleeping.  There is too much to do and see.
Multilingual Crew
Including two solo travelers, we total only six passengers, our tiny group pampered by a staff of five.  And an international group the crew turns out to be.  All of them are French-speaking but also multilingual.
Stephan Peterlini, the boat's pilot, is from Austria but has a French wife.  Kamel Dimassi, the cruise director and maitre d' at lunch and dinner, was born in Tunisia but has lived all his adult life in France.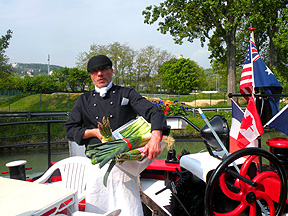 Frederic Barnet, our chef, is Spanish but lives in Germany when not working and sleeping aboard the barge.  Kevin Gosnell, the deckhand, is a Brit who has made France his home for nearly 20 years.  And Fannie Lobry, a young French woman who is soon leaving for Australia to study hotel management, serves as waitress and chambermaid.
A large van leapfrogs along the barge route, day by day, and is nearly always available for side trips, as are several bicycles, which are carried on the barge itself.
Locks and More Locks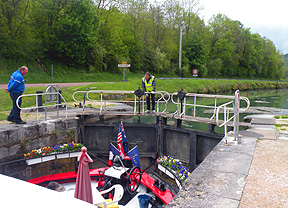 Our boat negotiates 45 locks in all, each one hand-operated by government lockkeepers and requiring fifteen or twenty minutes to raise us several metres.
The route leads upstream from flat land near Dijon into low hills along the narrowing valley of the river Ouche. The canal runs parallel and usually quite close to the river itself, which is shallow and strewn with rocks and rapids.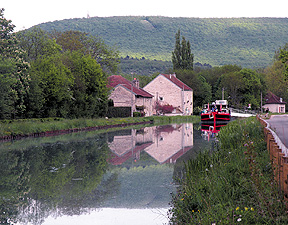 Steering the barge is a tricky business, as I learn when Stephan lets me take the helm for a few minutes.  The canal is narrow, with barely room for barges to pass in opposite directions.
Our boat has been designed to fit into the locks with only centimetres to spare on each side.  Stephan boasts that he scrapes the barge's paint on the lock walls only "occasionally."
On stretches between the frequent locks, the barge travels no faster than several knots, or walking speed, which means that the pace of the entire trip is slow and relaxed.
We can step off safely at any lock and walk or bicycle ahead, using the well-maintained and level towpath, a remnant of the time when animals were used to pull the barges.
Charming Rural Burgundy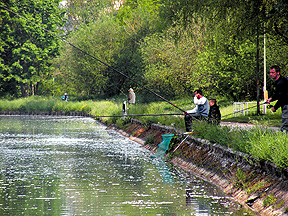 Walking, we find, is a perfect way to explore the many small villages that line the canal and soak up the rich ambience of rural Burgundy.
All along the way we meet people who are sitting by the water fishing, or walking their dogs, or jogging along the mainly soft dirt and gravel of the towpath. Serious cycling teams in matching outfits zip by.
The villages are animated places full of shops, bakeries, restaurants and cafes, where the locals sit out enjoying their drinks and watching life on the canal.
After each stroll, we return to the boat at the next lock ahead.  La Reine Pedauque pulls over to the quay around noon each day for lunch and docks each night in time for dinner.  And what meals those turn out to be!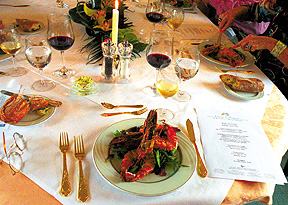 Meals Befitting a Queen
The welcoming dinner begins with an appetizer of scallops in garlic cream and moves on to a main course of steak au poivre flambéed in cognac.
The farewell dinner opens with salmon-creamed caviar and king prawns and features filet mignon with duck liver fois gras.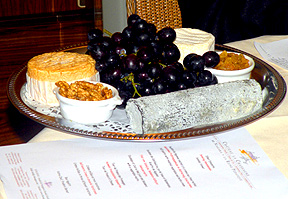 In between are some wonderful fish, lamb and veal dishes, and each dinner ends not only with a sweet dessert, such as fine fruit sorbets, but also a Tour de France of cheeses, three varieties each night from different regions.
Some are truly exquisite.  The most memorable is a strong, runny Burgundy epoisses cheese soaked in cognac and coated in wood ashes, called Aisy Cendre′, that just knocks our socks off.  Its aroma is so strong that it is forbidden on French public transportation.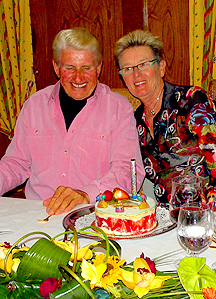 Fine Vintages
Both lunch and dinner are accompanied by wines, red and white, ranging from good to excellent, mainly from Burgundy but including other regions as well.
Two fellow passengers, Glenn and Jane Taylor from Australia, have taken the trip mainly to experience Burgundy's notable pinot noir reds.  While on board, they celebrate their 40th wedding anniversary one evening, the chef providing a gorgeous cake with a big sparkler.
Glenn, a retired businessman and serious wine connoisseur, enjoys expounding on what makes a particular wine great, or in other cases, not so special.  After tasting one fine Bordeaux, he beams and says "this wine could live for 20 years, improving all the while," which is very high praise in his book.
Wine Tasting Cave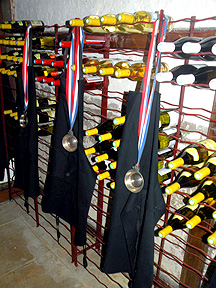 Our itinerary includes several organized outings, two of which feature formal wine tastings.  The highlight is an all-day trip by van to the charming provincial city of Beaune, the centre of Burgundy's wine region.
We descend into the catacombs of a wine "cave," the Marche aux Vins, to sample 16 vintages, mainly reds, including a few with particularly complex and satisfying qualities and retail priced at up to $ 100 a bottle.  Glenn wanders into a high end wine shop and reports spotting one classic priced at over $ 5000.
We lunch at a fine cave-like restaurant, Le Cellier Volnaysien, built into a hillside among the nearby Volnay vineyards, and enjoy two local specialties, tender snails with garlic butter and fragrant coq au vin.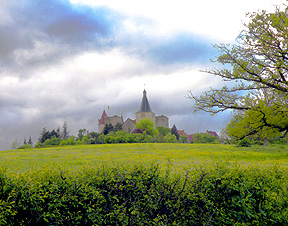 Walled City
Returning to Beaune itself, we tour its architectural delights.  The old town is surrounded by high ancient city walls with closely spaced watch towers.
Dominating its centre is the large and beautifully preserved 15th century hospital, Hotel-Dieu, now a museum, where nuns once cared for patients rich and poor.
A shorter side trip from the canal takes us to a medieval, fortified town perched on a hilltop, Chateauneuf en Auxois.  It features an imposing castle, built beginning in the 12th century, surrounded by a moat and with a view commanding the river valley and sprawling fields below.  No rival army could have taken this refuge by surprise.
The narrow cobblestone streets are lined with old houses now owned as summer and weekend residences by people from all over Europe, especially nearby Switzerland.
Medieval Dijon
All too soon, our barge docks for the final evening.  Next morning, the van drives us back to Dijon, where the city's Tourism Office has arranged for a private guided walk through the downtown core to view the spectacular medieval architecture
The most striking buildings are the huge palaces of the Dukes of Burgundy, some of whom in the 14th and 15th centuries were wealthier and more powerful than the kings of France themselves.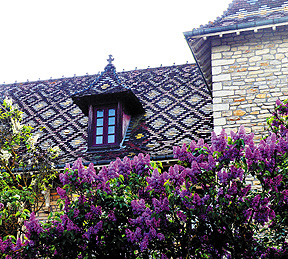 As in Beaune, many roofs are crowned with bright, multi-coloured glazed tiles arranged in dramatic geometric patterns. 
We stay that night in the stately old hotel La Cloche, now part of the Sofitel chain, and in the morning stroll through the huge central market.  It features a cornucopia of regional and imported fruits and vegetables, including the fat white asparagus that happens to be in season.
There is also an impressive selection of fish and shellfish, even though we are far from the ocean.  Well, in France food is obviously an art form.
Paris Sojourn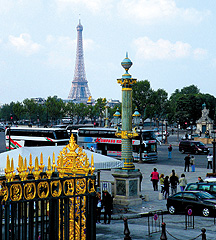 Returning to Paris for a few glorious days, we explore some of the obligatory landmark attractions such as the Orsay museum, Notre Dame cathedral and the heights of Montmartre.  Annie has never been to Paris before.  I spent a month here as a student decades ago, improving my school French at the Alliance Française and roughing it in a bare-bones university dormitory.  But this is entirely different. 
We stay at a cozy yet elegant boutique hotel, the Saint-Paul Rive-Gauche, which is run by a couple of British women.  Our room is graced with old exposed wooden beams and looks out on a quiet and narrow Left Bank side street.  There is a charming basement room for the buffet breakfast, and a fluffy cat named Sputnik monopolizes the best armchair in the lobby.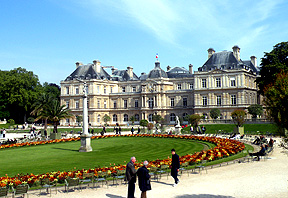 Although only a block from the noise and tourist bustle of the Boulevard Saint-Michel, the hotel belongs to a relaxed and friendly neighbourhood.
Along the street are a bakery, where we buy baguettes, a tiny wine shop with five indoor stools and a few outdoor tables, even a Laundromat and a first-rate English language used bookstore.
The street dead-ends at the beautifully landscaped Luxembourg gardens, where couples push baby carriages, local residents practice yoga and tai chi, and children rent model boats to sail on the waters of the large central fountain.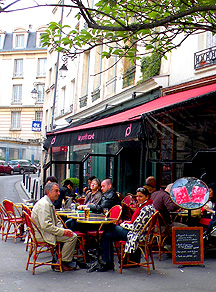 A Final Repast
Also within a few blocks are many good and surprisingly affordable small restaurants.  Our last meal before departing is lunch at a modest little place called Au Beaujolais, just off the Boulevard Saint-Germain des Pres, where I indulge in a big bowl of delicious steamed mussels.
The proprietor flaunts his English, which is laced with American slang.  "What part of the States are you from," he asks eventually.  "Actually, we're from Canada."  "Well," he quips, "nobody's perfect."
We laugh, but heading for the airport, we realize with satisfaction that our visit to France has been just about as close to perfect as we could ever have wished.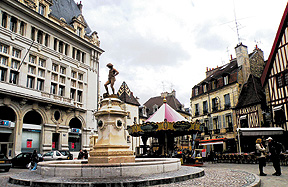 If You Go
France Cruises of San Antonio Texas offers a wide selection of barge and other boat trips on canals and rivers throughout France. Toll free 1 866 498 3920
http://www.FranceCruises.com
The Hotel Saint-Paul Rive-Gauche offers affordable elegance in the heart of the Left Bank.  http://www.hotelsaintpaulparis.com
If traveling anywhere near Burgundy, spending a day or two in Dijon is well worth it.
For information, contact the Dijon Tourism Office
http://www.dijon-tourism.com