Germany
Munich at its Best:  Small-Town Charm and Free-Flowing Beer 
by Rick Steves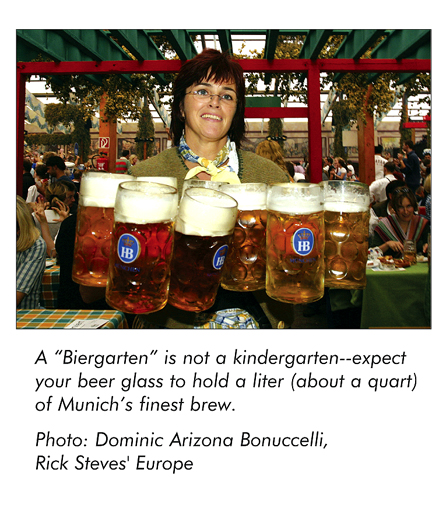 Despite its population of 1.4 million, Munich (or "München," as it's called in German) feels small. This big-city elegance is possible, in part, because of its determination to be pedestrian- and bike-friendly, and because of a law that no building can be taller than its church spires. There's ongoing debate about changing this policy, but there are still no skyscrapers in downtown Munich.
Walking through Munich, you'll understand why it is consistently voted one of Germany's most livable cities–safe, clean, cultured, a university town, built on a people scale, and close to the beauties of nature. Though it's the capital of Bavaria and a major metropolis, Munich's low-key atmosphere has led Germans to dub it "Millionendorf"–the "village of a million people."
Dawdling in the sunlit main square called Marienplatz ("Mary's Square"), I love to take in the ornate facades of the gray, pointy Old Town Hall and the Neo-Gothic New Town Hall, with its beloved glockenspiel–only 100 years old–that recreates a royal wedding from the 16th century.
Nearby, you can experience small-town Munich at the Viktualienmarkt, long a favorite with locals for fresh produce and friendly service. While this expensive real estate could have been overrun by fast food places, Munich keeps the rent low so these old-time shops can carry on.
The oldest church in town, St. Peter's, a few steps from Marienplatz, is part of the soul of the city (according to a popular song, "Munich is not Munich without St. Peter's"). And wherever you walk, you'll see the twin onion domes of the Frauenkirche, the city's iconic church. Along with much of Munich, the church was badly damaged in World War II, then lovingly rebuilt and gloriously restored.
After the war, people who lived in Germany's heavily bombed cities debated how they'd rebuild. Should they reconstruct the old towns, or bulldoze and start over from scratch? Frankfurt voted to go modern (and is today nicknamed "Germany's Manhattan"), but the people of Munich rebuilt their old town center.
City leaders took care to preserve Munich's original street plan and recreate the medieval steeples, Neo-Gothic facades, and Neoclassical buildings. They blocked off the city center to cars, built the people-friendly U-Bahn (subway) system, and opened up Europe's first pedestrian-only zone–which let's you stroll peacefully right through the old center. Only now, more than 70 years after the last bombs fell, are the restorations finally wrapped up.
As Germany's beer capital, Munich offers classic beer halls complete with cheap food, noisy fun, oompah music, and rivers of beer. While the boisterous and belching Bavarian atmosphere can be extremely touristy, everybody's having a great time. Connoisseurs have their favorite brews–and to get it, they simply go to the beer hall that serves it.
When I was in Munich recently, my local guide, Georg, took me to his favorite beer hall, Der Pschorr. At some beer gardens, they have a big wooden keg out on display, but actually draw the beer from huge stainless-steel dispensers. At Der Pschorr, every few minutes you hear a "whop" as they tap a classic old wooden keg. Hearing this, every German there knows they're in for a good fresh mug.
I asked if they sell half-liters. Georg said, "This is a 'Biergarten,' not a kindergarten!" He ordered us each the standard full Mass, or liter glass (about a quart, nearly what we'd call "ein pitcher"–but it's meant for one person). Waitresses carry armloads of these heavy mugs seemingly with ease.
While we enjoyed our time at Der Pschorr, first-time visitors shouldn't miss the Hofbräuhaus, a place that really lives up to the name "beer hall." Although it's grotesquely touristy, it's a Munich must. The smoke-stained ceiling, repaired and repainted after WWII bomb damage, is an evocative mesh of 1950s German mod–Bavarian colors, chestnuts, food, drink, and musical themes.
There are plenty of other intoxicating Munich beer halls. Spatenhaus is the opera-goers' beer hall, serving more elegant food in a traditional setting on the square facing the opera and palace. The trendy Andechser am Dom, at the rear of the Frauenkirche, serves Andechs beer–my favorite–and great food to appreciative regulars. Nürnberger Bratwurst Glöckl am Dom, just across from Andechser am Dom, is popular with tourists for its delightful little sausages. Dine outside under the trees or in the dark, medieval, cozy interior–patrolled by wenches and spiked with antlers.
The partying gets turned up a notch every fall, when the city celebrates Oktoberfest. The festival lasts just over two weeks (Sept. 17–Oct. 3 in 2016), starting on the third Saturday in September and usually ending on the first Sunday in October (but never before Oct. 3–the day Germany celebrates its reunification).
Oktoberfest kicks things off with an opening parade of almost 8,000 participants. Every night, it fills 32 beer tents with more than 100,000 people. A million gallons of beer later, they roast the last ox.
The Theresienwiese fairground (south of the main train station), known as the Wies'n, erupts in a frenzy of rides, dancing, and strangers strolling arm-in-arm down rows of picnic tables, while the beer god stirs tons of brew, pretzels, and wurst in a bubbling cauldron of fun. The triple-loop roller coaster must be the wildest on earth (best before the beer-drinking).
Munich is so into its beer culture that it even has a Beer and Oktoberfest Museum, which tells the origins of the city's Oktoberfest celebration. While it may be a museum, the exhibit comes with a malty bias and seems designed to make two points: beer is truly a people's drink, and you'll get the very best here in Munich.
Wandering through the legions of happy, companionable drinkers in the beer halls and enjoying the relaxed, small-town atmosphere of the Marienplatz, I mused that Munich is about as gemütlich as it gets. Gemütlich is a unique word for Bavaria's special coziness and its knack for savoring the moment. You can feel it anytime you spend an evening clinking frothy mugs with new friends, or wandering the atmospheric lanes of this city that respects its past while looking energetically into the future.
© 2016 Rick Steves' Europe. All rights reserved.
Rick Steves (www.ricksteves.com) writes European travel guidebooks and hosts travel shows on public television and public radio. Email him at rick@ricksteves.com.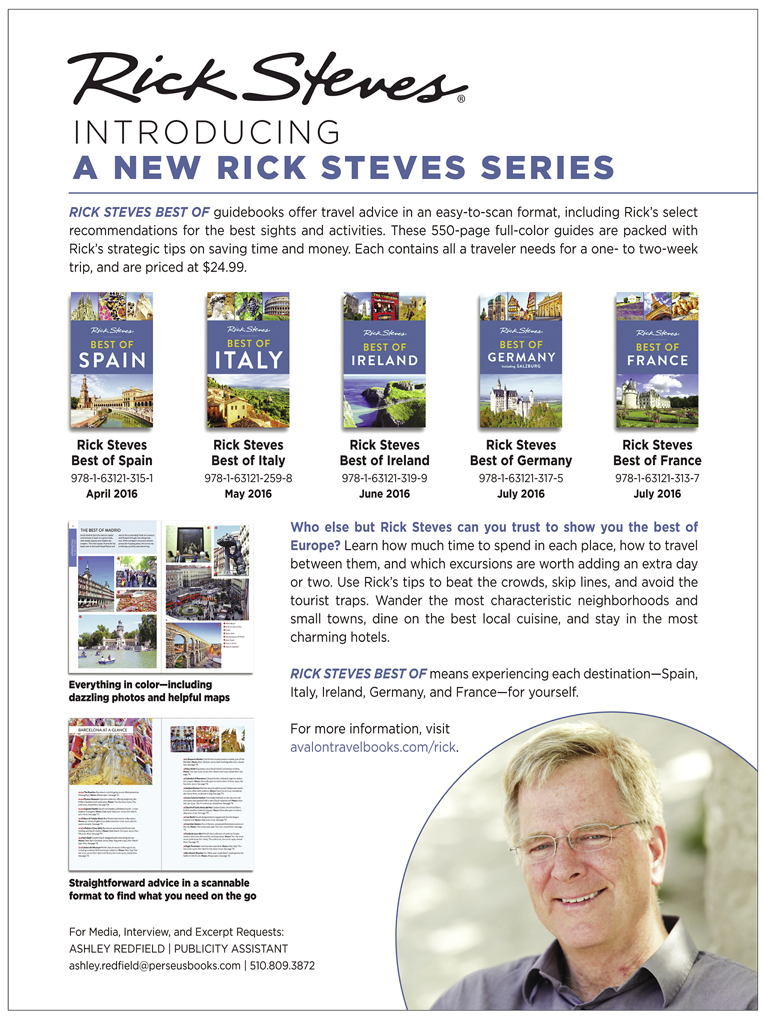 Click on cover to view published article