India
More than a journey… a life experience.
Published in the Spring 2008 Issue of Canadian World Traveller
Text and Photos by Michael Morcos
There is a reason why the slogan "Incredible India!" is used to promote India. It is because there are literally no better words to describe this unbelievable country.
My long awaited twelve-day trip through central India was definitely an educational and enlightening experience. Every day was a new day of discovery and like a child at the circus eagerly awaiting the next act I found all my senses filled. India was more than a vacation destination, more than a trip… it was a life experience.
My first guide said, "India is a spiritual journey." That stopped me. It wasn't until my second guide echoed the exact same words that it made me want to find out what exactly they meant.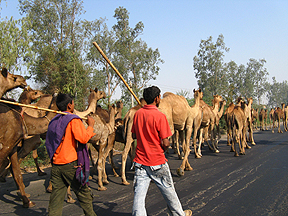 State of Gujarat
Situated on the Arabian Sea in central India, the state of Gujarat is often overlooked by travellers but there is plenty to see and do in this hot and arid part of the sub-content.
Our first day in Ahmedabad would start with a two-hour car ride to see the fabulous Modhera Sun temple. Along the way I was thrilled by the landscape and rural village life including camel caravans, goat shepherds and water buffalo ranchers. 
The Sun temple was conspicuously devoid of people. I had this hidden gem all to myself. Precisely built in an east-west direction, sunrays would hit the centre of an inner chamber at high noon everyday. 
A large water basin dominated the area with elaborate carvings in the steps leading down to the fresh water reserve. The temples too were decorated with richly carved images of deities.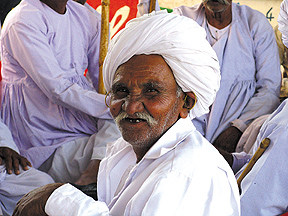 Indian Cowboy
Lunching at a nearby restaurant, a group of men dressed in white linens and turbans congregated in the shaded outdoor terrace. They were having animated conversations while sipping tea.
This intrigued me enough to ask my guide for an explanation as to who they were. 'Indian cowboys' was her response. That brought a smile to my face.
It seemed that these were local cow owners (ranchers) that met on occasion to discuss their affairs. So totally absorbed were they that I sheepishly interrupted to ask permission to take pictures and received a humble welcome to do so.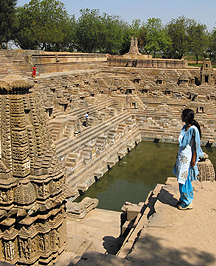 Gujarat Step Wells
The Gujarat Step Wells would be yet another amazing place to visit in the area. Again, I had this heritage site all to myself. This football size complex was mostly underground. Seven stories deep, the red sandstone walls and pillars had some 800 elaborately detailed carvings all the way down to the fresh water table. 
To my surprise there were other step wells in the area as we visited one closer to Ahmedabad. Most step wells were no longer in use and were now protected as heritage sites. The purpose of these wells was to provide a place of rest and replenishment for weary travellers. At the end of the day they would have a source of water for washing and drinking before another day of travel.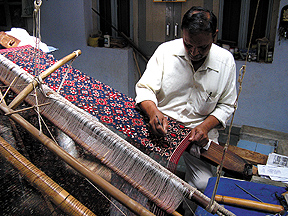 Beautiful Art of Dyeing
A side trip to the town of Patan brought us to a special home of a family that produced silk Patolas (saris) in a traditional and very labour intensive way. This process was once common and the people skilled with this craft many but there is but a couple of families left keeping the art form alive. 
The Patola that was to be weaved by two different threads both horizontally and vertically was first dyed with all natural colours at the precise place the two threads would meet.
I could not imagine the patience it took to weave large pieces. Mistakes were not permitted, as this would render the piece useless and the months of labour producing the piece lost. Waiting time for a specially made Patola is an astonishing six years. Again, I was struck by the people's humility and kindness.
My second and last day in Ahmedabad, would prove to be very full. Our morning started at the Siddi Saiyad Mosque, a very simple building open to the elements.
The most striking feature was the 'Tree of Life' carving over one of the doorways. It was made out of one piece of stone with extraordinary detailled openings that let light shine through it.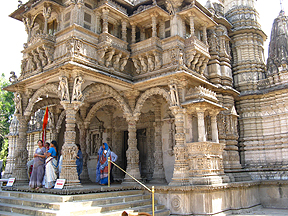 Also interesting, was the intricately carved Hatheesing Hindu temple dedicated to Dharmanath.
This Hindu temple was of the Jain sect, a people who believed in non-violence and were vegetarian. 
The most orthodox of this sect would not even eat potatoes and onions because they believed it caused great pain to these plants when uprooted.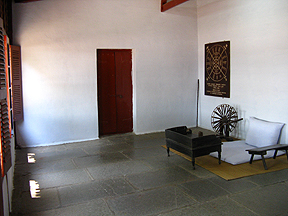 Gandhi's Ashram
Having watched the movie 'Gandhi' before leaving on my trip, I found the Sabarmati Ashram where Mahatma Gandhi lived for fifteen years a very interesting place.
Situated in a quiet area by the riverfront, the complex had a museum dedicated to the life of the 'Father of India'. His cottage was a very simple structure while his personal room only had a few items. I also learned the famous 200-mile 'Salt March' was started from this area.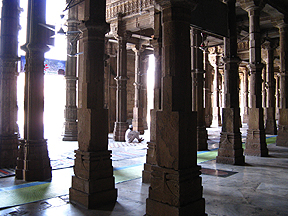 Other places of interest visited were the historical Jami Masjid Mosque which Sultan Ahmed Shah built in 1423, the Rani Sipri mosque with its beautiful facade and slender minarets, and the Colico museum, a very important textile museum that housed royal tents, carpets, cloth paintings and costumes.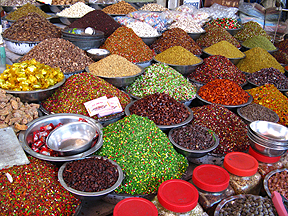 The old town found inside the city walls is a trip back in time with its small streets, spice market and bazaar atmosphere.
Mumbai
My stay in Mumbai was limited to only two nights, which is surely not enough time for this cosmopolitan city, but I still managed to visit very important and interesting places.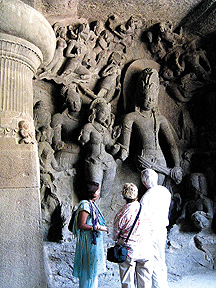 Elephanta Island
A 45-minute boat trip from the Mumbai harbour brought us to Elephanta Island to see a remarkable UNESCO world heritage site.
The cave temple that is dedicated to Lord Shiva was located 125 steps up a steep hill where many exquisite statues were etched right into the mountain. I marvelled at the details in the many huge art pieces that depicted the Hindu god Shiva in many well-known Hindu stories.
Shamefully, Portuguese soldiers used these masterpieces for target practice and broke many statues. The three-headed Shiva statue Mahesamurti, the largest sculpture, found in the back of the cave was spared due to it being concealed behind large wooden doors.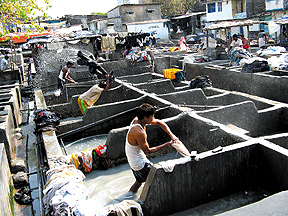 Dhobi Ghat
An interesting visit to the local Dhobi Ghat (Laundromat) saw many young men working hard cleaning clothes. Workers would clean all the clothes individually by soaking the garment in soapy water and then beating them on a hard surface.
In a different area the clothes were placed on lines to be air dried in the hot sun. This scenario repeated itself many times over and I could not help but think how strong and fit these men must be to do all this manual work day after day
Interesting Schoolhouse
Next to the Laundromat was an old-fashioned schoolhouse. I noted how simple the classroom was and the amount of primary school students that packed the small room.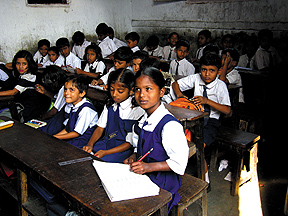 Boys and girls shared wooden benches and worked harmoniously with each other. I lingered watching them smiling as I did so, remembering my own early school years when life was much simpler and the world was an innocent place.
Hanging Park
The city water reserve was found at the highest point in Mumbai. It also doubled as one of the city's best-kept parks. This area was in the more affluent part of town as apartments were beyond the affordability of even most westerners.
From the tree lined park there were spectacular views of the Mumbai ocean front and the boulevard named 'the queens necklaces' that winds its way in a semi-circle as far as the eye could see.
Victoria Terminus
The Victoria Terminus was yet another UNESCO world heritage site in Mumbai that I visited on the same day. This was a stunning Victorian Gothic building made mostly of red bricks but also had stone carvings, stained glass windows and statues, all exquisitely detailed.
A very unique building, I appreciated the many arches, oriental style domes and spires. This busy train station has a mind boggling 1000 trains and two million passengers go through it daily.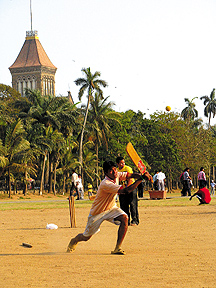 Oval Ground
While inching along in the late afternoon traffic I was intrigued by an extra large field where many young men were playing cricket.
In haste I asked my driver to pull over and I dashed through the cars to witness India's most popular sport being played by tomorrow's stars.
With the British style architecture of the Bombay high court and the Bombay University towers as a back drop, palm trees lining the perimeter of the grounds, the ever enthusiastic amateur players played in the hot sun. It felt like a quintessential Mumbai moment.
Gandhi's Bombay Home
In as little as two days I was now visiting the second place of residence of Gandhi. Like his home in Ahmadabad, his living quarters were very simple and were kept just as he had lived.
A small room with a balcony had only a frameless thin bed, a small table and his famous spinning wheel. This was yet another lesson learned about the simple life.
Madhya Pradesh
The State of Madhya Pradesh located in central India has much to offer the visitor and like the state of Gujarat, it too is often overlooked.
This state has two mountain ranges and prides itself on having some of the most forested areas in India including two national parks teaming with wildlife including the Indian tiger.
In my new area of discovery I would visit among many things a memorable temple in Indore, the great Stupa of Sanchi, the Bhimbetka caves and experience the easygoing atmosphere of Bhopal.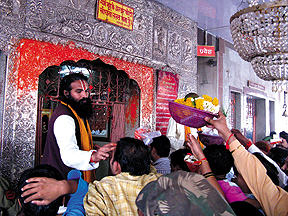 Indore Temple Experience
The Khajrana Ganesh Hindu Temple in Indore was a far different experience than my earlier visits to the previously mentioned sparsely populated temples.
I could not believe the amount of people here and it was only mid-week! I later found out the numbers swell up to 20,000 people on the holiday.
The large temple area had many smaller places of worship, each one with a different Hindu god. In each one I was greeted with smiles and given small gifts.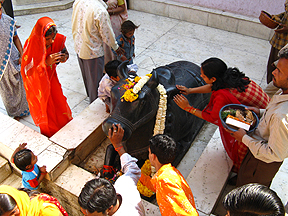 In the main central temple I was honoured to meet the main Guru who waved me over past the guards. He first placed a large fresh flower reef around my neck, then sweets in my hand and finally tied a cloth band on my wrist.
I found out from my guide this was the band of god and it would help me attain my goals. I was also informed that this band must be disposed of properly and not just thrown away. This meant throwing it into a certain specific river for example. I have not disposed of mine as yet. I still wear it to this day.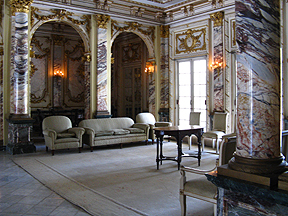 Other Indore Highlights
Another very interesting place I visited in Indore was the Central Museum with a superb and diverse collection of Indian and Western art.
Lalbag Palace was very impressive in its interior structure, particularly the grand ballroom.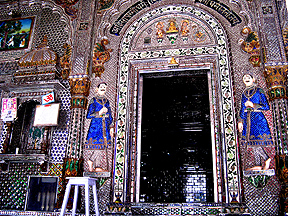 Kanch Mamdir Temple had an amazing interior made of small coloured glass pieces and small mosaic mirror pieces that gave off a surreal feel while in there.
The old town is a fascinating place to walk around at night and is famous for street food and gold and silver merchants.
Continued in Part Two
Join us in part two publisher in our summer issue as we continue our journey through India visiting such places as Sanchi, Bhopal, Delhi and Agra.
If you go:
India Tourism
60 Bloor Street W. Suite 1003
Toronto, ON M4W 3B8
Tel.: 416-962-3787
Email: indiatourism@bellnet.ca
www.incredibleindia.org