Vietnam
Paddling and Pedaling through Vietnam 
by Ruth Atherley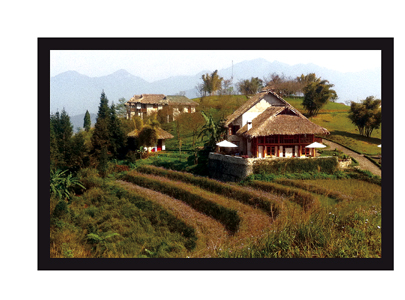 Like many people 40 and over, my travel expectations are different than they were when I was younger. And I'm not just talking about upping the number of stars of the accommodation or travelling business class (although those are the nice little perks of having a bit more money). These days, my focus is less about cost and nightlife and more on finding authentic experiences. I want to learn about the culture, engage with locals (not just people set up to entertain tourists), and to feel like I am connecting with others who certainly live a different life than me, but who – on a human level – aren't so different after all.
While I love checking out iconic sites and activities and visiting museums, I also want to go off the beaten path and push myself a little (I said "a little" – let's be real, I am on vacation!). I want to go beyond the all-inclusive resort and away from where the big tour buses roam, while working off those extra "doesn't this taste great" calories and local beverages. I really don't want to gain weight on vacation. Most importantly – I want to be where the locals are, to experience a moment in their life.
To accomplish all of this, my husband and I took a BikeHike Adventures tour of Vietnam. BikeHike has a range of tours – strenuous, challenging, moderate and easy. Our tour was moderate, which means you need a reasonable fitness level because you bike, kayak or hike for up to five hours a day. Moderate was perfect for us – it pushed us enough to make us feel like we accomplished something (and we really appreciated a cold, local beer at the end of the day), but not so much that we were out of our comfort zone or in pain the next day.
Vietnam has soared in popularity for travellers in recent years. For North Americans, this may stem from high school history lessons and the many movies and television shows based on the Vietnam War (called the American War there). While the country has clearly embraced tourism, it has also stayed true to its communist self – with megaphones set up on seemingly random street corners to put out government messages. Starting in the early morning, they communicate everything from the day's news, to calls to exercise, to songs from the 80s. Our tour started in the busy, crowded, noisy and absolutely fabulous capital of Hanoi. It included a rickshaw ride around the city's Old Quarter (where there is a very long street dedicated only to shoes – talk about paradise!) and visits to several incredible historical sites – including the Ho Chi Minh Mausoleum to pay respects to the preserved body of the country's beloved leader.
We then headed north, via overnight train, to arrive in Sapa, a beautiful mountain town offering views of stunning vistas and impressive rice terraces. On a bike ride up into these mountains with our guide, Hoa, we came across an unplanned experience – several hill tribes celebrating the planting of the rice. In amongst hundreds of locals, we appeared to be the only non-Vietnamese. Hoa – sensing our Canadian concern that we were infringing on their celebrations – explained that the Vietnamese people don't think that way. They have a "the more, the merrier" approach to celebrations, to work and to life in general. They are a very social people. Hoa encouraged us to take photos – another concern we had that we apparently shouldn't have worried about. As soon as I lifted my camera, several little children came running up to me to pose – their faces full of smiles and their hands tightly holding onto their big sticks of sugar cane.
The next morning, we headed to the Golden Stream Valley. Trekking up the incredible rice terraces – which is like working out on Mother Nature's stair climber – took some energy. While our guide was clearly more fit than we were (he also guides challenging tours and keeps up with Ironman competitors), he was sweet, charming and encouraging – taking time for breaks and to show us where we could take incredible photos. As we got into some of the villages, Hoa took us for a cold beer – which, I have to say, had never tasted better.
As we set off each day, several (often up to five) women from the local tribes would follow – or accompany us – often walking along with us for over an hour. Initially, this felt like a bit of an intrusion – until we lost our city attitude and realized that this was an incredible opportunity to learn about their lives. Some of our hiking and biking took some effort, and these women – in full tribal dress – kept up with us. (They jogged while we biked!) They were funny and charming and we had some great conversations – with our guide helping to interpret. We got to hear about their lives and they asked about ours. At the end, we bought small souvenirs that they had made. Hoa told us that we didn't have to buy anything, but we wanted to give them something back for sharing their time with us.
During our time in North Vietnam, we stayed at one of the most amazing places ever – Topas Ecolodge – located in Hoang Lien National Park, about a 45-minute drive out of Sapa (although, since we hiked quite a few miles towards the lodge, our drive was only about 30 minutes). It was one of the most memorable places we have ever experienced in all of our travels. The accommodation was good and the food was excellent, but the view makes this a must-do. It felt like we had been photoshopped into a movie scene. I didn't want to do anything except sit on the deck of our balcony and look at the view. It took my breath away. And as the sun set and rose the next morning, the mountains took on different characteristics. It was stunning.
After taking the night train back to Hanoi, we headed through the Red River Delta to Halong Bay, which is spectacular in a very different way. We spent two nights on a luxury Vietnamese junk, viewing the limestone karst landscape – which is a World UNESCO Heritage Site. Along with visiting a floating village, we kayaked off of the junk – ducking in and out of caves and coves in the bay. I took a cooking class onboard and we did Tai Chi on the top deck each morning, overlooking the beauty of the bay.
Coming home to Canada, I felt like I had learned something about Vietnam and the people who live there. As a side benefit, I also didn't gain any vacation weight. Seeing the sites is always interesting, but the real memories – like the conversations with the women of the hill tribes, where we both realized we aren't so different from one another, coming across a rice planting celebration, and the discussions with our guide about our respective lives are experiences that money can't buy. These are the experiences that we will remember forever.
www.bikehike.com 
Click on cover to view published article