Vietnam
Sights and Bites in Hanoi
Adapted from Moon Hanoi by Dana Filek-Gibson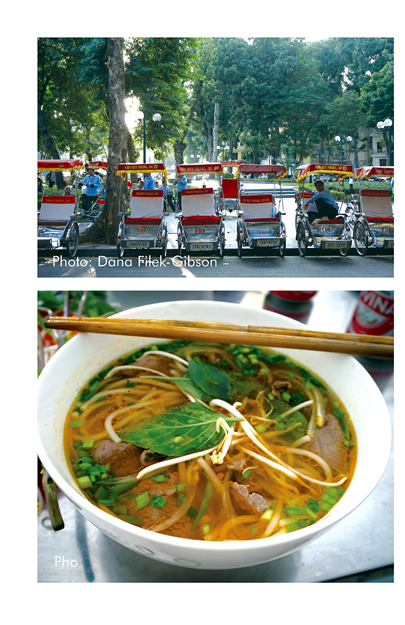 Hanoi is a thousand-year old city that truly represents the heart and soul of Vietnam. In just a week, you can immerse yourself deeply into its culture, without leaving exhausted or regretting not seeing everything. That gives you plenty of time to wander the lively, narrow alleys of the Old Quarter, sample mouthwatering Vietnamese food, and soak up the sights and sounds of this spectacular city. Below, check out a few of the best local tours for exploring Hanoi and the surrounding area, as well as an introduction to Vietnamese cuisine—from bun sha to barbecue.
Sightseeing Tours
You'll find that there are plenty of standard, generic city tours around town; skip these. While they may hit the highlights, they won't genuinely enhance your Hanoian experience. Here are a handful of outfits in the capital that excel at providing urban excursions with a more personal touch.
Founded in 2006, Hanoi Kids www.hanoikids.org, is a free, student-run tour service that pairs curious travelers with young Vietnamese locals hoping to practice their English. All guides participate in regular training sessions before hitting the town with their new foreign friends, and your only costs as a traveler are admission fees and transportation for you and your guide. With equal give and take, these young Hanoians are enthusiastic and outgoing, making the experience feel more like a friendly outing than a run-of-the-mill tour. Due to the popularity of the group, reserving a spot ahead of time is a must. The booking department at Hanoi Kids sometimes needs a reminder though, so confirm your tour in advance and, if response seems slow, give the office a friendly call and check in.
Another popular option for tours both in town and around northern Vietnam is Adventure Indochina, www.adventureindochina.com. This outfit arranges trips to Ha Long Bay and Sapa, in addition to running city tours of Hanoi, cyclo excursions (simple bicycle taxis pedaled by a cyclo driver behind you), a one-day journey focused around the city's pagodas, and a tasty street food tour. Staff are knowledgeable and efficient, and prices are on the more affordable end of the spectrum.
Just over two miles north of the Old Quarter, Hidden Hanoi (147 Nghi Tam, www.hiddenhanoi.com.vn, introduces travelers to the finer points of Vietnamese culture through food, language, and walking adventures around the city. Its popular cooking classes take place at the center's charming location on the eastern edge of West Lake, as do a handful of language courses. Several walking tours, along with a much-lauded street food tour, take place around the Old and French Quarters. Prices vary depending upon the activity, but all guides are enthusiastic and knowledgeable, making these tours a worthy investment.
The Food
Unless you've just wrapped up that Hidden Hanoi street food tour, you'll probably be hungry to chow down on some local bites. A day exploring the city will expose you to the sights and scents of some of the freshest, most flavorful, and most varied dishes in Southeast Asia.
Vietnamese cuisine's complex and irresistible flavors win over many a hungry traveler—especially those who value authenticity. Most meals consist of a rice or noodle base, a few fresh greens, and either meat or tofu. Portions tend to be smaller here than in Western countries, but don't let that stop you from getting seconds: with the low cost of meals here, there's usually room in the budget.
What Hanoi does, it does well: the capital city is regarded by many as having the best pho in Vietnam, and Hanoi collectively enjoys thousands of helpings each morning (it is considered a breakfast food). Other Hanoian specialties earn equal notoriety for their flavors and textures. The unsung hero—made famous by Barack Obama and Anthony Bourdain—is bun cha, a delicious northern version of grilled meat and rice noodles doused in nuoc cham, a diluted fish sauce that comes with pickled veggies, fresh greens, and the occasional fried spring roll. You'll find this mouthwatering specialty on just about every street corner, and will likely smell it from a few blocks away, as the scent of barbecue floats up from street stalls to entice an entire city. A couple other can't-miss delicacies are nem cua be (mouthwatering, square-shaped seafood spring rolls) and cha ca (pan-fried fish).
Hanoi's also offers plenty of quality non-Vietnamese fare, from Indian and Malaysian meals to Thai, French, and American. Upscale eateries make a greater effort in the service department, opting for a Western approach, and there are more than a few foreign chefs and owners behind some of the city's well-known restaurants.
In fact, the need for reservations is greater here, as the limited space in the Old Quarter means that dining rooms fill up fast. In this part of town, one of Hanoi's best-known venues, Green Tangerine www.greentangerinehanoi.com, specializes in French and Vietnamese fusion, pairing unlikely ingredients to create unique and memorable dishes. The restaurant's 1928 colonial villa makes a worthy setting for a fancy meal. Prices run high, but the set menus offer decent value, with two-course lunches beginning at VND265,000.
The streets of Hanoi are also a great place to find authentic dining experiences in Vietnam. Crammed onto already-busy sidewalks and hidden down narrow alleys, chefs serve everything from tasty Vietnamese sandwiches to piping hot soups, rice porridge, barbecue, and local specialties, often at lower prices but not skipping out on flavor or quality.
Safe street food is easy to find, provided you stick to clean outdoor kitchens. When in doubt, look for hot meals, such as soups or grilled meats. High temperatures tend to eliminate some of the risk and allow you to enjoy your meals with much more ease.
Hanoi is more than just a city to sightsee; it's a city to savor. After diving into its history, culture, and cuisine, there's a good chance you'll leave asking yourself, "why didn't we come here sooner?"
Adapted from Moon Hanoi by Dana Filek-Gibson. Copyright © 2017. Available from Avalon Travel, an imprint of Perseus Books, a Hachette Book Group company.
www.moon.com