Thailand
Thailand Trifecta: Phuket – Chiang Mai – Bangkok
by Olivia Balsinger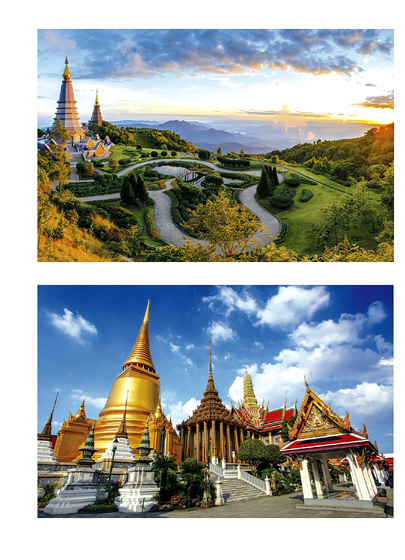 Phuket
When one daydreams of escaping to paradise, Phuket, Thailand's largest island should come to mind. With the most splendid beaches where aquamarine waves break on its pearly white, powdery shore, each of Phuket's tropical havens are equally beautiful but very much different. Besides the obvious draw of the beach, the culture of Phuket is also not to miss. Its capital Phuket Town on the east coast is home to fascinating mansions and shophouses that exemplify the curious local Sino-Portuguese style. There is also easy access to many of the area's sacred temples in Chalong and Thalang, as well as a close proximity to two national parks and wildlife sanctuaries.
Stay & Eat
The Slate Phuket, close to Phuket's airport, is a modern architectural model in design, with its most predominant feature being a steady palette of azure blue. In the calm but centrally located Kamala beach sits Andaz Resort & Villas, ultra-luxurious with panoramic view of the Andaman Sea. If you are looking for accommodations outside of the city center, where you can truly escape the bustle of urban life, The Vijitt Resort is s breath of fresh air, situated on a tranquil, secluded beach, where tall palms sway and salt water tickles nostrils. For a quick diversion from Thai food, Acqua Restaurant in Patong is a futuristic take on traditional Italian cuisine.
Chiang Mai
A breath of fresh air from Bangkok is the northern city of Chiang Mai, where lush trees canopy the streets and the peaks of the surrounding mountains appear in seemingly every peripheral view. Although the capital of its namesake Province, Chiang Mai is more like a sleepy town then a bustling city. The former seat of the Lanna Kingdom is the nucleus of bucolic serenity; if you travel a straight line on any of the roads radiating from its epicenter, you will be sure to find yourself in an abundant rainforest, or a verdant countryside, or even stumble upon of the areas many glorious waterfalls. One of the best places to really soak in the soul of this beautiful city is its oldest public market, Waroros.
Stay & Eat:
The Anatara Chiang Mai resort rests on the banks of the Mar Ping River — a blissful paradise in city center. The resort's restaurant, Service 1921, serving zesty Asian fusion, was once a British Consulate and now reimagines the era in décor. The Veranda High Resort, in contrast, is located outside the city proper, set in a visionary panoramic of breathtaking landscapes of rice fields and mountain streams, which creates a true escape to breathe.
Bangkok
Bangkok is a vibrant metropolis whose beauty comes in the quirky harmony between old and new, traditional and modern. Towering skyscrapers dominate the skyline, while on street view, Buddhist monks clad in terra-cotta colored robes tap on their iPhones while waiting to cross the street packed with zooming lines of taxi cabs and motorbikes. The pulse of the city reveals itself most aptly on the streets, where markets bustle with locals and tourists haggling prices for produce, clothing, souvenirs and the like. Bangkok street food is arguably the best in the world, flavorful and colorful dishes with an immense mix of flavors that hits every single taste bud.
Stay & Eat
The SO/ Sofitel Bangkok is a five-star hotel that combines fabulously the "five elements" of Water, Earth, Wood, Metal, and Fire into a refreshing contemporary vision. Reflecting the city within whose heart it resides, SO/ Sofitel is elegant and refined, yet casual and vibrant. Banyan Tree Bangkok is located in the Silom area, allowing easy access to city, and is Bangkok's largest luxurious accommodation, with an award-winning spa and world-class dining experiences.
www.tourismthailand.org

Click on cover to view published article