Italy for Two
Living La Dolce Vita
Published in the Winter 2007-08 Issue of Canadian World Traveller
By Natalie Ayotte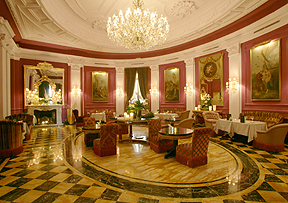 Photos by: Michael Morcos and Baglioni Hotels
I have never eaten in a museum, but that morning it really felt like I was doing just that! In reality, I was in Rome and the 'museum' was the breakfast room of the Regina Baglioni Hotel!
Original works of art graced its walls; the polished marble floor reflected its elegant antique furniture and a multi-layered crystal chandelier hung from its high ceiling. No, this was not a morning visit to the Louvre, I keep reminding myself, but the first of the seven fantastic days we spent in romantic Italy.
My husband and I were celebrating our 20th wedding anniversary and we wanted to do something very special to mark the occasion. Italy would prove to be the perfect setting to pass such an auspicious milestone and our short stays at the five-star Baglioni Hotels in Rome, Florence and Verona made our celebration all the more special.
Looking Ahead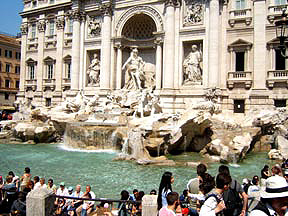 It was love at first sight as we lost ourselves in the hotels' excellent website (www.baglionihotels.com).
As the days before our departure sped by, we became more and more enthralled by the beautiful pictures on the Internet of the amenities offered by the three world-class hotels we would be staying at. We imagined we were already there, but the pictures were nothing compared to the real thing.
We planned to spend our seven-day Italian sojourn leisurely visiting the many famous monuments, historical sites and must-see attractions in each of the three cities on our itinerary.
Our dream trip included three days in Italy's fabulous capital city of Rome, two days in art-filled Florence and the remaining two days in charming Verona. We were delighted to discover that each of our three hotels would be centrally located and just a stone's throw away from each city's main attractions.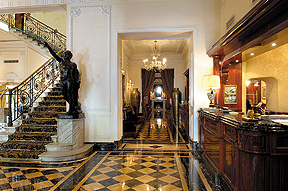 Eternal Rome
The doorman's effusive greeting in Italian at the Regina Hotel brought home to me that we really were in Italy! But there was yet another greeting awaiting us.
It came in the form of the incredible eight-foot-tall black marble statue that dominated the hotel lobby.
I stared and marvelled at it every time we passed it by, so much so that it took me a while to notice the rest of the elegantly appointed lobby.
The lobby's grand stairway, with its wrought iron and polished wooden banisters, its richly coloured marble floors and its other elegant decorative touches, confirmed that this hotel was indeed the epitome of Italian luxury.
Far beyond our expectations, our room turned out to be my dream-come-true. The classic furniture, marble-clad bathroom, luxurious carpeting and delicate lace curtains made our short stay unbelievably relaxing and memorable.
Close to Everything
The hotel was located on tree-lined Via Veneto in an upscale neighbourhood of Rome. This fabled boulevard boasts numerous posh hotels with rows of luxury cars of the rich and famous parked in front of them.
The gardens of the magnificent Villa Borghese were just minutes away, as was the American Embassy.
Also close by, were the city's famous Spanish Steps. Our climb to the top was well rewarded by the stunning view of Rome at night. As expected, this popular tourist site was filled with throngs of sightseers chatting with each other and laughing the night away.
During the next two days we visited the Roman Forum, the Coliseum, Vatican City, Piazza Navara, the Trevi Fountains, the Pantheon and several chic shops and boutiques.
Exhausted from an exciting day of sightseeing, we would linger over supper at a charming local restaurant, sipping Italian wine and savouring the delectable Roman cuisine. Our way back to our comfortable hotel room would take us past some of the city's popular bistros, filled with fashionably dressed Romans enjoying a late-night supper.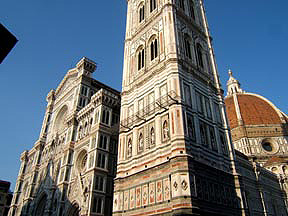 Florence: City of Art
The next stop on our romantic Italian trip was Florence, home of Michelangelo's David. We would soon discover that this great city of art has another masterpiece called the Bernini Palace Hotel.
The lobby was an eclectic mix of form and colour and new and old that all harmonized remarkably well. But the hotel's pièce de résistance was its multi-roomed suite. The hotel only had one of these and it was ours for two nights!
This was heaven on earth. We were spoiled by all that extra space. The suite consisted of a sitting room, a large bedroom, a dressing room and a very large bathroom. Our windows were located away from street noises. On one side, the large windows faced a quiet courtyard and on the other, they afforded a stunning view of the Arno River, which runs through this ancient city.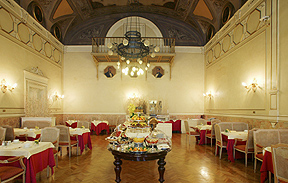 The decor of the suite was fabulous. It was tastefully furnished with an eye to details that gave you a real feeling of being in this famed Italian region of Tuscany.
Cappuccino Anyone?
We began our mornings in Florence with a delicious breakfast in the Parliament Room of the Bernini Palace Hotel. It was a delight to sip genuine cappuccinos, savour mild Italian cheeses and indulge in thinly sliced prosciutto in this very impressive room. As its name implies, it was frequented by parliamentarians. Its high ceiling and carved wooden fixtures date back to even earlier times.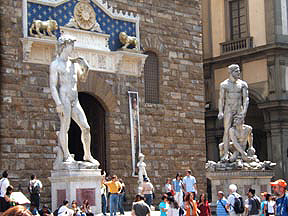 The hotel's location could not have been any better. Florence's compact city centre made it very easy to visit the city's main attractions on foot starting out from our hotel. The Bernini faces the famous Palazzo Vecchio and is only one block from the Piazza Della Signoria where an outdoor version of David is among the other equally recognizable pieces of sculpture.
One of Italy's most visited museums, the Galleria Uffizi, was only minutes away as was the Vecchio Bridge and the Duomo. My only regret was that we could not stay longer to savour more of Florence's many exquisite art treasures.
Romeo & Juliet's Verona
Our stay in Verona, immortalized by Shakespeare's play about the star-crossed lovers, was a delightful experience. Romeo and Juliet would have loved the romantic ambience of the Due Torri Baglioni Hotel, which is a true gem.
I was swept away at first sight as we entered the beautifully preserved eighteenth-century building. Its stunning marble-floored lobby, decorated with original works of art and antique furniture, made me feel as if I were transported to another era.
Our room was equally breathtaking. It was tastefully decorated with period furniture. Some of the walls were papered in a soothing creamy colour that contrasted with the dark wood panelling of others. The polished wood floors were covered in part by exquisite area rugs and as expected, the spacious bathroom was clad in sumptuous Italian marble.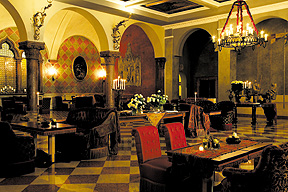 A Room with a View
The view from our room was of the square where the Church of Sant'Anatasia proudly stands. This imposing Gothic church, the largest in Verona, was completed in 1481. Other historical buildings graced the other sides of this historic square. The view made me fantasize about bygone eras when famous guests like Mozart stayed at this very hotel.
Glancing across the square, I was treated to the tender sight of a mother speaking to her baby in Italian on one of the balconies. They sat in the warm sunshine, exchanging loving smiles and laughter, as I secretly observed them and marvelled at this great intimate moment of their mutual joy.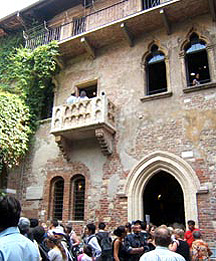 Footloose in Verona
With such a beautiful setting, we had a hard time leaving the hotel to do some sightseeing. The compact size of Verona meant that we could explore the city on foot without the aid of a map.
At a short distance from the hotel, we found ourselves in a historical public square with century-old fountains and buildings. Following the crowds, we arrived at the legendary home of Juliet where tourists took turns getting their pictures taken on the balcony.
Our next stop was the world-famous Verona Coliseum where we enjoyed a snack at a café before crossing the Adige, the river that runs through the city. We were heading to an area that is less visited by tourists and where the locals were enjoying the sunny day in the park with family and friends. We were happy that we could be part of the real everyday life of the present-day citizens of this storied city.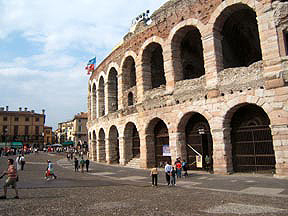 Living La Dolce Vita
Our fantastic trip through Italy seemed all too short, but I knew the memories would last a lifetime and our stay at the three Baglioni hotels would always remind me why this country is so well known for
La Dolce Vita!
Where to Stay:
Baglioni Hotels
Tel: +39 02 773331
Website: www.baglionihotels.com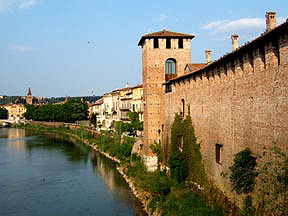 For More Info:
Italian Government Tourist Board
175 Bloor Street E, Suite 907
Toronto, ON M4W 3R8
Tel.: 416-925-4882
Email: enitto@italiantourism.com
Website: www.italiantourism.com