Le Marche, Italy
A Voyage of Discovery
Published in the Winter 2008-09 Issue of Canadian World Traveller
By Greg James (greg@canadianworldtraveller.com)
Photos by Hélène Clément and others
Like so many other seasoned travellers, I had never heard about Le Marche (pronounced Lay MAR-kay), yet this breathtakingly beautiful region of Italy was about to sweep me away.
The region boasts historic hilltop towns, wonderful gastronomy, world-famous wines and a wealth of art and architectural treasures. Its luxurious country villas set in rolling, picture-perfect landscapes add immeasurably to the region's many charms.
Most of all, Le Marche's warm and truly hospitable people mark it as one of the most desirable travel destinations in Italy and indeed, in the entire world! 
This is no exaggeration. Just ask anyone who has had the good fortune to visit Le Marche and savour all that this little-known but perfect gem of a travel destination has to offer any true connoisseur of 'la dolce vita'.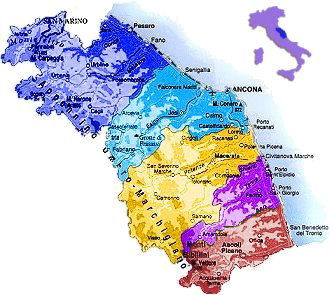 Where Exactly Is Le Marche?
Le Marche is located about halfway down the boot of Italy on the eastern coast of the country directly south of the tiny independent Republic of San Marino and east of Tuscany.
It lies between the foothills of the lofty Apennine Mountains (the so-called backbone of Italy) and the serene waters of the Adriatic Sea that lap at the region's beautiful shoreline.
Le Marche encompasses five of Italy's 110 provinces. The region's five provinces are, from north to south, Pesaro-Urbino, Ancona, Macerata, Fermo and Ascoli-Piceno, each offering the visitor its own unique attractions.
The seaside City of Ancona (located in the province of the same name) is Le Marche's regional capital and it's largest urban centre. However, most of the region's population of just over 1.5 million live in smaller coastal and inland cities, towns, tiny hamlets and rural communities. By road, Ancona is just 294 km (182 miles) northeast of Rome but is worlds apart!
Mountain Drive
Though Ancona has an international airport, I flew from Montreal to Rome, via Zurich, by Swissair and travelled to Le Marche by road.
The pleasant two-and-a half-hour drive proved to be an excellent introduction to the undulating inland terrain of Le Marche Region. I marvelled at the modern engineering feats of tunnelling that allowed the four-lane highway to run through the previously almost impassable mountain range. 
I was equally astounded by the way Le Marche's centuries-old hilltop towns and hamlets clung steadfastly to their precarious and improbably lofty sites.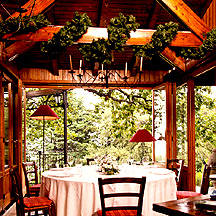 Charming Country Inn
We arrived at noon at the Hotel Tenuta San Settimio (www.sansettimio.it), which would be our home-away-from-home for the next three days. This highly recommended country inn is located in the rolling hills of Palazzo d'Arcevia in Ancona Province.
The main building housed the inn's rustic but well-appointed restaurant where we enjoyed our first taste of Le Marche's delectable cuisine. This feast included a platter of sizzling mixed meats that practically fell off the bone!
However, it was the view from the huge windows of the octagonal timber-f
ramed dining room of the surrounding tree-covered valley that was truly breathtaking and somewhat reminiscent of Canada's own pine forests.
My room was in a separate one-storey brick building with a traditional terracotta tile roof. It was located along a short winding country lane that took me past a farmer's hillside field.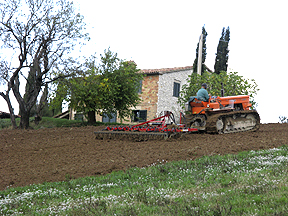 One morning on my way on foot to breakfast in the main building, I passed the farmer who waved to me while tilling the soil with his tractor on his gently sloping field. You just don't get much more rustic than that!
San Lorenzo in Campo
Our first short expedition in Le Marche was to San Lorenzo in Campo. The origin of t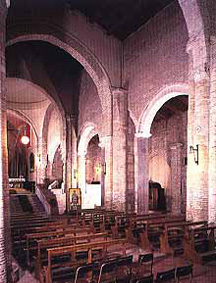 his town, situated in the beautiful river valley of Cesano, is linked to the founding of its world-famous Abbey constructed by Benedictine monks between the seventh and the ninth centuries.
The impressive pillars and magnificent original Roman-Gothic truss ceiling make it one of the greatest architectural masterpieces of the Le Marche Region! 
Our knowledgeable and welcoming guide was the young Pastor of the Abbey who had visited Montreal in 2002 in conjunction with World Youth Day, which was being held in Toronto that year.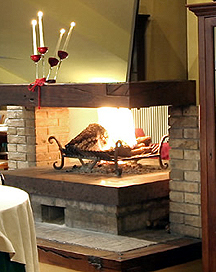 A Canadian Innkeeper
The crowning touch of our visit to San Lorenzo in Campo was a splendid dinner at 'Ristorante Il Giardino', located in the hotel of the same name (www.hotelgiardino.it). The gracious co-owner of this family-run, elegantly appointed establishment was Patricia Biagiali, who proudly announced in perfect English that she was Canadian!
She related to us that her parents had left Le Marche in the postwar era when the region was in dire economic straits. Many of the talented local craftsmen and builders (including her father) could not find work, so her family immigrated to Canada where she was born and grew up.
Even today, the largest number of Le Marche's expats lives in Canada,
with the biggest community being in Montreal.
Her charming son Pablo was one of our attentive hosts who served us appetizers (antipasti) of angelica pears filled with a mousse of caciotta cheese (a specialty of the region); cannelloni di polenta, made from rolled sheets of pasta stuffed with pureed potatoes and black truffles (tartufo nero); and tasty slices of country-style pork terrine served with rolls of oven-fresh bread.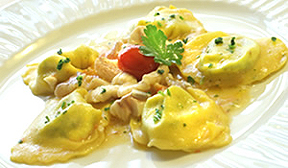 Two Italian Main Dishes
The first main dish of the sumptuous dinner, the 'primo' course, (yes, in Italy, there are always at least two) was tagliolini consisting of long, paper-thin ribbons of pasta served with a sauce prepared with local black truffles and pigeon.
The second main dish, the 'secondo', was brasato di marchigiano, which is made with thick slices of prime rump beef that are rolled around a stuffing of vegetables then braised in red wine.
This cornucopia was consumed with copious bottles of the world-famous, locally produced Verdicchio di Jesi, a wonderful white wine, and Rosso Pergola, an equally palatable red wine. As you've no doubt surmised, you can forget about your diet while visiting Le Marche!
Fabriano Paper & More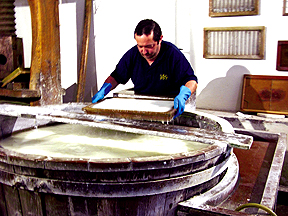 On our visit to Fabriano, nestled in the foothills of the Apennines in Ancona Province, we discovered that this innovative town founded in the early Middle Ages, is both a historic centre of arts and crafts and an important present-day industrial engine of the entire Le Marche Region, particularly because of its prolific production of fine paper.
As early as the 14th century, Fabriano's paper mills were already producing over a million sheets of paper a year and it was right here that watermarked paper was invented!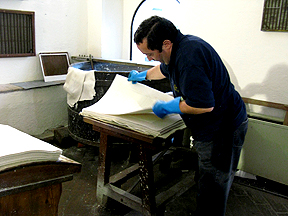 Its famed paper is still used the world over for banknotes, including euros, and by fine artists for their watercolour paintings, original drawings and limited reproduced prints.
We toured Fabriano's fascinating Museo della Carta (paper museum), which took us through the entire original process that was used for handcrafting the first precious and widely sought-after watermarked sheets of paper.
A visit to the museum's excellent bilingual website at  www.museodellacarta.com is highly rewarding.
Gentile: Fabiano's Famous Son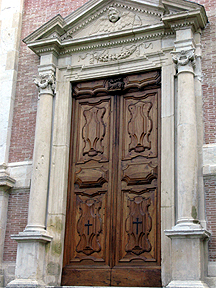 Our next stop in Fabriano was its equally impressive Bruno Molajoli Pinacoteca Civica, a museum that houses a priceless collection of medieval art. (click on second plaque on the site)
Its rooms display several important religious carved wooden figures, painted altar panels and restored church frescoes (detached from their original unprotected locations in order to preserve them).
Many of these pieces were created in the Italian Gothic era by artists of the school of Gentile da Fabriano (c.1370 – c.1427), the renowned master painter who even today remains one of Fabriano's most famous and revered sons.
Guests of the Marquis
Another incredible lunch, accompanied by excellent regional wines, awaited us at the five-star restaurant of Fabriano's remarkable Relais Marchese del Grillo Villa .
Unfortunately, the villa's website is only in Italian, but it is still worth a look. (www.marchesedelgrillo.com)
This beautiful Italian villa, resplendent with private gardens and overlooking a broad valley, was built in 1771 by Marquis Onofrio, a gourmand and connoiseur of fine wine.
It remained in other noble families' hands until the mid-19th century. In 1987, the villa was acquired and lovingly restored by the D'Alesio family who converted it into one of the area's most elegant restaurants and hotels.
Shopping and Dinning in Macerata
The major part of our visit to Le Marche was spent in the two most northerly provinces of the region, namely Pesaro-Urbino and Ancona. However, we did briefly visit the Province of Macerata (located just south of Ancona Province).
Our first stop in Macerata was a shopping excision to the outskirt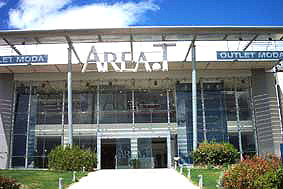 s of Tolentino. We visited the Tombolini Area.T Outlet, which featured the designer's highly-sought-after clothing at outlet prices.
This fabulous, ultra-modern building also housed an elegant café-restaurant. World-famous designer Antonio Tombolini (www.antoniotombolini.com) was born and educated in Le Marche and the region is justly proud of his international success.
Next came a short visit to Monte San Giusto to visit its Fabi Shoes Outlet (www.fabiboutique.com), where literally hundreds of handcrafted shoes and boots were displayed on its highly polished showroom floor. Italian shoes are legendary throughout the world and much of this highly-prized footwear is designed and manufactured in Le Marche. The Le Marche Region is renowned for the quality and style of its leather goods, as well as its handcrafted high-end furniture.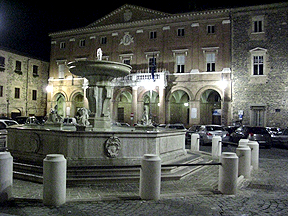 Matelica Cantina

Rounding out our visit to Macerata Province was a short but enjoyable late-night stop at Matelica, where we indulged in yet another delectable dinner of local specialities and wine at the Cantina Verdicchio di Matelica.
This cozy restaurant is located just a short walk from the main square of the historic city.
Recent archaeological finds have dated Matelica's origins back to the Palaeolithic or Stone Age era. A return visit to Matelica and the rest of Macerata Province is a definite must for me!
Frasassi Caves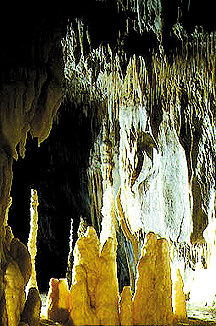 I had been in other caves before, but nothing prepared me for the spectacular tour of the Frasassi Caves located in the Genga Municipality of Ancona Province. Visit the caves' excellent bilingual website (www.frasassi.com) and be awestruck!
These stupendously huge and wonderfully illuminated natural caverns, filled with candle-like towering stalagmites, still-dripping metres-long stalactites and underground mini-lakes, were discovered in 1975 by a group of intrepid speleologists.
What is equally astounding, is that the caves, found deep in the mountainside, are so accessible to the most timid or frail of visitors due to the fantastic suspended, easy-to-navigate walkways and steps with reassuring handrails that have been engineered to traverse the entire series of large and small caves without despoiling their natural and fragile beauty.
Our knowledgeable young guide noted that Frasassi's main cavern is so large and deep that it could easily hold the entire Milan Cathedral within its walls and ceiling! This is truly a not-to-be-missed experience.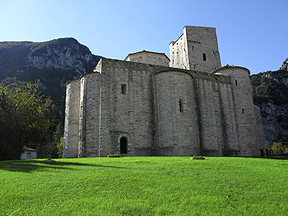 A Jurassic Treat
The Abbey of San Vittore delle Chiuse is the most beautiful intact Romanesque building in all of Le Marche. It is located just 500 metres along the road from the entrance to the caves.
This centuries-old edifice is worth a visit if only to tour the Speleo-paleontological Museum housed in the Abbey's recently renovated annex. It boasts an extremely rare fossil of Ichthyosaurus, a creature that existed in Le Marche in the Early Jurassic Period, roughly 190-183 million years ago.
Grappa in Mergo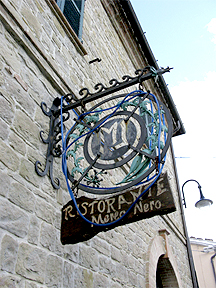 After all that physical activity, it was a welcome pause for lunch that found us at the modest but charming Al Merlo Nero Restaurant in the Ancona town of Mergo. Our gracious and affable host turned out to be "only the husband".
The real powerhouse behind the success of this small-town gourmet restaurant was his wife, the extraordinarily talented co-owner and chef Marina Pierelli.
The antipasti consisted of local cold cuts of meat, cheeses and Ascoli-style olives, which are stuffed with minced meat, breaded and then deep-fried.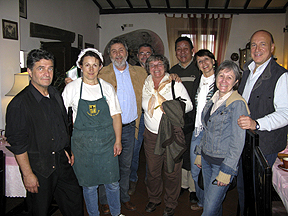 The three main courses were mushroom soup in a delightful bread crust; truffle ravioli filled with ricotta cheese; and tender veal shanks baked in a sauce fortified with Lacrima Morro di Alba, a locally produced red wine.
These delectable courses all followed in quick succession along with side dishes of local seasonal greens and vegetables.
To crown it all, we were treated to traditional Le Marche desserts accompanied by glasses of warm mulled wine.
Perfectly-brewed coffee and shots of grappa (the famous Italian distilled digestive) followed on this extraordinary lunch menu. Suitably mellow and in high spirits, we were introduced to chef Marina and showered her with well-deserved kudos.
Arcevia: A Mountain Pearl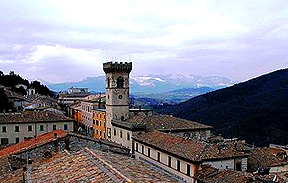 The picture-perfect town of Arcevia stands atop a prominent ridge in the Apennine foothills.
Located on Mount Cichiano at 535 metres (1,755 feet) above sea level, Arcevia predates Roman times and is one of the extraordinary historic sites that is a must-see when visiting Le Marche.
On our visit to Arcevia, we climbed the 14th-century tower of the lofty Town Hall building located on Piazza Garibaldi for a spectacular view of the tiled rooftops of the town and the broad valley below, where the Misa and Cesano Rivers flow through the surrounding verdant hills. And way off in the distance, one could catch a glimpse of Le Marche's undulating Adriatic coast.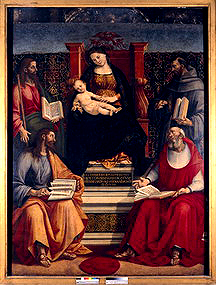 Five Hundred Years of Art
On our guided tour of the town, we were fortunate to visit the San Medardo Museum, housed in the former church building of the same name, during the "Luca Signorelli 1508-2008" exhibition, which celebrated the 500th anniversary of the church's widely revered altarpiece painted by the artist in 1508!
Luca Signorelli was one of the great painters of the Italian Renaissance, who was renowned for his fine draftsmanship and unique sense of perspective.
Other fascinating works by him and his contemporaries make this museum worthy of a visit.
As a bonus, we were treated to a tour (given by the director himself) of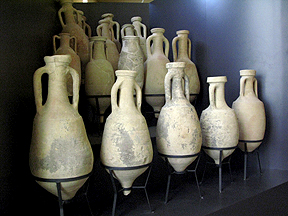 the neighbouring National Archaeological Museum of Ancona, which is justly located in Arcevia, though some wanted it to be located in the regional capital of Ancona. The site is only in Italian, but it will give you a sense of the scope of the museum's treasures.
The remarkable displays of unearthed objects from the copper and bronze ages are vivid testaments to the long and rich history of Arcevia and its environs.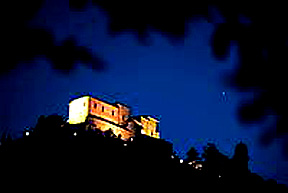 Frontone Castle Banquet
Located in the high inland hills of the Province of Pesaro-Urbino, the venerable town of Frontone has been coveted, invaded and inhabited over periods of time by a host of different civilizations. Umbrians, Gauls, Romans, Lombards and Franks all came and temporarilly occupied Frontone over the centuries of the town's long and storied history.
The earliest documents that refer to the Frontone's lofty, imposing and well-fortified castle date back to the 11th century. The town's story is irrevocably linked to its formidable castle, which represents one of the finest existing examples of military architecture and building techniques employed in its day. As we drove up the steep, winding, moonlit road to the castle, I began to appreciate its invincibility.
Today, Frontone offers guided tours of its fabled castle and its borgo (the medieval village located within the castle grounds). Some of the newly renovated halls in the castle are available for social events. I attended a magnificent banquet held there and it was a truly memorable occasion!
Bronzed Pergola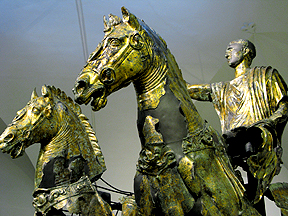 The picturesque little town of Pergola, located in the vineyard-dotted valley of the Cesano River, has a surprising wealth of beautiful churches.
But the highlight of any visit to Pergola has to be its Museo dei Bronzi Dorati (www.bronzidorati.com).
To fully appreciate the magnificence and historic significance of the wonderfully restored and displayed life-size gilded bronze figures of humans and horses that date back to the 1st century AD, you really must be there in person!
These prized figures, found broken into hundreds of pieces, were accidentally discovered in 1946, buried in a farmer's field on the outskirts of Pergola. After decades of painstaking restoration the figures can at last be viewed by the entire world in all of their original glory.
The Montreal Museum of Fine Arts was privileged to co-host a temporary exhibition (the first outside of Italy) of the famous bronzes, between July 2007 and February 2008, in collaboration with the local Italian community.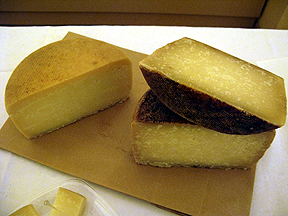 Pergola Gourmet Tasting
After a brief tour of the town, we made our way to the foyer of Pergola's Teatro Angel Dal Foco for a tasting of typical local gourmet foods.
These included organic Formaggio Pecorino, a tasty cheese made from sheep's milk by Pergola's own Sotgia e Cadoni, and 'piada', a wonderful regional flatbread made by Piadineria Osteria Da Peppe with local organically-grown 'farro' grain.
This was yet another opportunity to savour the local wines. The Massaioli Winery provided ample tastings of its fine vintages, including its amber-coloured Santo aperitif or dessert wine; its ruby-red fruity Vernacolo; its golden-yellow Santa Colomba (a blended version of Le Marche's famous Verdicchio); and its Visciolata, a delicious dessert wine made from wild cherries grown in the region.
Breathtaking Furlo Gorge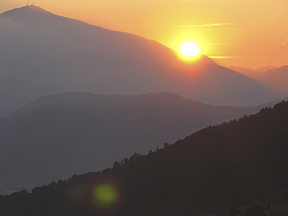 Anyone who loves the great outdoors should visit Le Marche's Natural Reserve of Furlo Gorge (Gola del Furlo).
The park is located in a rugged Apennine mountain pass in the Province of Pesaro-Urbino. These 3,600 protected hectares (about 9,000 acres) of woods, dramatic pristine mountain cliffs and formidable peaks are something to behold.
View from the Top
We drove along a winding, perilous road (also a hiking trail) leading up Mount Pietralata from the valley-floor town of Furlo with one of the reserve's park rangers.
The Furlo Gorge tells the geological history of Italy over the last 200 million years or more. Its limestone walls are imbedded with fascinating fossils of creatures that lived around 15 million years ago!
Sky-high Avian Home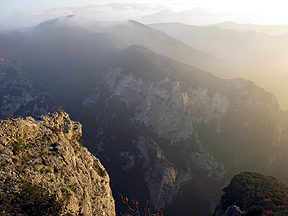 When the road came to an end, we left our vehicle and continued on foot along a short trail that led us to a stunning panoramic view of the entire gorge.
Mist clung to the lofty peaks across the gorge. Using the mounted telescopes, we spotted the cliff-side nest of a mating pair of the gorge's legendary golden eagles.
On our return to the bottom of the gorge, we visited the excellent Gola del Furlo Museum (click on Museo del Territorio) where we learned more about the area's age-old fossils, amazing flora and intriguing fauna, including the wild boars, deer and foxes that roam this world-class natural reserve. A perfect ending to a perfect day!
Gracious Lunch in Sant'Ippolito
The splendid historic country residence that now houses the inn (osteria) and gourmet restaurant of Palazzina Sabatelli (www.palazzinasabatelli.it), is found near the town of Sant'Ippolito in the Province of Pesaro-Urbino. The original main structure, with its perfectly proportioned tower, dominates the surrounding valley.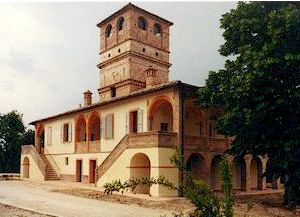 It was built around 1630 by the nobleman Cavalier Giovanbattista Sabatelli, whose grandson Tiberio added a picture-perfect little chapel, featuring a portico with three arches, and a secondary smaller country house on the well-manicured grounds of the estate.
Over the years, this popular meeting-place of the local gentry had fallen into neglect but in recent times Palazzina Sabatelli has been lovingly restored and its guests can now enjoy the renewed spirit of its historic hospitality.
The intriguing décor of our dining room, with its highly-decorative hand-painted vaulted ceiling and plastered walls, competed with the elegant, gracious service and fine cuisine of our repast. I could only imagine what it would be like to stay in one of the well-appointed historic guest rooms of Palazzina Sabatelli!
Villa & Science Museum
That night, we did in fact check into an equally elegant and am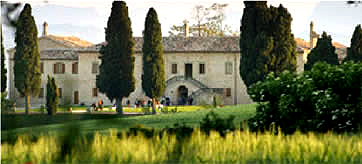 azingly historic country villa.
The Villa San Martino, also known as Villa del Bali, is located near the town of Saltara. It stands on the wooded St. Martino Hill overlooking the Metauro River Valley. The villa's builder, Bishop Vincenzo Negudanti, was an avid astronomer who transformed it into an observatory.
Today, this historic architectural treasure of Le Marche is a unique country inn offering its seven tastefully decorated spacious rooms to discerning guests from around the world. Be sure to visit its superb bilingual website at www.albali.it.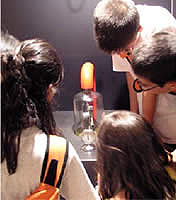 Museo del Bali
What a remarkable concept! On the ground floor of the historic villa was this state-of-the-art science museum. It offered over 35 interactive exhibits that call into question and disprove our perceptions of what is real in the everyday world around us.
On our tour of the museum (given by our fluently bilingual and very animated guide), I could just imagine how fascinating this would be for my young Canadian nephews! During our stay, we saw busloads of excited Italian school kids arriving for their visits.
But this remarkable museum, which includes a planetarium and observatory for gazing at the stars, is interesting for visitors of any age. The website (www.museodelbali.org) is only in Italian but is worth a look-see. Astronomer Bishop Negudanti, who build the villa would have been more than pleased to see his dream come true more than three centuries later!
Hotel Laboratorio Symposium
We didn't stay here but were invited to tour this amazing facility by it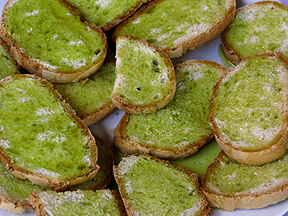 s owner, the affable Lucio Pompili, who also managed the nearby Villa del Bali, where we were staying.
The unique concept of the Symposium, located in the outskirts of Serrungarina, is to have a totally integrated sustainable tourist facility that offers the finest cuisine and wines produced locally from organically grown and biologically pure ingredients.
During our visit, we viewed the process of making the region's excellent virgin olive oil and enjoyed a tasting of the newly pressed, slightly green-coloured oil, accompanied by a sampling of local cheeses, which were also produced in the age-old, traditional way right there at the groundbreaking 'laboratorio' (www.symposium4stagioni.it).
On the previous day, we had stopped at a roadside family-tended grove and witnessed the harvesting by hand of some of the region's prized olives, so it was indeed a special treat to see the processing method and imbibe in the resulting delectable product!
Fossombrone: Art through the Ages
Fossombrone is situated in the Province of Pesaro-Urbino along the famous Via Flaminia that leads from Rome to the Adriatic.
This picturesque town lies on the two sides of the Metauro River. Its most famous landmark, the graceful V. Emanuele Bridge (also known as the Ponte della Concordia), spans the river.
We started our tour of this historic town at the Casa Museo Quadreria Cesarini, w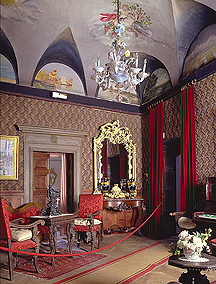 hich faces the river (click on Art and follow the links). This multi-levelled museum-house was the home of Giuseppe Cesarini, an avid local art collector. The décor and furnishings of its many elegant rooms faithfully reflect the prevailing tastes and styles in Italy during different periods in the late 19th century and early 20th century.
The museum's art galleries display over 60 works by locally born, internationally renown artist Anselmo Bucci, as well as a wealth of other works by important 20th-century Italian artists and sculptors. This fascinating museum-house was well worth the visit.
A Memorable Stroll

To really appreciate Fossombrone one must stroll through its storied streets where one finds the beautiful Baroque-style 17th-century San Filippo Church and the Pinacoteca Vernarecci Art Gallery, both of which boast priceless works of Italian art that date back to the early 16-century.
After our edifying visit of Fossombrone, we travelled to Orciano di Pesaro for lunch at the Fattoria della Ripa, a renowned typical country inn, specializing in delicious locally produced cheeses made from sheep's milk.
Fortified Mondavio
Situated at a strategic point between Urbino and th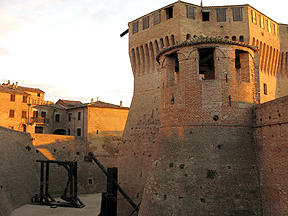 e coastal town of Senigallia, Mondavio was one of a series of 24 castle-towns that dotted the Le Marche countryside to ensure safe passage of people and goods during feudal times.
Mondavio's 'Rocco' was constructed between 1482 and 1492. This massive, almost impenetrable double-walled fortress stands on a high promontory.
Its walls were so thick that even cannon fire could not breach them. We visited its labyrinth of rooms and climbed up its watchtower for wonderful 360-degree views of the walled town and surrounding valleys. This impressive fortress also features everyday Medieval scenes with life-sized figures and a wonderful collection of historic weapons and armory.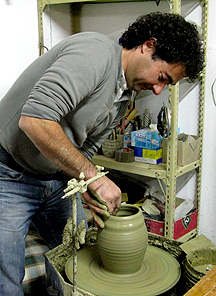 Fratte Rosa Terracotta
This quiet hilltop town situated in the Province of Pesaro-Urbino has a surprising attraction. For hundreds of years, ordinary utensils were made by local craftsmen out of terracotta in Fratte Rosa. This centuries-old tradition was the inspiration for the creation of the town's excellent 'Museo della Terracotta'  (www.terrecottefratterosa.it).
The attractively presented displays, with bilingual explanations, trace the history of the skilled art of creating useable household objects out of terracotta. There is also a workshop where anyone can have a try at it!
Following our fascinating tour of the museum, we visited the artisan workshop and showroom of talented local terracotta craftsman Daniele Giombi (www.terrecottegiombi.it) and witnessed him turning one of his signature pieces. A fine art indeed!
After a late-night gourmet dinner at Restaurant "La Graticola" in Fratte Rosa, we drove back to our hotel near Saltara for a well-earned sleep.
Urbino: Centre of Art and Learning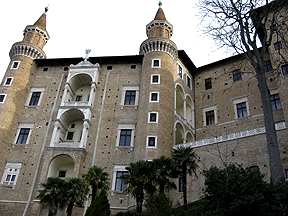 There are no words to adequately describe this remarkable city. This cradle of culture, art, architecture and learning must indeed be Italy's best-guarded secret!
Traces of a Roman presence in the area go back to 250 BC. However, Urbino really started its meteoric rise to glory during the Italian Renaissance, when Frederico da Montefeltro became Lord of the city in 1444 (and later Duke, in 1474).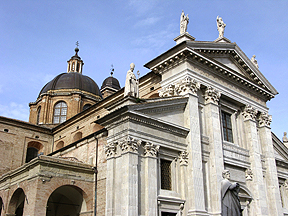 This 'man of culture' brought the best and the brightest minds of the day to his city-state and also supported the development of many promising artists such as the young Raphael, who is perhaps the city's most famous son.
During his time, Frederico established the second largest library in Italy after the Vatican's and constructed the Ducal Palace, a true architectural wonder.
Today, the palace houses the must-see art collections o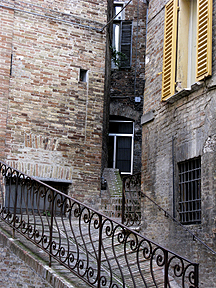 f one of Italy's most important museums the 'Galleria Nazionale delle Marche'.
As I walked along Urbino's main street pass all the beautiful Renaissance buildings I couldn't help wondering what I would be like to have lived in those days.
University Town
The University of Urbino "Carlo Bo" was founded in 1506. At first I thought it strange that its students seemed to be everywhere in town until I found out that the student body of about 20,000 easily outnumbers the general population of 15,500. It happened to be Career Day on the day of our visit.
We were fortunate in having one of the university's department heads give us a tour of his faculty, others of which are spread out across the walled city.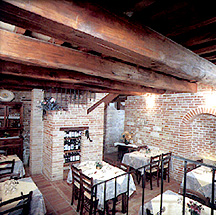 He explained that there are many foreign students. They come to Urbino to learn Italian and to do so in the great historical ambience offered by the city.
Divine Angel

After a short walk up and down the town's quaint, narrow and rather steep but picturesque side streets it was time for lunch at the highly recommended Restaurant "L'Angolo Divino", where I had the best fettuccine alfredo I've ever eaten!
Corinaldo: Town of History & Faith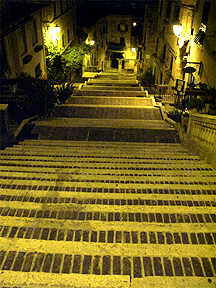 Like many of Le Marche's historic towns, Corinaldo is surrounded by high walls that in olden days protected the population from invaders. But, this town's well-preserved walls seemed so much higher.
Perhaps this was because I was able to stroll along the top edges and got a real sense of their height (up to 18 metres in places!) as I tried to calculate how many thousands and thousands of bricks they took to build.
However, what is truly unique to Corinaldo is an amazing outdoor stairway of a hundred steps. Picturesque brick houses line both sides of the wide ceremonial-like flight of stairs.
This dramatic brick stairway called the Piaggia leads down to one of just three gateways in the high walls surrounding the city.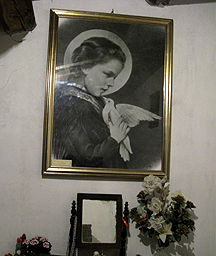 A Modern-day Saint

St. Maria Goretti was born in 1890 to poor parents in a humble house in the outskirts of Corinaldo. (for English version of website, click on inglese)
The house has been preserved and many believers make pilgrimages from around the world to visit the home of the martyr-saint who died at the age of 12 at the hands of her older cousin when she refused to concede her virtue. She was canonized in 1950.
My visit to her shrine took on a personal turn when I recalled that my late mum had founded a club for teenaged girls and had called it the Maria Goretti Girls' Club. Before this trip I had no idea of the little virgin saint's connection to Corinaldo!
Senigallia: The Velvet Beach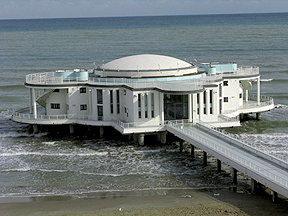 After spending six wonderful days traversing the hilly inland terrain of Le Marche region, I had almost forgotten that the region also boasts a long and winding Adriatic coastline waiting to be explored.
We only had time to visit two seaside communities and started at Senigallia, which has justly adopted the slogan, the Velvet Beach (see its great website).
The city's beachfront offers the summer visitor 13 km of golden sand. A unique feature on the beach is the Art Deco style 'Rotondo a Mare', a multipurpose circular pavilion that dates back to the 30s, which seems to float above the waves.
Spas, History and Markets
For the visitor, there's no lack of creature comforts in Senigallia. We made a brief stop at the Terrazza Marconi Hotel and Spamarine for cappuccinos and biscotti. This elegant seafront boutique hotel features a Zen-like spa and a wonderful rooftop restaurant and bar with a fabulous 180-degree view of the sea and coastline.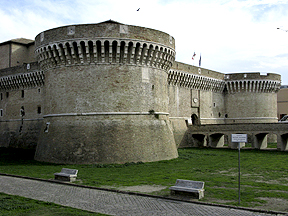 But Senigallia is also a historic city and we took a lovely stroll by some of its architectural treasures such as 'Rocco Roveresca' Fortress and the 16th-century 'Palazzo del Duca' Palace.
We also visited the city's public library, which is housed in a former jail! After browsing through Senigallia's outdoor fresh food market and the weekly street market selling every type of clothing at bargain prices, it was time to go.
Fano: A Blue Oasis
A short drive along the coast brought us to another of Le Marche's attractive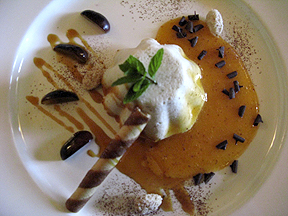 seaside towns, Fano. We arrived just in time to have lunch at the beautiful J Longer Bar & Restaurant (www.jlounge.it).
Located dockside of a series of marinas that lined the shore, this ultramodern restaurant and bar is what fusion cuisine is all about! Here, the talented chef mixed Asiatic and Scandinavian dishes together and served them up with wonderful regional wines and fabulous desserts.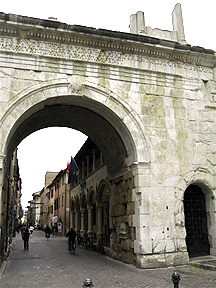 While standing on the deck-like terrace of the restaurant it was obvious that Fano is a huge boat building and repair centre.
Hundreds of pleasure boats of every size and description were either in the marinas or dry-docked. Fano is indeed a sailor and fisherman's paradise!
Arch of Augustus
We didn't have much time to visit Fano's many artistic and historic treasures, however we did manage to stop at its famous Roman Arch of Augustus, which was the ancient gate to the city from the 'Via Flaminia', the legendary paved road from Rome to the Adriatic.
Arrivederci!
At a farewell dinner at the 'Trattoria al Balì' Restaurant a few s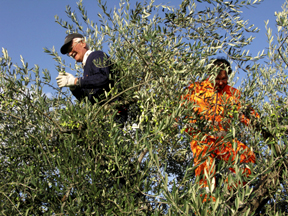 teps from our Villa I thanked our kind hosts (too many to mention in this article) for inviting me to discover the many charms of Le Marche.
As I packed my bags for the two-and-a-half-hour drive to Rome and the connecting flights back to Canada, the many memorable moments during my Le Marche sojourn came flooding back to me.
I realised right there and then that these pleasant memories would remain with me for the rest of my life!
F
or More Info on visiting Le Marche:
Italian Government Tourist Board
Tel.: 416-925-4882
Email: enitto@italiantourism.com
Website: www.italiantourism.com
Le Marche Regional Government
Ancona, Italy
Website: http://portale.regione.marche.it
Other Interesting Websites about Le Marche: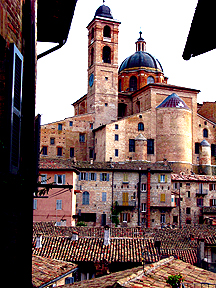 www.lifeinitaly.com/tourism/le-marche
www.deliciousitaly.com/visualizza.php?Id=11&regione_id=10