Costa Rica
Living Abroad Costa Rica
Adapted from Moon Living Abroad Costa Rica by Erin Van Rheenen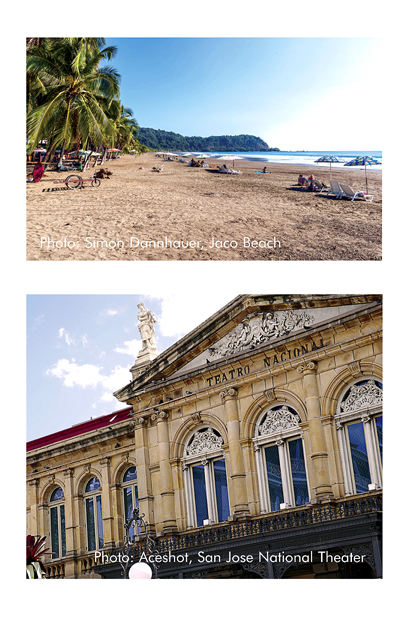 You wake to the roar of howler monkeys and the smell of locally grown coffee. Mug in hand, you pad barefoot out onto your front porch, breathing in air supercharged with green. You gaze out over waves breaking on the beach, or a steep-sided volcano across the valley, or scarlet macaws like flying rainbows winging toward the rainforest canopy.
There many sides to Costa Rica, and all are alive with more than their fair share of the world's biodiversity. Most people who visit or settle here come—at least in part—for the flora, the fauna, and the land itself.
But the country is also justly famous for being one of the most stable, peaceful, and downright enjoyable places in Latin America.
The so-called Switzerland of Central America has made the right choices, eliminating its army and creating a thriving nation with enviable national parks, high education levels, and excellent health care. It provides a model of green development for other countries and is high on the World Happiness Index, which ranks nations on quality of life rather than gross domestic product.
Yet this is still a wild place, especially outside the heavily populated Central Valley. Where else can the country's own environment minister get lost in a famous national park (Corcovado)?
And despite facile comparisons to retirement havens like Florida, Costa Rica will never be a pink-hued place to nap away your golden years.
The only way to know if Costa Rica is the place for you is to come here as many times as possible for as long as your life will allow. But there's always a first time, or the first time you visit with the possibility of living here lurking in the back of your tourist brain.
A trip in which you're window-shopping for a new life will be different from one in which you just want to see volcanoes erupt and hear monkeys howl. That doesn't mean you can't take in some of the best-loved sights and have a little fun—in fact, it would be a shame not to take full advantage of what Costa Rica has to offer, even as you assess the country for its longer-term potential.
The trick will be to strike a balance between hurrying around and seeing every area, and staying long enough in each place to get a sense of more than the airport or bus station. In my book, Moon Living Abroad Costa Rica, I outline several itineraries: a 10-day whirlwind tour to sample as many areas as possible; a two-week trip that has you narrow down your options to two areas; and suggestions to make the most of a month-long stay.
If you're trying to squeeze in both relocation research and the best of the tourist circuit, remember not to overbook in the activities department. A day hanging out and talking to locals is at least as valuable for your purposes as one spent whizzing above the treetops on a zip line. Hotel and restaurant owners—often expats themselves—are excellent sources of information, and life is slow enough that you needn't worry about "wasting" people's time. Talk is what people do here instead of going to the movies, since in most parts of the country there are no cinemas.
And when you find the place that speaks to you—that murmurs you could be happy here—well, it's never too soon to book your next trip.
When To Visit Costa Rica
Costa Rica's tourist high season runs from early December through the end of April. This is the country's dry season—or summer, if you like—though temperatures remain fairly constant year-round, with variations more a function of altitude than season. In the Central Valley, for instance, temperatures usually stay around 21-26°C throughout the year, while beachside temperatures are most often in the high 20s. The difference between Costa Rica's "winter" and "summer" is rainfall. Most rain falls between May and November, with the fiercest storms often in September or October. November and May are good times to come—they are relatively un-touristed months in which the rains are either just beginning or just tapering off.
There are regional variations, of course. In lowland Guanacaste and on the northern Nicoya Peninsula, the dry season is bone-dry—hardly a drop falls between December and April. On the Caribbean coast (a different world, climatically speaking), you may find rain at any time of the year, with somewhat drier times to be had in February, March, September, and October.
Rain here can feel like one of the Seven Wonders of the World, with aguaceros (downpours) no umbrella can stand up to. But even when the rains are at their heaviest, it's rare that they come down all day long. Each microclimate has its patterns, to which you'll quickly adjust. During the Central Valley's rainy season, for example, the mornings are glorious, the rain comes after lunch (just in time for siesta), and most often the evenings are clear again.
The winter, or wet season, has been dubbed the green season by tourism promoters, and it can be a great time to come to Costa Rica. Sometimes there are deals on airfare or hotels during that time, though most hoteliers I spoke with said that they really have two high seasons—December through April and again in June and July, the northern hemisphere's summer, when kids are out of school and families take their vacations.
Easter week and around Christmas and New Year are especially busy times, since this is often when both foreign and domestic tourists have time off their job or school. If you must travel during these times, book your hotel and rental car early and expect to pay premium rates. Some hotels almost double their rates during these holidays—check websites in advance.
I've traveled during each and every month, and I've never had a bad trip.
If a voice is telling you to go to Costa Rica, why not listen? However crazily you come to making the choice to go, it may be the sanest choice you ever make.
Copyright © 2017. Available from Avalon Travel, an imprint of Perseus Books, LLC, a subsidiary of Hachette Book Group, Inc.
www.moon.com
Click on cover to view published article