Mexico
Mexico City Day Trip: Puebla, a Culinary Capital
Adapted from Moon Mexico City by Julie Meade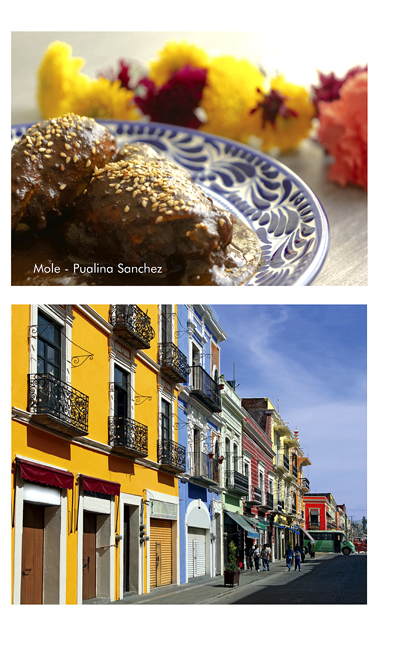 Mexico City is propitiously located in one of the most densely populated and diverse regions in the country. From the capital, you're within a few hours of impressive ancient ruins, snowcapped volcanoes, enchanting small towns, and bustling colonial-era cities. With efficient buses and well-maintained highways radiating out from the city in every direction, it's easy to plan a change of scenery.
The city of Puebla is a popular day-trip from the capital, but it is nonetheless surprising that this big and beautiful metropolis remains largely off the beaten track for most foreign visitors, despite its fine architecture, celebrated cuisine, and wonderful traditions in art and craftwork. Though close to Mexico City, it has a very different ambience than its neighbor to the north. It's mellower and more old-fashioned, with a family-oriented downtown district filled with funky small businesses, a more visibly Catholic population, and air clean enough to provide intermittent glimpses of the volcano Popocatépetl rising to the west.
Many people come to Puebla to eat, and with good reason. Puebla has a remarkable culinary tradition, noted for its complex flavors and for its use of centuries-old heirloom recipes. Uniting pre-Columbian and Spanish ingredients and preparations with a touch of French and Middle Eastern influence, food in Puebla is delicious, and very much a part of the cultural experience of visiting the city.
Moles—thick, heavily spiced sauces (often served over poultry)—are prepared throughout the country, with many famous versions produced in the state of Oaxaca. According to legend, however, mole was first created by the nuns of the Convento de Santa Rosa in Puebla, during the 16th century.
Puebla's signature version of the dish, mole poblano, usually combines dozens of ingredients, including chocolate, dried chile peppers, onion, garlic, peanuts, raisins, cinnamon, coriander, peppercorns, and sesame seeds. In Puebla, you'll find mole piled onto sandwiches, slathered over turkey, or stuffed into tamales.
Variations on mole are served in restaurants throughout the city. Pipián, sometimes called mole verde, is a flavorful sauce made with green pumpkin seeds and spices, ground till smooth; it is also considered a specialty in Puebla, though you'll see it prepared in the traditional cuisine of other regions, like Yucatán. Pipián rojo is a variation, made with tomatoes and dried chiles.
Popular throughout Mexico, chiles en nogada are a highly distinctive poblano creation. Traditionally prepared during the fall harvest season and served as a part of the Independence Day holidays in September, a chile en nogada is a large green poblano pepper stuffed with beef or pork, almonds, fruit, and spices, which is then bathed in a creamy walnut sauce and showered with pomegranate seeds. Another rich regional dish, tinga poblana is slow-cooked shredded pork in a stew of chipotle chiles and vegetables. It is usually served with tortillas and rolled into tacos.
Some wonderful quick bites and street foods are also typical to Puebla. A popular appetizer or snack, chalupas are small, handmade corn tortillas that are deep fried in manteca (lard) or hot oil, then doused in spicy salsa and topped with shredded pork and onions. Puebla's version of the torta is the cemita, a sandwich made on a sesame-studded roll also called a cemita. Cemitas are piled with meat, string cheese, lettuce, tomato, and onion, then garnished with pápalo, a fragrant Mexican herb. Another poblano sandwich, the pelona is served on a soft, lightly fried bun, layered with beans, meat, and cheese. Tacos árabes are a Middle Eastern-inspired taco made with spit-roasted meat served in a warm pita and topped with lime and chipotle salsa.
Puebla is also famous throughout the country for its traditional dulces (sweets). On the highways outside town, vendors sell bags of the city's famous candy to motorists idling at the tollbooths. Among the most typical sweets in Puebla are starchy treats made with camote (sweet potato). Sweet potatoes are cooked, sweetened, and flavored, then rolled into soft, cigar-shaped tubes. Also typical to Puebla are macarrones, a type of dulce de leche (milk candy), and mueganos, a fudgelike cake made with flour, egg, butter, and unrefined sugar. Sweets made with pumpkin seeds are a regional specialty; try tortitas de Santa Clara, a small cookie topped with pumpkin-seed cream, or jamoncillo, a fudgelike treat garnished with nuts. Many of these sweets (like much of Puebla's famous food) were originally created by nuns, who sold candies and eggnog (rompope) to support their convents, as they continue to do today.
If you'd like to do more than taste, there are cooking classes at the Mesón Sacristia boutique hotel and restaurant (6 Sur 304, http://mesones-sacristia.com).
Puebla has a long and important history in Mexico, founded in the early colonial era. It's one of the few cities in Mexico that weren't built directly atop an existing native community, and its beautifully preserved historic center is filled with some of the most impressive colonial churches, palaces, and ex-convents in the country, replete with ornate gold-leaf trimmings, magnificent stonework, and Puebla's distinct signature, Talavera tile.
Adapted from Moon Mexico City by Julie Meade. Copyright © 2018. Available from Avalon Travel, an imprint of Perseus Books, a Hachette Book Group company.

www.moon.com

Click on cover to view published article